Discover more from Ekalavyas | Basketball
Welcome to Ekalavyas, the pioneering publication dedicated to unearthing the world of international basketball, from an Indian perspective!
Over 3,000 subscribers
India takes a loss against Japan at the FIBA U16 Asian Championship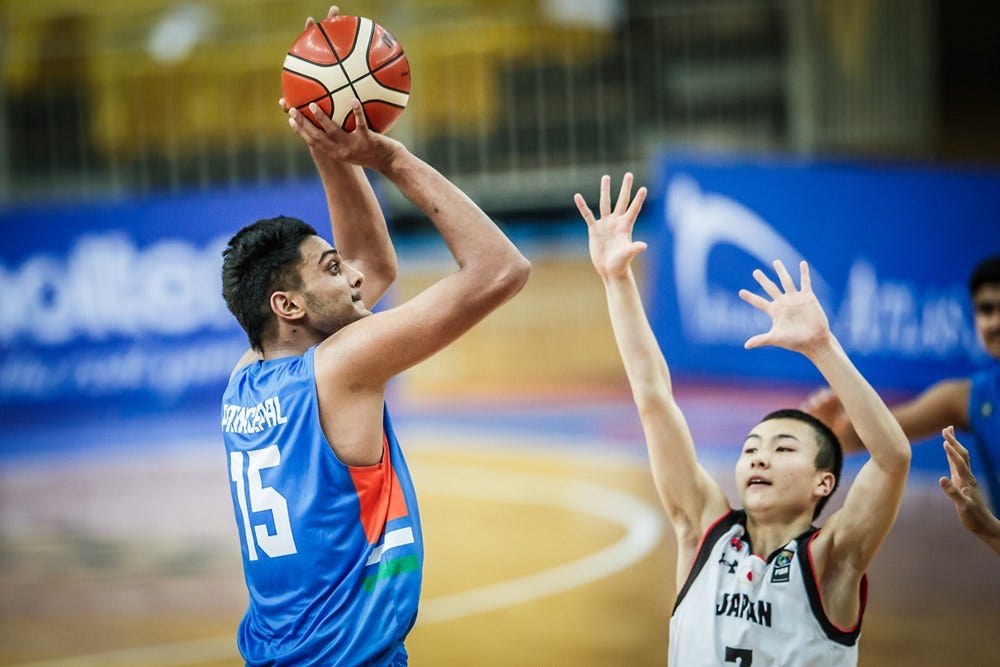 Princepal Singh aiming to score over the Japanese defender on the first day of the preliminary round of FIBA U16 Asian Championship. Image credits: FIBA.com
Bengaluru, 3rd April 2018: India lost 57-109 to Japan on the second day of the preliminary round of the ongoing FIBA U16 Asian Championship in Foshan, China.
Indian team started on a strong note in the first quarter by taking an early lead and ended the quarter with a tie score of 17 each. However, the Japanese team came back even stronger in the second quarter with their impressive full court defence outscoring India 36-12. Japan scored 10 consecutive points as a result of turnovers from the Indian side. Japan continued to build on their lead in the following quarters and took the victory with a lead of 52 points. Indian centre player Princepal Singh continued to display his outstanding form by scoring 26 points and collecting 13 rebounds. Captain Harshvardhan Tomar recorded a double-double, scoring 11 points and collecting 10 rebounds. Keisei Tominaga of Japanese team emerged as the lead scorer with 27 points, converting 7 three pointers.
Japan (Keisei Tominaga 27, Chikara Tanaka 22p) bt India (Princepal 26, Rajveer 10, Harshvardhan 11) 57-109 (17-17, 36-12, 34-14, 22-14)
About the FIBA U16 Asian Championship
The 16 teams qualified to compete in FIBA U16 Asian Championship are hosts China, reigning champions Korea, Australia, Bahrain, Chinese Taipei, Hong Kong, India, Iran, Japan, Kazakhstan, Lebanon, Macau, Malaysia, New Zealand, Philippines and Saudi Arabia. Thirteen teams will be divided into 3 groups (A, B and C) of 3 teams each and one 1 group (D) of 4. The best placed team in each group will qualify directly to the knock-out stage starting with the Quarter-Finals. Second and third placed teams will proceed to the Play-Offs Round. The fourth placed team in group D will be eliminated.
India is placed in Group D alongside Korea, Japan and Lebanon.
Preliminary Round Schedule:
India Vs Korea (2nd April)
India Vs Japan (3rd April)
India Vs Lebanon (4th April)