Discover more from Ekalavyas | Basketball
Welcome to Ekalavyas, the pioneering publication dedicated to unearthing the world of international basketball, from an Indian perspective!
Over 3,000 subscribers
India storms into Div B QFs of the FIBA Womens Asia Cup 2017
Bengaluru, 25th July 2017: The group stage of the FIBA Womens Asia Cup 2017 concluded today, with four Division A games and one Division B game at the Sree Kanteerava Indoor Stadium in Bengaluru, and two Division B games at the Koramangala Indoor Stadium.
India has stormed into the Division B Quarterfinals after topping their preliminary Group stages, 2-0.
Division A quarterfinals schedule
Division B quarterfinals schedule
Division A
New Zealand come from behind to beat Chinese Taipei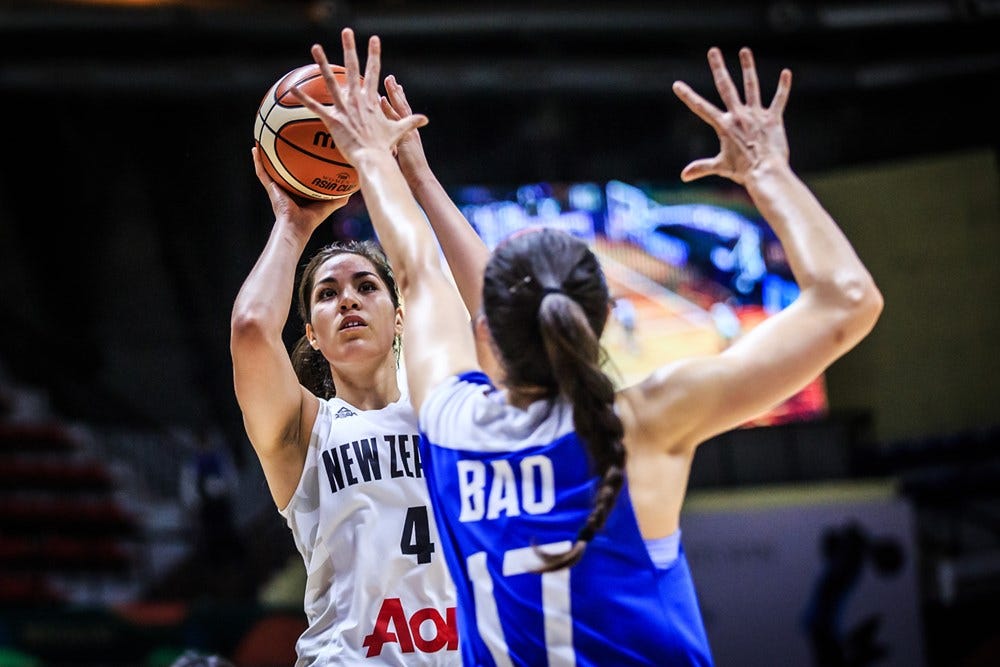 Kalani Purcell of New Zealand top scored for her team with 22 points at the FIBA Womens Asia Cup. Image credits: FIBA.com
A crucial last day of group games kicked off at the Sree Kanteerava Indoor Stadium in Bengaluru with a hugely consequential game between Chinese Taipei and New Zealand. With one win apiece, both teams were looking for the win to nab second place in Group A.
In the first quarter, Chinese Taipei opted to play zone defense to keep the bigger New Zealand players out of the paint, and executed their plan to near perfection. New Zealand were relegated to taking contested outside shots, and struggled to penetrate. On the other hand, Chinese Taipei were sinking their shots, racing to a 23 – 7 lead early in the second quarter.
As the game wore on, New Zealand stepped up their defense and hustle for every possession, forcing Chinese Taipei to take tougher shots, and found their way back into the game. They managed to tie it up at 38 with 9 minutes left in the game, before edging ahead for a 59 – 53 win.
Jillian Harmon struggled to make her shots in the first half, but willed her side back into the game and finished with 15 points and 15 rebounds. "We were too stagnant in the first half, we talked about cutting more to beat the zone," she said. Centre Kalani Purcell was a big factor in the comeback, scoring 16 of her 22 points in the second half. She also had 13 rebounds.
New Zealand (Kalani Purcell 22 pts, 13 rebs; Jillian Harmon 15 pts, 15 rebs; Micaela Cocks 12 pts) bt Chinese Taipei (Hsi-Le Bao 12 pts; Fan-Shan Huang 7 pts) 59 - 53 [7 – 21, 17 – 14, 10 – 3, 25 – 15]
Australia hand Japan first defeat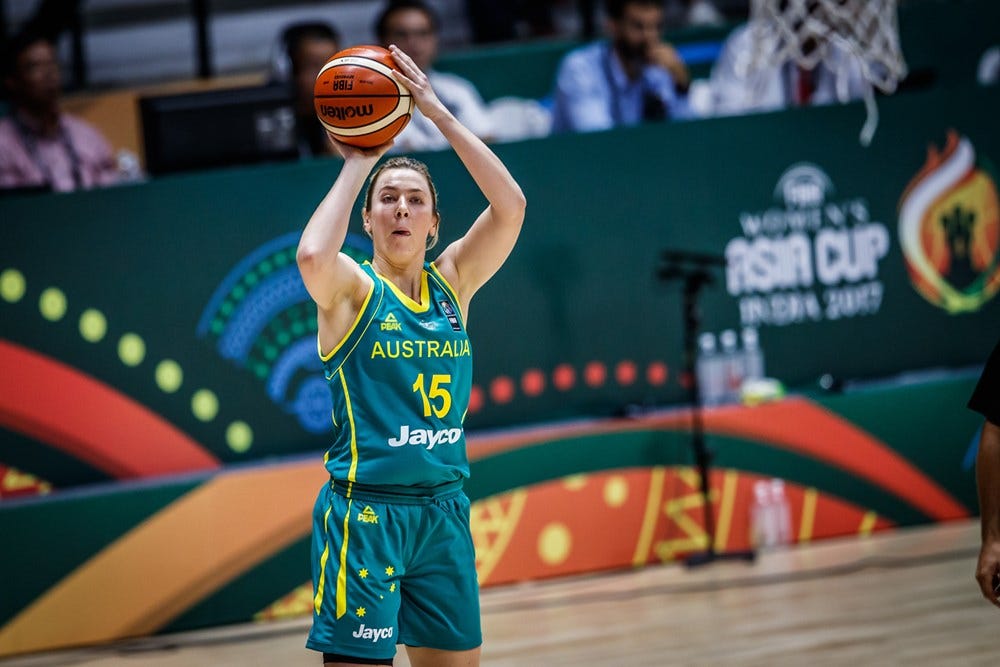 Sara Blicavs of Australia at the FIBA Womens Asia Cup. Image credits: FIBA.com
Probably the most awaited game of the league stages took place today with defending champions Japan taking on world no. 4 Australia. The game turned out to be a fascinating exhibition of contrasting styles of basketball.
There was not much to separate the teams in the first quarter, with players on both sides knocking down their shots. Japan began the second period with a slim 1-point lead (15-14). But Australia shot out of the gates in the second, going on a 7-0 run. The Opals channeled most of their offense through the post and it paid off.
Veteran centre Marianna Tolo along with forwards Kelsey Griffin and Sara Blicavs carried the bulk of the scoring load for the Aussies. They were patient in the post and used their size to hit shots around the basket against the small Japan defenders.
But each time Australia though they had pulled away, Japan fought back to close the gap. Backup point guard Manami Fujioka put on a dazzling offensive display, despite her tiny stature. She was able to penetrate the Australia defense with ease, either scoring or creating for her teammates. She ended up with a double-double of 18 points and 10 assists. Japan's first-choice point guard had a below average display and saw little playing time. Along with Fujioka, the shooting of Yuki Miyazawa (19 points) helped keep Japan in the contest.
In the second half, Australia's 3-point shooting lit up the game. The Opals shot an incredible 60% from 3-point range in the game, led by Katie-Rae Ebzery and Stephanie Cumming who hit all three of their attempts. Tolo also stepped up in the clutch, hitting a couple of buckets down the stretch to maintain the Australia lead.
"We did a better job of controlling the tempo in the second half. We wanted to play more of a grind-out game," said Tolo after the game. Australia ended with an 83-74 win.
Australia (Marianna Tolo 17, Kelsey Griffin 16, Sara Blicavs 12) bt Japan (Yuki Miyazawa 19, Manami Fujioka 18, Maki Takada 10, Yuka Osaki 10) 83-74 [14-15, 20-15, 25-20, 24-24]
Korea get first win of the tournament against Philippines
The third fixture of the day was the final Group B game, played between Philippines and Korea. The Philippines' women were looking for their first win of the tournament and began the first quarter brightly. Punching above their weight against a bigger Korean team, they raced to a 12 – 4 lead. But in the last few minutes of the first, Korea began to knock down a few shots and tied the game 19 – 19 by the end of the quarter.
From then on, Korea began to establish themselves in the paint: Guard Kim Han Byul (178 cm, 5ft 10") and centre Park Jisu (195 cm, 6ft 5") commanded the paint, grabbing the offensive rebounds and converting the second chance attempts.
The women from the Philippines worked hard to keep up, driving hard to the basket and attempting the odd 3 – point shot.
But the size disadvantage proved too hard to overcome, as Korea began to build a lead. Their shooting was disappointing, at only 38 percent, but they were dominant on the boards. They grabbed 65 rebounds compared to 41 for the Philippines, and scored 26 second chance points.
Five players finished with scoring in double figures, two of whom had double – doubles: Kim Danbi (19 points & 10 rebounds) and Lim Yung Hui (13 points & 10 rebounds).
Korea (Kim Danbi 19 pts, 10 rebs; Park Jisu 15 pts; Lim Yung Hui 13 pts, 10 rebs) bt Philippines (Allana May Lim 14 pts; Analyn Almazan 12 pts; Janine Pontejos 10 pts) 91 - 63 [19 – 19, 25 – 15, 26 – 13, 21 – 16]
China dominate against DPR of Korea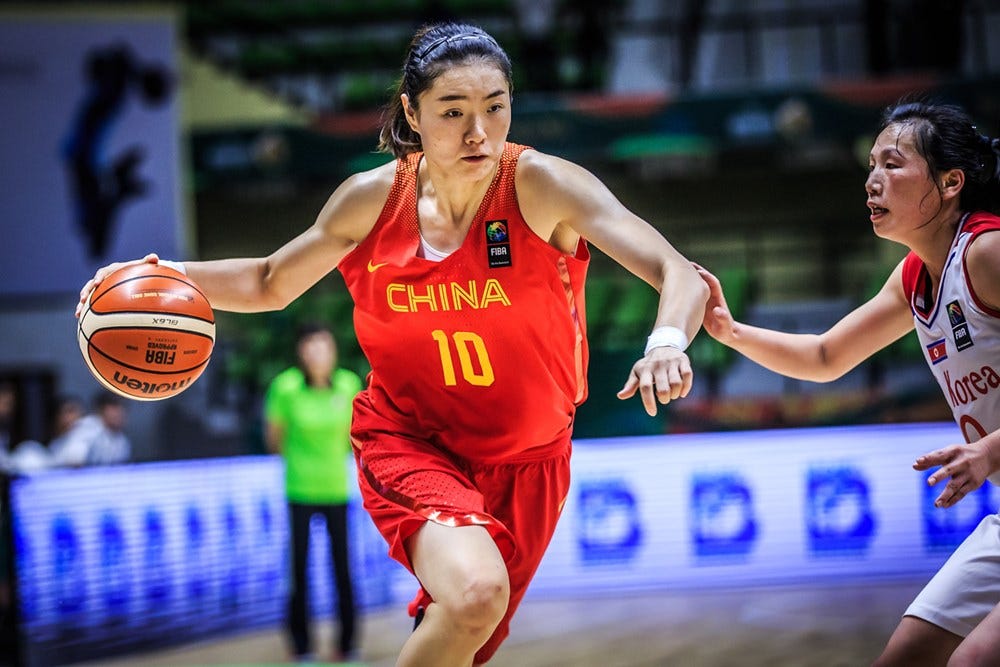 Wen Lu of China. Image credits: FIBA.com
The final league stage game of Division A saw China taking on DPR of Korea. China is undefeated thus far in the tournament, while DPR of Korea is still searching for its first win.
It was immediately obvious that China had the size advantage. DPR of Korea's small lineup was unable to handle the bigger Chinese players. China scored a majority of their buckets around the basket, led by their 6-foot-7-inch centreYueru Li.
Korea's players had no answer for Li who received numerous touches in the paint. She put up 33 points to go with 11 rebounds. China was able to test their bench strength today, with all but one of their players getting a chance on the court. Their team play was scintillating to watch – 38 assists on 44 made baskets. Sijing Huang also had a double-double for China with 12 points and 10 rebounds.
China ended up blowing out DPR of Korea by over fifty points. They have now ended up at the top of their table ahead of the quarterfinals beginning on Thursday. For DPR of Korea, it was a winless league stage.
China (Yueru Li 33 pts 11 rbs, Song Gao 14, Sijing Huang 12 pts 10 rbs) bt DPR of Korea (Suk Yong Ro 20, Jong Ok Ri 11) 110-53 [23-7, 30-20, 28-11, 29-15]
Division B
Kazakhstan maintain perfect record with win over Fiji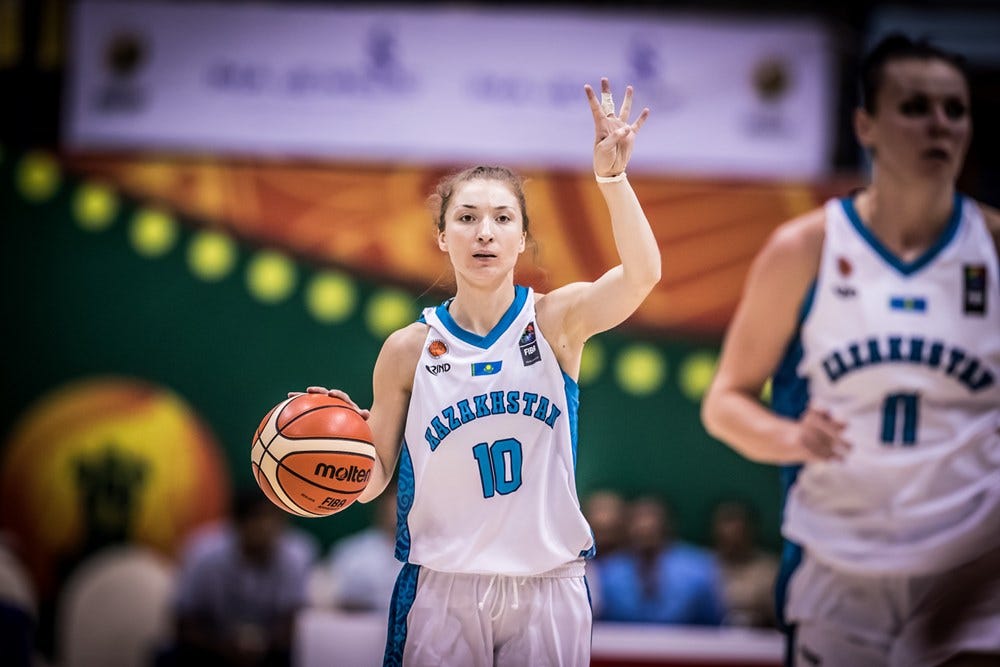 Olga Kolesnikova of Kazakhastan. Image credits: FIBA.com
In the first Division B game of the day, Kazakhstan beat Fiji 71 – 48. They capitalized on their size advantage in the paint, grabbing 24 offensive boards and scoring 16 second chance points. OxanaOssipenko top scored for Kazakhstan with 21 points, hitting five out of eight shots from beyond the arc. BulouKoyamainavure top scored for Fiji with 28 points, but she had little support from the rest of her team mates. Having topped Group B, Kazakhstannow qualify automatically for the semi-finals, because Group A comprises only three teams.
Kazakhstan (Oxana Ossipenko 21 pts; Tamara Yagodkina 16 pts; Nadezhda Kondrakova 13 pts) bt Fiji (Bulou Koyamainavure 28 pts) 71 – 48 [19 – 9, 14 – 7, 16 – 12, 22 – 20]
Singapore run Lebanon close
Lebanon beat Singapore 74 - 64 to recover from their terrible start to the tournament, having lost to Kazakhstan in their first game. They shot the ball at a healthy 47%, and were led in scoring by Nancy Maalouf with 16 points. Lebanon capitalized on their size advantage, scoring 32 points in the paint and limiting Singapore to only 12. Singapore put up a valiant challenge, led by forward Cheryl Poon with 20 points, but eventually succumbed to the size and physicality of the Lebanese team.
Lebanon (Nancy Maalouf 16 pts; Chirine El Charif 15 pts; Rebecca Akl 11 pts) bt Singapore (Cheryl Poon 20 pts; Jia Min Lim 12 pts; Jayne Tan 11 pts) 74 – 64 [18 – 16, 16 – 15, 21 – 11, 19 – 22]
Grima Merlin stars as India outclass Sri Lanka
The headline game of the day was the host's matchup against Sri Lanka, as they looked to cement top spot in Group A. The Indian women were heavily favoured to prevail over their island neighbours, and they did not disappoint.
They recorded an emphatic 88 – 42 victory. Coming off an impressive game against Uzbekistan, Grima Merlin turned in an even better performance, notching up a double-double (20 points and 10 rebounds).
But in comparison to Sunday's assured and all-round performance, the Indian women began the game rather nervously: missing outside shots and turning the ball over. Nevertheless, they worked hard to penetrate the paint and find the high-percentage looks. Centre Rajapriyadharshini was a dominant force in the paint early on, grabbing offensive rebounds and converting the second chance points.
As the game wore on, the Indians' lead grew. This gave coach Visic the opportunity to give his bench a run-out before the tougher knockout fixtures. There were good showings all around as the bench combined to score 51 points.
Shireen Limaye racked up 10 rebounds for the second game in a row, in a great collective showing off the boards that saw India notch up 85 rebounds, in comparison to only 40 for Sri Lanka. India's young centre Poonam Chaturvedi scored 8 points late in the game to the sound of loud cheers from the crowd.
India will now play Fiji in the quarterfinals on 27th July at the Sri Kanteerava Indoor Stadium, Bengaluru.
India (Grima Merlin 20 pts, 10 rebs; Anitha Paul Durai 13 pts; Shireen Limaye 8 pts, 10 rebs) bt Sri Lanka (Imesha Dapana Durage 9 pts; Nadeeshani Kumarine Silva 8 pts) 88 – 42 [23 – 10, 3 – 17, 13 – 19, 16 – 29]