Discover more from Ekalavyas | Basketball
Welcome to Ekalavyas, the pioneering publication dedicated to unearthing the world of international basketball, from an Indian perspective!
Over 3,000 subscribers
India set to take on Kazakhstan in the semifinals
Bengaluru, 26th October 2017: The FIBA U16 Women's Asia Championship 2017 is underway and has reached the knockout stages at the Sree Kanteerava Stadium, Bengaluru. The fifth day of this tournament saw 4 quarterfinal matches in division A at the Kanteerava Stadium and 3 division B matches at Koramangala Indoor Stadium.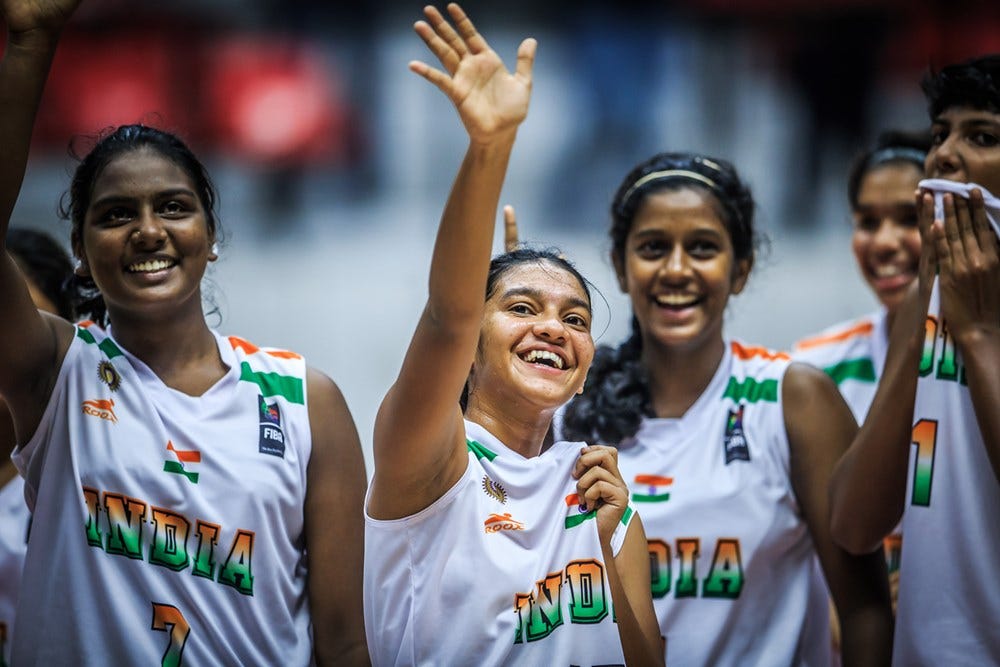 Indian U16 team wave to the crowd. Image credits : Basketball Federation of India
Hosts India are all set to face Kazakhstan in the semifinals on 26th October. This matchup will be by far India's most exciting and challenging game as Kazakhstan has lost only one game in the entire tournament whereas India is still unbeaten and reached the semifinals directly after the group phase. Kazakhstan beat Sri Lanka 71-58 today in a tough match-up to reach the semi-finals. The other Semi Final for division B will be between Iran who beat Maldives 129-39 and the winner of the Malaysia-Nepal quarter-final which will be played tonight at 8 P.M.
Division A saw some great quarterfinals' action with very interesting match-ups. The first game of the day turned out to be a one-sided affair with Australia dominating Hong Kong 123-29, Shyla Jade Heal led the Australian team with 14 points, 10 rebounds, and 4 steals. The next game of the day saw the three-time champions China trying to secure their semi-final spot in a very tough match against Korea who put in all their heart and mind for the semi-final spot but lost 57-72. Australia will now face China tomorrow in the semifinals on their journey towards what could be their second appearance in a women's Asian championship.
Later in the day Thailand tried hard to get their second win of the tournament and a semifinal spot but fell short to New Zealand who beat them 80-52. Sharne Pupuke-Robati of New Zealand had a double-double consisting of 16 points and 15 rebounds. New Zealand will face Japan who beat Chinese Taipei 82-49 in another game where we say the weaker team giving a tough time to the respective group phase leaders for their semifinal spot. Sakura Noguchi led the Japanese team with 18 points and 10 rebounds.