Discover more from Ekalavyas | Basketball
Welcome to Ekalavyas, the pioneering publication dedicated to unearthing the world of international basketball, from an Indian perspective!
Over 3,000 subscribers
India relegated to Division B after heartbreaking 4pt loss to Philippines
The Indian senior women's basketball team has been relegated to Division B of the FIBA Women's Asia Cup after a 70-74 loss to Philippines.
Despite showing improvement compared to their 14 point loss to Philippines in the 2019 edition, India still had to endure heartbreak yet again at the hands of the Gilas Pilipinas.
Facing identical stakes as in 2019 - to avoid relegation to Division B - India came out strong.
Displaying excellent defensive energy and leaking out to fast-breaks, India led by six (19-13) at the end of the first quarter. The Senthil Kumar sisters - Sathiya and Pushpa - contributed 15 of these points.
At halftime, India held on to a slender 39-34 lead.
https://twitter.com/fibasiacupwomen/status/1443616905730920453
Third Quarter Woes Continue to Haunt India
However, just like in the previous two games, India endured its worst quarter after half-time.
Buoyed by crowd support, the hot-shooting Philippines tied the game at 42 with six minutes remaining in Q3. Thereafter, it built up a six-point lead, 55-49, with one minute left.
India captain Shireen Limaye, who went scoreless in the first half, closed the quarter with a much-needed three to bring India within one possession. (Shireen would eventually recover her statline to end with a 10 pt, 13 reb double-double, at an overall +23 efficiency.)
Fight to the finish to avoid relegation to Division B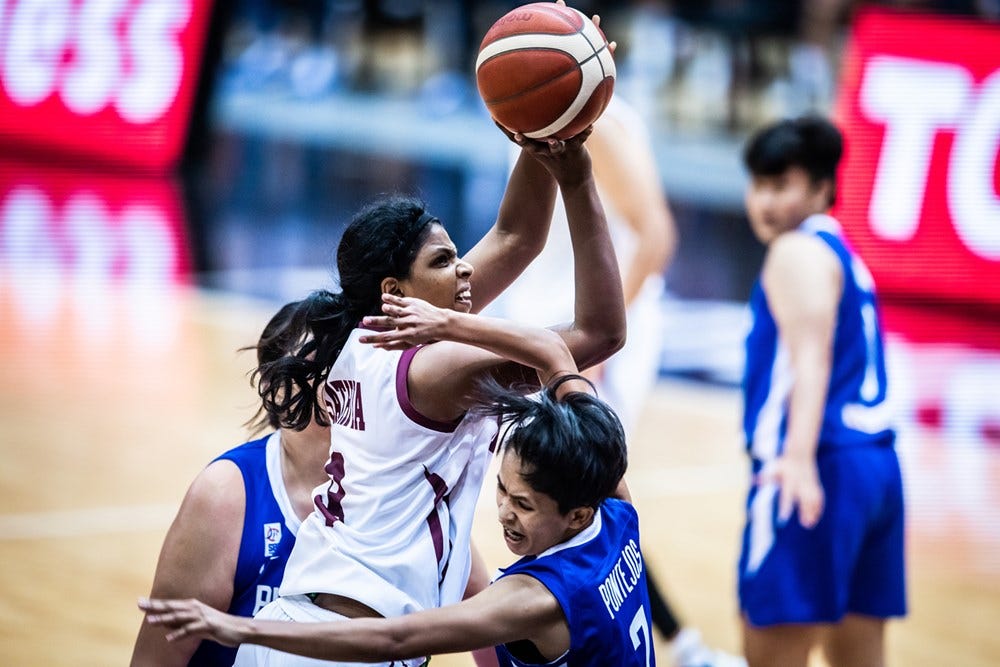 Sathiya Senthil Kumar in action for India. Image credits- FIBA.com
In the final quarter, India's struggles to close out on Philippines' outside shooters continued, as Gilas took a commanding 11 pt lead (67-56) with six minutes left.
Centre Stephy Nixon, who came off the bench in this game, knocked down an unlikely three followed by a top of the key jumpshot to bring India within two points, 65-67, with 3:30 mins remaining.
But Philippines' hot shooting Ana Castillo hit consecutive threes of her own to take Philippines back up by eight, 73-65, with 2:38 mins of action left.
India continued to fight hard, courtesy a three-point play by Limaye with 40 secs left to the final buzzer. But in the end, it was Philippines that ended victorious.
***
If you've come this far…
Appeal to our readers: Ekalavyas is India's first and only basketball media company. We are not foreign-funded, nor investor-backed. Your support and encouragement have got us this far. We now need your financial assistance to ensure we can keep providing you timely, accurate and important information. Please contribute via https://www.instamojo.com/@ekalavyas​ 🙏🏾. We are accepting contributions as low as Rs. 9/- (excluding a small processing fee charged by the payment gateway provider). Thank you for playing a part in keeping media independent and objective!
Ekalavyas now on Clubhouse! Join us for live audio conversations by following the 'Sports India Basketball' Club.
Ekalavyas now on Telegram! Stay up-to-date on all the breaking news around Indian Basketball, by subscribing to the EkBallIndia Telegram Channel.