Discover more from Ekalavyas | Basketball
Welcome to Ekalavyas, the pioneering publication dedicated to unearthing the world of international basketball, from an Indian perspective!
Over 3,000 subscribers
Inspired India beats Palestine to keep Asia Cup Dreams alive
An inspired India came back from a double-digit deficit in the final quarter to register a 79-77 victory over Palestine. This was a must-win game for India to keep its FIBA Asia Cup qualification chances alive.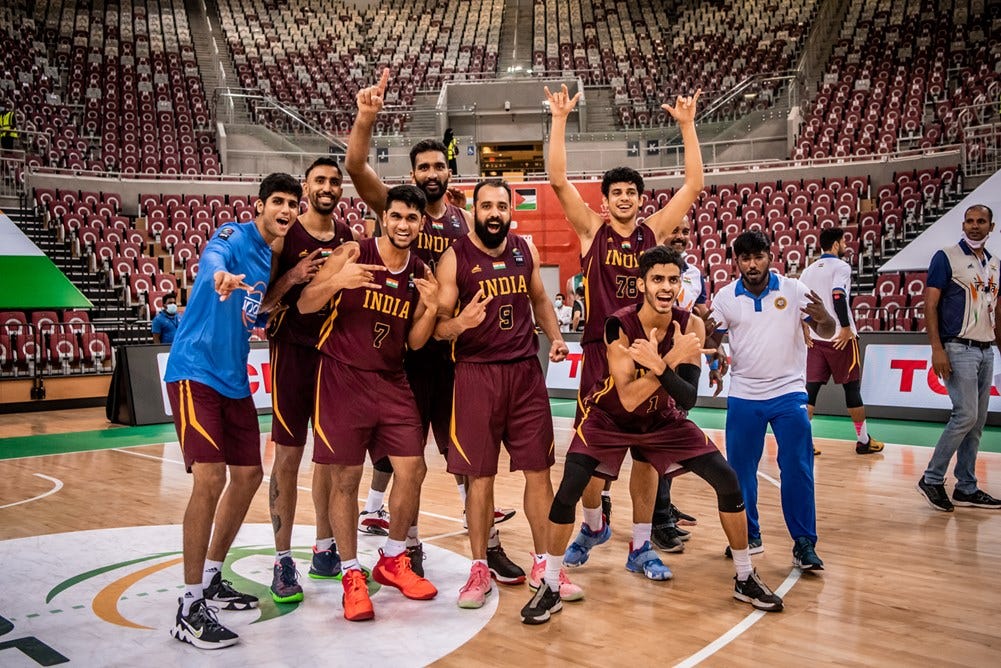 All images credit: FIBA.com
Amritpal Singh roars back into form
Playing after a long layoff, Centre Amritpal Singh had a forgettable outing in the previous game against Saudi Arabia. But against a smaller sized Palestine, he roared back into form, dominating on both ends of the floor. His 30 point, 12 rebound performance couldn't have come at a better time for India. Right from the get-go, Amritpal showed intent and aggression, and kept willing himself to the free-throw line.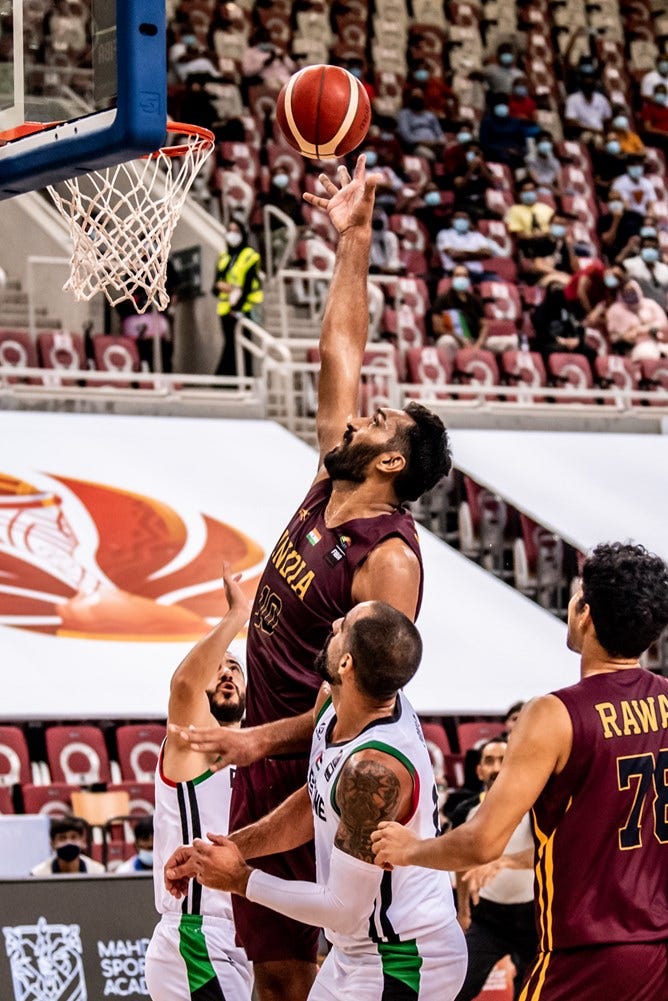 Amritpal Singh made the most of his size advantage
Faced with a barrage of buckets by Palestine's naturalized shooting guard Kyndall Dykes & veteran power forward Sani Sakkakini, it was Amritpal Singh who single-handedly kept India in the game in the first half.
Sahaij Sekhon slows down Palestine's top scorer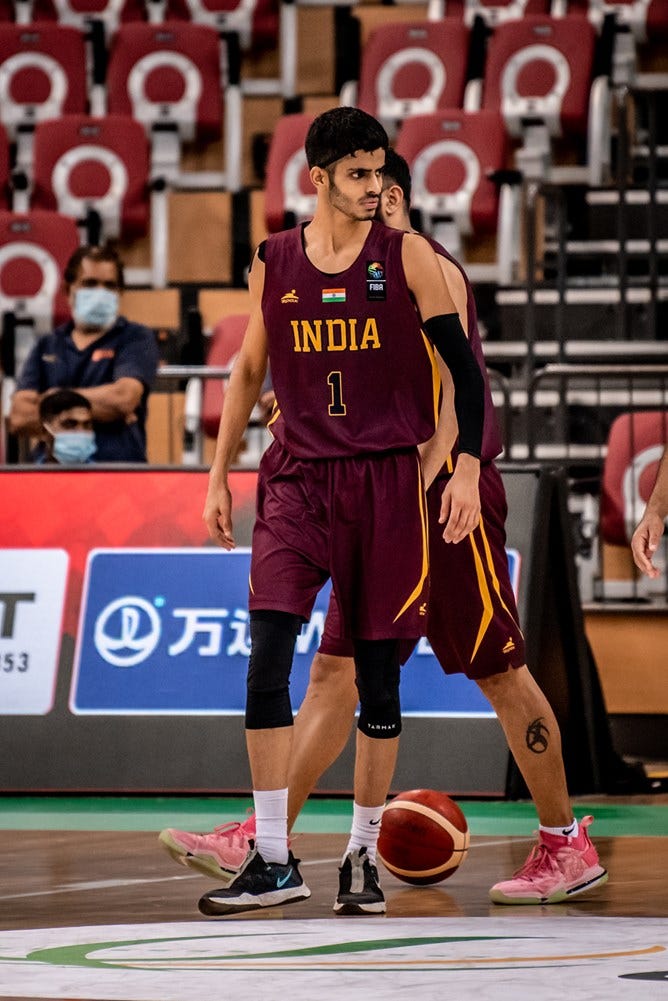 After Dykes' 12 pt scoring tear in the opening frame, India Coach Veselin Matic substituted starting point guard Muin Bek for Sahaij Sekhon. The move worked wonders as Sahaij drastically slowed down Dykes in the second quarter by not giving him any open looks. Dykes still ended with 32 points and 10 assists to lead all scorers, but Sahaij had done his part.
The cherry on the cake was Sahaij's fabulous coast-to-coast play leading to an And-1 layup that put India up 78-71 with 49 seconds left in the game.
Palestine's heart-and-soul Sakanini fought valiantly with a typically stat-stuffing 22 pts, 14 reb performance. He had the chance to send the game to overtime but blew an open layup to give India the morale-boosting victory.
Amjyot Singh brings back memories of 2015
The last time India played Palestine in the 2015 FIBA Asia Championship, Amjyot Singh scored 32 points and had 11 rebounds. India would go on to win that game too, with a near-identical 73-70 final scoreline.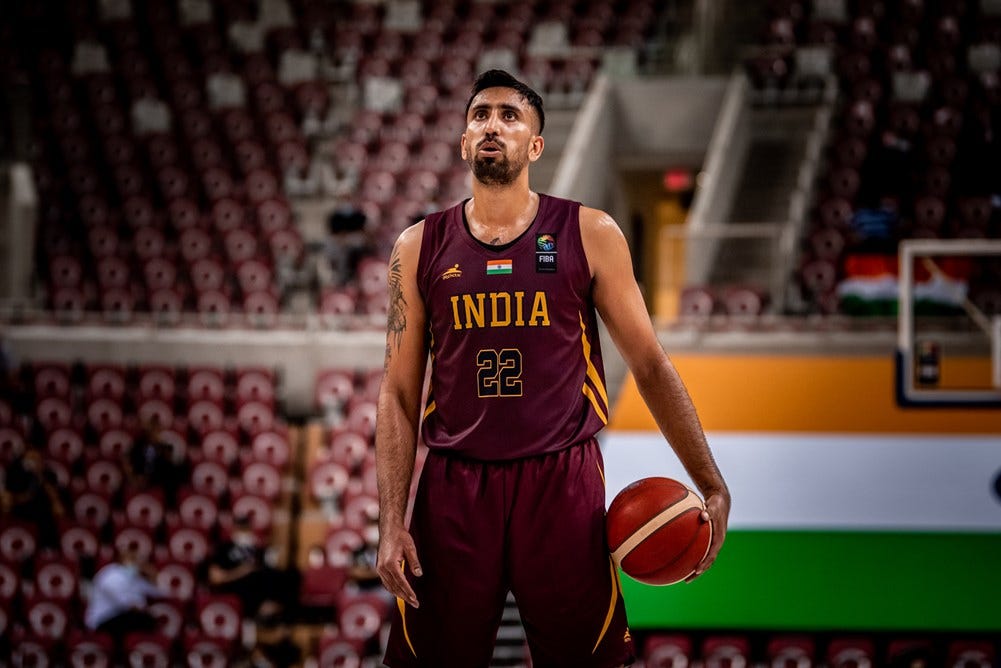 Tonight, after starting slow, he came into his own, finishing with a double-double of 23 points and 10 rebounds. This was the vintage Amjyot India was hoping to see, especially after going nearly scoreless in yesterday's loss to Saudi Arabia.
India's outside shooting comes alive when it matters
After going 0/10, India went 7/13 from beyond the arc, led by backup point guard Joginder Singh.
India kept getting wide-open looks throughout the game and was able to find the bottom of the net when it mattered.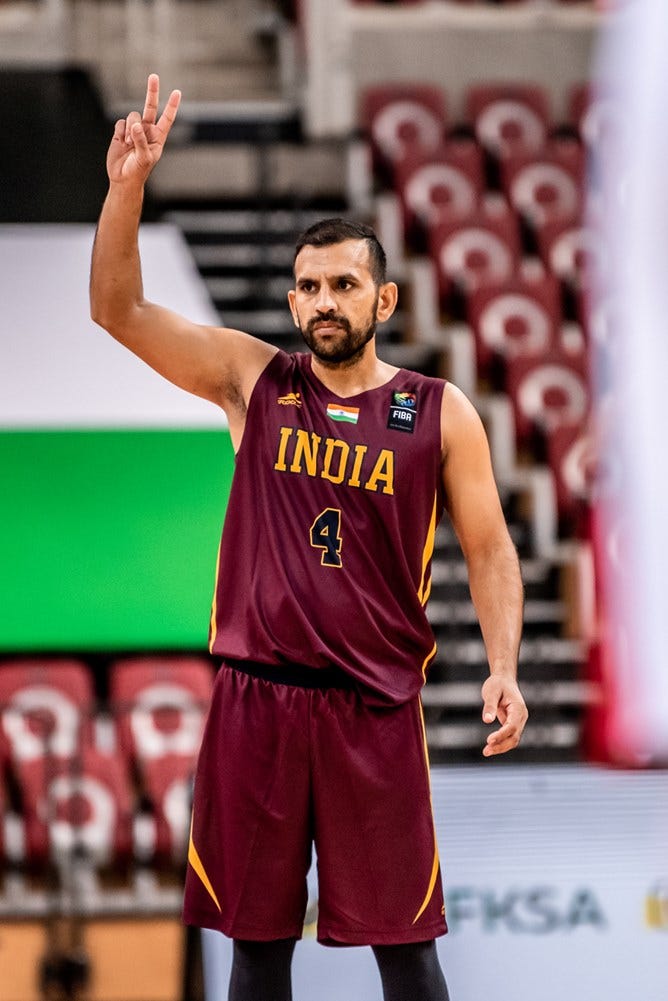 All 12pts of backup point guard Joginder Singh came from beyond the arc.
understanding India's Asia Cup Qualification chances
India will now be praying for a Saudi Arabia victory tomorrow (i.e. 22nd Aug, 8:45pm IST) over Palestine, to ensure it qualifies to the FIBA Asia Cup as the second-best out of the three teams. A Palestine win will result in a three-way tie bringing points difference into the equation. After losing by 19 points to Saudi Arabia and now beating Palestine by 2 points, India sits on a -17 points difference. This is far from ideal, as it means that even if Palestine beats Saudi Arabia by a single point, India would stand eliminated. On the other extreme, India would also qualify in the unlikely event of Palestine beating Saudi Arabia by more than 34 points.
***
If you've come this far…
Appeal to our readers: Ekalavyas is India's first and only basketball media company. We are not foreign-funded, nor investor-backed. Your support and encouragement have got us this far. We now need your financial assistance to ensure we can keep providing you timely, accurate and important information. Please contribute via https://www.instamojo.com/@ekalavyas​ 🙏🏾. We are accepting contributions as low as Rs. 9/- (excluding a small processing fee charged by the payment gateway provider). Thank you for playing a part in keeping media independent and objective!
Ekalavyas now on Clubhouse! Join us for live audio conversations by following the 'Sports India Basketball' Club.
Ekalavyas now on Telegram! Stay up-to-date on all the breaking news around Indian Basketball, by subscribing to the EkBallIndia Telegram Channel.