Discover more from Ekalavyas | Basketball
Welcome to Ekalavyas, the pioneering publication dedicated to unearthing the world of international basketball, from an Indian perspective!
Over 3,000 subscribers
India one win away from being crowned SABA U16 Zone Champs
India wins 106-39 over Nepal in its third game of the 2nd SABA U16 Zone Championship.

Centre Princepal Singh led the team with 45 points.

India had 3 players scoring in double figures.

India will next meet Bhutan on 9th September at 11:00 am (10:45 IST).

If India wins tomorrow, it qualifies to the 2017 FIBA Under-16 Asian Championship that will be held in Malaysia later this year.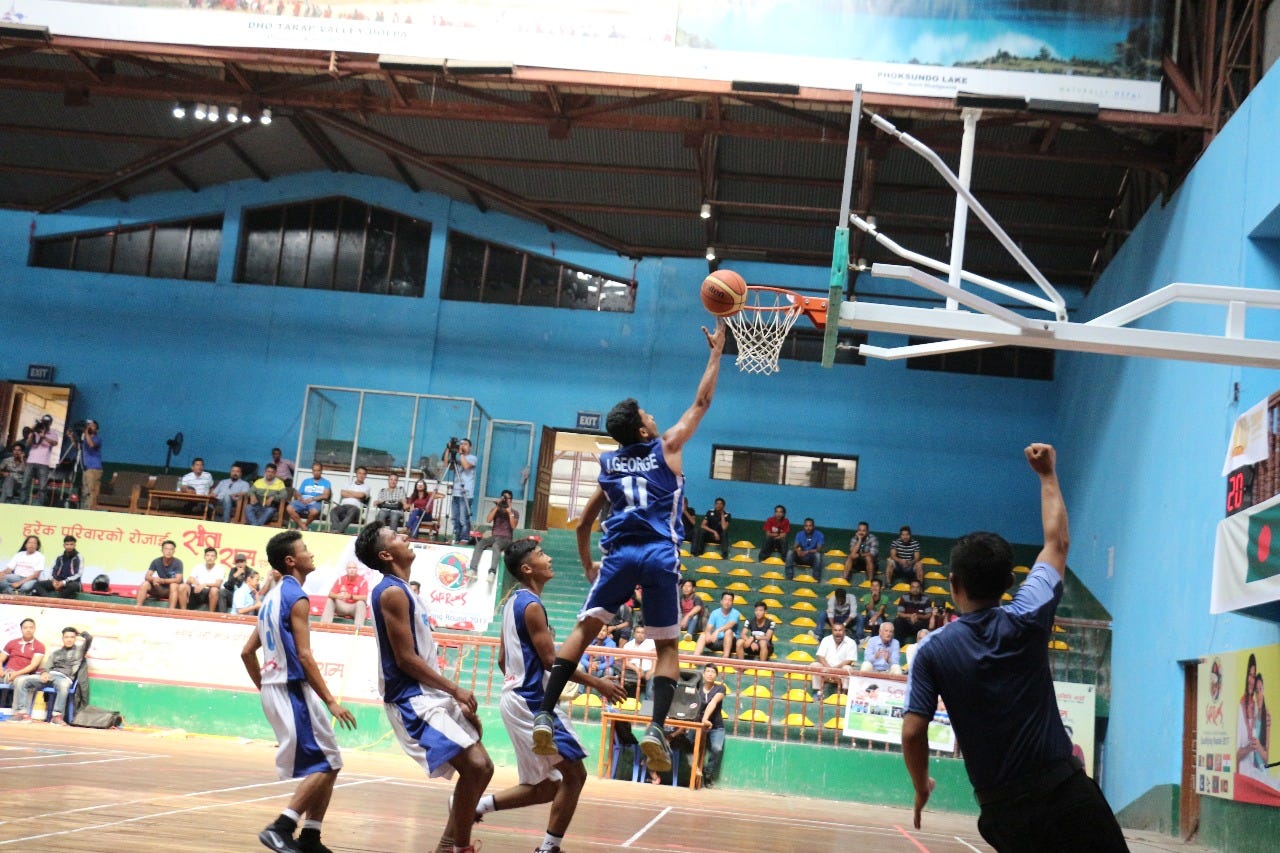 Jerome George finishes at the rim vs Nepal. Image credits: Basketball Federation of India Bengaluru/Kathmandu, 8th September 2017: The Indian U16 men's team has beaten Nepal 106-39 on the third day of the 2nd SABA U16 Zone Championship being held at the Dashrath Rangshala Stadium, Kathmandu. Centre Princepal Singh from India continued his extraordinary form leading all scorers with 45 points and single-handedly dominating over the Nepal team. Overall, three Indian players scored in double digits. Team India showcased a strong performance on both the ends of the floor not allowing any more than three Nepal players to score. India had a double digit lead over Nepal from the beginning of the game and finished even stronger. Moving ahead, the 3-0 India are the strongest contenders for the championship, as they take on Bhutan on 9th September at 11:00 am (10:45 IST) in their final game. If India wins tomorrow, it qualifies to the 2017 FIBA Under-16 Asian Championship that will be held in Malaysia later this year. India (Princepal Singh 45 pts, Priyanshu 12 pts, Jerome Prince 10 pts) bt Nepal (Abhisekh Singh 20 pts) 106-39 [26-12, 24-7, 32-12, 24-8]
 Indian Contingent
Jersey. No. Name Position DOB Place of Birth Representing State Height (cms) (ft & inches) Weight (Kgs) 4 Princepal Singh C 03/01/01 Ferozepur, Punjab Punjab 210 (6' 10.6'') 95 5 Binod RAJAK PG 02/04/01 Kolkata, West Bengal Punjab 171 (5' 6'') 61 6 Harshwardhan TOMAR F/C 01/02/01 Gwalior, Madhya Pradesh Madhya Pradesh 199 (6' 5'') 91 7 Mani THAKUR PG 26/10/01 Bhopal, Madhya Pradesh Madhya Pradesh 173 (5' 6'') 63 8 Ajmer SINGH C 09/10/01 Delhi Chandigarh 188 (6' 1'') 70 9 Gaurav SHEORAN F 10/02/02 Hisar, Haryana Haryana 184 (6') 73 10 Priyanshu F 18/03/02 Shabga, Uttar Pradesh Uttar Pradesh 183 (6') 68 11 Jerom PRINCE GEORGE PG 01/10/02 Saudi Arabia Kerala 174 (5' 7'') 64 12 Prashant TOMAR PG 05/03/01 Baraut, Uttar Pradesh Karnataka 176 (5' 7'') 64 13 Nitish BENIWAL PF 15/02/01 Delhi Delhi 190 (6' 2'') 85 14 Vigneshwar UPADHYAY PF 01/01/01 Azamgarh, Uttar Pradesh Telangana 193 (6' 3'') 75 15 Rajveer Singh BHATI F 26/05/02 Bikaner, Rajasthan Rajasthan 184 (6') 71
*PG - Point Guard / Feeder, G - Guard, F - Forward, G/F - Wing, PF - Power Forward, C - Centre, PF/C - Post   Team Manager: Kulvinder Gill Coach: Vibhor Bhriguvanshi Assistant Coach: Babu Davis Referee: Tanmoy Das