Discover more from Ekalavyas | Basketball
Welcome to Ekalavyas, the pioneering publication dedicated to unearthing the world of international basketball, from an Indian perspective!
Over 3,000 subscribers
India is improving every day: Lebanon Coach Joe Moujaes
While praising his team's defence in the second half, Lebanon Coach Joe Moujaes also had words of appreciation for losing rivals India.
Last night, India got overpowered by an undermanned and second-string Lebanon team in the final first-round game of the 2021 FIBA Asia Cup Qualifiers.
READ: Turnovers and Missed Free Throws See India Fall to Lebanon
Both teams had already cemented their respective positions in the Group – Lebanon at the top, and India at third – for this game to have any consequential meaning.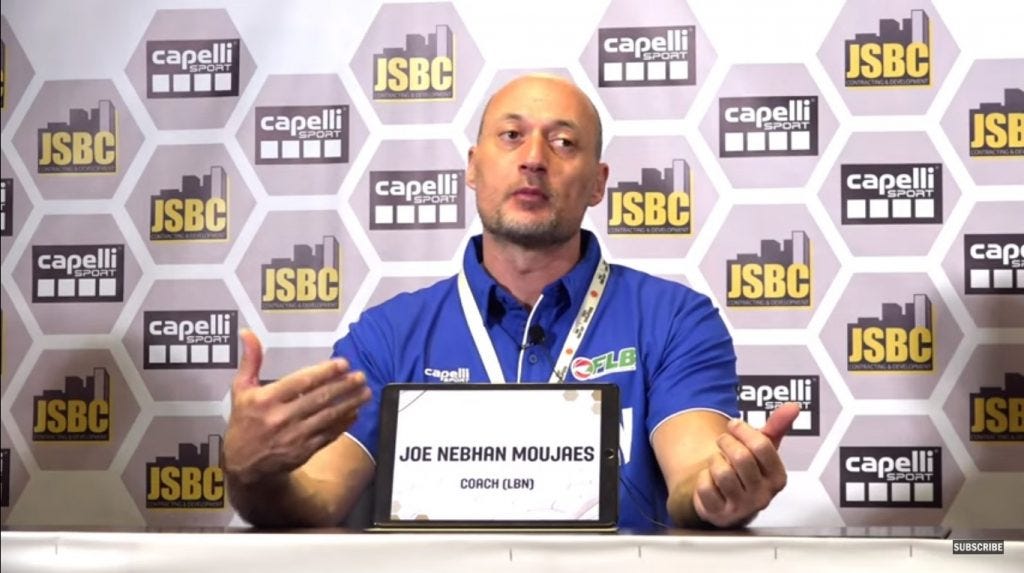 Lebanon Coach Joe Moujaes
"Credit also to India. They are improving every day. Every game we play against them they are better and better. This is great for Asian basketball," said Coach Moujaes in the post-game press conference.
Lebanon finished a perfect 6-0 in these Qualifiers, by virtue of which they will directly advance to the 2021 FIBA Asia Cup later this year.
Meanwhile, India (2-4) was third in the group and will proceed to play a Final Qualifying Tournament in June-July, for a spot in the continental championship.
The Lebanon Coach's positive comments towards India are significant in that they followed India head Coach Veselin Matic's own words of praise towards 'The Cedars'.
https://twitter.com/EkBballIndia/status/1364110468806176777
In their first head to head game, India had lost to Lebanon by a margin of 55 points. So by a simple numeric comparison, the 28 point, 71-99 loss last night does seem like an improvement.
***
If you've come this far…
Appeal to our readers: Ekalavyas is India's first and only basketball media company. We are not foreign-funded, nor investor-backed. Your support and encouragement have got us this far. We now need your financial assistance to ensure we can keep providing you timely, accurate and important information. Please contribute via https://www.instamojo.com/@ekalavyas​ 🙏🏾. We are accepting contributions as low as Rs. 9/- (excluding a small processing fee charged by the payment gateway provider). Thank you for playing a part in keeping media independent and objective!