Discover more from Ekalavyas | Basketball
Welcome to Ekalavyas, the pioneering publication dedicated to unearthing the world of international basketball, from an Indian perspective!
Over 3,000 subscribers
India gets knocked out of the FIBA U16 Asian Championship despite a good fight against Lebanon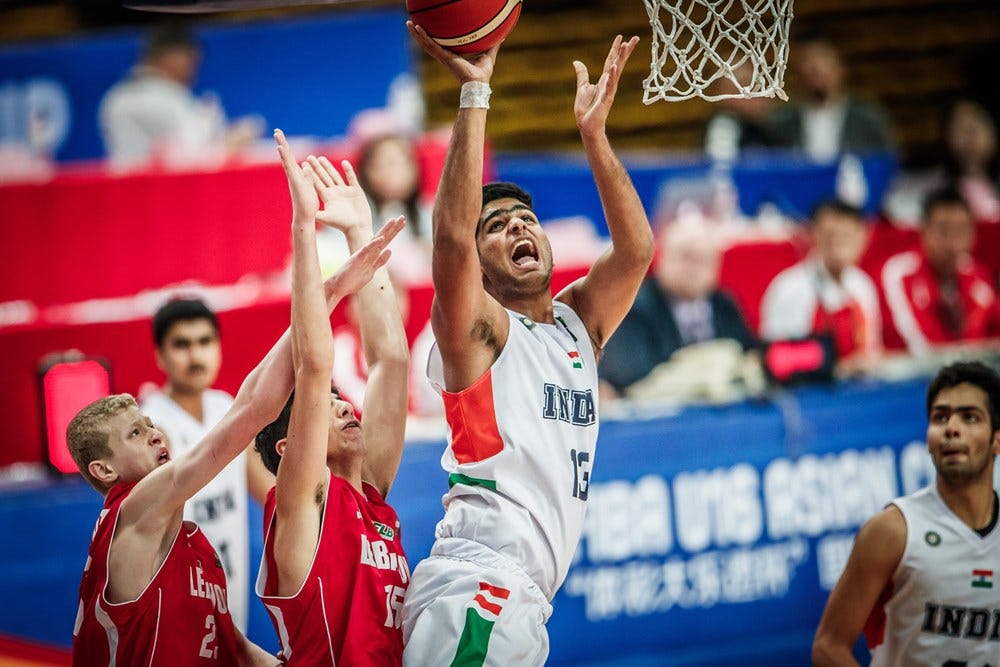 Harshwardhan Tomar reaching for the basket at the FIBA U16 Asian Championship. Image credits: FIBA.com
Bengaluru, 4th April 2018: The Indian U16 Men's Basketball Team lost 81-88 to Lebanon in a nail-biting finish in their last game of the preliminary round of the ongoing FIBA U16 Asian Championship in Foshan, China. After losing to Korea and Japan respectively, this was the last opportunity for both the teams to continue their run in the championship. Team India is now knocked out of the tournament.
The first quarter ended with Lebanon being able to only take a 2 point lead, indicating the close competition between the two teams. Indian team's defence deteriorated slightly in the second quarter, which resulted in a 15-point lead by the Lebanese team by half-time. Nevertheless, India came back stronger and more determined in the third quarter as they cut the lead short to just 4 points by the end of the quarter. Both the teams played full-court pressure defence in the final quarter and gave very little chance to their opponents to score. Nonetheless, Lebanon was able to maintain its lead and thus won the game with a 7 point lead.
Forward Rajveer Singh Bhati continued his impressive performance as he led the Indian side with 22 points along with Princepal Singh who scored 14 points. Captain Harshwardhan Tomar recorded another double-double scoring 11 points and collecting 11 rebounds. Forward Priyanshu started the game explosively by scoring 12 of his 16 points in the first half of the game. Rayan Zanbaka from Lebanon emerged as the top scorer with 27 points.
Lebanon (Rayan Zanbaka 27, Yousef Khayat 13) bt India (Rajveer 22, Priyanshu 16, Princepal 14p) 88-81 (24-22, 30-17, 15-25, 19-17)
About the FIBA U16 Asian Championship
The 16 teams qualified to compete are hosts China, reigning champions Korea, Australia, Bahrain, Chinese Taipei, Hong Kong, India, Iran, Japan, Kazakhstan, Lebanon, Macau, Malaysia, New Zealand, Philippines and Saudi Arabia.  Thirteen teams will be divided into 3 groups (A, B and C) of 3 teams each and 1 group (D) of 4. The best placed team in each group will qualify directly to the knock-out stage starting with the Quarter-Finals. Second and third placed teams will proceed to the Play-Offs Round. The fourth placed team in group D will be eliminated.