Discover more from Ekalavyas | Basketball
Welcome to Ekalavyas, the pioneering publication dedicated to unearthing the world of international basketball, from an Indian perspective!
Over 3,000 subscribers
India cruise into Div B semis; Korea, Australia, Japan and China in Div A Final Four of the FIBA Womens Asia Cup
Bengaluru, 27th July 2017: The quarterfinals of the FIBA Women's Asia Cup 2017 concluded today for both Division A and B, with games played at the Sree Kanteerava Indoor Stadium and Koramangala Indoor Stadium.
Division A
Korea knock New Zealand out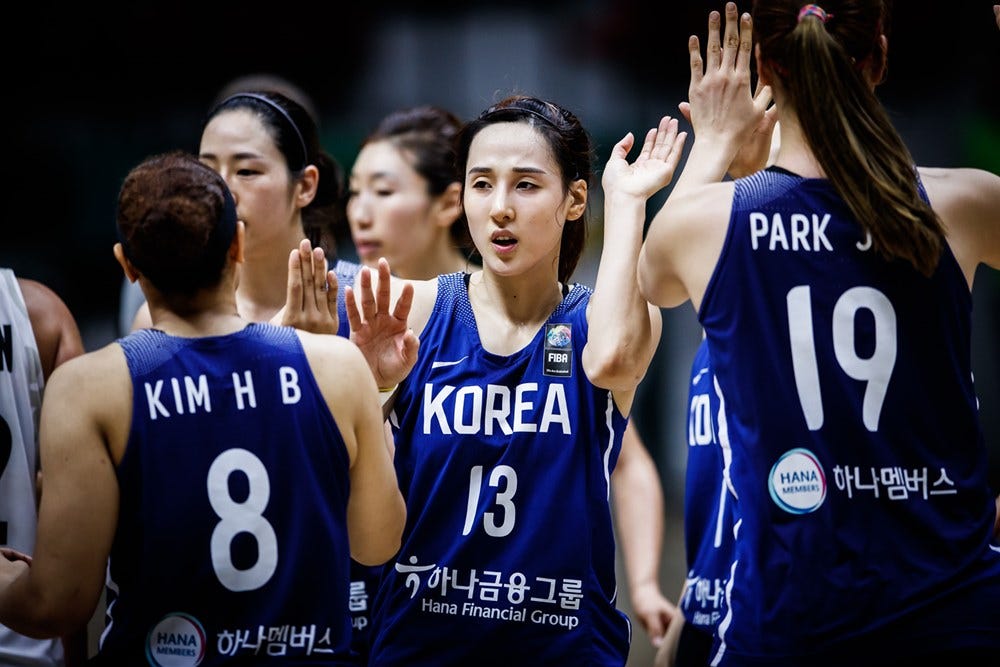 Team Korea celebrate their victory over New Zealand. Image credits: FIBA.com
The first quarterfinal was a clash between South Korea and first-timers in the FIBA Asia Zone, New Zealand. This was a golden opportunity for New Zealand to qualify for the FIBA Women's Basketball World Cup next year after spending years falling short in the Oceania zone due to the mighty Australians.
The first quarter was a low scoring affair for both teams. Korea especially struggled while shooting from the field, with only 20% of their shots falling. As many as five New Zealand players got on the scoreboard in the first period, as they ended the quarter with a 14-8 lead.
The second quarter was pivotal in the scheme of the game: Korea fought back, dramatically improving their shooting percentage, and going on a huge 26-2 scoring run. Guards Han Byul Kum and Yung Hui Lim combined well with bigs Joo Yeong Kwak and 6-foot-4-inch Jisu Park. On the defensive end, Korea switched to a 3-2 zone and challenged New Zealand to knock down shots. Unfortunately, the outside shots were not falling for New Zealand and on the inside, Jisu Park made life difficult for the New Zealand slashers.
Starting the second half down 20 to 34, New Zealand's veteran point guard Micaela Cocks sparked the offense with back-to-back 3s. This kicked off a 12-2 run for New Zealand, as they cut the lead down to 4 points. But Korea continued to score down low through their bigs Park and Kwak. As many as 32 points were scored by Korea in the paint in the first three quarters, compared to New Zealand's 14.
In the final period, it all came down to making shots. Korea carried on their momentum, knocking down clutch buckets down the stretch. Jisu Park continued to hold the fort down low and was aggressive around the basket on offense. New Zealand's shooting woes continued and they were just not able to bridge the gap.
"The ball didn't go into the hoop enough!" said NZ coach, Kennedy Kereama after the game. Korea pulled away for a 64-49 win, sealing a semifinal berth tomorrow.
Korea (Jisu Park 10 pts 11 rbs, Yung Hui Lim 14 pts, Joo Yeong Kwak 11 pts) bt New Zealand (Jillian Harmon 13 pts 10 rbs, Antonia Edmondson 11 pts 9 rbs, Micaela Cocks 11 pts) 64-49 [8-14, 26-6, 11-18, 19-11]
Australia ease past DPR of Korea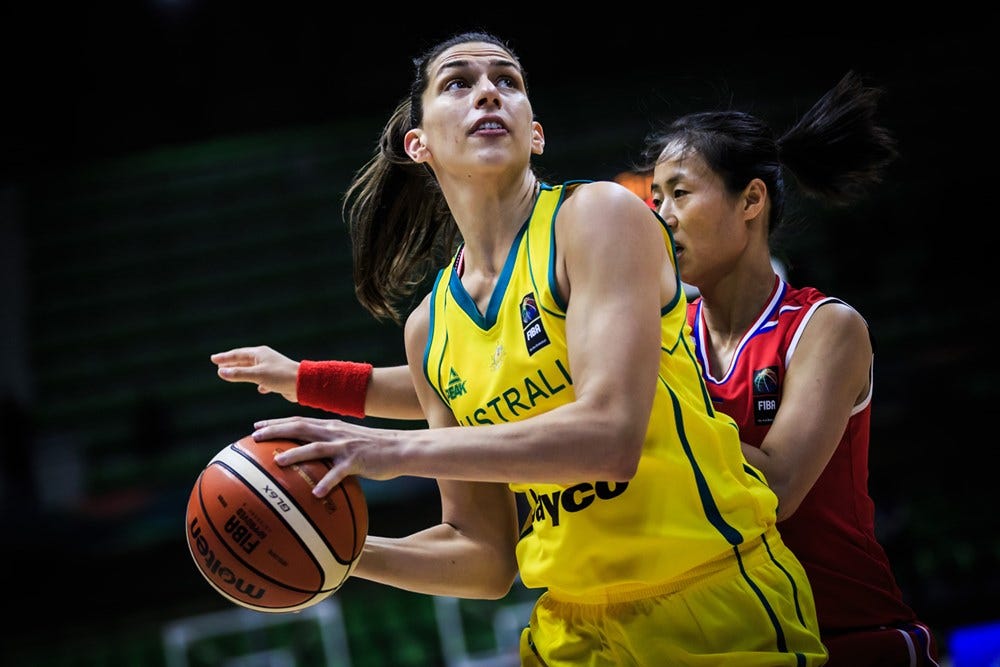 Marianna Tolo. Image credits: FIBA.com
Favourites Australia took on DPR of Korea in the second quarterfinal of the FIBA Women's Asia Cup 2017. Both teams entered the game with contrasting records. While Australia are unbeatean, DPR of Korea came out of the league stages with no wins under their belt.
There was a stark size difference between the two teams. Australia, with the bigger lineup, ran their offense through the post, as usual. The Opals were able to score in the paint over the smaller Korean defenders with ease: 28 of Australia's points were scored in the paint. Australia held a significant rebounding advantage as well, outrebounding Korea 50 to 22. Their offensive rebounding led to 25 second-chance points.
DPR of Korea's players fought valiantly, but were outmatched in all departments. The superior Aussies held the lead from start to finish. They were led by Alanna Smith's 20 points, followed by Sara Blicavs' 13 points. Australia will now face South Korea in the semifinal.
Australia (Alanna Smith 20, Sara Blicavs 13, Stephanie Cumming 11) bt DPR of Korea (Suk Yong Ro 22, Ryu Jong Kim 7, Hyang Jong Pak 7) 81-48 [28-12, 21-11, 11-12, 21-13]
China blow out Philippines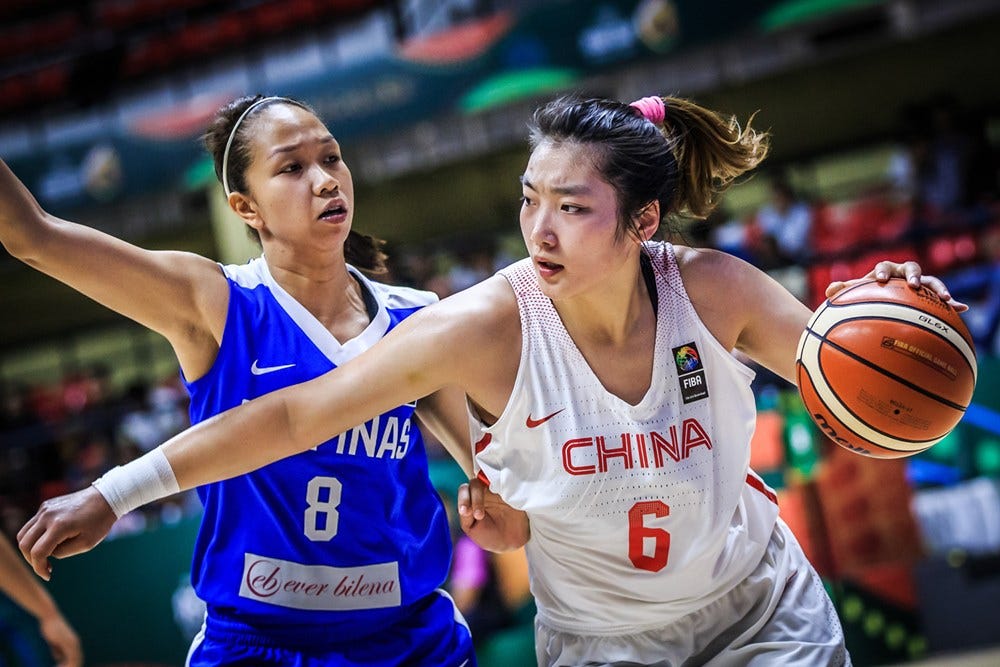 Meng Li of China. Image credits: FIBA.com
China made light work of the Philippines in the third quarterfinal of the day, sealing a spot in the semifinals tomorrow. Just like the previous quarterfinal, size was the crucial difference between the two teams.
There was too much one-on-one play by the Philippines guards, which did not pay off against the bigger China lineup. China, on the other hand, executed their offense to perfection. On half court sets, their ball movement created easy open looks, which they were able to knock down at a high percentage. China also used their post players to run a lot of offensive possessions against the undersized Perlas.
6-foot-7-inch China centre Yueru Li led the way once again with 19 points and 12 rebounds. China was able to test their bench strength in today's game and they performed exceptionally well, contributing 62 points. China dominated in all departments and closed out on a massive 117-43 win, breaking the Cup scoring record thus far. Philippines remain winless in a disappointing welcome to Division A.
China (Yueru Li 19 pts 12 rbs, Sinjin Huang 15 pts, Shao Ting 12 pts 7 asts) bt Philippines (Afril Bernardino 11 pts, Camile Sambile 10 pts) 117-43 [33-13, 28-2, 25-16, 31-12]
Japan overcome Chinese Taipei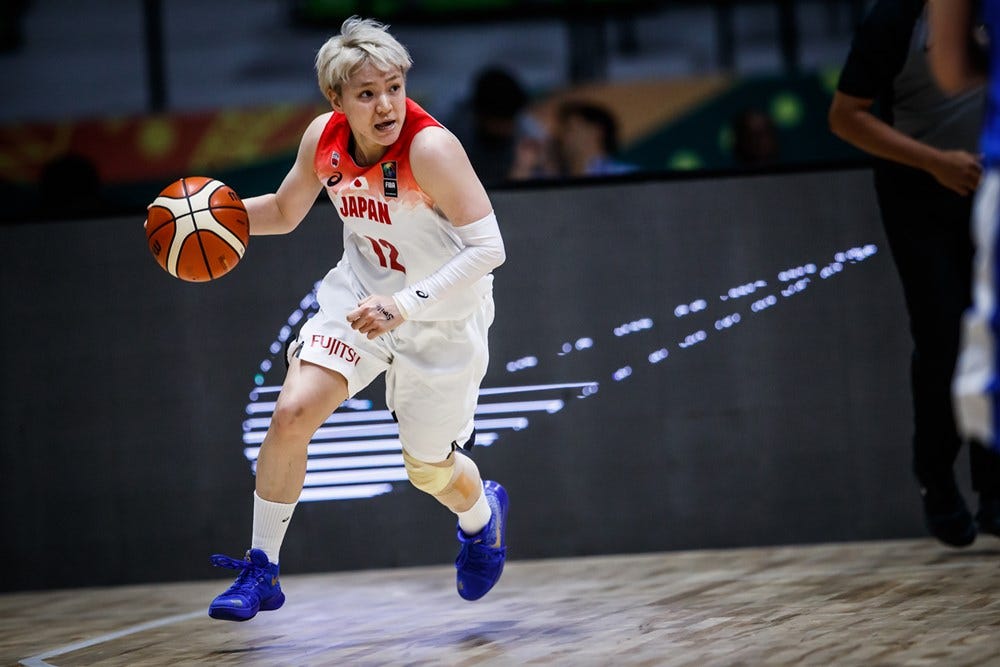 Asami Yoshida. Image credits: FIBA.com
Defending champions Japan took the last semi-final spot with a gritty 73–57 victory over Chinese Taipei. The challengers came out of the blocks with a clear plan to stifle Japan's transition game, and it worked well in the first quarter. The Chinese Taipei offense also complemented their defensive effort, as they were hitting their shots. Hsi-Le Bao started strong with a block and a three pointer, as they ended the first quarter with a narrow lead (15 – 13).
But as the game wore on, their effort began to slacken. Japan's star point guard Asami Yoshida dished out some splendid passes to find her teammates in space, as the Japanese took the lead 33 – 30 into halftime. From there on, Japan's lead only continued to grow, and they eventually won by a comfortable 16 point margin.
Japan's offensive effort was led by Moeko Nagaoka, who shot at a remarkable 70% and top scored with 28 points; Asami Yoshida notched up 8 assists and 3 steals. Japan will now face China in the semifinals, in a rematch of last edition's final which Japan won comfortably.
Japan (Moeko Nagaoka 28 pts; Saki Mizushima 11 pts; Asami Yoshida 8 asts) bt Chinese Taipei (Ping-Jen Huang 17 pts; Hsi-Le Bao 16 rebs) 73 – 57 [13 – 15, 20 – 15, 19 – 15, 21 – 12]
Division B
India cruise to semis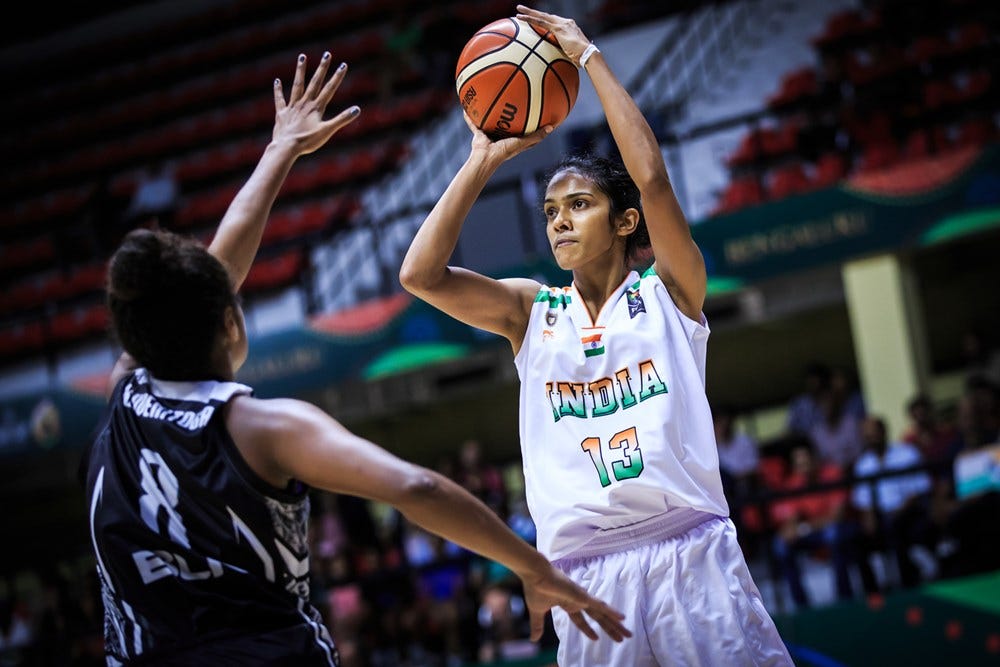 Jeena Skaria. Image credits: FIBA.com
Hosts India played Fiji in the last quarterfinal of the day, as they looked to continue their charge towards promotion. The Indian offense was on fire once again in the first half, as they raced to a 42 – 23 lead by halftime. Anitha Paul Durai and Jeena Skaria did the bulk of the scoring in the first half, with 24 points between them. Kavita Akula put in an assured performance at point guard, even knocking down a buzzer beater three at the stroke of halftime.
In the second half, Coach Zoran Visic gave his bench a run-out, allowing Grima to continue her run of good performances in this tournament (15 points). India's centres were offensively productive, as Rajapriyadharshini finished with 12 points and Poonam Chaturvedi had 10 points.
India was superior in almost every department, outrebounding the Fiji team 55 – 25. Fiji were also clumsy with their passing, allowing the Indian women to notch up 28 points from turnovers.
In the final analysis, the team shot the ball well, at a healthy 45% from the field. Anitha Paul Durai led the scoring for India with 19 points and Grima Merlin chipped in with 15 points. Mili Koyamainavure led the scoring for Fiji with 23 points.
India (Anitha Paul Durai 19 pts; Grima Merlin 15 pts; Rajapriyadharshini Rajaganapathy 10) bt Fiji (Mili Koyamainavure 23 pts) 93 – 51 [19 – 11, 23 – 12, 25 – 16, 26 – 12]
Uzbekistan fend off feisty Singapore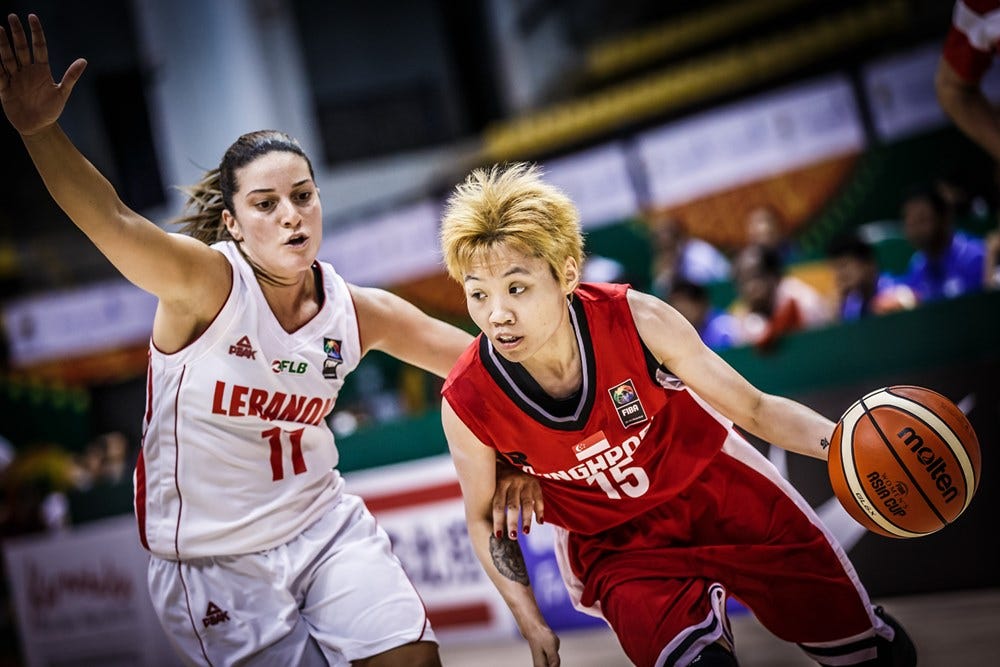 Cheryl Poon of Singapore. Image credits: FIBA.com
Uzbekistan set up a semifinal clash with Kazakhstan after an emphatic come-from-behind victory over Singapore. Singapore began the game well, going up 37 – 32 by halftime. But Uzbekistan came back strongly in the third quarter and outscored their opponents 33 – 16. The game eventually finished 84 – 79. Singapore played hard, looking for high percentage shots and racking up 46 points in the paint. But the 12-point deficit to start the fourth quarter proved too much to overcome. Elena Khusnitdinova starred for Uzbekistan with a double-double (19 points and 11 rebounds), while Natalya Koneva top scored with 26 points. Uzbekistan was on fire from beyond the arc, shooting an impressive 47.4%.
Uzbekistan (Natalya Koneva 26 pts; Elena Khusnitdinova 19 pts, 11 rebs; Anastasiya Sevastyanova 16 pts) bt Singapore (Jia Min Lim 18 pts, Cheryl Poon 13 pts; Jacqueline Chu 13 pts) 84 – 79 [18 – 22, 14 – 15, 33 – 16, 19 – 26]
Lebanon brush past Sri Lanka
Lebanon booked their spot in the Division B semifinals with an easy 86 – 37 victory over Sri Lanka. Sri Lanka shot the ball poorly, hitting only 20% of their shots from the field. Veteran centre Nadeeshani Silva top scored for Sri Lanka with 17 points, but none of her teammates broke into double figures. They were also outrebounded by Lebanon 60 – 41. For Lebanon, power forward Narine Gyokchian notched up a double-double, with 13 points and 12 rebounds. Lebanon will now face India in the semifinal.
Lebanon (Lama Moukaddem 16 pts; Nancy Maalouf 14 pts; Narine Gyokchian 13 pts, 12 rebs) bt Sri Lanka (N. Silva 17 pts) 86 – 37 [25 – 11, 22 – 9, 29 – 10, 10 – 7]