Discover more from Ekalavyas | Basketball
Welcome to Ekalavyas, the pioneering publication dedicated to unearthing the world of international basketball, from an Indian perspective!
Over 3,000 subscribers
India crowned as the champions of division B of the FIBA U16 Women's Asian Championship 2017; Winning Bonus Announced for Team India.
Bengaluru, 28th October 2017: In an exciting final day at the FIBA U16 Women's Asian Championship, India topped Malaysia to become the champions of division B.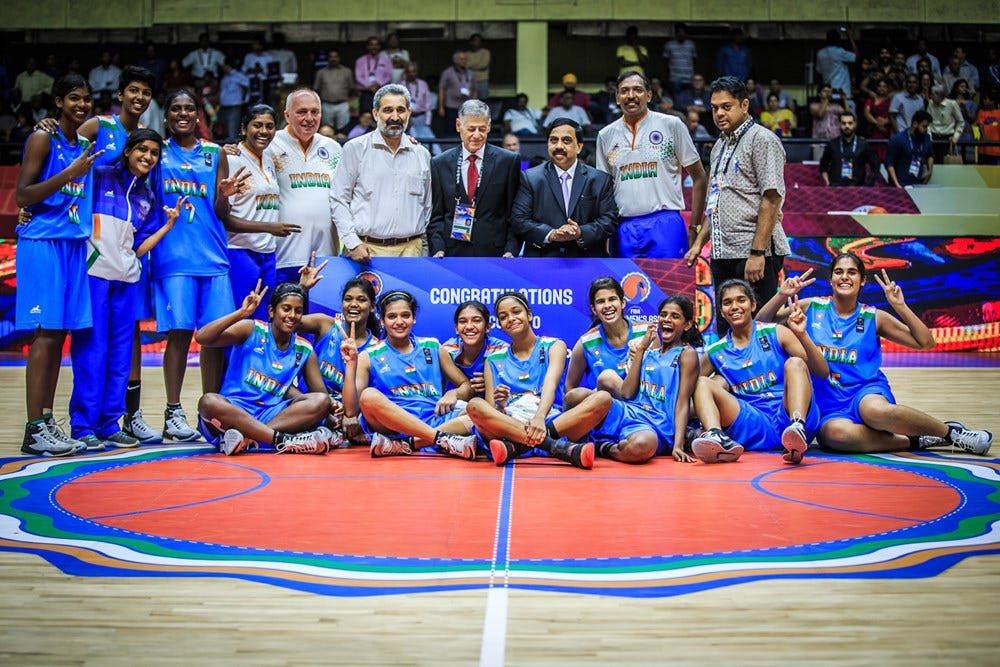 Indian U16 Team pose after the victory. Image credits : Basketball Federation of India
The Indian U16 women's basketball team has been elevated to Division A after beating Malaysia in a thrilling finale.
BFI President K Govindaraj has announced a cash prize of INR 20,00,000/- to the Indian U16 Women's squad.
India beat Malaysia 64-48
The division B finals started with a dry stretch for both the teams, 3 minutes into the game Indian Captain Sanjana Ramesh scored the first point of the game with the help of a free throw. Slowly rest of the team picked up the pace with forward Vaishnavi Yadav's quick steels and Centre Pushpa Senthil Kumar's impressive finishing under the basket. The first quarter ended at India leading Malaysia 15-3. The second quarter opened with a deep three-pointer from Vaishnavi and a buzzer beating three from Sanjana. Malaysia came back into the game with two strong back to back fast break baskets with the help of their defence. Malaysia made the game more competitive by reducing the lead to just 8 points at the end of the 2nd quarter, they outscored India 21-17 in the 2nd quarter.
Malaysia opened the second half with 7 quick points cutting the lead to just 3 points. India replied with 6 quick points of their own initiated by a great defensive play from Vaishnavi Yadav and two great finishes from Monica Jayakumar and Rani Sreekal. A great block from Sanjana and a transition three pointer from Vaishnavi Yadav took the game back to a 13 point India lead. The third quarter ended with India leading with 18 points. The fourth quarter opened up with Vaishnavi Yadav getting her 6th steel of the game, and captain Sanjana Ramesh registering two blocks on back to back plays. The lead kept on growing in India's favour and the game finally ended with a buzzer beater turnaround jump shot from centre Asmat Taunque. India's leading scorer through the championship Vaishnavi Yadav showed her experience again by recording amazing stats, she scored 14 points along with 12 rebounds and 7 assists. Guard Neha Karwa had 10 assists, Centre Pushpa Senthil Kumar recorded another double-double with 12 points and 10 rebounds. Captain Sanjana Ramesh performed her best when it was needed the most with 12 points, 7 rebounds and 5 blocks.