Discover more from Ekalavyas | Basketball
Welcome to Ekalavyas, the pioneering publication dedicated to unearthing the world of international basketball, from an Indian perspective!
Over 3,000 subscribers
India crowned 2nd SABA U16 Zone Champions
India beat Bhutan 131-50 in its final game and has been crowned champions of the 2nd SABA U16 Zone Championship.

With its perfect 4-0 record, India has qualified for the 2017 FIBA Under-16 Asian Championship that will be held in Malaysia later this year.

Guard Binod Rajak and centre Princepal Singh both led the team with 20 points each.

Princepal Singh was named the Most Valuable Player (MVP) of the Championship.

India had a whopping seven players scoring in double figures in its last game.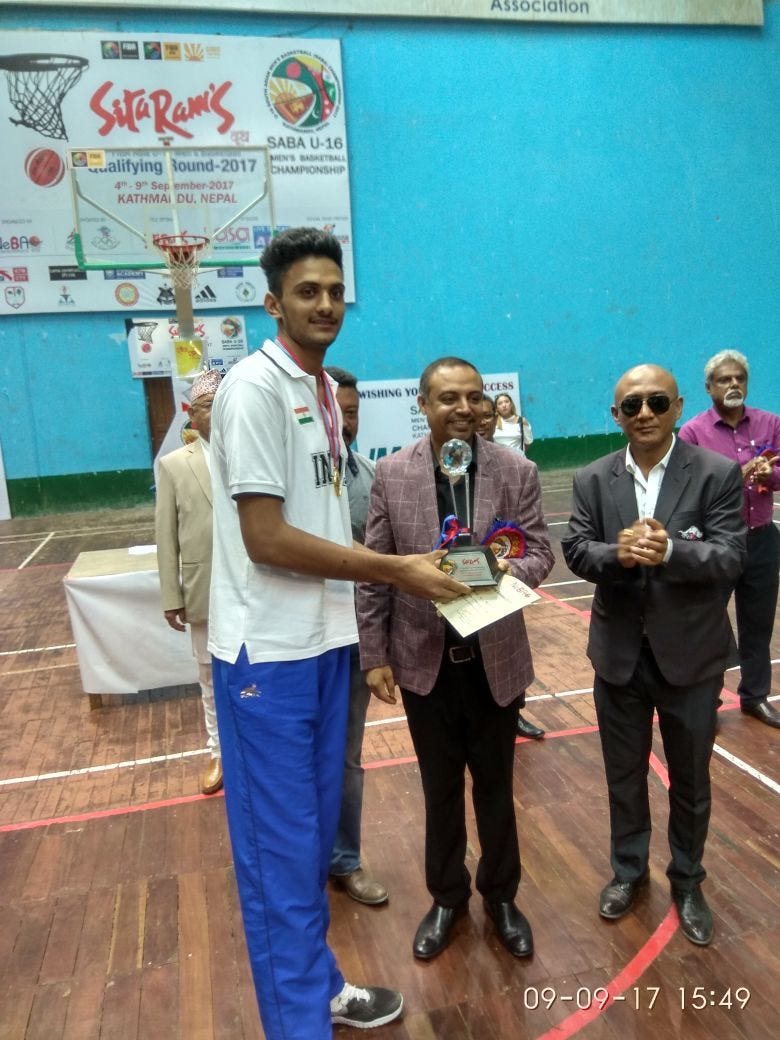 Princepal Singh collecting his MVP trophy. Image credits: Basketball Federation of India Bengaluru/Kathmandu, 9th September 2017: The Indian U16 men's team has beaten Bhutan 131-50 and is now the SABA U16 Zone Champion. The Championship was held at the Dashrath Rangshala Stadium, Kathmandu. In India's last game, guard Binod Rajak and Centre Princepal Singh (who is the highest scorer in the Championship) chipped in with 20 points each. Overall, seven Indian players scored in double digits. For his consistent showing, Princepal was named the Most Valuable Player (MVP) of the Championship. Team India was a dominant force throughout the Championship, as they scored more than 100 points on three different occasions and limited their opponents to 50 or lesser points on multiple occasions. The stats speak for itself as India now cruise into the FIBA U16 Asian Championship with ease, which will be held in Malaysia later this year. India (Princepal SIngh 20 pts, Binod Rajak 20 pts, Prashant Tomar 16 pts) bt Bhutan (Woezer Karma 14 pts, Samphel 13 pts) 131-50 [40-7, 20-21, 41-10, 30-12]  
INDIAN CONTINGENT
Jersey. No. Name Position DOB Place of Birth Representing State Height (cms) (ft & inches) Weight (Kgs) 4 Princepal Singh C 03/01/01 Ferozepur, Punjab Punjab 210 (6' 10.6'') 95 5 Binod RAJAK PG 02/04/01 Kolkata, West Bengal Punjab 171 (5' 6'') 61 6 Harshwardhan TOMAR F/C 01/02/01 Gwalior, Madhya Pradesh Madhya Pradesh 199 (6' 5'') 91 7 Mani THAKUR PG 26/10/01 Bhopal, Madhya Pradesh Madhya Pradesh 173 (5' 6'') 63 8 Ajmer SINGH C 09/10/01 Delhi Chandigarh 188 (6' 1'') 70 9 Gaurav SHEORAN F 10/02/02 Hisar, Haryana Haryana 184 (6') 73 10 Priyanshu F 18/03/02 Shabga, Uttar Pradesh Uttar Pradesh 183 (6') 68 11 Jerom PRINCE GEORGE PG 01/10/02 Saudi Arabia Kerala 174 (5' 7'') 64 12 Prashant TOMAR PG 05/03/01 Baraut, Uttar Pradesh Karnataka 176 (5' 7'') 64 13 Nitish BENIWAL PF 15/02/01 Delhi Delhi 190 (6' 2'') 85 14 Vigneshwar UPADHYAY PF 01/01/01 Azamgarh, Uttar Pradesh Telangana 193 (6' 3'') 75 15 Rajveer Singh BHATI F 26/05/02 Bikaner, Rajasthan Rajasthan 184 (6') 71
  *PG - Point Guard / Feeder, G - Guard, F - Forward, G/F - Wing, PF - Power Forward, C - Centre, PF/C - Post Team Manager: Kulvinder Gill Coach: Vibhor Bhriguvanshi Assistant Coach: Babu Davis Referee: Tanmoy Das