Discover more from Ekalavyas | Basketball
Welcome to Ekalavyas, the pioneering publication dedicated to unearthing the world of international basketball, from an Indian perspective!
Over 3,000 subscribers
India to play 7-8 Classification Game to avoid Asia Cup Relegation
A 49-109 loss to New Zealand means the 0-3 Indian team will face either Chinese Taipei or Philippines in a classification game to stay on in Division A.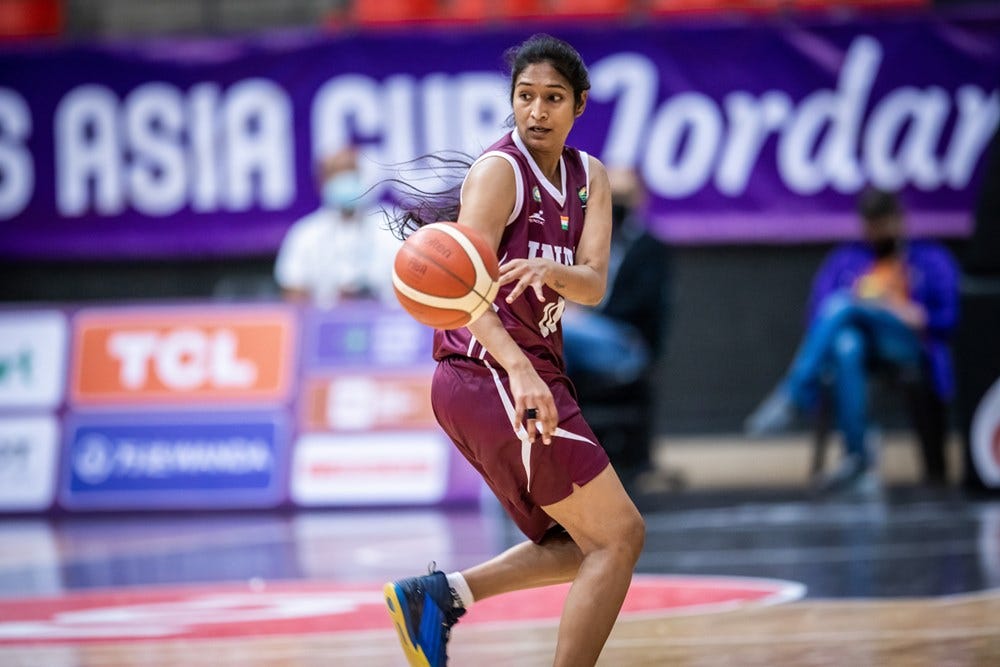 India's loss to New Zealand was compounded by Navaneetha PU's injury. Image credit: FIBA.com
India no match for physical New Zealand
After the speed of Japan and the outside shooting of Korea, India was up against a physical, defensive-minded New Zealand. Like India, the 'Tall Ferns' too had lost its previous two games. But the 36th ranked Islanders meant business from the get-go, building a 28-14 lead at the end of the first quarter.
New Zealand crashed the boards, with 21 offensive rebounds leading to 22 second-chance points.
In an ominous early sign, India captain Shireen Limaye racked up three quick personal fouls within seven minutes, and was forced to sit out for the remainder of the first half.
In her absence, small forward Sruthi Aravind tried her best with tough contested layups, but on the other end there was no stopping New Zealand.
By halftime, New Zealand led 50-27.
https://twitter.com/fibasiacupwomen/status/1443178194522288130
Interestingly, after playing zone defense throughout against Japan and Korea, Coach Zoran Visic opted for man-to-man defense against New Zealand. The move had little impact with the Tall Ferns able to score at will from both the three-point line (13 triples as against zero for India) and from the paint. New Zealand's bench also came up big, with 67 points.
To make matters worse, late in the fourth quarter, the seasoned India forward Navaneetha PU went down with a right knee injury, and it is questionable if she will return for the all-important 7-8 classification game.
7-8 classification: Rematch with Philippines on the cards?
India will await the result of the final Group B game between Chinese Taipei and Philippines. The loser of this game will take on India in a 7-8 classification game on 30th Sept in a bid to avoid relegation to Division B.
The timing of this game is still to be decided.
If India does end up playing against Philippines, then it will be a rematch of the 2019 Women's Asia Cup 7-8 classification game (which Philippines won 92-78).
*The FIBA Women's Asia Cup is being held between 27th September – 3rd October in Amman, Jordan. The games are expected to be live-streamed on the LiveBasketball.tv app and on FIBA Youtube Channel. 
***
If you've come this far…
Appeal to our readers: Ekalavyas is India's first and only basketball media company. We are not foreign-funded, nor investor-backed. Your support and encouragement have got us this far. We now need your financial assistance to ensure we can keep providing you timely, accurate and important information. Please contribute via https://www.instamojo.com/@ekalavyas​ 🙏🏾. We are accepting contributions as low as Rs. 9/- (excluding a small processing fee charged by the payment gateway provider). Thank you for playing a part in keeping media independent and objective!
Ekalavyas now on Clubhouse! Join us for live audio conversations by following the 'Sports India Basketball' Club.
Ekalavyas now on Telegram! Stay up-to-date on all the breaking news around Indian Basketball, by subscribing to the EkBallIndia Telegram Channel.