Discover more from Ekalavyas | Basketball
Welcome to Ekalavyas, the pioneering publication dedicated to unearthing the world of international basketball, from an Indian perspective!
Over 3,000 subscribers
Hosts Knights start off easy; KJ's outlast Siolim in one point thriller
On Day 3 of the Goa All-Star Games, hosts Knights beat Raiders 59-21, while KJ's prevailed 67-66.
Panjim, 13th July 2023 – Day 3 of the All-Star Games, Goa concluded yesterday at the Don Bosco Oratory in the city.
In an exciting night of basketball action, the Knights dominated the court as they defeated the Raiders in a one-sided affair with a final score of 59-21. The Knights Club – who are also organizers of the competition – underlined their defensive intent with a 17-0 first quarter, not allowing the Raiders to score a single point. Knights' 2-3 zone defense was well-connected and unbreachable.
YMCA Knights Basketball Club
On the offensive end, Knights' Abraham Menezes led the charge for his team with his impressive outside shooting, hitting five threes en route to scoring 19 points. Flobert Monteiro contributed 14 points, while Rahul D'Souza added 10 points to help secure the victory. On the other hand, the Raiders struggled to find their rhythm throughout the game, with Tristan Lopez being their top scorer with 8 points.
Right after that intense matchup, KJ's Basketeers and Siolim Basketeers engaged in a nail-biting contest that kept the spectators on the edge of their seats until the final buzzer. KJ's managed to clinch a narrow victory, defeating Siolim by a razer thin margin of 67-66. Centre Shivkumar U emerged as the standout performer for KJ's Basketeers, leading the team with an impressive 22 points. Syed MA Salman contributed 16 points, while Arun Kumar chipped in 13 points to the team's total.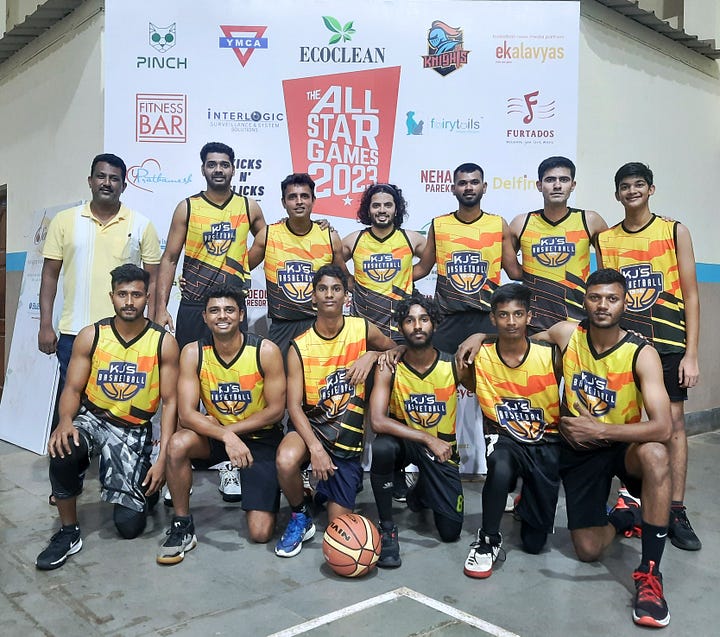 Siolim Basketeers fought valiantly throughout the game, with Tanish Lotlicar leading their offensive charge and scoring 17 points. Andrey Tokarev and Aaryan Raut also contributed to the team's effort with 13 and 10 points, respectively, while Daley Fernandes added 9 points to their kitty. Tokarev had a chance to hit the game-winning basket, but his contested layup was off the mark.
Results (12-7-23)
Knights (Abraham Menezes 19, Flobert Monteiro 14, Rahul D'Souza 10) bt Raiders (Tristan Lopez 8) 59-21 [17-0, 18-7, 11-9, 13-5]

KJ's Basketeers (Shivkumar U 22, Syed MA Salman 16, Arun Kumar 13) bt Siolim Basketeers (Tanish Lotlicar 17, Andrey Tokarev 13, Aaryan Raut 10, Daley Fernandes 9) 67-66 [23-14, 17-17, 8-12, 19-23]