Discover more from Ekalavyas | Basketball
Welcome to Ekalavyas, the pioneering publication dedicated to unearthing the world of international basketball, from an Indian perspective!
Over 3,000 subscribers
Gujarat U18 Basketball: Semifinalists Confirmed
The Gujarat U18 Basketball Championship saw its second day of league-round action.
The Gujarat Junior Basketball Championships is being conducted in a league cum knockout format. The men's category has four groups with three teams each, and the women's group has two groups with four teams each.
Day 2 saw 14 matches in two sessions of morning 7:00 AM to 11:00 AM and evening 4:00 PM to 9:00 PM from both the gender categories.
Here are some of the matches we had eyes on:
Gujarat U18 Girls:
Baroda 65:45 Ahmedabad
The Baroda Girls basketball team has one of the most talented players in Naomi Lakhanpal, they faced Ahmedabad Girls Basketball team who decimated Navsari by 87:00 before entering into this match.
From the tip-off Baroda set the tempo by getting two steals and scoring four points off turnovers. The team scored 16 points in the first quarter and restricted Ahmedabad to six points. As the game progressed, Khushi Shah from Baroda took the scoring on her hands alongside Lakhanpal and Aditi Vasudev.
Shah suffered an injury while attempting a lay-up and was out of the game with an ankle injury. In her absence, captain Nidhi Chauhan went on to score points for the team. The defence leaked out after the first quarter which led to close games in the remaining quarters.
Later in the game, Lakhanpal also suffered from a probable thigh quadricep pull but continued playing the game.
Ahmedabad performed as a unit offensively, they created shots for everyone. They were not hesitant to keep their line of defense near the three-point arc, unlike Baroda who pressed higher near the half court.
Snehi Parekh, Vishwa Panchal stood out as top scorers for the team. They were often double-teamed by the powerhouse side, but open gaps helped them to convert opportunities to points.
The team bounced back from a bad start but was never able to get the lead throughout the game.
GUJARAT U18 Boys:
Bhavnagar 53:26 Mehsana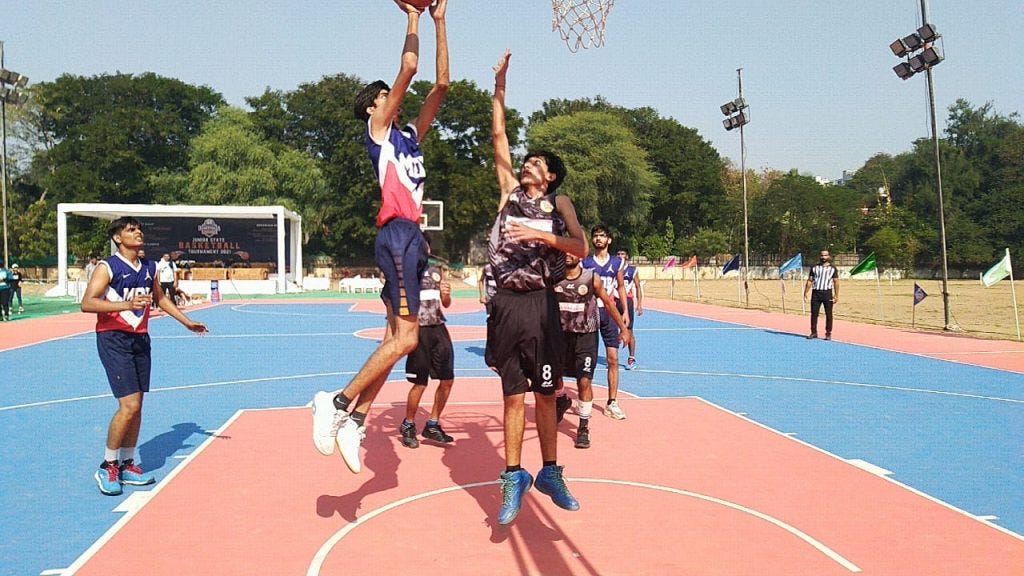 Image credit: Kevin Somani
Bhavnagar was expected to annihilate Mehsana with a bigger margin win. But the score does not tell the whole story.
Coached by one of the most aggressive coaches in Indravijay Singh Gohil, Bhavnagar started the game with a full-court man-to-man press. This was hard for Mehsana to answer, they often encountered double team once the ball crossed half court.
Rohan Kureshi from Bhavnagar was one of the dominant force on defence and offense. He often used to find ball stealing opportunities and was able to finish well on the fast breaks. HarshilUpadhyay was another scorer for Bhavnagar who was on fire in the first half He scored nine points in the first quarter.
ParthPancholi had a stellar defensive game, he recorded total 7 blocks in the game. In the previous game as well, Pancholi was often found blocking the Khedaoffence. His confidence to block shots came in past two years, before that he held back on stopping the shots to go in. Jainam Patel was the top scorer for the side but hard-pressed by defines which made him take tough shots.
Bhavnagar did not play full court man-to-man all game, after halftime the team was out of gas which affected their scoring in the second half.
Ahmedabad 58:26 Sabarkantha
One of the classic rivalries in Gujarat Basketball, Ahmedabad playing Sabarkantha (Himmatnagar) was a treat to watch.
The intensity of the game was high from the tip-off. Sabarkantha scored the first basket by a free throw and Ahmedabad by tough shot from Meet Nayi.
Ahmedabad was in the lead in most parts of the game, they ended the first quarter with 21 points. Sashmit Rore, Vedanth Jain and Nisarg Tarade, all scored for the team. Sabarkantha did get chances from drive-ins and lay-ups but could not capitalize on the opportunities they got.
The second quarter was the only time when the game felt close. Divyaraj Chanpawat opened the scoring with a shot from inside the arc. Deep Prajapati was a streaky shooter, who shot 4 to 6 points in succession whenever he scored a point.
Sabarkantha after the third quarter never scored, their overall shooting was low. The team played against a tough defense, which made sure that Sabarkantha does not get enough openings.
Sabarkantha later played Gandhinagar as well which had a similar scoreline of this match.
Gujarat U18 C'ship Scores for other games:
Girls:
Bhavnagar 41:10 Rajkot Ahmedabad 56:4 Kutch Kutch 34:3 Navsari Jamnagar 9:38 Rajkot Bhavnagar 52:8 Surat Baroda 65:45 Ahmedabad
Boys:
Rajkot 38:30 Anand
Jamnagar 53:12 Navsari
Baroda 70:33 Jamnagar
Surat 40:17 Anand
Bhavnagar 61:19 Kheda
Gandhinagar 57:28 Sabarkantha
Gujarat U18 Matches for Today (27/11/21):
Girls: Semi-finals Baroda vs Surat Bhavnagar vs Ahmedabad
Boys: Semi-finals Bhavnagar vs Surat Baroda vs Ahmedabad
Check all the Instagram highlights here.
***
If you've come this far…
Appeal to our readers: Ekalavyas is India's first and only basketball media company. We are not foreign-funded, nor investor-backed. Your support and encouragement have got us this far. We now need your financial assistance to ensure we can keep providing you timely, accurate and important information. Please contribute via https://www.instamojo.com/@ekalavyas​ 🙏🏾. We are accepting contributions as low as Rs. 9/- (excluding a small processing fee charged by the payment gateway provider). Thank you for playing a part in keeping media independent and objective!
Ekalavyas now on Clubhouse! Join us for live audio conversations by following the 'Sports India Basketball' Club.
Ekalavyas now on Telegram! Stay up-to-date on all the breaking news around Indian Basketball, by subscribing to the EkBallIndia Telegram Channel.