Discover more from Ekalavyas | Basketball
Welcome to Ekalavyas, the pioneering publication dedicated to unearthing the world of international basketball, from an Indian perspective!
Over 3,000 subscribers
Gujarat State Senior Basketball C'ship: Group Stage Ends
The third day of the Gujarat State Senior Basketball Championships was the final day for group matches and quarter-finals. The winners in the quarters will move on to the semi-finals on Dec 4th 2021.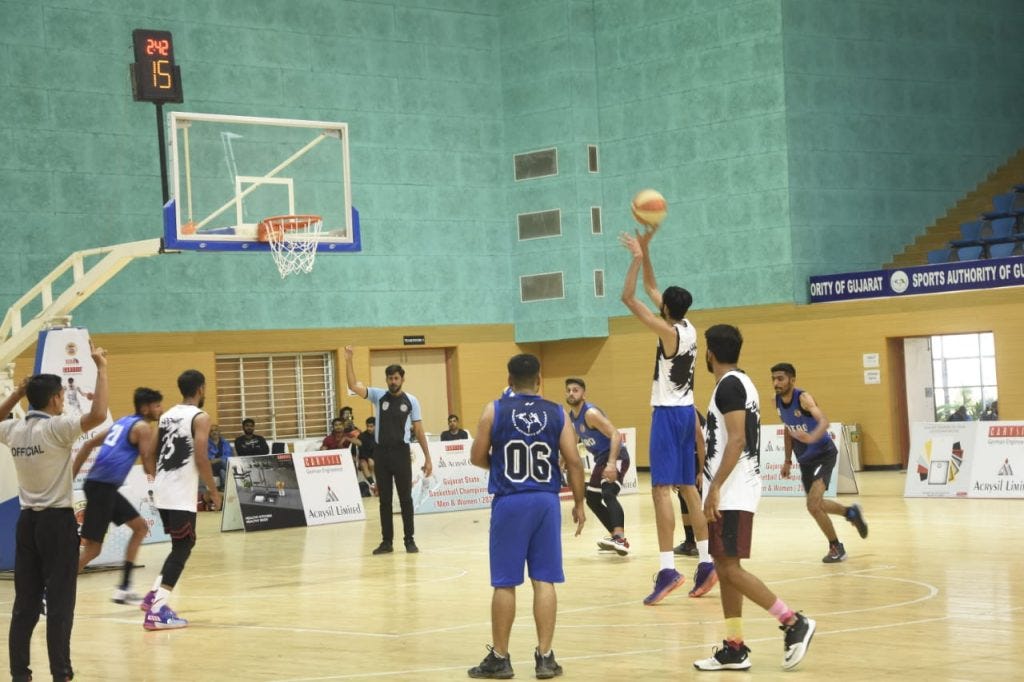 International player Sahaj Patel for Baroda vs Botad in the Gujarat State Senior C'ship 2021. Image credit: "Shiv photo - Aniruddhsinh S Chudasama"
The Gujarat State Senior Basketball Championships are conducted in a league cum knockout format. The Gujarat State men's category has seven groups with three teams each, and the women's group has four groups with three teams and two in the last group.
In the men's Group B, Bhavnagar University has got an automatic promotion due to Jamnagar and Mehsana not appearing for the tournament.
Day 2 saw 14 matches in two sessions. The 7:00 AM to 12:30 PM session was the final group session of group matches. The quarter-finals took place in the evening session.
Here are some of the matches we had our eyes on:
Group matches Men's:
Surat 85:83 Sabarkantha
The close match between Surat and Sabarkantha was a predicted one.
Sabarkantha is known for its strong will to win, even if the situation does not favour them. The match was never seemed to be in control of Sabarkantha; Surat always came back and tied up the score.
Jaimin, Kush, Karnik kept the scoreboard moving for Sabarkantha. Swapnil, known for his three-point shooting, also hit five three-pointers. Jaimin had the ball on several occasions creating plays and hitting shots. Kush came into score when no one could. The team penetrated from the centre till the 4th quarter, but as soon as Surat figured it out, they started to attack from the wings.
Amit Chahar finally found his form in this match and looked great. Almost all of his chances at the charity stripe were converted. NachiketNaik was the pin-point passer who would help or attack itself when attacking lanes opened up. YashRathod was active on offence while he was on the court. JayrajJadeja hustled to play tough defence and scored crucial points for Surat.
The game came down to the final 30 seconds with both teams on 83 points.Naik took the matter into his hands and ended the game just a couple of seconds before the quarter ended.
gujarat state c'ship Quarter-Finals Men's:
Botad 45:92 Baroda
Botad faced title favourites Baroda in the first game of men's quarter-finals. The underdogs surprisingly reached this stage due to their offensive prowess.
But who would have thought their style of play would thrash the highest-scoring team in the game. Baroda had only one thing in mind to tear up the team and make it look like a cakewalk.
Botad were clueless about how to play against the Sahaj Patel. Sagar Mori, who has dethroned from the second-highest scorer in the league thanks to Surat's Amit Chahar, started scoring. Chatrapalsinh and Dwij also played their part to try to equal Baroda's scoring pace. Mori gassed out mid-game, and so did the Botad offence; though they scored, three points were hard to dig for them.
Baroda was too good. SarfarazSaiyed was all over the court, dishing out 17 assists, hitting three-pointers and getting crucial seven steals. Sahaj Patel used his height and became the top scorer for the league by scoring 44 points. Nilkanth Patel unleashed his inner Stephen Curry hitting 40% 3 points of shots attempted.
Botad, who came into this game scoring 94 in their last game, conceded 92 points in this game.
Surat 35:73 Ahmedabad
The teams that contested for the title in juniors faced each other in the senior quarter-finals. Surat and Ahmedabad were not as close and received similar results to juniors.
Ahmedabad scored 26 points in the first quarter, showing how weak the Surat defence was. Shafiq and Naman welcomed Surat by scoring 14 of the first 26 points. They often found gaps in the restricted area of defence. The big man lineup assisted them in getting offensive rebounds several times.
They were tough to beat defensively as well. With several high-flyers in the squad, they often finished at the rim rather than hitting three-pointers.
Surat's strength of hitting in the key suddenly was their Achilles heel. After an intense game against Sabarkantha, the team looked tired in this game. Surat played at a plodding pace and thus could not break into the set defence of Ahmedabad. No one other than Amit Chahar scored in the game.
NachiketNaik was severely missed as he did not play this game due to a possible knee injury. Manish and Jayraj gave their all to score points but were not enough to propel Surat to victory.
Bhavnagar Uni. 25:67 Bhavnagar Dist.
It was two home teams facing each other. But as Bhavnagar are known for demolishing their opponents, the same was here. Bhavnagar did not hold back against Bhavnagar University.
Surprisingly both teams were coached by Indravijay Singh Gohil, and before the game, both teams huddled up together.
The game from Bhavnagar University did not look confident, which was seen in their scoring. There were lapses in passing, tough shots by players. Things were not setting up for them, and that hampered them mentally.
Bhavnagar district at the other end made this match look like a showcase of their offence. Krishnarajsinh, Mirant, and KalotraRajan took their chances at Bhavnagar university defence and easily scored.
gujarat state c'ship Quarter-Finals Women's:
Kutch 15:61 Rajkot
A blowout win was on paper for Rajkot as they played Kutch.
Kutch scored its lowest in this game. No one other than Budhiya Krishna scored for the team. The team was not like the one which we saw against Baroda.
Rajkot played like it was a cakewalk for them. Dhara looked like never giving up on the shooting streak which she got from the start of the game. Nidhi was around the court to receive the ball bag points for the team. The strong defence from Rajkot restricted Kutch to a scoreless quarter in the game.
Bhavnagar 58:16 MS University
The hosts Bhavnagar were another team that won by a blowout in the quarter-finals against MS University.
MS University (MSU) had a ten-point loss and 22 point win before entering into this game. But the team was like the one who played there. It was a different team performance-wise. They looked helpless and clueless about the Bhavnagar defence. It was hard for them to break into them. Poor rotations and missing easy shots was the icing on the cake for them in this loss.
Bhavnagar, coached by Harpalsinh, played it like any other practice match. Junior's star LeenabaVala had her share of points in the game. There were fewer hurdles between the Bhavnagar players and the basket with lousy defence from MSU. The team also tried to apply high press to score more points and were partly successful.
Surat 37:72 Ahmedabad
Group B table-toppers Surat expected to give Ahmedabad a tough fight, but it was not.
The first quarter score read 11-11, with SakshiSabalpara and VaibhaviKachhchi opening for Surat and Fatama, Snehi, Vishwan and Neerani for Ahmedabad.
Surat lost the hold of the game as Ahmedabad cruised with 16 points making their halftime score 27. Ahmedabad was able to put Surat in defensive trouble smartly. They found spaces inside the arc and were gave the ball to their centres to execute their offence. The Ahmedabad played as a team, getting points from almost every player in the team. The team did play a bit harsh, injuring Surat players on numerous occasions.
Surat, after the first quarter, stopped taking lay-ups and drive-ins. HemangneeGamit scored three to bail out Surat from the point deficit, but it was insufficient. KashishSorathiya, SakshiSabalpara and Khusbhoo Aggarwal did not look the best of themselves and did not shoot much.
Baroda 53:12 Bhavnagar University
In the last game in the quarter-finals, Baroda won the game like a child's play against Bhavnagar University.
Baroda's junior's star Naomi Lakhanpal played this game and left her mark in the game. Sharavi, Kavisha and Smin were the top scorers in the game and the team. The low energy game felt like the winner was pre-decided. After the first quarter, Bhavnagar University did not look like a confident side and ended being slaughtered by the Baroda.
Gujarat State Senior C'ship All the Scores for 3/12/2021:
9:30 AM Baroda 39 6 Kheda Women's 10:30 AM Bhavnagar Univ. 29 9 Mehsana Women's 11:30 AM Botad 22 44 MS Univ Women's 6:30 AM Botad 51 38 Patan Men's 7:30 AM SBI 25 56 Bhavnagar Dist. Men's 8:30 AM Surat 85 83 Sabarkantha Men's 12:30 PM Gandhinagar 57 34 Navsari Men's
Quarter-Finals
6:30 AM Botad 51 38 Patan Men's 7:30 AM SBI 25 56 Bhavnagar Dist. Men's 8:30 AM Surat 85 83 Sabarkantha Men's 12:30 PM Gandhinagar 57 34 Navsari Men's 3:00 PM Kutch 15 61 Rajkot Women's 7:00 PM Bhavnagar 58 16 MS Uni. Women's 8:00 PM Surat 37 72 Ahmedabad Women's 9:00 PM Baroda 53 12 Bhavnagar Uni Women's
Gujarat State Senior C'ship Games for 4/12/2021
1st Semi 7:00 AM Rajkot vs Ahmedabad Women's 2nd Semi 8:00 AM Bhavnagar Dist. vs Baroda Women's 1st Semi 9:00 AM Baroda vs Income Tax Men's 2nd Semi 10:00 AM Bhavnagar Dist. vs Ahmedabad Men's Final (Time Awaiting) SF1 Winner vs SF2 Winner Women's Final (Time Awaiting) SF1 Winner vs SF2 Winner Men's
Check all the 'Gujarat Basketball' Instagram highlights here.
***
If you've come this far…
Appeal to our readers: Ekalavyas is India's first and only basketball media company. We are not foreign-funded, nor investor-backed. Your support and encouragement have got us this far. We now need your financial assistance to ensure we can keep providing you timely, accurate and important information. Please contribute via https://www.instamojo.com/@ekalavyas​ 🙏🏾. We are accepting contributions as low as Rs. 9/- (excluding a small processing fee charged by the payment gateway provider). Thank you for playing a part in keeping media independent and objective!
Ekalavyas now on Clubhouse! Join us for live audio conversations by following the 'Sports India Basketball' Club.
Ekalavyas now on Telegram! Stay up-to-date on all the breaking news around Indian Basketball, by subscribing to the EkBallIndia Telegram Channel.