Discover more from Ekalavyas | Basketball
Welcome to Ekalavyas, the pioneering publication dedicated to unearthing the world of international basketball, from an Indian perspective!
Over 3,000 subscribers
Gujarat Senior State Basketball Championship Day 2
The Gujarat Senior State Basketball Championships day 2 ended at Sidsar Sports Complex in Bhavnagar. The second day had matches to give teams another chance to get seedings for the quarter-finals starting from the afternoon session of 3rd December 2021.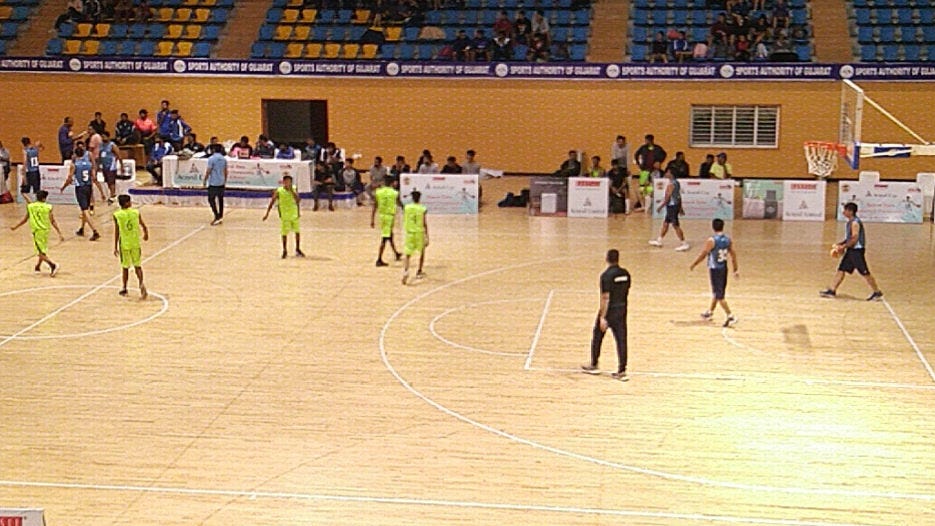 Aravali vs SBI. Image credit: Kevin Somani
The Gujarat Senior Basketball Championships is being conducted in a league cum knockout format. The men's category has seven groups with three teams each, and the women's group has four groups with three teams and two in the last group.
In the men's Group B, Bhavnagar University has got an automatic promotion due to Jamnagar not appearing for the tournament and Mehsana as well.
Day 2 saw 16 matches in two sessions of morning 7:00 AM to 11:00 AM and evening 4:00 PM to 9:00 PM from both the gender categories.
Here are some of the Gujarat Senior State Basketball C'ship matches we had our eyes on:
Men's:
Aravalli 28:52 SBI
Aravalli in this game was playing the experienced State Bank of India (SBI), a team that has ruled the senior states for years.
SBI features some of the ex-Indian players who come from Gujarat such as Bagirath Singh Jadeja and Yogendra Singh Gohil. They were managed by the GSBA Secretary Shafiq Shaikh.
The reason that Aravalli catches eyes is not their neon green coloured jerseys but their rawness in their game. The team had a lot of scorers in Tirth, Jaydeep and Meet. They used whatever they learnt in the last match. Their off-ball movement seemed slightly better but still needed more polishing.
SBI on other hand played the game with fun, Bagirath Singh Jadeja a.k.a Bapu, dictated the offence as and when required. Hitendra Singh Gohil and Yogendra Singh Gohil kept scoring for the team. The duo scored 46 points from a total of 52 points.
SBI was a dominant force in Gujarat Basketball for years, the flashes of the same were momentous. Their experience played a bigger role for the team. They play this tournament to teach alongside competing other teams.
The players were often seen coaching players in the game but they also had fun.
Anand 69:94 Botad
The highest-scoring game in the Gujarat Senior C'ship so far was between Anand and Botad.
The game was an all-out offence from both sides. While Botad had a similar strategy to start with man-to-man defence, Anand was fast enough to exploit that with the individual quality, ball rotation and gaps in the Botad defence.
Sagar Mori from Botad was on scoring carnage, he scored 31 points in the game - the second highest in the tournament. Dwij Tanna and Vinash Bisht accompanied him. Botad scored highest in the second quarter with 29 points. The accolades achieved for the team in this game could be many but they sure have alerted other teams about their scoring prowess.
Anand on the other hand did not hold back but retaliated at their best by scoring 69 points. This can be the highest point scored by a team in a losing cause. While several teams have scored above 60, they lost by scoring near 70.
Paramdeep Shoveen clinched the highest scorer for the tournament by scoring 40 points in this game. The team scored +15 in every quarter and equalled Botad's 18 points in the final quarter.
Women's
Surat 63:53 MS University
The night's final match for Day-2 ended with a thriller between Surat women's team and MS University women's team.
Surat team featured the star players from juniors in Kashish Sorathiya, Khusbhoo Aggarwal and Sakshi Sabalpara. Hemangee Gamit and Jiya Agarwal were other players who we saw first time play but they were outstanding.
Baroda product Hemanghee Gamit was all over the court, intercepting balls, calling out plays and scoring when needed. The junior trio of Sorathiya, Aggarwal and Sabalpara were active here as well. The team depended on the youngsters and they rightfully stood on expectations.
Hiya Thakkar and Poorva Chauhan were the top scorers for the Maharaja Saiyaji Rao University (MS University) team. Nehal Ramani managed the team, a Baroda basketball legend. The team did not perform defensively and that led to Surat taking away the win from them.
The Radar:
(This segment will keep eyes on players who have formerly played or recently played for India)
Baghirath Singh Jadeja (SBI) – The former Indian team player fed balls and called out rotations. The scoresheet does not show his involvement in the team's offense.
Yogendra Singh Gohil (SBI) – The tall centre often found opportunities inside the paint, hitting shots from post and mid-rangers. One of the standout scorers for the team.
Sahaj Patel (Baroda) – The recent Indian team player, was helpful for Baroda. He did concede fouls and missed rebounds but never let it take over.
Maruthan Kasi Rajan (Income Tax) – The point-guard found long passes and fed Indra Vijay Singh Gohil with three points which turned into assists.
Indra Vijay Singh Gohil (Income Tax) – Indravijay Singh Gohil's voice and his threes both were loud. He shot 7 three-pointers against MS University.
Vinay Kaushik (Income Tax) – A quiet night for Kaushik, he is slowly getting in rhythm.
Gujarat Senior C'ship All Scores for 2

nd

December 2021:
Men's
7:30 AM Aravalli 28 52 SBI 7:00 AM Banaskantha 31 68 Sabarkantha 8:30 AM Income Tax 47 9 Kheda 8:15 AM Jamnagar vs   Mehsana 9:30 AM Bharuch 19 45 Rajkot 4:00 PM Anand 69 94 Botad 4:30 PM Ahmedabad 52 25 Gandhinagar 6:30 PM Bhavnagar Uni vs Mehsana 6:45 PM Income Tax 55 24 MS University 7:45 PM Baroda 71 22 Rajkot
Women's
8:15 AM Rajkot 42 3 Mehsana 9:30 AM Surat 53 6 Botad 10:30 AM Baroda 55 24 Kutch 5:15 PM Ahmedabad 34 55 Bhavnagar 5:30 PM Rajkot 56 15 Bhavnagar Uni 7:45 PM Surat 63 53 MS Univ
Gujarat Senior C'ship 
Games for 3
rd
December 2021:
6:30 AM Botad vs Patan Men's 7:30 AM SBI vs Bhavnagar Dist. Men's 8:30 AM Surat vs Sabarkantha Men's 9:30 AM Baroda vs Kheda Women's 10:30 AM Bhavnagar Univ. vs Mehsana Women's 11:30 AM Botad vs MS Univ Women's 12:30 PM Gandhinagar vs Navsari Men's
 The afternoon session will have quarter-finals. The schedule and results will be shared on our Instagram stories.
Check all the 'Gujarat Basketball' Instagram highlights here.
***
If you've come this far…
Appeal to our readers: Ekalavyas is India's first and only basketball media company. We are not foreign-funded, nor investor-backed. Your support and encouragement have got us this far. We now need your financial assistance to ensure we can keep providing you timely, accurate and important information. Please contribute via https://www.instamojo.com/@ekalavyas​ 🙏🏾. We are accepting contributions as low as Rs. 9/- (excluding a small processing fee charged by the payment gateway provider). Thank you for playing a part in keeping media independent and objective!
Ekalavyas now on Clubhouse! Join us for live audio conversations by following the 'Sports India Basketball' Club.
Ekalavyas now on Telegram! Stay up-to-date on all the breaking news around Indian Basketball, by subscribing to the EkBallIndia Telegram Channel.