Discover more from Ekalavyas | Basketball
Welcome to Ekalavyas, the pioneering publication dedicated to unearthing the world of international basketball, from an Indian perspective!
Over 3,000 subscribers
Gujarat Senior Basketball Championship tips off
The Gujarat Senior Basketball State Championships are underway at the Sidsar Sports Complex in Bhavnagar. Some of the best senior players from Gujarat are participating in the tournament, which runs from 1 to 4 December 2021.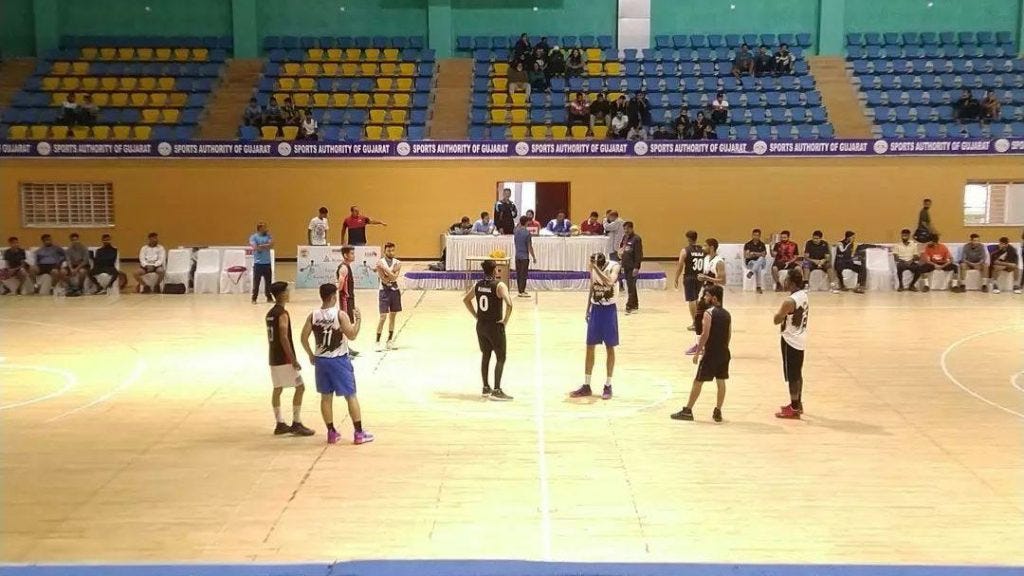 Baroda vs Bharuch at the Gujarat Senior Basketball Championship 2021. Image credit: Kevin Somani
Gujarat Senior Basketball Groupings
Boys Group A Group B Group C Group D Group E Group E Group F Income Tax Bhav. Uni Ahmedabad Anand Baroda Surat Bhav. Dist Kheda Jamnagar Gandhinagar Botad Bharuch Banaskantha Aravalli MS Univ. Navsari Patan Rajkot Sabarkantha SBI
Girls Group A Group B Group C Group D Baroda Surat Rajkot Ahmedabad Kutch Botad Bhav. Uni Bhavnagar Kheda MS Univ. Mehsana
Plenty of participating players have represented India at international competitions. Sahaj Patel, Maruthan Kasi Rajan, Indravijay Singh Gohil, Vinay Kaushik are some of the names who have been part of the Indian side. Other players who are rumoured to play in the tournament include Bhagirath Singh and Harpal Vaghela. Since Vivek Goti is now playing for the Services, he will not be playing.
The opening ceremony was attended by the President of Gujarat State Basketball Association – Shaktisinh Gohil, Secretary - Shafiq Shaikh, and many other dignitaries.
A league plus knockout format is being used for the Gujarat Senior Basketball Championships. This tournament has seen all-time high participation, with 21 teams participating in the men's category and 11 teams participating in the women's category.
Based on the groupings and teams, Income Tax, Ahmedabad, Gandhinagar, Baroda, Rajkot, and SBI are some of the teams to watch. The Income Tax team includes several of Gujarat's best players, including Maruthan Kasi Rajan, Indravijay Singh Gohil, and Vinay Kaushik; however, their availability is still uncertain.
It looks like an even contest between Baroda, Surat, Rajkot, Ahmedabad, Bhavnagar in the women's category.
Day 1 had eight matches in both the gender categories starting from 2:00 PM at the main court. All the outdoor matches were moved to the main court due to bad weather conditions.
Some of the matches we had our eyes:
Gujarat Senior Basketball Key Matchups
Anand 59:50 Patan
Anand vs Patan looked like the oldest team facing the youngest team in the tournament. Both teams did not have any star players, and the spectators were not expecting anything other than a typical match with a blowout. But this turned out to be an entertaining one.
Although this game had its flaws, such as missed shots, poor passing, and frequent turnovers, the quality of the players made up for the flaws.
Patan featured players from the junior teams participating in this tournament, but watching them was a treat. No. 23 Harshvardhan was courageous enough to enter into the lane and finish with a crafty lay-up without worrying about being blocked or missed shot. Though the player's execution might be questionable, his confidence to attempt shots like those against some senior players shows his mentality. No. 8 Moh. Kaif was another player who found out strong passes and good perimeter shooting according to his level.
Anand, on the other side, did not dominate but played professionally and allowed the game to be a balanced one. There were moments where they lost control of the game but were alert enough to regain control. They dictated the pace and flow, slowing down the game and letting the opponents find the gaps to penetrate defence or starting quick fastbreaks to turn up the game's pace.
Talking about the scores, Paramdeep was the top scorer for Anand. Arindam and Margin also joined the scoring party in the final quarter. Moh. Kaif, Arvind were the frequent scorers for Patan with flashes of street balling finishes by Harshvardhan.
This game might be the best one today, but it was undoubtedly entertaining.
There were not so many good matches today, but here's what we observed from other games:
Baroda 81:32 Bharuch
Sahaj Patel and co. look in good form. They are one of the fastest teams on the court. Bharuch were a bit rough with the players, but they attempted good cuts and rotations. The team was top gear on defence from the first shot, with Kashi blocking Baroda's first shot at the basket after the tip-off.
Bhavnagar 86:22 Aravalli
A similar thing was observed from Bhavnagar in this game. Just like the juniors, the team started early with a full-court man press. It wasn't the entire quarter, but the team often switched from zonal to man-marking.
Aravalli, on the other side, are a new team but show good intent. They could create problems for their opponents, but still, they need more development.
Surat 61:52 Banaskantha
Surat again had the leakage from their defence. Amit Chahar, who has played in the Delhi circuit, is still finding his rhythm but looks dominant. Jainish Dangaria looks washed out but can still contribute to the team.
The Radar:
(This segment will keep eyes on players who have formerly played or recently played for India)
Sahaj Patel - The tall centre from Baroda is in top shape. Attempting blocks and dunks from time to time, he did hold back a bit today. But we can expect him to explode in upcoming games.
Gujarat senior basketball State Championship All scores for today (1/12/2021):
Men's
Anand 59 50 Patan Kheda 21 57 MS Univ Bhavnagar 86 22 Aravalli Surat 61 52 Banaskantha Bhav Uni. Postponed Jamnagar Baroda 81 32 Bharuch Ahmedabad 62 20 Navsari
Women's
Kheda 5 45 Kutch
Gujarat senior basketball Games for tomorrow (2/12/2021):
Men's
Morning Session
7:30 AM Aravalli vs SBI 7:00 AM Banaskantha vs Sabarkantha 8:30 AM Income Tax vs Kheda 8:15 AM Jamnagar vs Mehsana 9:30 AM Bharuch vs Rajkot 8:15 AM Rajkot vs Mehsana 9:30 AM Surat vs Botad 10:30 AM Baroda vs Kutch
Evening Session
4:00 PM Anand vs Botad 4:30 PM Ahmedabad vs Gandhinagar 6:30 PM Bhavnagar Uni vs Mehsana 6:45 PM Income Tax vs MS University 7:45 PM Baroda vs Rajkot 5:15 PM Ahmedabad vs Bhavnagar 5:30 PM Rajkot vs Bhavnagar Uni 7:45 PM Surat vs MS Univ
Check all the 'Gujarat Basketball' Instagram highlights here.
***
If you've come this far…
Appeal to our readers: Ekalavyas is India's first and only basketball media company. We are not foreign-funded, nor investor-backed. Your support and encouragement have got us this far. We now need your financial assistance to ensure we can keep providing you timely, accurate and important information. Please contribute via https://www.instamojo.com/@ekalavyas​ 🙏🏾. We are accepting contributions as low as Rs. 9/- (excluding a small processing fee charged by the payment gateway provider). Thank you for playing a part in keeping media independent and objective!
Ekalavyas now on Clubhouse! Join us for live audio conversations by following the 'Sports India Basketball' Club.
Ekalavyas now on Telegram! Stay up-to-date on all the breaking news around Indian Basketball, by subscribing to the EkBallIndia Telegram Channel.