Discover more from Ekalavyas | Basketball
Welcome to Ekalavyas, the pioneering publication dedicated to unearthing the world of international basketball, from an Indian perspective!
Over 3,000 subscribers
Gujarat Junior Basketball Championship tips off in Surat
The Gujarat Junior Basketball Championships began on 25th November in Surat on the newly constructed court by the Surat District Basketball Association (SDBA). The court was inaugurated by the BJP President for Gujarat Shri C.R. Patil and the Home Minister of Gujarat Shri Harsh Sanghavi.
The Gujarat Junior Basketball Championships is being conducted in a league cum knockout format. The men's category has four groups with three teams each, and the women's group has two groups with four teams each.
Gujarat Junior Basketball Championships 2021
Boys Group A Group B Group C Group D Bhavnagar Baroda Ahmedabad Rajkot Kheda Jamnagar Gandhinagar Anand Mehsana Navsari Sabarkantha Surat
Girls Group A Group B Baroda Bhavnagar Amedabad Surat Kutch Jamnagar Navsari Rajkot
In the men's category, eyes would be on both the powerhouse teams in Bhavnagar and Baroda. Surat, Rajkot, Gandhinagar and Ahmedabad are some other teams that can qualify for the further stages.
Bhavnagar, Baroda, Surat and Ahmedabad are the four teams which are the favourites. Jamnagar can be considered the dark horse with their performance on the first day of the tournament.
Day 1 had 12 matches in two sessions of morning 9:00 AM to 12:00 PM and evening 4:00 PM to 9:00 PM for both the gender categories.
Here are some of the matches we had our eyes on:
Girls:
Surat 42:31 Jamnagar
The game started with Surat dominating the first quarter thanks to stellar performances from Sakshi Sabalpara, Kashish Sorathiya and Khushboo Agarwal. But Jamnagar did not back off and controlled the second and third quarter with solid defence and did not increase the point gap. As the game went on, Riya Gadhesriya and Soniya Tekwani kept Surat on edge throughout the game.
Gadhesriya and Tekwani continued to find cut-and-drive lanes to penetrate the Diamond City defence at critical times. Surat had several fast-break opportunities, but they failed to convert them into points because of the tough defence from Jamnagar. They regularly shot mid-rangers to widen the defence and take advantage of the gaps they created in the key. Sorathiya was often found at the post or near the key to receive the ball and run the offence.
Surat ran out of gas in the fourth quarter, while Jamnagar tried to rally but lost the game.
Surat 34:30 Rajkot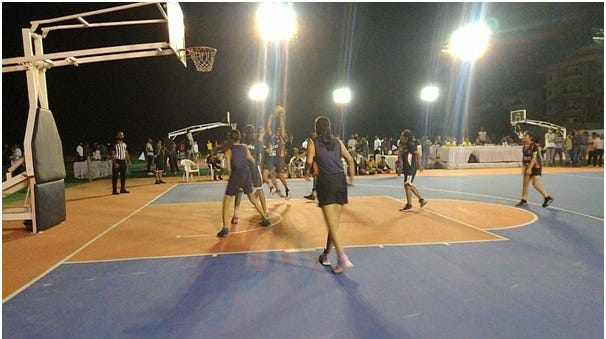 Surat vs Rajkot – Girls match, Rajkot defence trying to stop Sakshi Sabapara as she tries to shoot a lay-up. Credits: Kevin Somani
Surat's match against Rajkot may have had the highest attendance for Day-1 of the tournament. A raucous crowd backed the hosts up, acting as an additional player.
Rajkot led by six points in the first quarter, with Krisha Kakad and Pal Kothari scoring. Kavya Parmar and Delsy Shah joined them to establish a first-quarter lead. Despite still trying to find a rhythm, Sorathiya and Agarwal helped the hosts get on the board.
A six-point deficit turned into a three-point deficit as Surat turned the switch in the second quarter. It was Sorathiya, Sabalpara and Agarwal who helped the team to get on track again.
The third and fourth quarters of the second half saw both teams tie with 4 and 9 points, respectively, ending the game with Surat winning.
After Surat took the lead, Rajkot could not get back in front once the match was out of their hands.
Boys:
Ahmedabad 69:51 Gandhinagar
It can be referred to as the "Game in the Shadows" not because of the lightning but because of the low attention this match received due to hosts playing simultaneously.
In a high-paced and high-scoring match, Ahmedabad scored 26 points in the first quarter and 24 points in the second quarter. Sahil Pallath and Sashmit Rori made the first six baskets for Ahmedabad. Even though Gandhinagar tried to chase the lead, it was too much for them.
Manish from Gandhinagar scored a string of field goals. Between the end of the first quarter and halftime, he scored 12 points out of 16. He led the team in scoring. Ahmedabad frequently fouled the team, yet Gandhinagar was unable to close the point gap.
Surat 52:16 Rajkot
The game was expected to be close, similar to the girls' game, but it ended up being a rout.
Rajkot had no answers for the hosts. Aryaman Shah, Karan Mahadik and Pavan Desai were enough to dominate Rajkot. Mahadik had played well; he scored points in the restricted area and from the three-point line. When it seemed as though the game was stalling, he kept the scoreboard moving.
As a result of the strong start from Surat, Rajkot was under considerable pressure. Vivek Parmar and Harsh Javiya were the team's standouts. Although they scored less, the duo still found shots for themselves and created shots for their teammates. They needed more scoring from the others;they scored no more than six points after halftime, resulting in a forgettable loss.
Gujarat Junior Basketball Championships Scores for other games:
Girls:
Baroda 38-0 Navsari
Bhavnagar 48:12 Jamnagar
Ahmedabad 87:00 Navsari
Baroda 41:2 Kutch
Boys:
Baroda 65:8 Navsari
Bhavnagar vs Kheda (postponed)
Kheda 69:11 Mehsana
Gujarat Junior Basketball Championship Matches for Today (26/11/21):
Girls: Bhavnagar vs Rajkot Ahmedabad vs Kutch Kutch vs Navsari Jamnagar vs Rajkot Bhavnagar vs Surat Baroda vs Ahmedabad
Boys: Rajkot vs Anand Jamnagar vs Navsari Gandhinagar vs Sabarkantha Bhavnagar vs Mehsana Baroda vs Jamnagar Ahmedabad vs Sabarkantha Surat vs Anand
Check all the Instagram highlights here.
***
If you've come this far…
Appeal to our readers: Ekalavyas is India's first and only basketball media company. We are not foreign-funded, nor investor-backed. Your support and encouragement have got us this far. We now need your financial assistance to ensure we can keep providing you timely, accurate and important information. Please contribute via https://www.instamojo.com/@ekalavyas​ 🙏🏾. We are accepting contributions as low as Rs. 9/- (excluding a small processing fee charged by the payment gateway provider). Thank you for playing a part in keeping media independent and objective!
Ekalavyas now on Clubhouse! Join us for live audio conversations by following the 'Sports India Basketball' Club.
Ekalavyas now on Telegram! Stay up-to-date on all the breaking news around Indian Basketball, by subscribing to the EkBallIndia Telegram Channel.