Discover more from Ekalavyas | Basketball
Welcome to Ekalavyas, the pioneering publication dedicated to unearthing the world of international basketball, from an Indian perspective!
Over 3,000 subscribers
Flawless Indian U18 men's basketball team qualifies for FIBA Asia Championship after dominating in South Asian meet
Bengaluru/New Delhi, 2nd June, 2016: The Indian U18 men's basketball team made its rising aspirations clear with a dominant final round robin league victory over Nepal in the South Asian Basketball Association (SABA) U18 Championship 2016 that concluded earlier today in Dhaka, Bangladesh. As winners in the South Asian region, the team has yet again qualified for the FIBA Asia Championship, the 24th iteration of which will be held in Tehran, Iran from 15th to 24th July, 2016.
The JP Singh coached team coasted to a 117-40 team over the Himalayan nation, after similar dominant wins over Bangladesh and Sri Lanka yesterday, in the four nation event.
India's Brief Results: bt Nepal 117-40; bt Sri Lanka 127-52; bt Bangladesh 90-31
The Squad
The final 12 that were picked to represent India at the SABA Championship 2016 were selected based on the individual performances of the players at the 67th Junior National Basketball Championship, 2015, that was held in Puducherry. 25 individual athletes were selected after the championship, after which the final 12 were decided on in a subsequent camp, which was held in Puducherry as well. The squad then went onto play practice matches against Sathyabama University, Chennai and the Indian Overseas Bank Team prior to their SABA engagement. The team will be coached by Mr JP Singh, and captained by P Baladhaneshwar.
Indian Squad for the 5th SABA U18 Championship 2016
Jersey No Family Name/ Last Name Given Name/ First Name Place of Birth (City & State) Date of Birth (dd/mm/yy) Height (cm)(ft & inches) Weight
(Kg)
Position 4 Benny Gineeb Potta Kerala 09/03/1998 194
(6' 4'')
78 C 5 Sahil Kalkha Haryana 02/02/1999 184
(6')
69 SG 6 Mohammed Ali Samo Ki Dhani Rajasthan 06/04/1998 194
(6' 4'')
70 PF 7 Singamuthu Kalidass Manamelkudi Tamil Nadu 15/04/1998 174
(5' 8.5'')
64 PG 8 Rachit Delhi Delhi 16/09/1998 186
(6' 1'')
75 SG 9 Noushad Muhammed Shiras Alappuzha Kerala 04/07/1999 190
(6' 3'')
83 PF 10 Arthur Wilson Daniel Richards Chennai Tamil Nadu 25/10/1998 180
(5' 11'')
74 SG 11 Ragupathy Hariram Chennai Tamil Nadu 24/04/1998 184
(6')
72 SG 12 Kukkundur Guruprasad Nayak Puttur Karnataka 06/05/1998 175
(5' 9'')
65 PG 13 Gupta Vishal Kumar Village Chapar Uttar Pradesh 04/01/1998 199
(6' 6'')
78 C 14 Poiyamozhi Baladhaneshwar Ullikkottai Mannargudi Tamil Nadu 07/12/1999 180
(5' 11'')
71 SG 15 Sayyed Saqlain Jamir Kada Maharashtra 15/02/1998 190
(6' 3'')
78 SG
*PG - Point Guard / Feeder, G - Guard, F - Forward, G/F - Wing, PF - Power Forward, C - Centre, PF/C - Pivot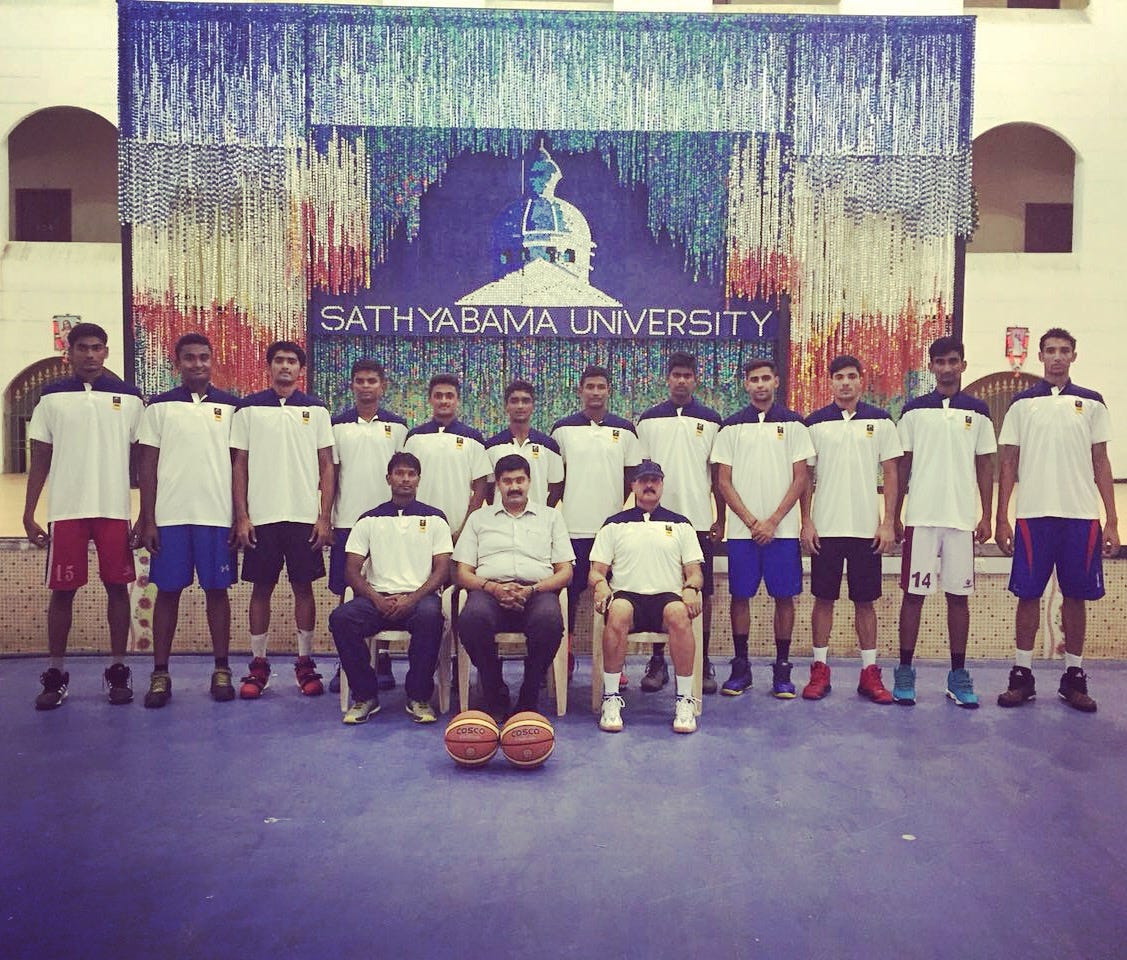 The Final Twelve for the SABA U18 Championship 2016 during their training at Sathyabama University, Chennai
13) Head Coach: Mr Jai Prakash Singh
14) Assistant Coach: Mr Vinod Pazahmi Goutham
FIBA Referee from India:
15) Mr Biswajit Ojha
About the SABA U18 Championship 2016
Tournament Format
The SABA Championship is played on the round robin format, with each participant playing the others in the league. Participants in the SABA Championship 2016 are India, Bangladesh, Nepal and Sri Lanka. The Championship is a qualifier in the FIBA sub-zone of South Asia for the FIBA Asia Championship. The 2016 championship is the qualifying round for the 24th FIBA Asia Championship to be held at Tehran, Iran from 15th to 24th July, 2016.
About Basketball Federation of India
The Basketball Federation of India or BFI is the governing and controlling body of basketball in India, and is responsible for the development and promotion of the sport at all levels. BFI has been involved in conducting camps, clinics, events, and training sessions at its academies for the development of basketball. BFI came into being in 1935 and took complete control over Indian basketball in 1950. Prior to that time, the Indian Olympic Association handled the conduct of Indian basketball championships. Since 1950, the BFI has been conducting various such championships, from the grassroots to senior team participation in international tournaments. In addition, the BFI has been responsible for the establishment of strong sub-junior and junior level programs. The BFI has to its credit produced several international players of repute, among them 17 have been bestowed with the honour of Arjuna Awards. Earlier in June 2015, 19-year-old Satnam Singh Bhamara made history by becoming the first Indian national to be drafted by an NBA team, when he was selected by the Dallas Mavericks. More information at www.basketballfederationindia.org.