Discover more from Ekalavyas | Basketball
Welcome to Ekalavyas, the pioneering publication dedicated to unearthing the world of international basketball, from an Indian perspective!
Over 3,000 subscribers
India beat Uzbekistan; Australia and Japan open with victories on day 1 of the FIBA Women's Asia Cup
Bengaluru, 23rd July 2017: The FIBA Women's Asia Cup 2017 tipped off this morning at the Sree Kanteerava Indoor Stadium in Bengaluru.
Division A
Australia down Korea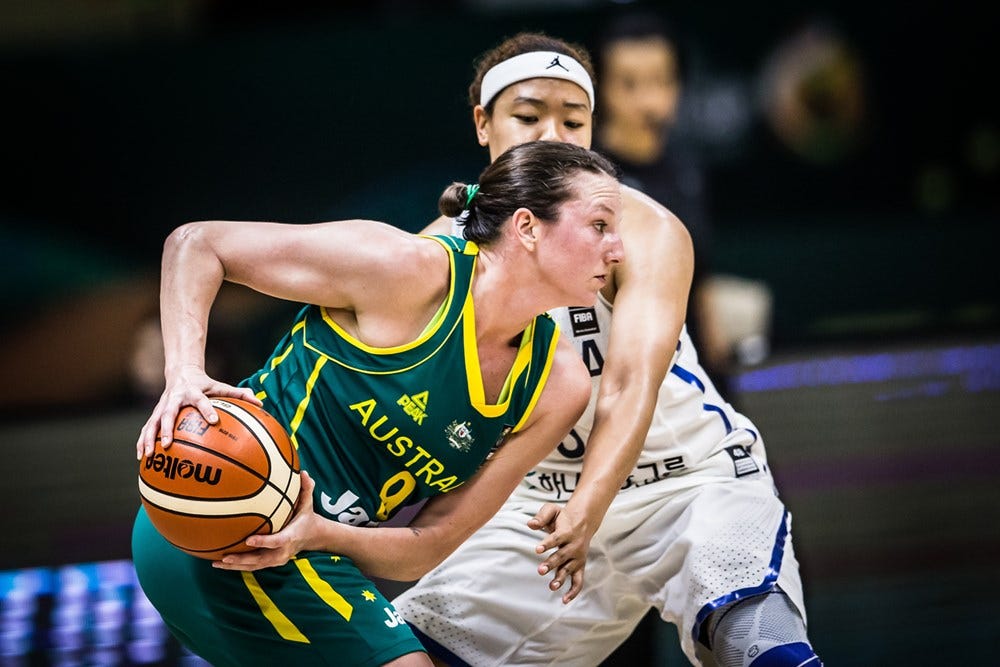 Kelsey Michelle Griffin of Australia scored 15 points vs Korea at the FIBA Women's Asia Cup. Image credits: FIBA.com
The first Division A game was a clash between powerhouse Australia and Korea. Playing for the first time in the FIBA Asia zone, Australia made an emphatic statement with a 78-54 win.
Ranked number 4 in the world, Australia got off to a slow start, allowing Korea to gain a 15-13 lead at the end of the first quarter. But from the second period onwards, Australia stifled the Koreans, forcing them to take tough contested shots. Korea managed only 3 points in the second quarter compared to Australia's 20.
With a 33-18 lead to begin the second half, Australia cruised the rest of the way, relying on the scoring of forwards Kelsey Michelle Griffin (15 points) and Allanna Smith (13 points). Point guard Lauren Stacey Mansfield had 6 points and 5 assists.
Australia (Kelsey Michelle Griffin 15, Alanna Smith 13, Belinda Snell 11) bt Korea (Sungyoung Sim 11, Jisu Park 10, Hana Park 7) 78-54 [13-15, 20-3, 24-18, 21-18]
Japan rout Philippines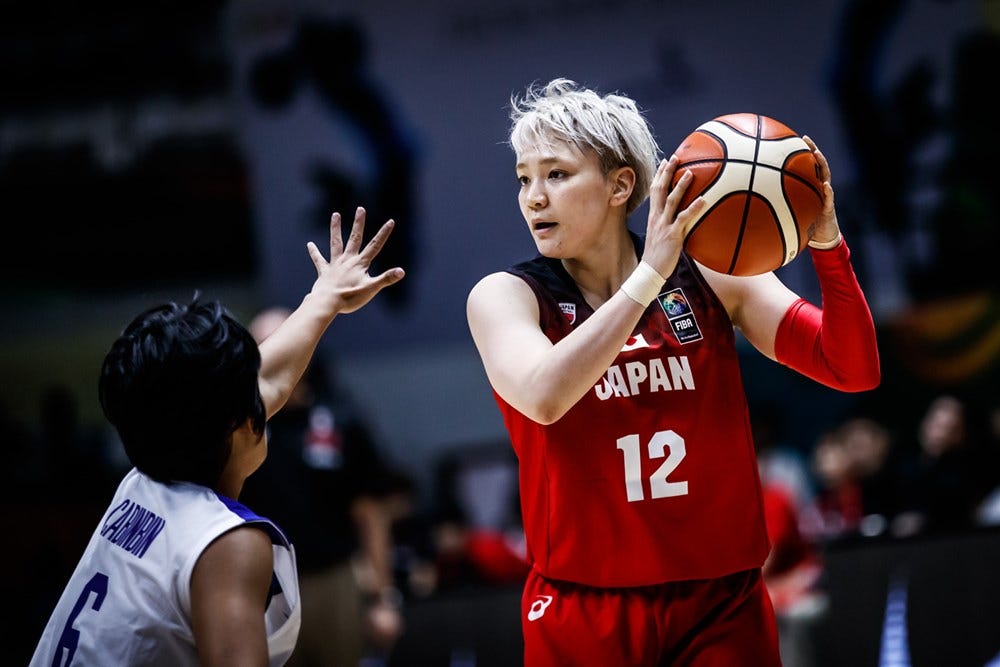 Asami Yoshida of Japan vs Philippines at the FIBA Women's Asia Cup. Image credits: FIBA.com
The Philippines were given a tough introduction to Division A, as they were defeated by Japan 106 - 55. The Japanese women got off to an electric start in the first quarter, opening up a 16-point lead. The lead only continued to grow as the game wore on, as the Japanese women continued to rotate the ball well, and maintain a high tempo on transition.
Evelyn Mawuli (21 points) led the scoring for Japan, and five other players also finished with scoring in double figures. Star point guard Asami Yoshida racked up five assists in the first five minutes of the game, and could afford to spend the rest of the game on the bench as the Japanese lead was never threatened.
Japan (Evelyn Mawuli 21 pts; Miyuki Kawamura 14 pts; Sakura Akaho 12 pts) bt Philippines (Gemma Miranda 17 pts; Allana May Lim 9 pts; Janine Pontejos 8 pts) 106-55 [25-11, 31-20, 31-8, 19-16]
Chinese Taipei edge past PRK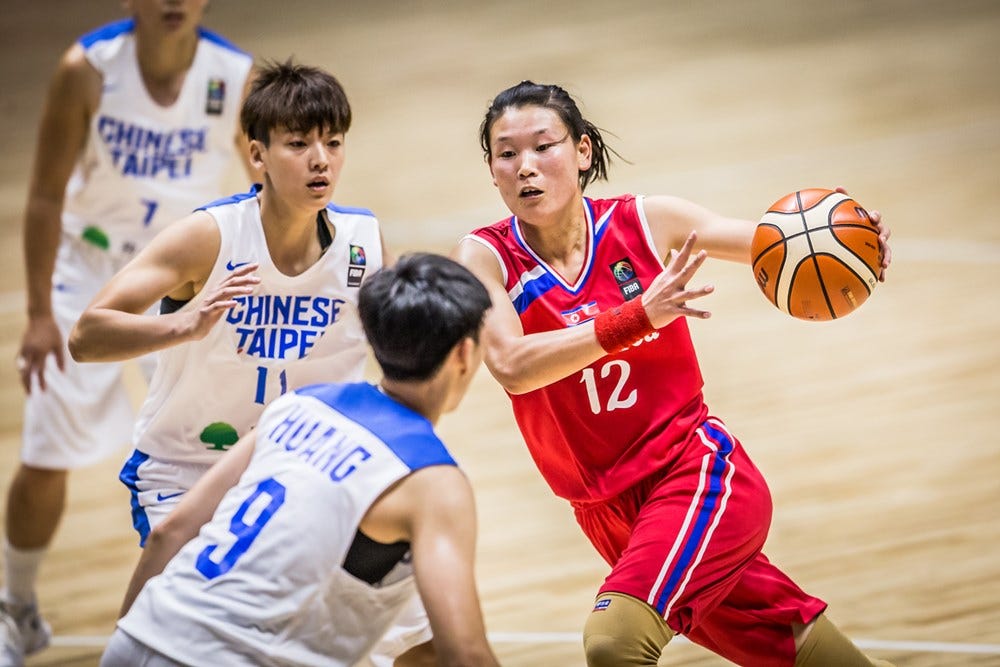 Suk Yong Ro of PRK put up 36 points in their loss to Chinese Taipei at the FIBA Women's Asia Cup. Image credits: FIBA.com
Chinese Taipei won their first game of the tournament 77 – 76 against DPR of Korea, in a thrilling finish. The game was tied at 60 going into the fourth quarter, and tied at 76 in the final minutes of the game. With seconds left on the clock, Chinese Taipei were awarded free throws for a foul committed by DPR of Korea, and managed to convert one of them.
The women from Chinese Taipei had to overcome a spirited performance from Suk Yong Ro, who had 36 points, shooting at a surreal 82%. DPR of Korea fielded a small team that played the game with a lot of intensity and at a very high tempo, forcing Chinese Taipei to play catch-up through most of the game. There were seven lead changes and five ties over the course of the game.
Chinese Taipei was led by centre Hsi-Le Bao who had a double-double, racking up 17 points and 10 rebounds.
Chinese Taipei (Hsi-Le Bao 17 pts, 10 rebs; Yu-Hao Lan 14 pts; Ping-Jen Huang 11 pts) bt DPR of Korea (Suk Yong Ro 36 pts; Hyang Ok Kim 23 pts) 77-76 [20-28, 20-16, 20-16, 17-16]
China defeat New Zealand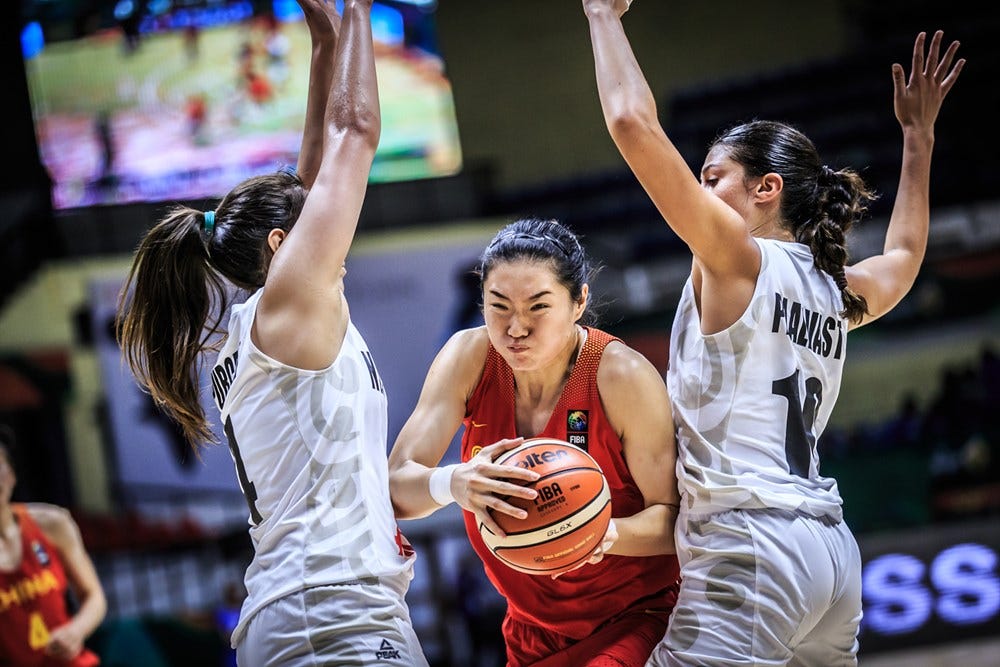 Meng Li of China drives against two New Zealand defenders at the FIBA Women's Asia Cup. Image credits: FIBA.com
In their first match in the expanded FIBA Asia zone, New Zealand was blown out by team China. China's size bothered New Zealand throughout the game. Starting at centre for China was 6-foot-7-inch Yueru Li, who was a towering presence in the paint.
China played excellent defense on New Zealand, rotating well and closing in on the NZ shooters. The paint was practically shut down by Yueru Li and backup centre Hongpin Huang. On the offensive end, China was patient, using the shot clock and finding the open shot.
Despite the absence of their first-choice centre Sun Mengran, China led from start to finish and closed out on a 77-48 win. Meng Li top scored for China with a game-high 15 points. Jillian Harmon had 14 points for New Zealand in the loss.
China (Meng Li 15, Yi Shen 14, Shuang Zhao 14) bt New Zealand (Jillian Harmon 14, Micaela Cocks 9, Antonia Edmondson 8) 77-48 [17-10, 22-14, 21-16, 17-8]
Division B
India defeat Uzbekistan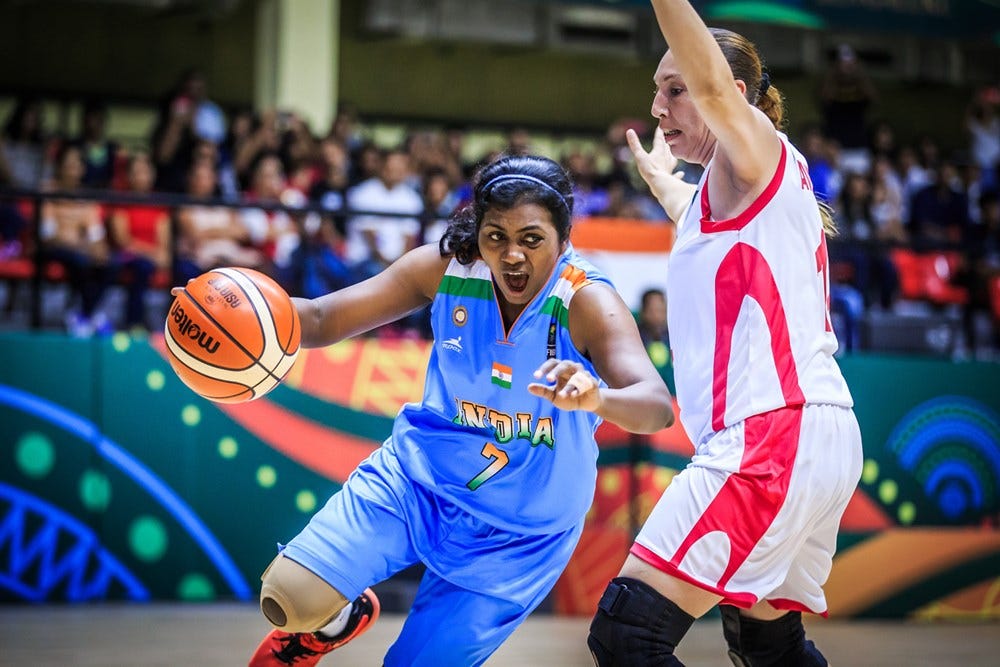 Captain Anitha Paul Durai led the charge for India as she scored 28 points vs Uzbekistan at the FIBA Women's Asia Cup. Image credits: FIBA.com
India began their quest for promotion to Division A with a flourish, beating Uzbekistan 92 – 76. The Indian women were hugely productive offensively, led by Anitha Paul Durai with 28 points. She was money from three-point land, hitting six of seven shots, and played with her heart on her sleeve, hustling on every possession.
Coach Visic rotated his team throughout the game, and there were bright performances all round: Jeena Skaria chipped in with 12 points and Shireen Limaye had 10 rebounds. Last minute call up Grima Merlin was very effective off the bench with 17 points, many of which were scored in transition.
India (Anitha Paul Durai 28 pts; Grima Merlin 17 pts; Jeena Skaria 12 pts) bt Uzbekistan (Elvira Salavatova 15 pts; Elena Khusnitdinova 14 pts; Natalya Koneva 13 pts) 92 – 76 (19 – 9, 24 – 21, 26 – 23, 23 – 23)
Singapore outclass Fiji
The other Division B games took place in Koramangala Indoor Stadium, starting with the game between Singapore and first time participants Fiji. Singapore outmatched Fiji in all departments, ending with a 103-38 win. Jayne Sarah top scored for Singapore with 21 points.
Singapore (Jayne Sarah En Min Tan 21, Jacqueline Jia Jia Chu 17, Cheryl Poon 17) bt Fiji (Bitila Sigani Tawake 8, Tiyana Anne Kainamou 7) 103-38 (35-9, 25-12, 18-9, 25-8)
Lebanon lose to Kazakhstan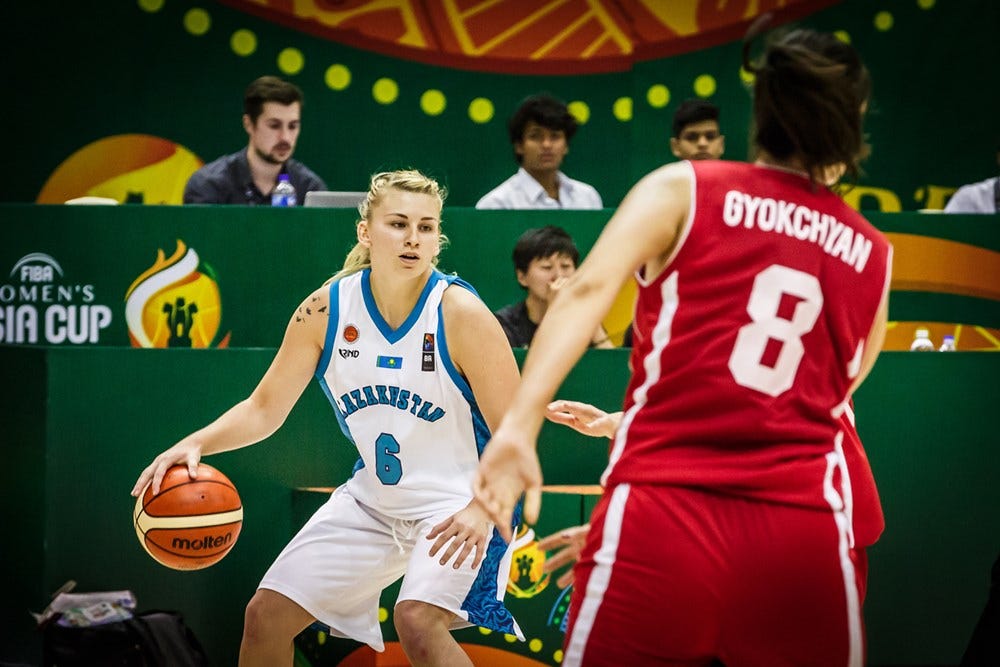 Alexandra Kovalevskaya of Kazakhasthan at the FIBA Women's Asia Cup. Image credits: FIBA.com
The last followed by the game between Kazakhstan and Lebanon. Lebanon shot the ball poorly (29% FGP) and was outrebounded 35 – 51. Eventually, the game finished 62 – 54 in favour of Kazakhstan, for whom Tamara Yagodkina top scored with 22 points and Zalina Kurazova had a double-double (14 pts, 11 rebs).
Kazakhstan (Tamara Yagodkina 22 pts; Zalina Kurazova 14 pts, 11 rebs; Nadezdha Kondrakova 11 pts) bt Lebanon (Rebecca Akl 18 pts; Lama Moukaddem 10 pts; Chirine El Charif 9 pts) 62 – 54 (15 – 13, 14 – 11, 21 – 13, 12 – 17)