Discover more from Ekalavyas | Basketball
Welcome to Ekalavyas, the pioneering publication dedicated to unearthing the world of international basketball, from an Indian perspective!
Over 3,000 subscribers
FIBA Womens Asia Cup 2017 – India advance to Div B final vs Kazakhstan; Australia & Japan to face off in Div A summit clash
Bengaluru, 28th July 2017: The semifinals of the FIBA Women's Asia Cup 2017 were played today, with the two Division A semifinals and one Division B semifinal at the Sree Kanteerava Indoor Stadium in Bengaluru, and the other Division B semifinal at the Koramangala Indoor Stadium.
Division A
Australia bt Korea 81-64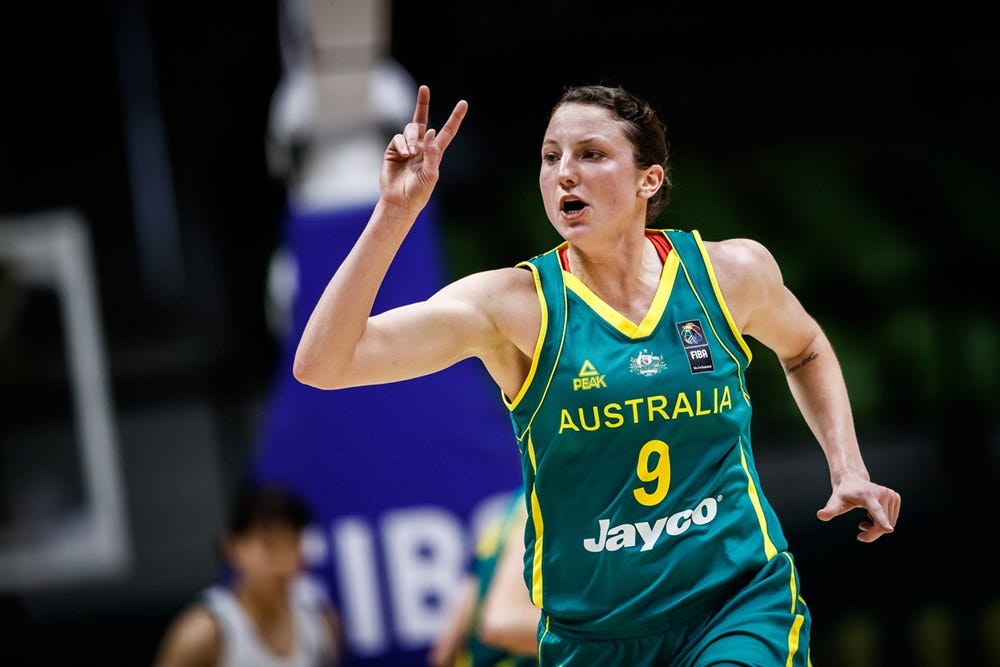 Kelsey Griffin. Image credits: FIBA.com
As the fourth ranked team in the world, Australia are favourites to go all the way and deny Japan their shot at the three-peat. They reached the semi-finals with ease, winning all their games in the group stages and brushing DPR of Korea aside in the quarterfinals. But Korea began today's game with a desire to upset the Australian canter, and by the end of the first quarter they were within range at 17 – 22.
As the game wore on, Korea continued to shoot the ball well. Their three point shooting (36%) kept them in the game early on, but the Australian offensive juggernaut proved impossible to stop. The Australian women shot the ball at a respectable 45% from the field, but were superior in passing the ball around to find the driving lane. They racked up 42 points in the paint, compared to only 14 points for Korea.
Australian bigs Sara Blicavs and Marianna Tolo dominated the backcourt, and did not allow Jisu Park the room to repeat her performance against New Zealand. She was limited to shooting one of eight from the field, and grabbed only 5 rebounds. At the other end of the floor, Blicavs and Tolo combined for 25 points.
Korea were further disadvantaged by the fact that Kim Danbi played no part in the first half, and was struggling at the start of the second before checking out within 2 minutes.
For Australia, Kelsey Griffin top scored with 21 points, shooting the ball at an impressive 64% from the field.
Australia (Kelsey Griffin 16 pts; Alanna Smith 12 pts; Sara Blicavs 10 pts) bt Korea (Leeseul Kang 14 pts; Sungyoung Sim 14 pts; Yung Hui Lim 12 pts) 81 – 64 [22 – 17, 23 – 13, 16 – 11, 20 – 23]
Japan bt China 74-71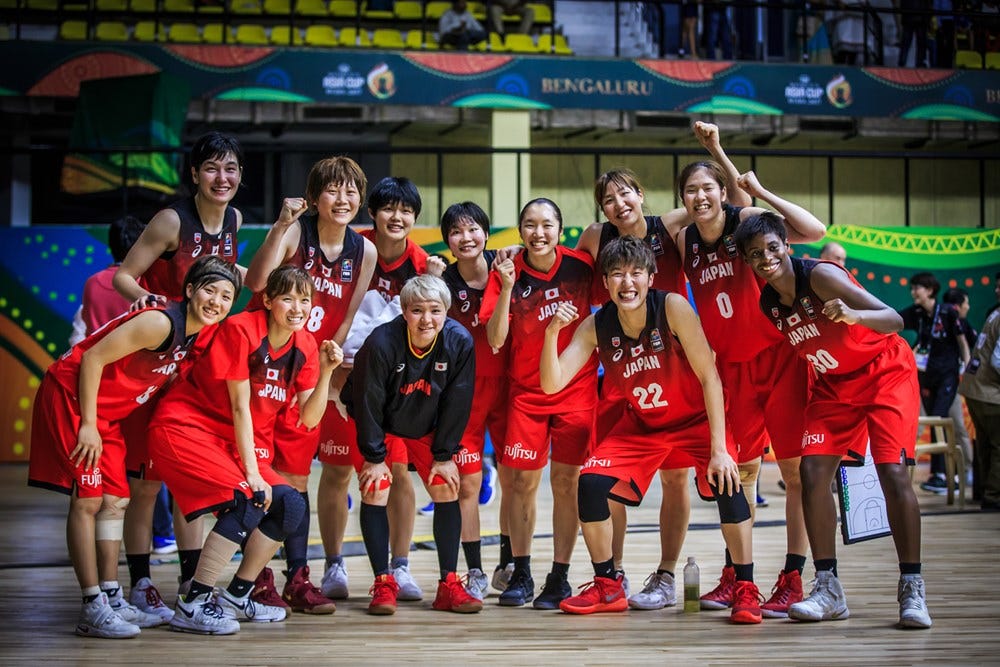 Team Japan are all smiles after their win over China. Image credits: FIBA.com
Japan and China squared off in the second semi-final to decide who would face Australia in the gold medal game. China entered the game undefeated, trouncing most of their opponents on the way to the final four. Japan, on the other hand, dropped a game against Australia in the league stages, in an otherwise trouble-free run to the semi-finals.
The defending champions are known for their speed, rather than size. That is exactly what they showed the crowd today. Japan looked to push the tempo, right from the start, and play a fast paced game. Despite China fielding a bigger lineup, Japan stuck to their small ball strategy, led by dynamic point guard Manami Fujioka. Japan looked to put up their shots before China got their defense in place and the strategy paid off.
With Japan leading 18-15 to begin the second quarter, China went on a 6-0 run, taking the lead. Shao Ting carried the offensive load for China, connecting on all 3 of her 2-point attempts in the first half. Both teams exchanged buckets and ended the first half tied up at 32.
In the second half, China brought back their 6-foot-7-inch centre Yueru Li and she had an immediate impact on the game. There was no Japan defender who could contain her when she got deep post position and this worked to China's advantage. While Japan continued to work through their backcourt of Fujioka and Rui Machida, China relied on the shooting of Shao Ting and post play of Li. The third quarter ended with China up 55-54.
In the fourth, China began to pull away building a slim lead. This is when Japan went on a blistering run led by their fiery point guard Fujioka. She penetrated the China defense with ease and created multiple opportunities for her teammates. Japan went on an 11-0 run to take a 2-point lead (71-69) in the final minutes. But China managed to tie things up with 2 minutes to go. However, a clutch triple by Japan's Yuki Miyazawa in the penultimate minute game Japan a crucial 3-point lead. China hurried their opportunity to tie the game, which gave Japan possession in the final minute. Two offensive rebounds by Japan down the clock, forcing China to foul Fujioka. She had the opportunity to seal the game, but missed both freethrows, giving China life. China had a good look at a game-tying triple but Xiufeng Shi was unable to convert. Japan held on to clinch a thrilling victory.
"We just looked to get out and run. Forty minutes of pace!" said Japan coach Hovasse after the game. Japan will face Australia in the final, and will look to make amends this time around after losing to them in the league stages.
Japan (Manami Fujioka 19 pts 14 asts 8 rbs, Yuki Miyazawa 16 pts, Maki Takada 13 pts) bt China (Shao Ting 16 pts, Song Gao 13 pts, Yueru Li 13 pts)74-71 [18-15, 14-17, 22-23, 20-16]
New Zealand defeat DPR of Korea 82-61
New Zealand beat DPR of Korea by a comfortable margin (82 – 61), securing their status in Division A. In the first quarter, the Tall Ferns shot the ball well, building up an early 23 point lead. DPR of Korea could not find their way back from there. New Zealand's women dominated in the middle, outrebounding Korea 53 – 27 and scoring 48 points in the paint. Kalani Purcell led the effort with a double-double (13 points and 14 rebounds), and Jillian Harmon chipped in with 15 points. DPR of Korea must now play Philippines tomorrow in a battle against relegation to Division B.
New Zealand (Jillian Harmon 15 pts, 9 rebs; Kalani Purcell 13 pts, 14 rebs; Georgina Agnew 10 pts) bt DPR of Korea (Jong Ok Ri 19 pts; Hyang Ok Kim 17 pts; Suk Yong Ro 11 pts) 82 – 61 [31 – 8, 18 – 17, 22 – 16, 11 – 20]
Philippines lose to Chinese Taipei 53-87
Philippines lost to Chinese Taipei in a one sided game that saw them go behind in the first quarter and trail throughout the game. Centre Hsi-Le Bao led her team with a double-double (16 points and 11 rebounds), as her team shot a healthy 44.3% from the field. For Philippines, France Mae Cabinbin led the scoring with 14 points, but did not find much offensive support from any of her teammates. Philippines must now battle DPR of Korea to avoid being relegated back to Division B.
Chinese Taipei (Hsi-Le Bao 16 pts, 11 rebs; Yu-Ting Lin 14 pts; Ying-Chieh Wu 14 pts) bt Philippines (France Mae Cabinbin 14 pts) 87 – 53 [25 – 17, 13 – 8, 21 – 17, 28 – 11]
Division B
India edge past Lebanon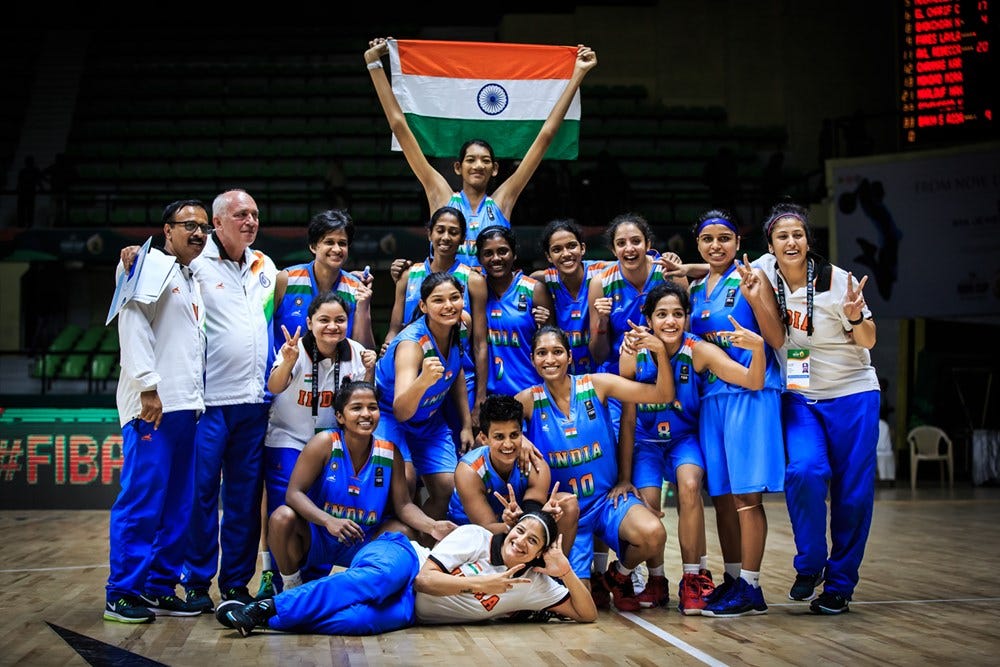 Team India entered the finals of Division B after beating Lebanon. Image credits: FIBA.com
Hosts India took on Lebanon in their Division B semi-final in the last game of the day. India has had an untroubled run in Division B thus far, entering the game unconquered. Lebanon's only loss was against an impressive Kazakhstan side in the league stages.
In the first quarter, Lebanon was the more aggressive team. Despite none of their players touching 6 feet, Lebanon outrebounded India and created 6 second-chance points. Their shooting was on point as well, with guards Rebecca Akl and Lama Moukaddem combining for 3 triples, including a buzzer-beating three to end the first quarter. For India, veteran point guard Anitha Paul Durai connected on both her shots and Shireen Limaye found her way to the basket, for 5 points each.
Lebanon held a 4-point lead entering the second quarter, leading 20 to 16. In the second, Lebanon continued their good shooting and was also forceful on drives to the basket. For India, the scoring came from multiple players. Raspreet Sidhu found her touch, while IMG Academy graduates Barkha Sonkar and Kavita Akula contributed with a triple each. India entered halftime down by 5 (33 to 38).
The third quarter was an up-and-down affair with both teams finding the bottom of the bucket at regular intervals. Veteran guards Paul Durai and Raspreet continued to fire, knocking down shots with efficiency. Forward Jeena Skaria got her mid-range game going creating for her teammates from the post, while centre Rajapriyadarshini contributed with a couple of buckets in the paint. For Lebanon, the 3-point barrage continued from Lama Moukaddem and Rebecca Akl. Paul Durai hit a buzzer-beating triple to end the third, ensuring that the Lebanon lead remained at 2 points (58-56).
In the final period, both teams played good defense in the first five minutes. Lebanon continued to maintain a slim lead, until India forward Jeena Skaria caught fire, hitting three straight shots and knocking down a technical freethrow, putting India ahead by 6 points. India never looked back, holding off Lebanon and maintaining their lead in the final minutes. Late clutch freethrows from Jeena and Raspreet sealed the deal, giving India a memorable 79-69victory. They now advance to the Division B final where they will face Kazakhstan.
India (Jeena Skaria 20, Raspreet Sidhu 17, Anitha Paul Durai 13) bt Lebanon (Rebecca Akl 20, Lama Moukaddem 16, El Charif Chirine 15) 79-69 [16-20, 17-18, 23-20, 11-23]
Kazakhstan advance defeating Uzbekistan 77-51
The second Division B semi-final took place earlier in the day between Kazakhstan and Uzbekistan. Kazakhstan have remained undefeated so far, and carried on their fine form into this game. After a largely even first quarter, Kazakhstan put their pedal to the gas in the second quarter, outscoring Uzbekistan 23 to 9. This opened up the game, giving the Kazakhs a comfortable double-digit lead.
Zalina Kurazova led the scoring for Kazakhstan with 24 points, while Kondrakova had a big double-double with 18 points and 10 rebounds. Kazakhstan sealed the deal with a strong fourth quarter (22-9), registering a 77-51 blowout win and qualifying for the Division B final tomorrow. Sevastyanova had 19 points for Uzbekistan in the loss.
Kazakhstan (Zalina Kurazova 24 pts, Nadezhda Kondrakova 18 pts 10 rbs) bt Uzbekistan (Anastasiya Sevastyanova 19 pts, Irina Averyanova 13 pts 15 rbs, Aliya Samatova 10 pts) 77-51 [17-13, 23-9, 15-20, 22-9]
Sri Lanka lose to Fiji 64-65
Sri Lanka and Fiji played out a nail-biting game in what was essentially a dead rubber, with Fiji narrowly edging the game 65 – 64. The teams went into the fourth quarter tied at 47, and the lead changed hands several times before Fiji went ahead for the final time in the last minute of the game. Mili Koyamainavure top scored with 22 points for Fiji, and made some crucial plays down the stretch.
Fiji (Mili Koyamainavure 22 pts; Bitila Tawake 11 pts, 13 rebs; Tiyana Kainamoli 10 pts, 10 rebs) bt Sri Lanka (SulochanaIddamalgoda 12 pts; Imesha Durage 10 pts; Nadeeshani Silva 12 rebs) 65 - 64 [16-13, 8-15, 23-19, 18-17]