Discover more from Ekalavyas | Basketball
Welcome to Ekalavyas, the pioneering publication dedicated to unearthing the world of international basketball, from an Indian perspective!
Over 3,000 subscribers
FIBA Womens Asia Cup 2017 – Australia, Japan, and China roll on; NZ win first game
Bengaluru, 24th July 2017: The group stage of the FIBA Womens Asia Cup 2017 continued today, with four Division A games and one Division B game at the Sree Kanteerava Indoor Stadium in Bengaluru, and two Division B games at the Koramangala Indoor Stadium so far.
Division A
Australia plunder Philippines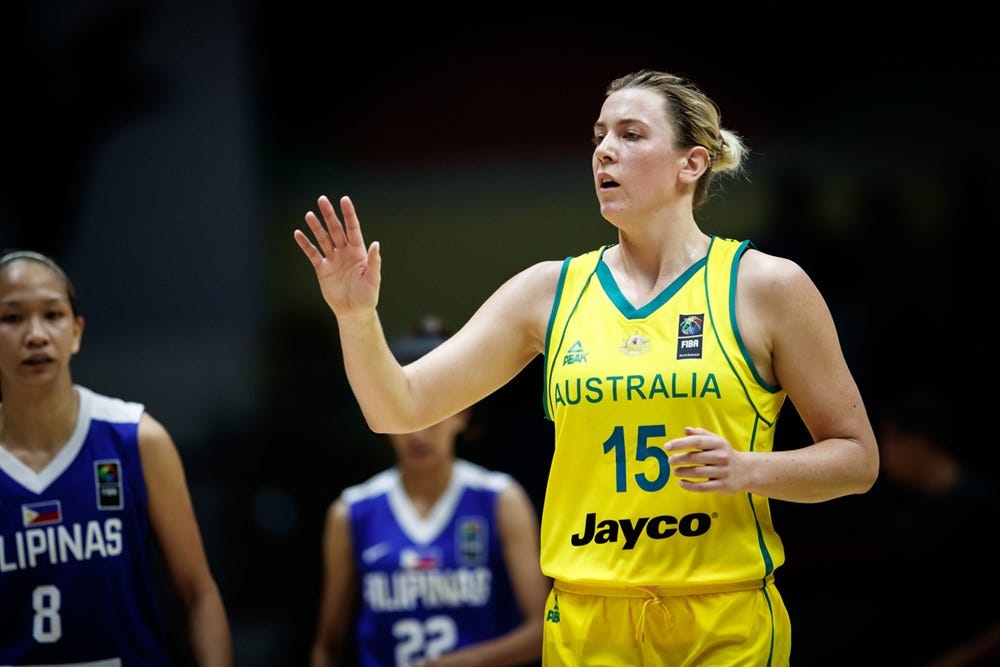 Sara Blicavs of Australia. Image credits: FIBA.com
The first game of the day was a Group B fixture between the Australians and Division A newcomers Philippines. The Asian team were out of their depth in the first half, falling behind 68 – 23 at halftime. The game ended 107 – 65 in favour of Australia, but the Philippines' players managed to find some rhythm in the second half, and were narrowly outscored 39 – 42.
The Australian coach rotated his players through the game, and they pitched in with contributions on both ends of the floor. They shot the ball well (61%) and five players finished with scoring in double figures for the Opals, led by Sara Blicavs with 21 points and 8 rebounds. Collectively, they were dominant on the boards, outrebounding the much shorter Philippines' team 47 – 21.
The Australians have now won their first two games, and will take on Japan tomorrow in their final game of the group stages. Marianna Tolo was rested in this game, despite being fit to start, in anticipation of tomorrow's fixture.
Australia (Sara Blicavs 21 pts; Stephanie Cumming 18 pts; Katie-Rae Ebzery 14 pts bt Philippines (Janine Pontejos 18 pts; Allana May Lim 11 pts) 107-65 [38-14, 30-9, 21-23, 18-19]
New Zealand bounce back beating DPR of Korea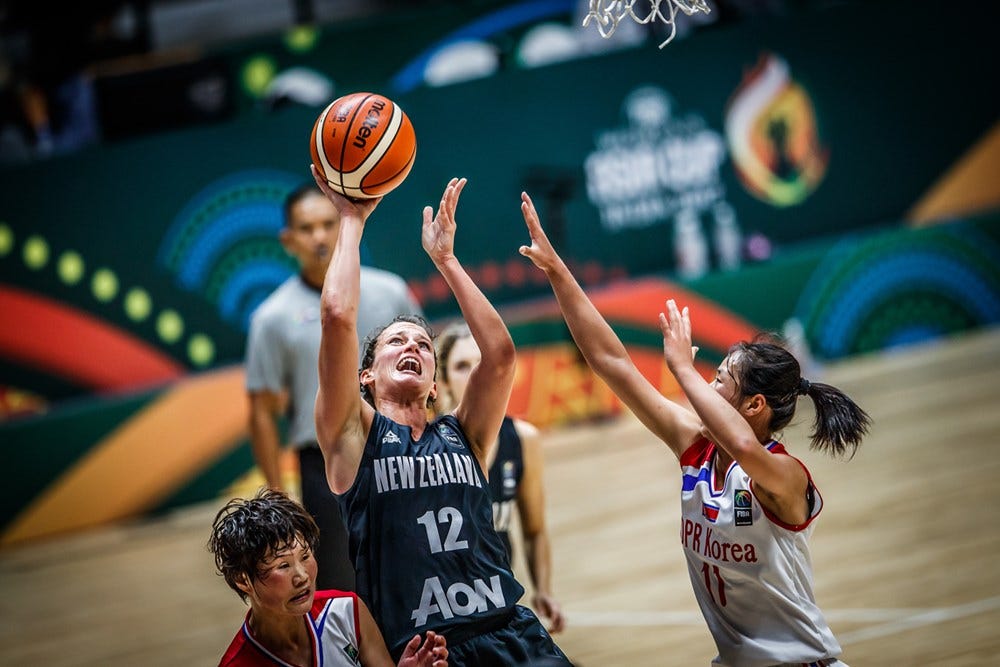 Jillian Harmon of New Zealand makes a tough layup against DPR Korea. Image credits: FIBA.com
New Zealand had a rough start in the first appearance in the FIBA Women's Asia Cup yesterday with a big loss against China. Their opponent today, DPR of Korea, also lost their opening game, albeit in nail-biting fashion by just one point against Chinese Taipei.
Both teams entered the game hungry, looking for their first win of the tournament. New Zealand was clearly the bigger team compared to DPR of Korea. They had a taller player on each position.
But DPR of Korea stuck to their game, using speed, ball movement and outside shooting. Korea managed to create a number of open shots, but their shooting percentage dropped from their first game, especially from 3-point land. On the defensive end, Korea opted to defend NZ with a 2-3 zone, testing their jump shooting. The NZ players were not hesitant to pull the trigger. They rotated the ball well and found the open man – captain Micaela Cocks led the way with 4 of 10 shooting from beyond the arc.
NZ also used their size advantage pulling down as many as 21 offensive rebounds, leading to 18 second-chance points. NZ were quick to convert defense to offense plucking 13 points off of Korea's turnovers. Despite this, Korea managed to stay within 10 points of NZ at the end of three quarters.
But Korea ran out of gas in the fourth, with NZ outscoring them 23 to 12 in the final period. Korea's 22% shooting from 3-point land hurt them terribly. For NZ, forward Jillian Harmon had a standout performance with 23 points and 13 rebounds.
New Zealand (Jillian Harmon 23 pts 13 rbs, Micaela Cocks 18, Kalani Purcell 11) bt DPR of Korea (Hyang Jong Pak 20, Suk Yong Ro 15, Jong Ok Ri 8) 71-50 [17-11, 15-14, 16-13, 23-12]
Japan stay undefeated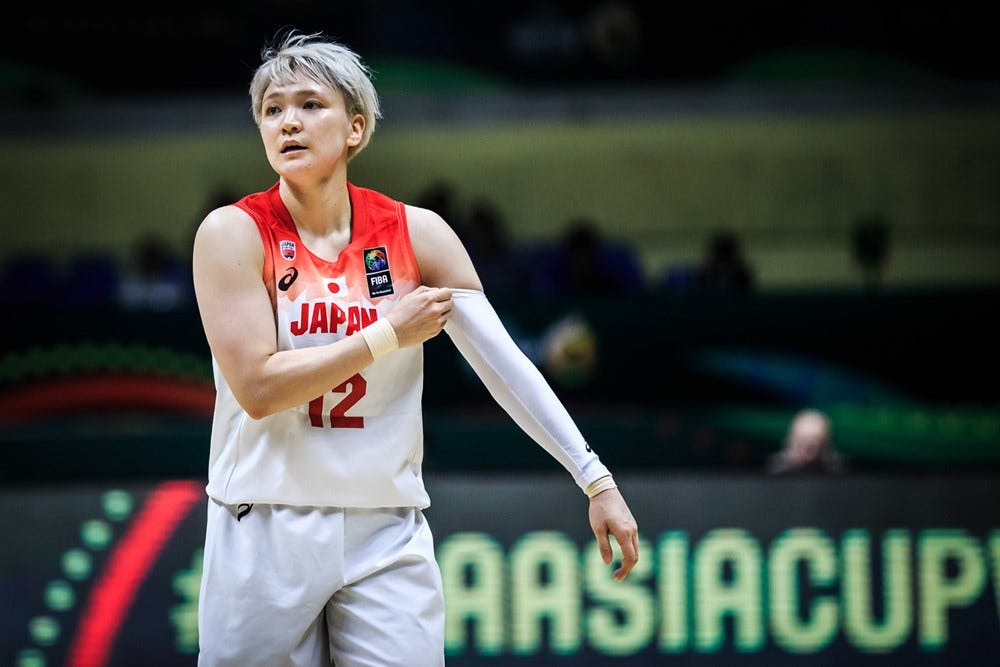 Asami Yoshida of Japan. Image credits: FIBA.com
Defending champions Japan remained undefeated beating Korea today in their second game of the tournament. For Korea, it was a back-to-back loss after falling to Australia on day one.
Japan did not have the same quick start as they did against the Philippines. The first quarter was largely evenly matched between the teams. Korea guard Yung Hui Lim was on fire, hitting all four of her shots and ending up with 10 first quarter points. Korea was up 14-12 at the end of the first period.
The second quarter was a different story, however, with Japan showcasing their gold medal offense. Point guard Yoshida created beautifully for her team, controlling the offensive tempo and racking up 6 assists in the first half. Japan small forward Moeko Nagaoka was aggressive, driving fearlessly to the bucket and earning her points in the paint. Korea was outscored in the second quarter 26 to 7.
Early in the third, Korea centre and defensive wall Jisu Park was fouled out. This opened up the inside even further for Japan, who ended the game with 38 paint points.
After the game, Korean star Danbi Kim acknowledged Japan's superior fitness. "Japan run better than us, their conditioning is better than us,"she said. Japan finished with a 70-56 win, while Korea will look to win their last league game against Philippines tomorrow.
Japan (Nagaoka Moeko 13, Fujioka Manami 12, Maki Takada 10, Asami Yoshida 8 assists 6 steals) bt Korea (Yung Hui Lim 12, Hana Park 10, Joo Yeong Kwak 10) 70-56 [12-14, 26-7, 16-13, 16-22]
China rout Chinese Taipei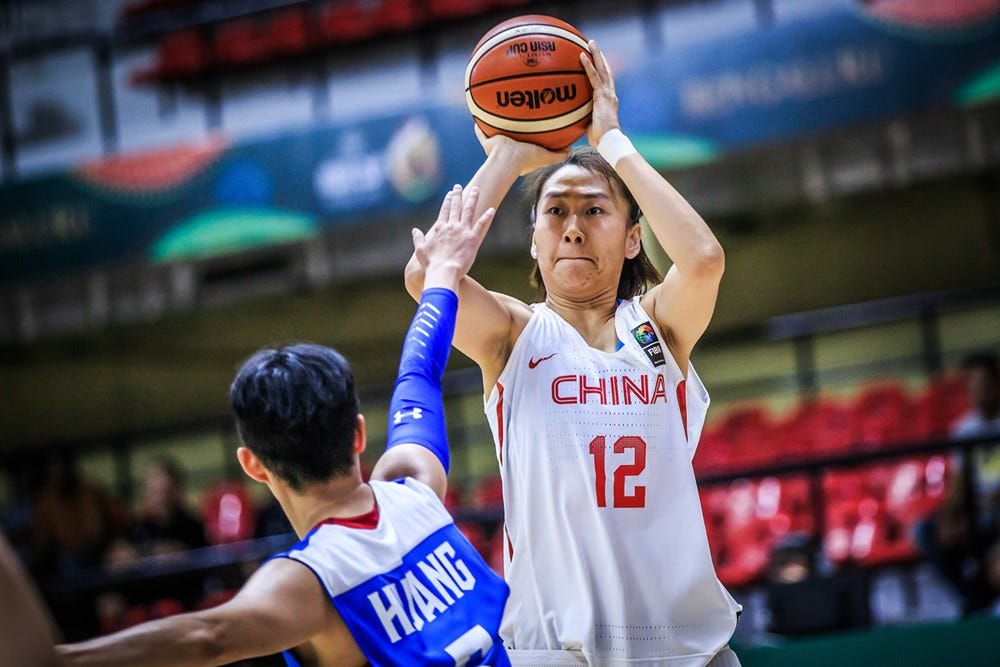 Song Gao of China shoots the ball. Image credits: FIBA.com
In the last Division A game of the day, China took on Chinese Taipei. Both teams had won their first game of the tournament, and were looking to extend their winning run. But the team from Chinese Taipei struggled to match the size, strength, and organization of a very good Chinese team, eventually losing 102 – 63.
China had opened up a twenty-point lead by the end of the first quarter, and extended it to thirty-three by halftime. The women from Chinese Taipei found their shooting stroke after the break, scoring 22 points in the third quarter; but that was hardly enough to keep up with an efficient and ruthless Chinese team that looks set to mount a challenge deep into the tournament.
Six players finished the game with scoring in double figures for China, led by Sijing Huang with 25 points.
Chinese Taipei centre Hsi-Li Bao was the only player who towered over the Chinese women, but she finished the game with a mere six points, having failed to establish herself in the paint. Her teammates could not do much to stop the Chinese women, who scored a whooping 66 points in the paint. The height disadvantage was also evident in the rebounding statistics: the Chinese women grabbed 53 boards, whereas Chinese Taipei only notched up 23 boards.
China (Sijing Huang 25 pts; Yueru Li 19 pts; Hongpin Huang 15 pts) bt Chinese Taipei (Ping-Jen Huang 13 pts; Yu-Ting Lin 12 pts) 102 – 63 [28 – 8, 30 – 17, 21 – 22, 23 – 16]
Division B
Lebanon beat Fiji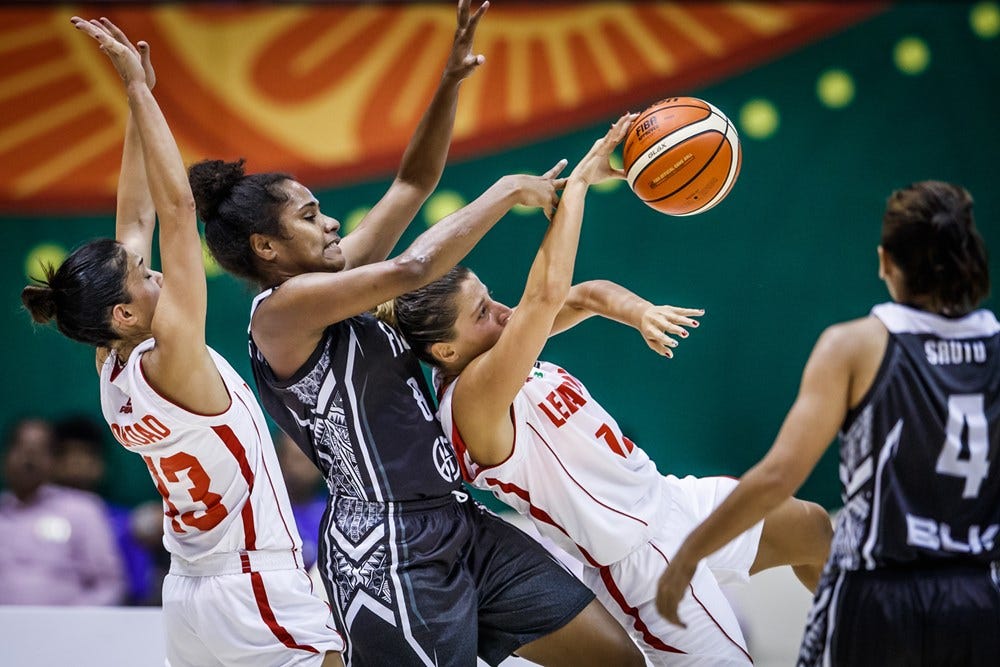 Lebanon vs Fiji. Image credits: FIBA.com
After a disappointing loss to Kazakhstan yesterday, Lebanon got back on track with a resounding win against hapless Fiji today. They took a 10-point lead early in the first quarter, and never conceded it en route to a 90 – 48 victory. They dominated the paint, out-rebounding the smaller Fiji team 51 – 32. Nour Schoucair top scored for Lebanon with 21 points.
Lebanon (Nour Schoucair 21 pts; Miramar Mokdad 14 pts; Chirine El Charif 13 pts) bt Fiji (Bulou Miliakere Koyamainavure 13 pts; Seini Macrae Dobui 12 pts) 90 - 48 [28 – 11, 17 – 14, 34 – 16, 11 - 7]
Kazakhstan extend winning start with victory over Singapore
Kazakhstan notched up their second win of the tournament with a 73 – 52 victory over Singapore. They had strong offensive contributions all round, as four players finished with scoring in double figures. They were also dominant on the boards, outrebounding the Singapore team 63 – 48. For Singapore, Cheryl Poon top scored with 15 points.
Kazaksthan (Tamara Yagodkina 16 pts; Zalina Kurazova 15 pts; Oxana Ossipenko 14 pts) bt Singapore (Cheryl Poon 15 pts; Jacqueline Jia Jia Chu 13 pts) 73 – 52 [9 – 6, 21 – 18, 23 – 10, 20 – 18]
Sri Lanka lose to Uzbekistan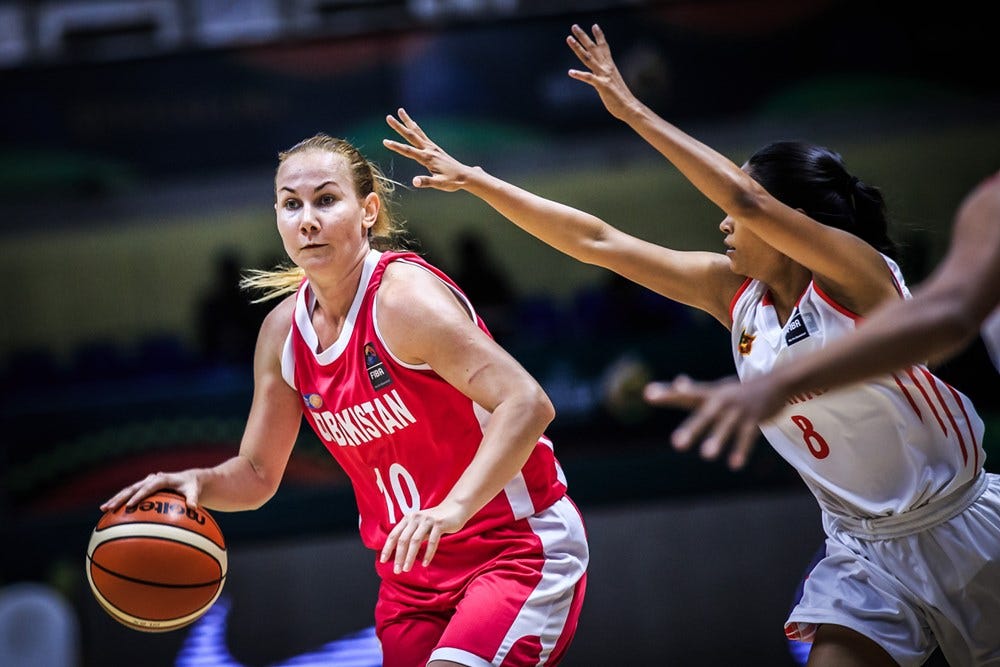 Natalya Koneva of Uzbekistan. Image credits: FIBA.com
Uzbekistan were looking for their first win of the tournament today, as they came up against a Sri Lankan side who were playing their first game of the tournament. They bounced back from yesterday's loss against India with an emphatic 78 – 39 victory. Natalya Koneva led the scoring for Uzbekistan with 19 points. The winners were dominant on the boards, outrebounding the Sri Lankan women 70 – 34. For Sri Lanka, Imesha Dapane Durage top scored with 14 points.
Uzbekistan (Natalya Koneva 19 pts; Elena Khusnitdinova 11 pts; Dlyara Asanova 12 rebs) bt Sri Lanka (Imesha Dapana Durage 14 pts; Nadeeshani Kumarine Silva 13 pts) 78 – 39 [26 – 10, 27 – 10, 13 – 12, 12 – 7]