Discover more from Ekalavyas | Basketball
Welcome to Ekalavyas, the pioneering publication dedicated to unearthing the world of international basketball, from an Indian perspective!
Over 3,000 subscribers
2021 FIBA Asia Cup Qualifiers: India vs Iraq Preview
In their initial head-to-head during the First Window of the ongoing FIBA Asia Cup Qualifiers, India beat Iraq 94-75. But with much higher stakes and Iraq in improved form, the second going might be a lot tougher.
The last time India and Iraq faced off in February 2020, the world was in a very different place. Corona was still a beer brand and 'lockdown' was an aspirational term reserved for defensive specialists on sports fields.
It is in this Brave New World that India vs Iraq 2.0 will take place - at a secure 'bubble' in Manama, Bahrain, to be precise.
India & IRaq at the Asia Cup Qualifiers So Far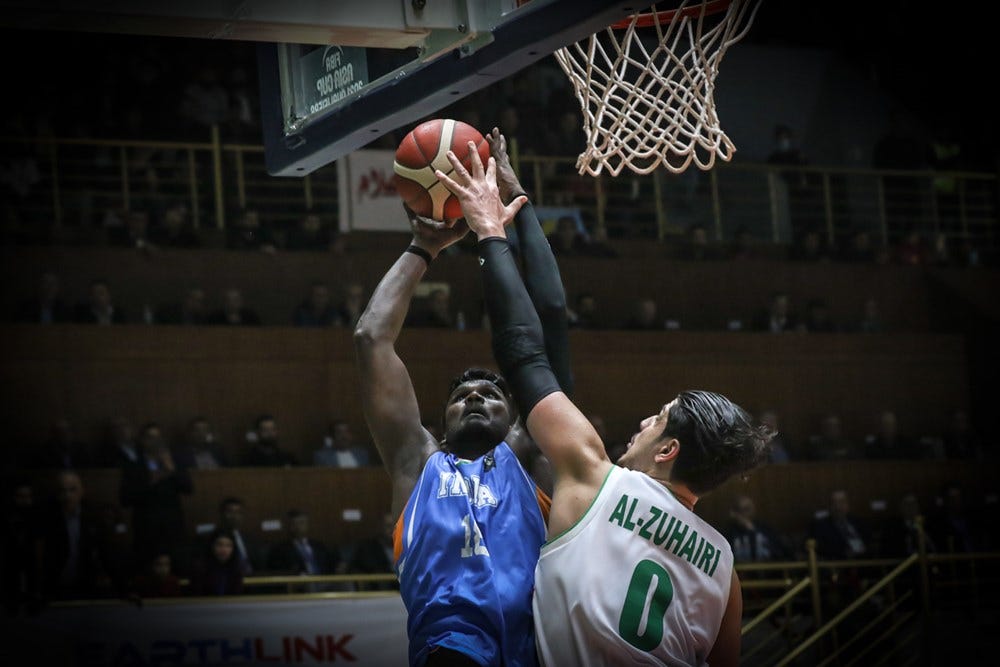 Aravind Annadurai in action against Iraq's Ihab Al-Zuhairi. Image credits: FIBA.com
India's only victory through its first four games came against Iraq. 1-3 India is currently sitting in the third position, and needs to maintain its standing to progress to the 'Final Qualifying Tournament' in June-July.
But a resurgent Iraq stands in the way.
Don't be fooled by Iraq's 0-4 record. The Iraqis have shown steady improvement since their 19 point home drubbing at the hands of the 'Young Cagers'.
[youtube]https://www.youtube.com/watch?v=TurXu75LaqA[/youtube]
Iraq followed up this loss with an achingly close 92-95 OT defeat to Bahrain, and outscored Group toppers Lebanon in three out of the four quarters. In comparison, these are two teams that blew by India in the same window.
Thanks to these close losses, Iraq (-50) also has a slightly better +/- than India (-53), a factor that may come into play in case of a tie-breaker (if it becomes impossible to separate the teams on the basis of the head-to-head margin of victory).
And if you set store by World Rankings, Iraq (77) is snapping at the heels of India (73), which has seen a steady rankings decline in recent years.
India will be particularly wary of Iraq's naturalized point guard Demario Mayfield, who leads his team in per game efficiency (+26), points (23.5) & rebounds (6.3). That said, the Young Cagers will be buoyed by the return of their own outside scoring point guard Joginder Singh Saharan and power forward Aravind Annadurai, both of whom significantly contributed to India's earlier win over the Iraqis.
The stage appears set for a tantalizing India vs Iraq 2.0.
India vs Iraq tips off on Saturday, 20th February at 6:30 pm IST, and the Asia Cup Qualifiers will be streamed live here:
[youtube]https://www.youtube.com/watch?v=_1wuHDyQBf0[/youtube]
***
If you've come this far…
Appeal to readers from Ekalavyas: Ekalavyas is India's first and only basketball media company. We are not foreign-funded, nor investor-backed. Your support and encouragement have got us this far. We now need your financial assistance to ensure we can keep providing you timely, accurate and important information. Please contribute via https://www.instamojo.com/@ekalavyas​ 🙏🏾. We are accepting contributions as low as Rs. 9/- (excluding a small processing fee charged by the payment gateway provider). Thank you for playing a part in keeping media independent and objective!