Discover more from Ekalavyas | Basketball
Welcome to Ekalavyas, the pioneering publication dedicated to unearthing the world of international basketball, from an Indian perspective!
Over 3,000 subscribers
FIBA allows use of turbans, hijabs, and kippah
FIBA's first Mid-Term Congress ratified a decision to allow players to wear headgear such as turbans, hijabs, and kippah, subject to conditions that ensure it does not interfere with fair play. The new rule will take effect from October 1, 2017.

This puts to bed a furore that erupted in 2014, when two leading Sikh players of the Indian men's national team were made to remove their turbans before the opening match at the 4th FIBA Asia Cup in Wuhan, China.

Sensitive to the issue, representations were made to FIBA by the Basketball Federation of India (BFI) and influential figures from across the world.

The latest decision to allow players to wear headgear has received widespread approval from BFI officials, as players will not have to compromise on their religious identity to play basketball.

The decision also means that players of the Islamic and Jewish community can compete with their hijabs and kippah respectively.

BFI President K Govindaraj and Secretary General Chander Mukhi Sharma have lauded FIBA for acknowledging and respecting the religious and cultural sentiments of the players.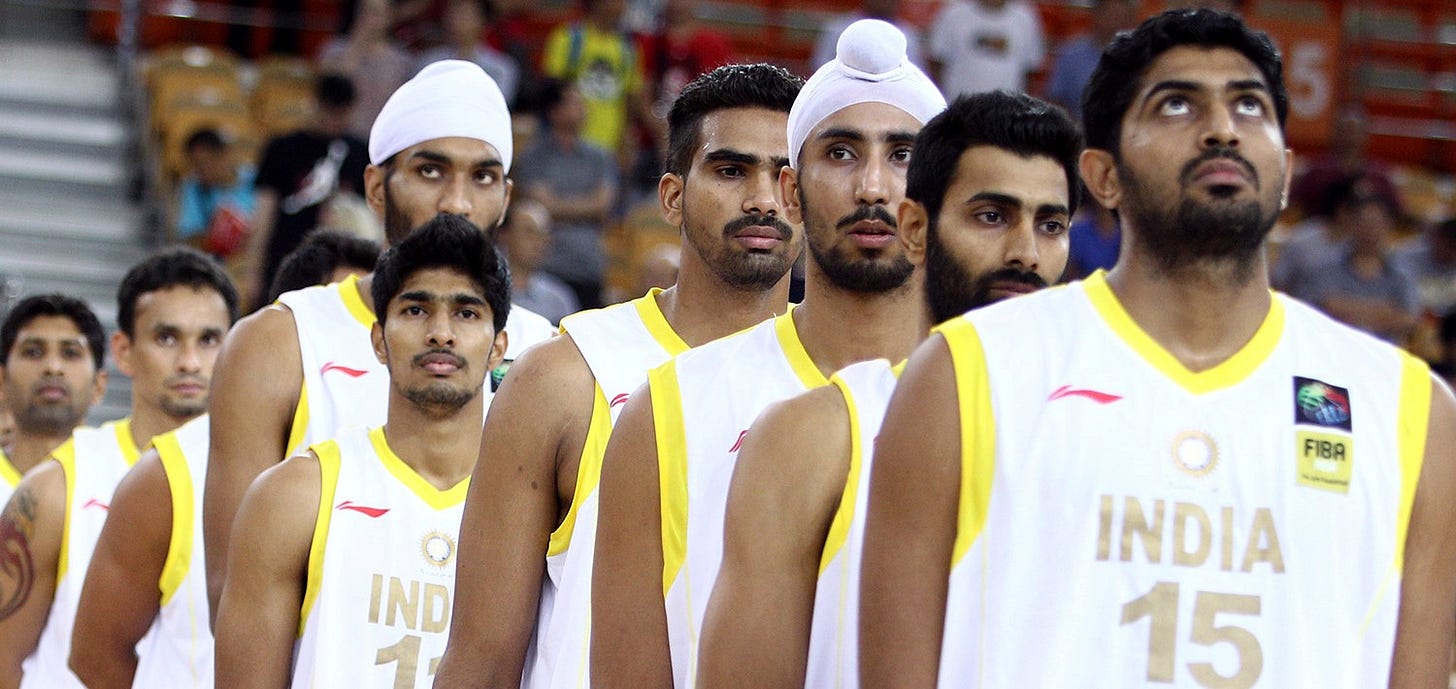 Image credit: FIBA.com
Bengaluru, 9th May 2017:  On May 4, 2017, FIBA's first Mid-Term Congress, constituted by representatives from 139 National Federations, unanimously ratified the FIBA Central Board's decision to allow players to wear 'headgear', a term that is intended to include turbans, hijabs, and kippah. This move puts to bed the controversy that erupted in 2014, when Amjyot Singh and Amritpal Singh, two Sikh players on the Indian national men's basketball team, were made to remove their turbans before the opening match at the FIBA Asia Cup in Wuhan, China.
At the time, FIBA relied on Rule 4.4.2 of the Official Basketball Rules 2014, as approved by the FIBA Central Board, to outlaw the use of turbans on the ground that the rule explicitly states that the use of "headgear, hair accessories, and jewellery" is not permitted.
The decision evoked a strong public reaction across the world, gathered speed on social media, as #LetSikhsPlay and #FIBAAllowHijab began to trend. Several change.org petitions calling for a rule change garnered hundreds of thousands of signatures. The decision to ban headgear was also criticized by players from the Islamic and Jewish community, because it meant that they would not be allowed to wear hijabs or yarmulkes while taking the court.
BFI President Mr K Govindaraj had raised this issue at the FIBA Asia Congress in Doha, Qatar, that was held on 24th July 2014. Support also came from the United States, as key figures like Indian – American lawmaker Ami Bera, and Simran Jeet Singh, a Senior Religion Fellow at the Sikh Coalition in the United States were hugely sympathetic to the cause.
Spurred by this reaction, FIBA initiated the process of revising the original rule in September 2014. In the meanwhile, FIBA decided to grant exception at the national level as part of a two year testing period. The new amended Article 4.4.2 developed by the Central Board after review is intended to respect religious beliefs and cultural traditions, while also minimizing the risk of injury and maintaining the consistency of uniform colors. It allows the use of headgear subject to the conditions that,
It is black, white, or of the same dominant colour as that of the uniform,

It is the same colour (as all accessories) for all players on the team,

It does not cover any part of the face entirely or partially (eyes, nose, lips, etc.),

It is not dangerous to the player wearing it and/or to other players,

It has no opening/closing elements around the face and/or neck, and

It has no parts extruding from its surface.
The new rule will be effective from October 1, 2017 onwards.
This decision has received widespread approval as it implies that players are free to wear turbans, hijabs, and kippah.
K Govindaraj, President of the BFI praised the decision: "This is a great move by FIBA, not only for players of the Sikh community, but also for players from the Islamic & Jewish community. India has a very diverse population and we hope that this shows to all that basketball is a sport for individuals of all backgrounds and religions."
Chander Mukhi Sharma, BFI Secretary General said, "The decision to permit headgear ensures that players can maintain their identity on the basketball court. The earlier restriction had caused a lot of inconvenience and awkwardness for players who had gotten used to wearing their turbans while playing since their youth. Many players, especially our Sikh stars from Punjab, had become apprehensive about playing, and this decision will reassure and provide much needed respite to those players and their parents."
It is important to note that this heartwarming decision by FIBA was followed a few days later by the announcement of the draw for the FIBA Basketball World Cup 2019 Qualifiers.