Discover more from Ekalavyas | Basketball
Welcome to Ekalavyas, the pioneering publication dedicated to unearthing the world of international basketball, from an Indian perspective!
Over 3,000 subscribers
EPBL Season 1 Dates Announced by CEO Sunny Bhandarkar!
EPBL Season 1 dates - for both the Men's and Women's League - have been announced by CEO Sunny Bhandarkar, on the Desi Ballers talkshow.
EPBL Season 1 Dates
Appearing on the first episode of the Desi Ballers talkshow yesterday afternoon Mr Bhandarkar said:
"We are planning the first season in late August...and the Women's League will actually run simultaneously along with the Men's League."
EPBL vs UBA: epbl "here to stay"
The promoters of EPBL had earlier also founded 'UBA'  a similar private 5v5 professional league - that wound up after a handful of seasons. Allaying fears of a similar situation with EPBL, Mr Bhandarkar said:
"We found(ed) the UBA. But the management that was controlling and handling the operations after Season 2 was not done by us directly. So...a lot of the visions that we had were mismatched. Hum chahte the ki domestic players ko support mile..you know they get that kind of limelight. But as you already know, in Seasons 2, 3 and 4, a lot of the players that were playing were actually international NRIs you can say...not even NRIs just international players. That actually defeated the purpose of why we started the UBA.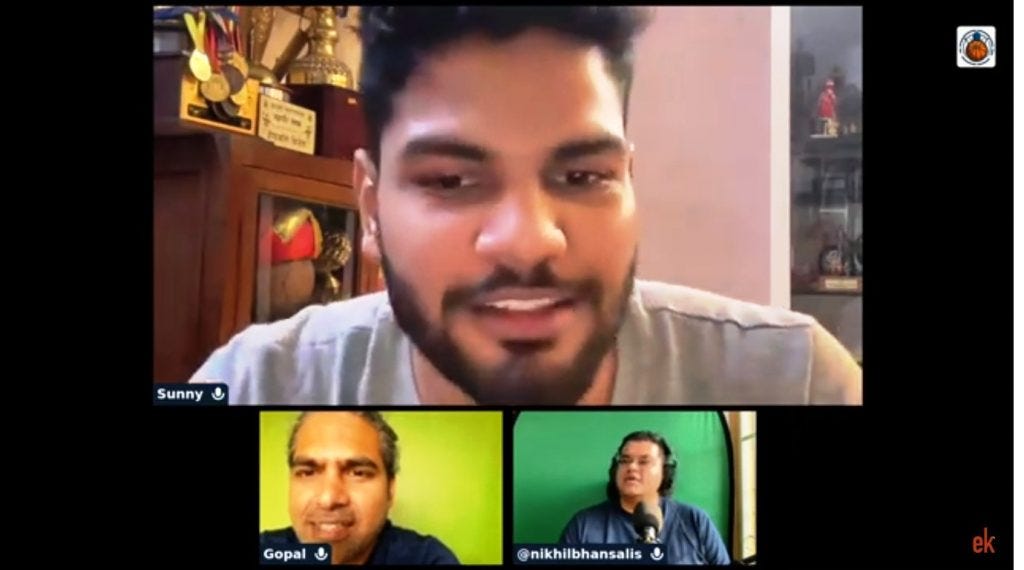 Sunny Bhandarkar EPBL Season 1 dates announcement on the Desi Ballers Show
Creating 'Indian super-heroes'
Elaborating further on the vision, mission and approach behind EPBL, Mr Bhandarkar said:
"We wanted to have Indian role-models, Indian super heroes, Indian athletes. That wasn't the case...and of course when you work with people of that stature who have been playing in the NBL or different leagues from other countries, the expectations are always a bit higher when it comes to remuneration and all that. So we are not about that. We are actually about promoting Indian talent first.
Right now our business model is in such a way that for the next ten years if we don't earn a single penny in revenue we will still be able to sustain...and we have made sure EPBL is here to stay. We are not here to blow up our money and do a lot of showbaazi and just go away." 
Mr Bhandarkar also clarified that EPBL is going to move ahead with or without BFI affiliation.
You can watch the full video interview here.
The EPBL Men's inaugural Pre-Season concluded earlier this week, alongside the first round of trials for the Elite Pro Women's League. While Men's EPBL Season 1 will have 16 teams, Women's EPBL Season 1 is set to feature 6 sides.
***
If you've come this far…
₹₹ Support Ekalavyas: Ekalavyas is India's first and only basketball media company. We are not foreign-funded, nor investor-backed. Your support and encouragement have got us this far. We now need your financial assistance to ensure we can keep providing you timely, accurate and important information. Please contribute via https://www.instamojo.com/@ekalavyas​ 🙏🏾. We are accepting contributions as low as Rs. 9/- (excluding a small processing fee charged by the payment gateway provider). Thank you for playing a part in keeping media independent and objective!