Discover more from Ekalavyas | Basketball
Welcome to Ekalavyas, the pioneering publication dedicated to unearthing the world of international basketball, from an Indian perspective!
Over 3,000 subscribers
Dhairya Karwa, of Uri and '83 Fame, shares his basketball journey
Actor Dhairya Karwa, of Uri fame, is playing the role of cricketer Ravi Shastri in the eponymous 1983 World Cup biopic. He will next be seen paired opposite Deepika Padukone in Gehraiyaan. 
But before he became an actor, Dhairya Karwa was an avid basketball player, captaining the Uttarakhand State team in the Junior National Basketball Championship, and representing SRCC college, Delhi.
In an exclusive chat with Ekalavyas way back in January 2019, the 31-year-old had revealed little-known details of his basketball journey.
Dhairya Karwa's basketball journey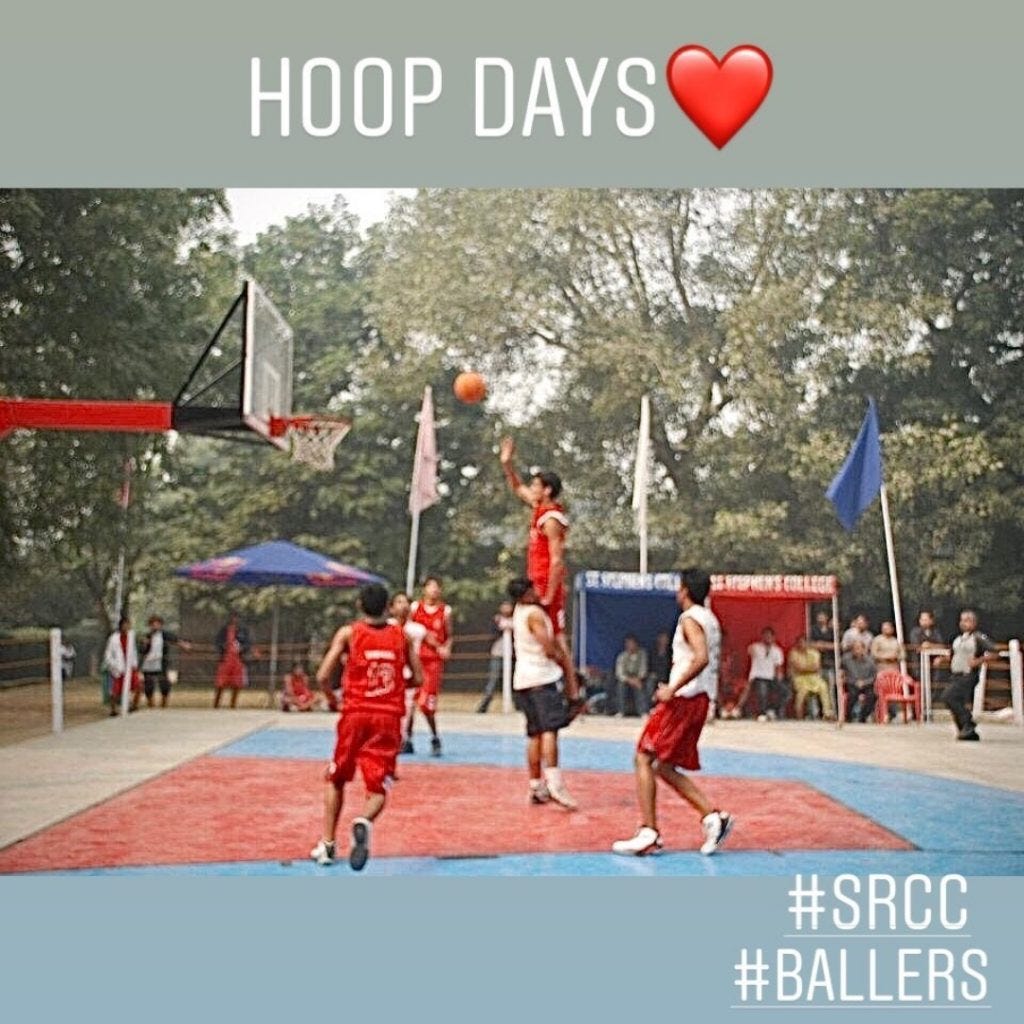 Dhairya Karwa in action for Sri Ram College of Commerce (SRCC), Delhi. Image credit: Dhairya Karwa Instagram.
"The only sport I knew was cricket. But basketball grew on me [and] that's what I played," Karwa said.
Hailing from Jaipur, Karwa moved to a boarding school in Dehradun at an early age for his studies. He started playing basketball in "sixth or seventh standard" at the Welham Boys' School.
Karwa didn't come from a basketball family. "My dad's a politician. But I had cousins studying at Bishop Cotton School, Shimla who used to play basketball," Karwa said.
Now standing at 6ft 4'', it was quite natural for Karwa to play the centre position at his school team. He then went on to represent the Uttarakhand State team in the U18 National Basketball Championship in Puducherry, and later in Ludhiana (2006), where he captained the side.
"It was [quite an experience] playing against Punjab and trying to box out," Karwa recalled with laughter in his voice. 
Karwa credits his school coach Ajay 'Kelly' Kaikhura and senior Uttarakhand State Coach Vinod Vachani for his basketball success.
In 2007, he joined Sree Ram College of Commerce (SRCC), Delhi. The super competitive basketball culture between Delhi University (DU)'s various colleges is well known. "It was a high playing in front of packed crowds. You could say that basketball was a popular sport [in DU]. [My routine was such that] first few hours would be basketball practice and we would get leeway with regards to [college] attendance. Now there's a wooden court, but [back then] we used to play in the scorching sun."
After graduating with a B.Com. Hons. degree from SRCC, Karwa knew he was at the crossroads.
"'The scene of basketball in India was such that the only option to continue playing professionally was to join Railways."
In 2010, after graduating from SRCC, Karwa began working as an analyst at Aon Hewitt, a multi-national company (MNC) in Gurugram. He pursed modelling on the side, appearing for commercials for Kerala Tourism, Amazon, Star Movies etc.
Big Acting Breathrough in
uri
After a few years of modelling in Delhi, in 2016, Karwa moved to Mumbai. Without a "set path", Karwa describes his "horrible" auditioning experiences that were "packed with actors". He highlights that the "conversion rate" is such that you have to give "hundreds" of auditions in order to bag a part. "It reminded me of Michael Jordan's famous quote: 'I've missed more than 9,000 shots in my career. I've lost almost 300 games. Twenty-six times I've been trusted to take the game-winning shot and missed. I've failed over and over and over again in my life. And that is why I succeed.'"
While auditioning for the action film Uri, Karwa "didn't know" he would be offered the "Sardar" role.
https://www.instagram.com/p/B1LkqT5FQvz/
"In the last minute I realized I had to wear a pagdi," Karwa said, recalling his audition. But the real work began after landing the part. "In three to four months, I had to 'become a Punjabi'. So I lived in Gurudwaras for a couple of weeks. We also did an Army Bootcamp for two to three months where I gained 5-8 kgs [of muscle]. We trained with the Indian Army and learned the mannerisms of the Sikh Regiment."
Here too his basketball background came to his rescue. "[The intense military training for Uri] became easier because of basketball. [Thanks to my years of basketball practice] I never sleep and wake up late. It [basketball] gave me the discipline of working hard and performing under pressure. Basketball is a team sport & in retrospect it taught me general life skills. [But back then] I only wanted to play."
NBA Fandom & lessons for india
With Karwa having mentioned MJ, our conversation naturally veers towards the NBA. Karwa admits that he hasn't had the time to follow the NBA closely in recent years. "Everyone's a fan of MJ of course. But I [also loved] Allen Iverson's crossovers and defensive player Ben Wallace. Back when I was playing, Pistons were doing well and my heart burned saving up [to buy] Wallace's jersey." Among current players, Karva lists the "aggressive Westbrook" and "2011 MVP Derrick Rose" as his favourites.
Karwa also highlighted how he admired the late Kobe Bryant's work ethic. "While [other] ballers take off in the off-season, Kobe used to 'build up' and 'accumulate'...this is something I call 'anti-majority behaviour'."
https://www.instagram.com/p/B70XLy4JSlf/
Karwa quickly quashes our question about whether he ever harboured dreams of playing in the NBA. "No bro. International standards is way beyond [sic]. Had I started off [playing] at an early age, now I could be twice as good. [India lacks] such essentials as nutrition and weight training." Elaborating further he says, "[Players] can't be drinking coke and fruity. [The] system [in India] has to be better. Physicality matters so much in sport."
https://www.instagram.com/p/CW3BFSSo6yi/
Advice for youngsters
He has sound words of advice for other sportspersons looking to enter the entertainment industry. "A sportsman's career is short" and it is important to "know reality".
"Show biz is larger than life. Everyone wants to get there. [So] I'd want to inspire [others who wish to follow in my footsteps]."
"Clarity doesn't come early. [Don't waste time on] 'could, should, would'. [Instead focus on] what 'will' happen...Training the mind is very important and you can accomplish so much more."
Karwa cautions against wasting time online on "useless shit" instead of watching motivational videos. "[Youngsters] don't make the best of tech. [It is important to] channelise [energy] in the right direction."
***
If you've come this far…
Appeal to our readers: Ekalavyas is India's first and only basketball media company. We are not foreign-funded, nor investor-backed. Your support and encouragement have got us this far. We now need your financial assistance to ensure we can keep providing you timely, accurate and important information. Please contribute via https://www.instamojo.com/@ekalavyas​ 🙏🏾. We are accepting contributions as low as Rs. 9/- (excluding a small processing fee charged by the payment gateway provider). Thank you for playing a part in keeping media independent and objective!
Ekalavyas now on Clubhouse! Join us for live audio conversations by following the 'Sports India Basketball' Club.
Ekalavyas now on Telegram! Stay up-to-date on all the breaking news around Indian Basketball, by subscribing to the EkBallIndia Telegram Channel.