Discover more from Ekalavyas | Basketball
Welcome to Ekalavyas, the pioneering publication dedicated to unearthing the world of international basketball, from an Indian perspective!
Over 3,000 subscribers
Delhi 3x3 Teams Reign Supreme in Red Bull Half Court 2022
Delhi 3x3 teams - Storm (Men) & Divas (Women) - won the second edition of Red Bull Half Court to punch their tickets to the World Finals in Egypt, later this September.
The Red Bull Half Court 2022 National Finals was held yesterday at Sri Guru Gobind Singh College in Chandigarh, and featured 8 men's teams and four women's teams.
ICYMI, READ: RED BULL HALF COURT 2022 - NATIONAL FINALS IN CHANDIGARH ON 17TH JUNE
Delhi 3x3 teams win in contrasting styles
In the men's finals, Delhi Storm upended predictions, beating Pistol Group, Ludhiana in a thrilling contest. Featuring India's top four ranked FIBA 3x3 players in the U23 age category, Pistol Group had also recently won the INBL 3x3 National Title. All that came to naught, as Storm's inspired play, led by Finals MVP Abhishek Rathee. The fairytale evening was made sweeter for Rathee as it reportedly came on his former 'home court', being a former student of Sri Guru Gobind Singh College.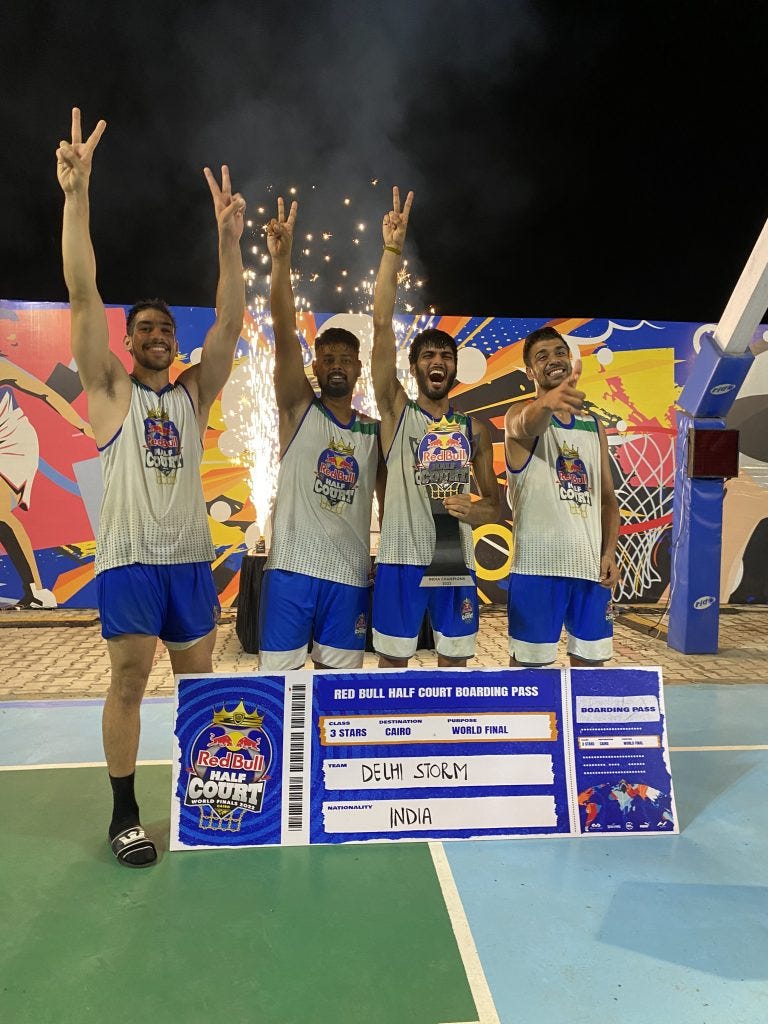 L to R: Abhishek Rathee, Abhyudaya Yadav, Abhishek Tyagi & Samsher Ahmad. Image courtesy: Red Bull
Meanwhile, in the women's section, Delhi Divas, the reigning champions of the 3x3 Pro Basketball League, were dominant throughout the pool stages and in the finals. Facing a retooled Vels A Chennai team that had undergone last-minute roster changes prior to these National Finals, Delhi had no trouble cruising to a 21-5 victory. India's seasoned vet, and current #1 ranked FIBA 3x3 player, Raspreet Sidhu, was named the Most Valuable Player.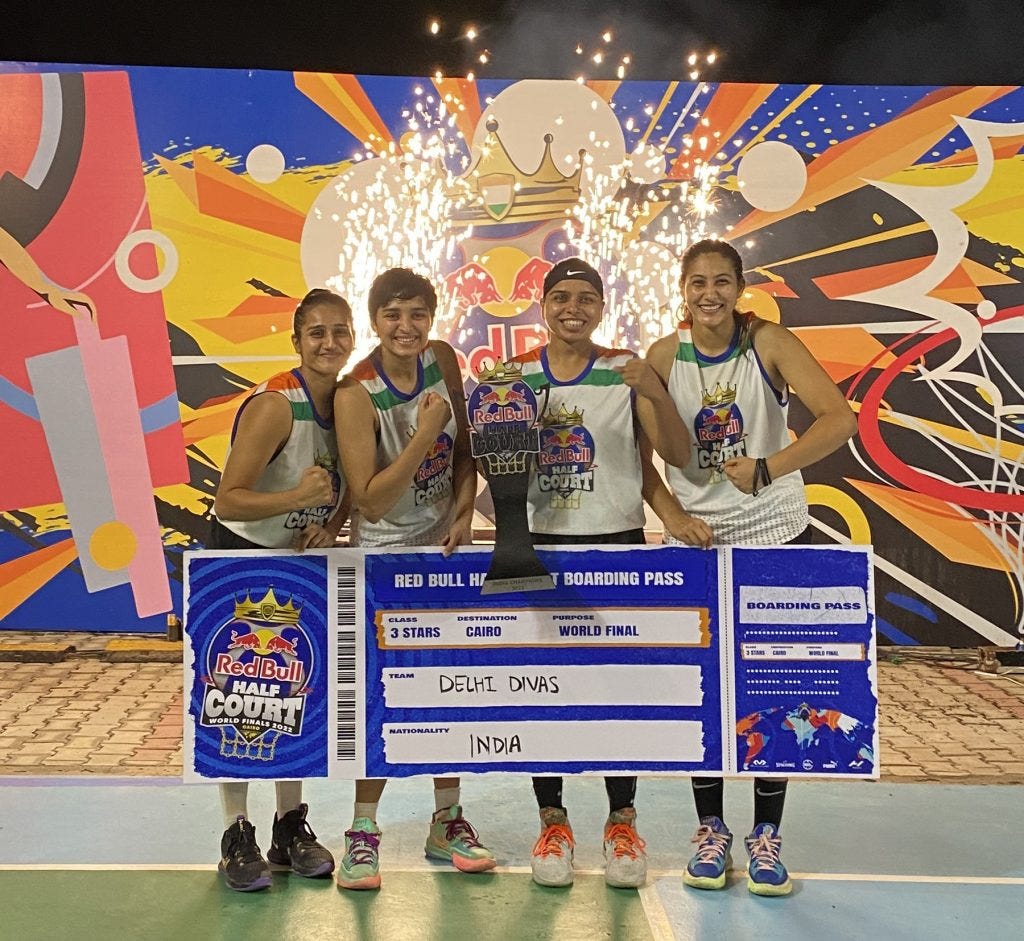 L to R: Ishika Choudhary, Tavleen Bhandal, Raspreet Sidhu and Khushi Ahlawat. Image courtesy: Red Bull
The full results can be accessed here: Men, Women
The two Delhi 3x3 teams will now represent India at the Red Bull Half Court World Finals to be held in Cairo, Egypt, in September.
***
If you've come this far…
₹₹ Support Ekalavyas: Ekalavyas is India's first and only basketball media company. We are not foreign-funded, nor investor-backed. Your support and encouragement have got us this far. We now need your financial assistance to ensure we can keep providing you timely, accurate and important information. Please contribute via https://www.instamojo.com/@ekalavyas​ 🙏🏾. We are accepting contributions as low as Rs. 9/- (excluding a small processing fee charged by the payment gateway provider). Thank you for playing a part in keeping media independent and objective!
*Affiliate Disclosure & Disclaimer: Ekalavyas is an affiliate marketer for Amazon. So we earn a sales commission on every product purchased via the above-embedded ad(s)/links, at no extra cost to the buyer. This is necessary to ensure that Ekalavyas can continue providing our readers (i.e. you) timely, accurate and important information on all things India Basketball. While we take care to market only quality products, Ekalavyas takes no legal or moral responsibility for any purchases made using the above links. Readers can also directly ₹ support the work of Ekalavyas via the details shared above.
Ekalavyas now on Clubhouse! Join us for live audio conversations by following the 'Sports India Basketball' Club.
Ekalavyas now on Telegram! Stay up-to-date on all the breaking news around Indian Basketball, by subscribing to the EkBallIndia Telegram Channel.