Discover more from Ekalavyas | Basketball
Welcome to Ekalavyas, the pioneering publication dedicated to unearthing the world of international basketball, from an Indian perspective!
Over 3,000 subscribers
Defending Champs Karnataka women & hosts UP Men open with wins on Day 1 of the 68th Junior National Basketball Championship
Noida, 4th June 2017: The prestigious 68th Junior National Basketball Championship tipped off this morning at the Shiv Nadar University in Gautam Budh Nagar district, Noida. The Championship is being organised by the Uttar Pradesh Basketball Association under the aegis of the Basketball Federation of India.
Karnataka women hold off Kerala
Karnataka's Aishwarya in action against Jayalaxmi of Kerala. Image credits: Basketball Federation of India
Last year's winners, Karnataka women opened with a close 65-64 win over Kerala. Karnataka led early before Kerala stormed back in the second quarter to trail 36-38 at halftime. The teams kept going back and forth right till the final buzzer before the experienced Karnataka side pulled through with a nail biting one point win. Sanjana Ramesh of Karnataka top scored with 20 points, while Kerala forward Sreekala fought hard with 25 points in the losing effort.
Later in the evening, Maharashtra, Chhattisgarh and Tamil Nadu teams too posted easy wins.
Maharashtra men outclass Delhi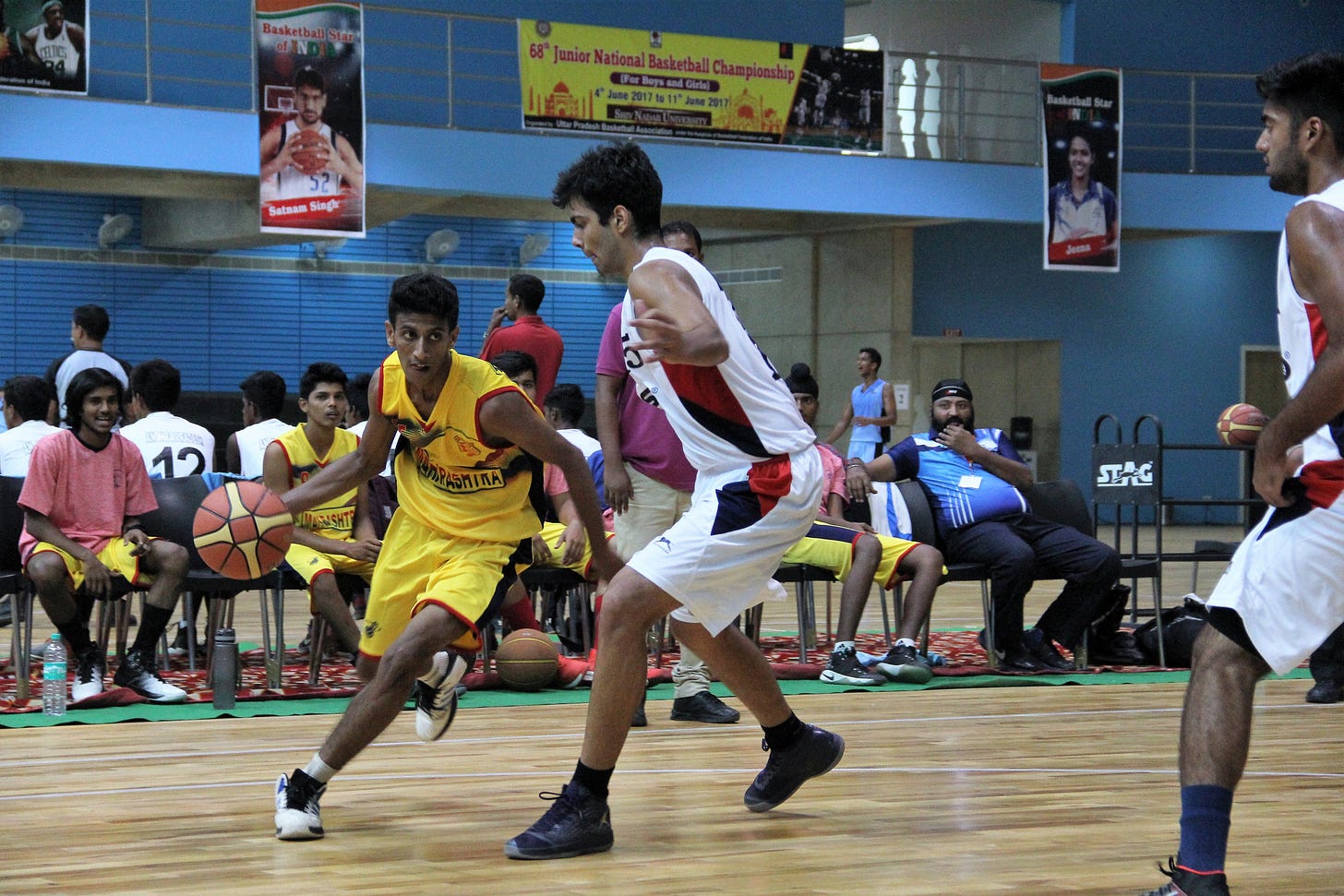 Danish of Maharashtra drives baseline against Delhi. Image credits: Basketball Federation of India
In the Level 1 men's matches, Maharashtra registered a surprisingly easy 81-64 victory over Delhi. The second quarter largely sealed the fate of the game, as Maharashtra outscored their opponents 24-6. Later in the day, Tamil Nadu men made short work of Chhattisgarh, their scintillating perimeter defence restricting Chhattisgarh to just 49 points in the game. Tamil Nadu's P Baladhaneshwar, who has already debuted on the senior national team, top scored with 22 points and showed excellent mobility on both ends of the floor.
Kerala men got off to a flyer, beating Telangana 109-26. Joshua George top scored with 28 points, with Muhammed Shiras (21 points), Amal Reghu (19 points) and Sejin Mathew (11 points) chipping in with double digit scoring as well.
Hosts UP men start with impressive win
In lower Level 2 action, Madhya Pradesh and West Bengal women too started off with confident victories. In men's Level 2, Gujarat, Uttar Pradesh, Himachal Pradesh and Uttarakhand won their respective matches.
Hosts Uttar Pradesh men had it easy against Jharkhand, winning their Level 2 Group D encounter 67-25.
Results till 7 pm
Men:
Level 1
Group A
Rajasthan (Rajeen 29, Sumit 18, Ashish 15) bt Haryana (Rinku 38) 73-61 [ 20-3, 8-18, 18-19, 27-21]
Group B
Maharashtra (Faisal 20, Yash 17, Danish 16) bt Delhi (Manik Hooda 20, Aditya 16, Nitish 13) 81-64 [25-22, 24-06, 21-16, 11-20]

Tamil Nadu (P Baladhaneshwar 22, Shanmugan M 16) bt Chhattisgarh (Salim Ali 25, Gajendra Kr. Sahu 12) 79-49 [19-4, 19-11, 22-13, 19-21]

Kerala (Joshua J George 28, Muhammed Shiras 21, Amal Reghu 19, Sejin Mathew 11) bt Telangana (Pradeep Singh 15) 109-26 [37-7, 23-4, 21-5, 28-10]
Level 2
Group D
Gujarat (Harsh 28, Kuldeep 18, Krishnapal 7) bt West Bengal (Alok 22, Gopal 14, Saddam 13) 74-65 [17-13, 24-15, 17-21, 16-16]

Uttar Pradesh (Akshay Sharma 19, Prasun Mishra 15, Bhagyansh Gulati 13) bt Jharkhand (Rahul Kumar 10, Ajhar 6) 67-25 [12-7, 24-13, 20-5, 11-0]
Group C
Himachal Pradesh (Jatin 37, Gurkaran 23, Namneet 12) bt Jammu & Kashmir (Gourav Rajwal 14, Rohit Kumar 14, Sumit Kumar 14) 81-57 [15-20, 23-13, 26-14, 17-10]
Group E
Uttarakhand (Riyanshu 33, Arhant 16, Uday Rathi 10) bt Tripura (Sachin 20, Mohit 14) 90-42 [22-16, 23-5, 26-9, 19-12]

Karnataka (Vishal Sharma 18, Pratyansh V. Tomar 17) bt Bihar (Rahul Kumar 14) 77-27 [ 28-5, 19-4, 16-5, 14-13]
Group F
Andhra Pradesh (S V.V Sai Krishna 22, A. Saipavan Kumar 20, N.M.D Haroon 17) bt Goa (Shawn Aranjo 24, Kabir Morajkan 15) 76-65 [14-17, 22-10, 11-19, 29-19]
Women:
Level 1
Group A
Karnataka (Sanjana Ramesh 20, Snigddha 14, Aastha Vartak 12) bt Kerala (Sreekala R 25, Jayalaxmi 15) 65-64 [21-13, 17-23, 13-12, 14-18]

Chhattisgarh (Gulabsha Ali 36) bt Delhi (Shubham Ohlan 12) 68-47 [12-8, 26-8, 10-15, 20-16]
Group B
Tamil Nadu (T. Darshini 16, N. Mirudhula 9) bt Haryana (Manjeet Nehra 12) 60-19 [ 14-7, 24-7, 11-2, 11-3]

Maharashtra (Sakshi 17, Prabjot Kaur 15, Rajandeep 11) bt Punjab (Shruti 21, Suzanne 13, Shreya 13, Neha 9) 73-55 [28-18, 15-18, 22-15, 8-4]
Level 2
Group C
Madhya Pradesh (Shruti 26, Isha Chouhan 19) bt Jharkhand (Riya Dokaina 11) 66-23 [21-6, 23-3, 13-4, 10-10]
Group E
West Bengal (Parohita G 17) bt Goa (Neeharika 13) 55-24 [15-10, 20-0, 12-5, 8-9]