Discover more from Ekalavyas | Basketball
Welcome to Ekalavyas, the pioneering publication dedicated to unearthing the world of international basketball, from an Indian perspective!
Over 3,000 subscribers
Defending Champions ONGC begin their run with a win at the 32nd Federation Cup in Chittoor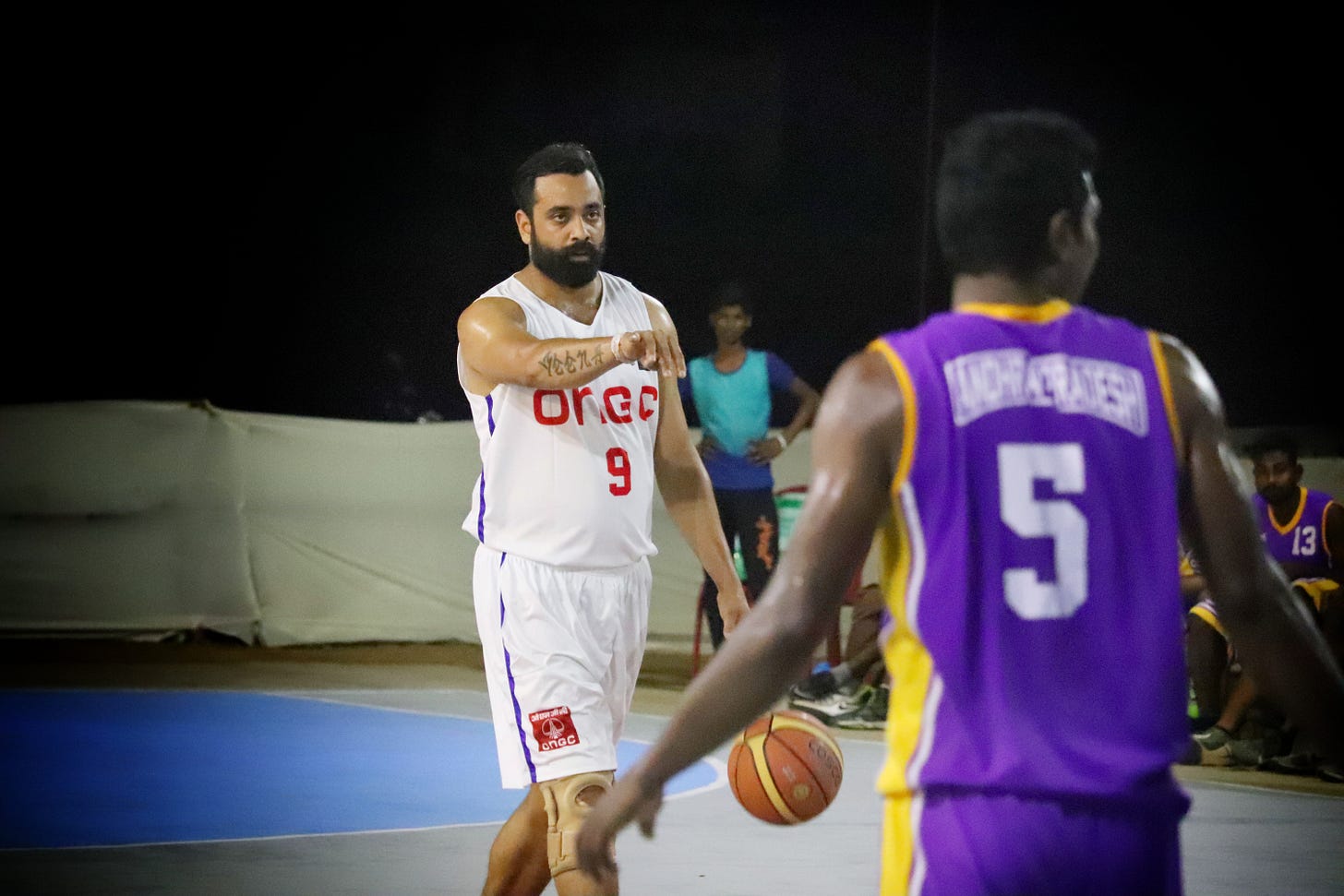 ONGC Player Vishesh Bhriguvanshi surveys the floor vs the home team S.A.A.P. Image credits: Basketball Federation of India. Bengaluru, 2nd May 2018: The first game of the day was an extremely competitive one between Indian Overseas Bank, Chennai and Madras Sappers from Bangalore. The game saw a lot of fireworks as both the teams displayed aggressive physical basketball. However, the internationally experienced squad of IOB took the game away from MEG's reach in the second half. In a game between ONGC Dehradun and Sports Authority of Andhra Pradesh, all eyes were on Vishesh Bhriguvanshi as he made his comeback six months after suffering a knee injury. Bhriguvanshi entered the game in the third quarter and displayed some crisp passing but wasn't able to score. The defending champions ONGC secured an easy victory over S.A.A.P.  
ABOUT 32ND FEDERATION CUP
The prestigious 32nd Federation Cup has tipped off at the District Sports Authority in Chittoor, Andhra Pradesh on 1st May 2018. The best club/state teams in both the Men's and Women's category are participating in this 6-day long tournament. The championship is being organised by the Andhra Pradesh Basketball Association under the aegis of the Basketball Federation of India.
RESULTS
DAY-2: MEN: Indian Overseas Bank 85 (Sivabalan 15, Aravind 13, Vineeth 13) bt MEG Bangalore 70 (Amal 25, Rahul 17)  ONGC 74 (Muin Bek 20, Yadwinder 14, Arjun 12) bt S.A.A.P 42 (Naveen 19)  Customs Cochin 78 (Nikhil 22, Basil 15) bt BSF Jodhpur 54 (Bharatdeep 19, Gurwinder Singh 18) Punjab Police 91 (Sukhdeep 26, Dilpreet 19, Ranbir 16) bt Hissar Club 73 (Vikas 24, Deepak 22)   WOMEN: Tamil Nadu 46 (Rajeshwari 13) bt Andhra Pradesh 26 (Padmavathi 9) Maharashtra 55 (Sruthi 22, Mugdha 9) bt Telangana 26 (Mrunalini 8, Manasa 7) Karnataka 69 (Navaneetha 16, Priyanka 16) bt Chhattisgarh 55 (Sakshi 27, Gulabhsha 16) Eastern Railways 57 (Madhu 10, Salma 9) bt Delhi 21 (Vidhi 07)   DAY-3 (Morning) WOMEN: Kerala 66 (Chippy 09, Shilji 08) bt Andhra Pradesh 34 (Padmavathi 13, Jyothi 12) Tamil Nadu 73 (Vandana 17) bt Chhattisgarh 37 (Sangeetha 8)  
GROUPINGS
MEN WOMEN POOL 'A' POOL 'B' POOL 'A' POOL 'B' ONGC, DEHRADUN IOB, CHENNAI KERALA TELANGANA BSF , JODHPUR PUNJAB POLICE CHHATTISGARH EASTERN RAILWAY CUSTOMS & EXCISE, COCHIN HISSAR CLUB TAMIL NADU DELHI S A A P MEG, BANGALORE KARNATAKA MAHARASHTRA ANDHRA PRADESH
  1ST MAY, 2018 COURT NO. 1
S. No. Team 'A' V/s Team 'B' Group Time 1. S A A P V/s CUSTOMS & EXCISE, COCHIN MA 05.00 PM 2. KERALA V/s TAMIL NADU WA 06.30 PM 3. ANDHRA PRADESH V/s KARNATAKA WA 08.00 PM 4. PUNJAB POLICE V/s MEG, BENGALURU MB 09.30 PM
  COURT NO. 2
S. No. Team 'A' V/s Team 'B' Group Time 5. TELANGANA V/s EASTERN RAILWAY WB 05.00 PM 6. IOB, CHENNAI V/s HISAR CLUB MB 06.30 PM 7. DELHI V/s MAHARASHTRA WB 08.00 PM
  2ND MAY, 2018 COURT NO. 1
S. No. Team 'A' V/s Team 'B' Group Time 8 ANDHRA PRADESH V/s TAMIL NADU WA 05.00 PM 9 IOB, CHENNAI V/s MEG, BENGALURU MB 06.30 PM 10 MAHARASHTRA V/s TELANGANA WB 08.00 PM 11 ONGC, DEHRADUN V/s SAAP MA 09.30 PM
  COURT NO. 2
S. No. Team 'A' V/s Team 'B' Group Time 12 KARNATAKA V/s CHHATTISGARH WA 05.00 PM 13 BSF, JODHPUR V/s CUSTOMS, COCHIN MA 06.30 PM 14 EASTERN RAILWAY V/s DELHI WB 08.00 PM 15 HISAR CLUB V/s PUNJAB POLICE MB 09.30 PM
  3RD MAY, 2018 COURT NO. 1
S. No. Team 'A' V/s Team 'B' Group Time 16 KERALA V/s ANDHRA PRADESH WA 07.00 AM 17 TELANGANA V/s DELHI WB 05.00 PM 18 ONGC, DEHRADUN V/s COCHIN CUSTOMS MA 06.30 PM 19 BSF, JODHPUR V/s SAAP MA 08.00 PM 20 KERALA V/s CHHATTISGARH WA 09.30 PM
  COURT NO. 2
S. No. Team 'A' V/s Team 'B' Group Time 21 CHHATTISGARH V/s TAMIL NADU WA 07.00 AM 22 HISAR CLUB V/s MEG, BENGALURU MB 06.00 PM 23 EASTERN RAILWAY V/s MAHARASHTRA WB 07.30 PM 24 TAMIL NADU V/s KARNATAKA WA 09.00 PM
  4TH MAY, 2018 COURT NO. 1
S. No. Team 'A' V/s Team 'B' Group Time 25 CHHATTISGARH V/s ANDHRA PRADESH WA 05.00 PM 26 ONGC, DEHRDUN V/s BSF, JODHPUR MA 06.30 PM 27 KERALA V/s KARNATAKA WA 08.00 PM 28 PUNJAB POLICE V/s IOB, CHENNAI MB 09.30 PM
  5TH MAY, 2018
COURT NO. 1    (SEMI - FINALS)
S. No. Team 'A' V/s Team 'B' Group Time 29 B1 V/s A2 WOMEN 05.00 PM 30 B1 V/s A2 MEN 06.30 PM 31 A1 V/s B2 WOMEN 08.00 PM 32 A1 V/s B2 MEN 09.30 PM
  6TH MAY, 2018 3RD & 4TH PLACE
S. No. Team 'A' V/s Team 'B' Group Time 33 L/O  B1/ A2 V/s L/O  A1/ B2 MEN 05.00 PM 34 L/O  B1/ A2 V/s L/O  A1/ B2 WOMEN 05.00 PM – COURT 2 F I N A L S 35. W/O  A1/B2 V/s W/O  B1/ A2 WOMEN 06.30 PM 36. W/O  A1/ B2 V/s W/O  B1/ A2 MEN 08.00 PM