Discover more from Ekalavyas | Basketball
Welcome to Ekalavyas, the pioneering publication dedicated to unearthing the world of international basketball, from an Indian perspective!
Over 3,000 subscribers
Coimbatore Basketball Fest to tip off on 25th February
The League-cum-knockout fest will bring the limelight back onto the vibrant Coimbatore Basketball culture, a top hoops hub in the powerhouse State of Tamil Nadu.
JJ 3x3 tournament to light up Coimbatore basketball
The JJ 3x3 tournament will be conducted between 25th to 28th February 2021 at the basketball grounds, VOC Park in Coimbatore.
The tournament will be open to participants in the following categories:
Girls & Boys: U10 (born in or after 2011), U13 (born in or after 2008) & U17 (born in or after 2004)

Men & Women: U21 (born in or after 2000), U30 (born in or after 1991) & 30+ (born in or before 1990)

Open Mixed: No age restrictions; 2 Boys + 2 Girls or minimum 1 female player

Open 3 Point: No age or gender restrictions
WHY SHOULD YOU PARTICIPATE?
All participating players will be entered into FIBA World Player Rankings.

Free stats will be provided to all teams

The entry is free for Under 10 Boys & Girls

Free game videos will be provided for U10 players

Game videos will also be made available for purchase at MySportsFactory.com

Participation is open to all players without any school or club affiliations

There will be a cash prize for the Top 4 Men & Women teams & goodies for the top 4 boys and girls teams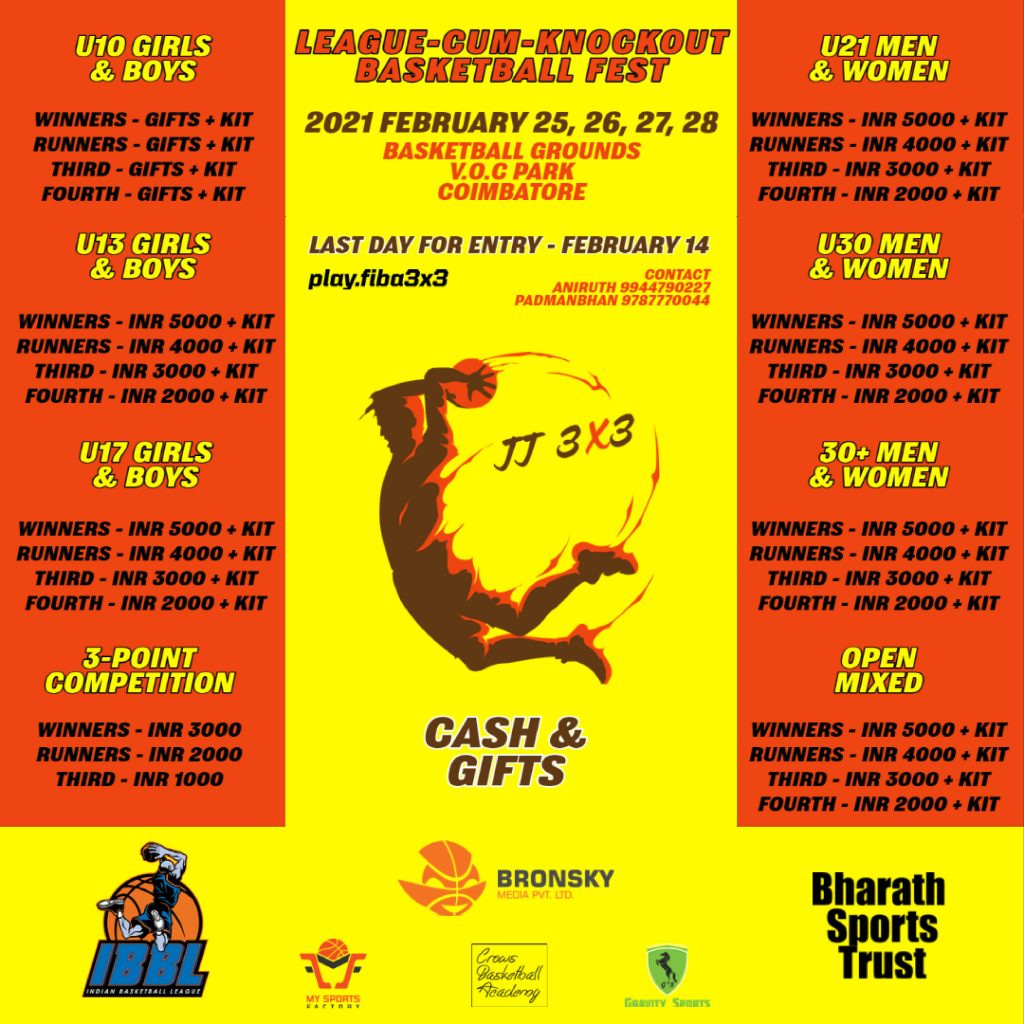 HOW TO REGISTER?
The last date for registration is February 14th

Registration fee is as follows: Free (for U10 Boys & Girls), Rs 600/- (for remaining categories), Rs 300/- (for 3 point contest)

Interested teams/players may contact Mr Aniruth (+91 99447 90227) or Mr Padmanabhan (+91 97877 70044)
***
If you've come this far…
Appeal to readers from Ekalavyas: Ekalavyas is India's first and only basketball media company. We are not foreign-funded, nor investor backed. Your support and encouragement have got us this far. We now need your financial assistance to ensure we can keep providing you timely, accurate and important information. Please contribute via https://www.instamojo.com/@ekalavyas​ 🙏🏾. We are accepting contributions as low as Rs. 9/- (excluding a small processing fee charged by the payment gateway provider). Thank you for playing a part in keeping media independent and objective!