Discover more from Ekalavyas | Basketball
Welcome to Ekalavyas, the pioneering publication dedicated to unearthing the world of international basketball, from an Indian perspective!
Over 3,000 subscribers
A Chinese-Origin Basketball Player in India Shares Her Experiences
My name is Isabel Liao, a Chinese-origin basketball player in India, and currently a first-year law student. I've represented West Bengal at two Youth National Basketball Championships, two Junior National Basketball Championships, and a senior 3x3 FIBA-Endorsed tournament. I also attended the West Bengal Senior Women's Basketball Camp in 2019, and was the youngest and only school-going participant in the top-15 roster. Besides this, I have played various school and club-level tournaments, especially towards the end of middle school and for the entirety of high school.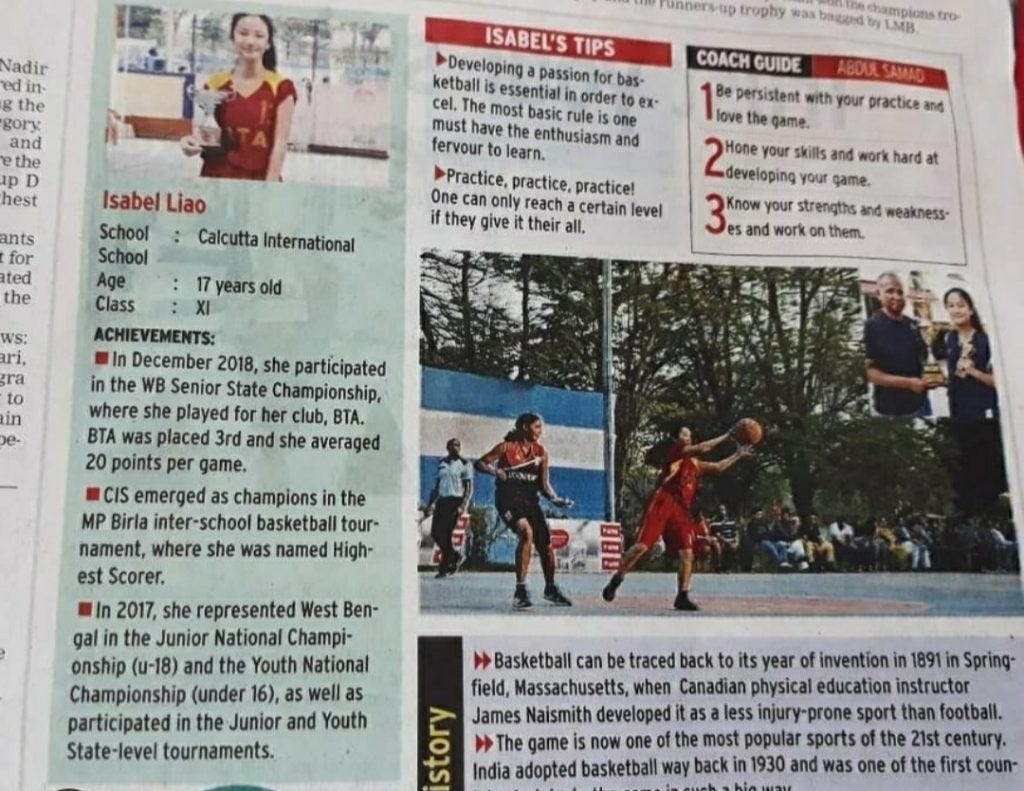 Times of India, 2019.
Being a female Chinese student-athlete, born and brought up in India has exposed me to several different people and cultures - all varying in their origins and sense of purpose. This exposure has shaped me to be the person I am today, and is an influential factor on my perspective of the world. This, coupled with my alacrity for basketball is something that has made me a more whole person - as my parents felt that the sharpening of the body was just as important as the sharpening of the mind.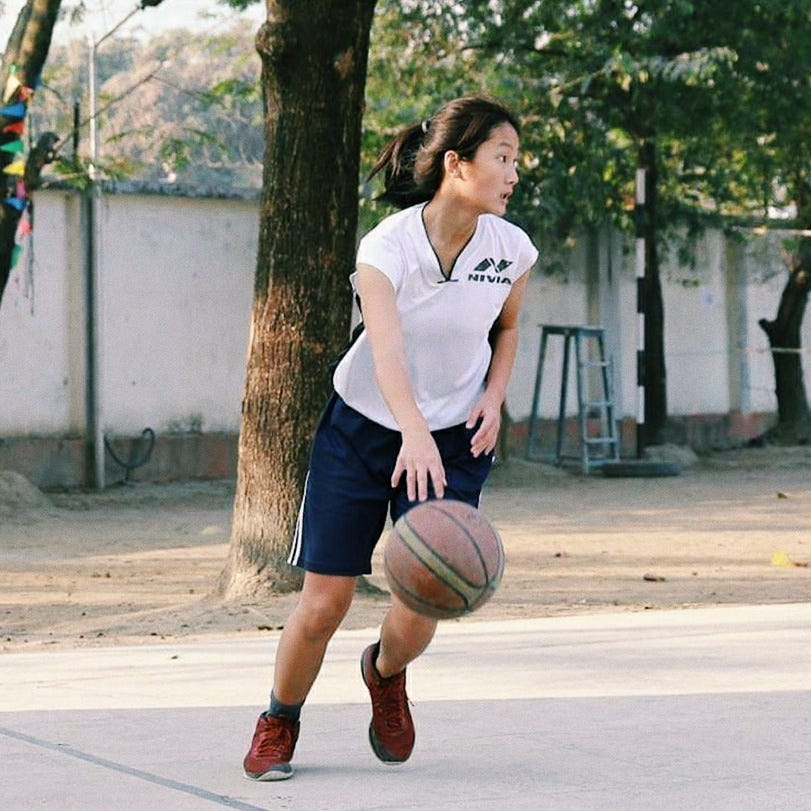 Practice session at school (Calcutta International School), 2019.
My basketball journey began in school, as an extracurricular activity, coalesced with the friendly competition I enjoyed alongside my childhood companions and future teammates. The physical fundamentals were something that we practiced together time and again, while we each nurtured and polished what we thought were our individual innate talents and abilities. There was something that I truly and most sincerely enjoyed in my middle school days - which was the insatiable curiosity and fervor to learn when it came to the game of basketball. Unhesitatingly, I'd say that the most useful tool that a beginner can ever possess is not the physical ability or the athleticism or the strategic mind, but the unparalleled hunger to learn more, to experience more, to be more. 
Playing basketball in school was pleasantly memorable, even though there were only a handful of people who shared the same enthusiasm that I did. The support of my parents only fanned the flames, until I was totally and utterly consumed by it. Steadily, my interest turned towards playing club-level tournaments for Calcutta Good Counsel and then Boys' Training Association (yes, I know it's weird), along with teammates I am still most certainly fond of, given the harsh, questionable and spirit-wrecking situations they have supported me through.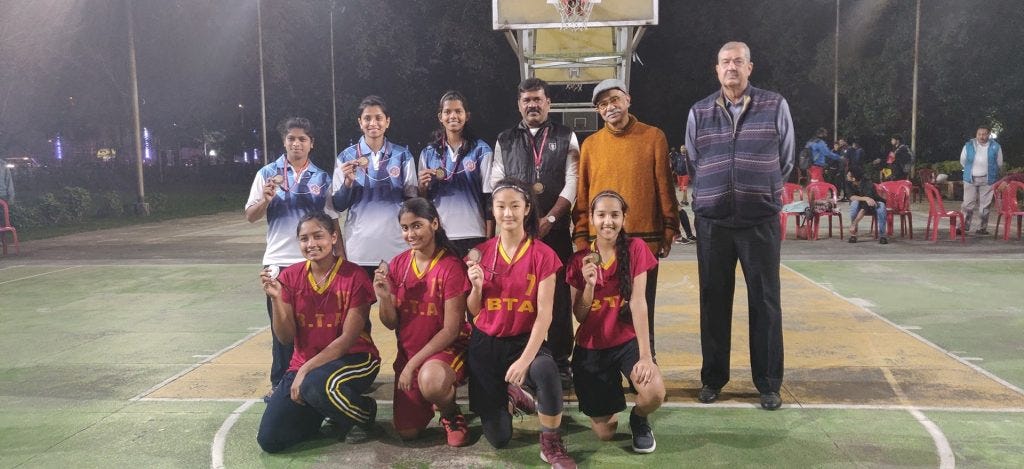 Representing Boys' Training Association and placing as the 2nd runner's up in the Netaji Subhash State Games (2019).
Maybe it was the palpable stares, or the incessant whispers, or the irksome atmosphere, that had given it away, but I found myself in an unenviable position. Racism- in terms of microaggressions such as rude comments, taunting, not remembering my name and even physical ragging- was something I became well-acquainted with early on.
Sadly, I believe that every individual from my community had to endure such treatment, both in school and in life. At first, I could only feel it off-court, such as before and after camps, or during water-breaks. Bringing myself to understand a language that I was unfamiliar with, only to hear it being used against me, was something that I had initially taken to heart, until I found out how common it was for people to be spoken about. A senior and mentor once told me that the better a player was, the more they would be talked about - and not all of it would be good, positive news.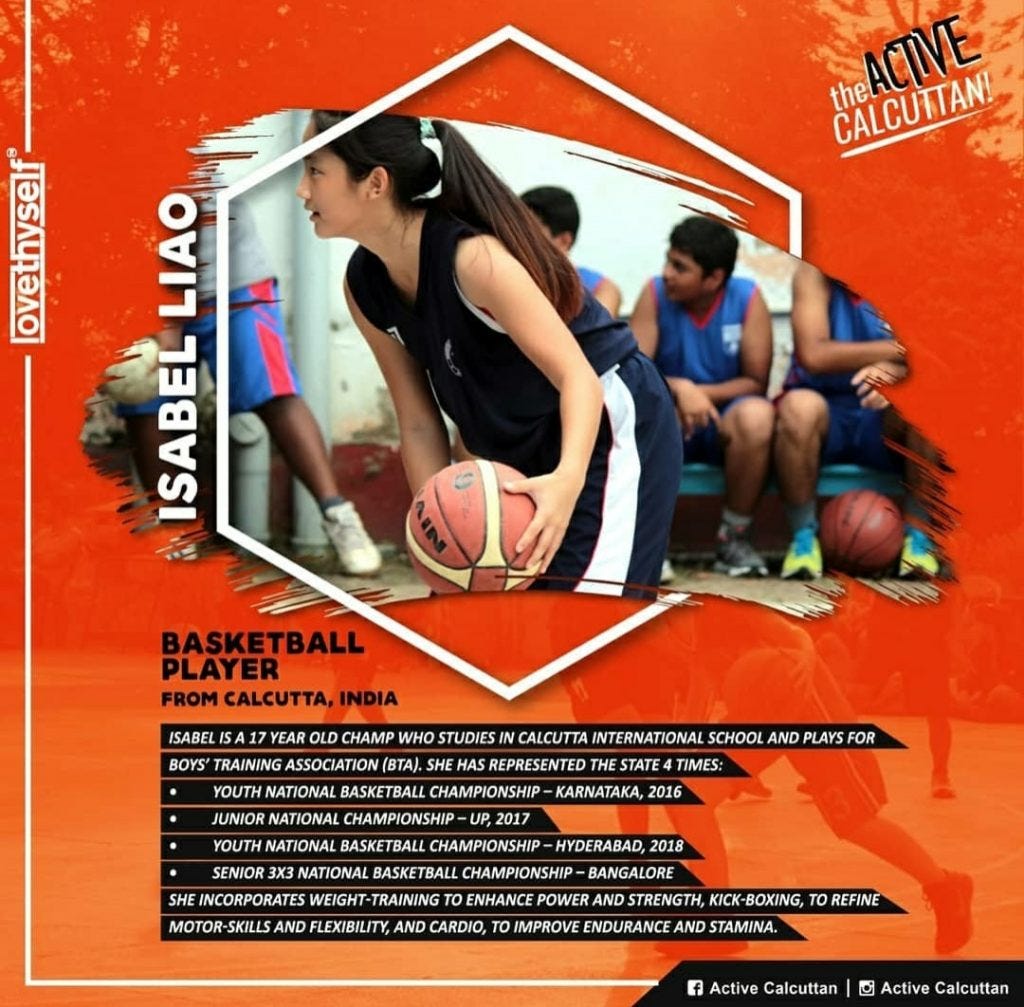 However, as demotivating as it already was, the on-court repercussions were even greater, and were felt in terms of fewer passes, lack of coordination and overall disbalance and conspicuous tension. The coaches, whom I have invariably given my utmost respect and regarded as my teachers, always made it slightly easier to deal with, as they were the penultimate authority. Representing the state team had always been something I looked forward to, and suddenly I felt that I didn't belong there. I felt like an uninvited guest, who had long overstayed her visit. This subtle and yet ominous and ever-present feeling was unsettling, and it raised so many questions for me, both in basketball and in life. 
In light of recent events, such as the COVID-19 pandemic and more importantly the India-China border conflicts, the situation among Chinese-Indians has worsened.
The Chinese-Indian community had been threatened, persecuted and incarcerated in the Chinese Internment of 1962 following the Sino-Indian War and the Defense of India Act of 1962, and we continue living in fear of the repetition of history. Even though approximately 7000 individuals had been imprisoned and detained, not a single person was proven guilty. This causes a feeling of great insecurity and uneasiness to me, and is one of the leading causes of impostor syndrome and more importantly, the reason why I think that there is a conclusive ceiling to what each and every individual can achieve depending on their circumstances.