Discover more from Ekalavyas | Basketball
Welcome to Ekalavyas, the pioneering publication dedicated to unearthing the world of international basketball, from an Indian perspective!
Over 3,000 subscribers
Can a strong Team India make waves at the FIBA Asia Cup 2017? I interviewed Coach Phil Weber to preview our chances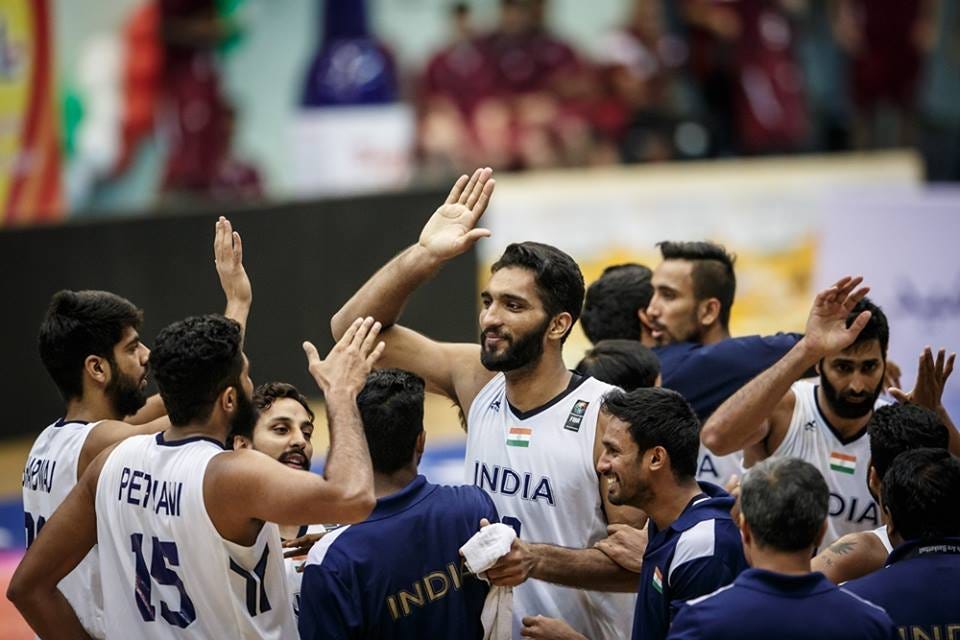 Team India at the FIBA Asian Championship. Image credits: FIBA.com
In recent years, almost every Indian basketball performance abroad—positive or negative—has been accompanied with an asterisk. Due to injury or other professional concerns, India have often been short of a couple of big names in the lineups. In international tournaments therefore, India either played well despite missing out some important players or, or struggled because they were short-handed.
In terms of personnel, that asterisk cannot apply any longer. When Team India step out on court against Iran on August 9 at Beirut's Nouhad Nawfal Sports Complex for Asia's most prestigious basketball tournament—the FIBA Asia Cup 2017—they will be doing so with theoretically their strongest roster ever assembled. The tournament, held in Lebanon from August 8-20 this year, will feature the top basketball squads from Asia and Oceania competing for the title and for the qualifying spots at the 2019 FIBA Basketball World Cup. India, who have been improving gradually over the past few years, seem prepared – on paper, at least.
India has been drawn in Group A of the FIBA Asia Cup, along with Asian powerhouse and FIBA Asia Challenge champions Iran, a dangerous and higher-seeded team from Jordan, and Syria, who are—in terms of ranking—the weakest team in the group. In the last major continental tournament—the Challenge in Iran last year—India finished 7th and produced their best performance in 27 years. That tournament, however, featured many sides sending out slightly weaker teams; India will get no such breaks at the FIBA Asia Cup this time around.

Graphic credit: FIBA.com
India's roster announced by FIBA in early August includes our "Big Three" of Amjyot Singh, Vishesh Bhriguvanshi, and Amritpal Singh. Over the past few years, this trio has been instrumental in helping India to respectable performances at the FIBA Asia Cup and the FIBA Asia Challenges. Individually, their careers have jumped into the fast lane, as all three have flirted with professional opportunities abroad. Bhriguvanshi became the first Indian to be signed to an NBL (Australian league) training contract. Amritpal is close to an NBL squad himself as he spent the preseason with the Sydney Kings. Amjyot has been India's most successful players at the international 3x3 basketball circuit.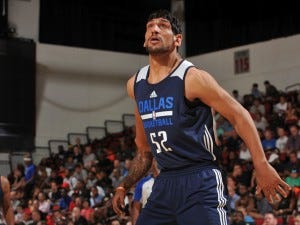 LAS VEGAS, NV - JULY 16: Satnam Singh #52 of the Dallas Mavericks waits for the rebound against the NBA D-League Select on July 16, 2015 at The Cox Pavilion in Las Vegas, Nevada. NOTE TO USER: User expressly acknowledges and agrees that, by downloading and or using this photograph, User is consenting to the terms and conditions of the Getty Images License Agreement. Mandatory Copyright Notice: Copyright 2015 NBAE (Photo by Bart Young/NBAE via Getty Images)
Added to this cocktail of talent is the biggest name, who has been missing in national team action since 2013, Satnam Singh. In 2015, Satnam made history by becoming the first Indian citizen to be drafted into the NBA and has played bit-minutes for two years in the NBA's G-League. His return presents interesting new directions in the team's potential.
Joining these four big names are players like TJ Sahi, Rikin Pethani, Arvind Annadurai, Muin Bek Hafeez, Baladhaneshwar Poiyamozhi, Prasanna Sivakumar, and Anil Kumar Gowda. The only marquee names missing from the list are Palpreet Singh Brar (who was drafted to the NBA G-League last year) and long-time veteran Yadwinder Singh (out with back injury), but with a roster so rich in size, India would have barely had space for more bigs, anyways.
The cherry on the top of this roster is the head coach and NBA veteran Phil Weber. Weber, who has been an NBA assistant coach for nearly two decades and will be in the New Orleans Pelicans' front office when he returns to the States later this year, was hired by the Basketball Federation of India (BFI) in early July to lead the team forward at this important tournament. He will be bringing with him years of elite-level basketball experience and a tactical understanding of that game that should immediately create a more demanding playing environment for the team.
And if everything looks theek-thaak and fantastic on the squad, India should be cruising in Lebanon this week, right?
Well, not exactly.
A strong roster, in this case, isn't necessarily a sure-fire precursor of strong results. According to the Head Coach, many of India's top players came into camp extremely late due to injuries and other professional duties. Bhriguvanshi, India's best back-court player, suffered a serious knee injury at the BRICS Games in China a few months ago, and only got his first taste of action in Weber's lineup a week before the FIBA Asia Cup. Amritpal and Satnam joined the team late and missed last month's William Jones Cup because of their other obligations. And a couple of other players did not arrive in full game-shape for the challenge ahead, Weber adds.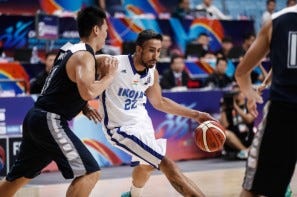 Amjyot Singh at the FIBA Asia Challenge. Image credits: FIBA.com
"It's a challenge right now," says Weber. "I wish I had had everybody together because, right now, [I feel like] a painter without the colours before he puts all paint down. Probably our best player, Vishesh has been hampered and is coming back from a knee injury. Amritpal has practiced only a few times. One constant has been AJ—Amjyot—he is a very good player and has been working harder than probably anybody we've had here."
"We had some guys who basically didn't come in the shape they needed to," adds Weber. "But since they've been here, they have worked hard. It's probably my background that has not allowed me to feel good, compared to what I'm used to coaching. But I know we have a long way to go. And we're gonna work hard and try to put everything together."
India's advantage is size. The Men's national team is loaded with a logjam of frontcourt riches, featuring Amjyot, Amritpal, Satnam, Pethani, and Annadurai. With a variety of skillsets and experience levels, these big guys will ensure that India will have the tools to go up against any frontline in the continent.
"We are probably going to be one of the biggest teams going in with Amritpal and Satnam," says Weber. "I'd be foolish not to go into the post with them and run certain actions that will maximise their abilities. As coaching staff, all we can do is what the players' strengths are and minimise or try to hide their weaknesses."
Vishesh Bhriguvanshi. Image credits: FIBA.com
The real problem for India, however, lies in the backcourt. Bhriguvanshi is the only Indian player with All-Asia talent among the guards. Over the past few decades, guards have been faster, stronger, better shooters, and more athletic. A team with great big players will only be half as useful if it doesn't have creative and talented options in the backcourt, too.
After a short absence, uber-athletic point guard TJ Sahi returns to the team, and will prove valuable for his pace and scoring ability. Coach Weber also shared positive feedback about two relatively newer faces: Anil Kumar Gowda, who played well at the William Jones Cup, and 17-year-old Baladhaneshwar Poiyamozhi, who has made rapid improvements in practice.
It will ultimately circle back to the "Big Three", however. India's past success came on the back of the individual brilliance of Bhriguvanshi, Amjyot, and Amritpal, and going forward, these three are likely to remain the strongest pieces on Weber's offensive chessboard.
"We just want to be efficient offensively," Weber says. "In order to do that we have to have our three best players involved in the actions. We want ball movement and quick decisions... Our benefit is that we have Amritpal, Vishesh, and Amjyot, and all three really know how to play… We're going to have quick ball movement, and want our main guys to be in the action, and the other guys to be very smart in spacing the floor – spacing will be huge for us.
"Defensively, we will emphasize defensive transitions and matchup of course: all the basics, which are fundamentals... We'll mix up our defences because I don't believe we'll have the depth to go ten deep."
Weber, who has had the experience of working with some of the best basketball players in the world including Steve Nash, Amar'e Stoudemire, Carmelo Anthony, Anthony Davis, and DeMarcus Cousins, is rightfully cautious of projecting the potential of the Indian talent he has seen at camp so far. A strong team on paper can only perform if all those pieces are healthy, fit, and gelling together at the right time.
Last week, India's Women's team ended the FIBA Women's Asia Cup at home in spectacular fashion, winning the Division B final on a last second shot to enter the higher tier. Despite basketball on the whole getting lesser attention than other sports in India, this victory was greeted with great jubilation by fans, even though it was only a promotion game. If anything, the reaction has taught us that Indian fans are yearning to see our national teams succeed, and any positive result could go a long way in promoting the sport.
So, which Team India will we see in Iran? The stacked, giant, confident squad with three superstars and Satnam Singh, ready to shock the continent? Or a team that is too rough around the edges to go deeper into the tournament? With tip-off only days away, the FIBA Asia Cup 2017 is certain to be one of the most-intriguing outings for Indian basketball in recent history.

[KARAN MADHOK]