Discover more from Ekalavyas | Basketball
Welcome to Ekalavyas, the pioneering publication dedicated to unearthing the world of international basketball, from an Indian perspective!
Over 3,000 subscribers
Bhriguvanshi Buzzer Beater Saves India the Blushes
Facing Iraq in a battle to avoid elimination, India very nearly lost the plot before the 'Bhriguvanshi Buzzer Beater' took the 'Young Cagers' to a last gasp 81-78 win.
Bhriguvanshi Buzzer Beater
An unlikely mid-court heave by India's talismanic captain has kept India's 2021 FIBA Asia Cup qualification hopes alive.
https://www.instagram.com/p/CLhRltOF8_Y/
Prior to this game, the 1-3 India had lost its chance to be among the top two teams in its Group that directly qualify to the 2021 FIBA Asia Cup. Now, after having secured the third place, the Young Cagers will instead advance to the 2021 FIBA Asia Cup's 'Final Qualifying' Tournament in June-July. Four out of six teams from this Final Qualifying Tournament will join the directly qualified 12 teams at the 2021 FIBA Asia Cup.
OLD DEMONS RESURFACE
After trailing in the first quarter, India led by 10 near halftime, only to allow the Iraqis to claw back into the game in the final few minutes. The situation seemed reminiscent of India's two losses to Bahrain - where pressure & fatigue seemed to get the better of the side in the second half.
But in the post-game press conference, Bhriguvanshi denied there was any pressure. "Because we continuously made three mistakes, it was looking like we were under pressure [sic]. If you see in the last moment before I made the shot, before that we made good defense [sic]. If we were [under] pressure we wouldn't have done that."
Muin stars in balanced attack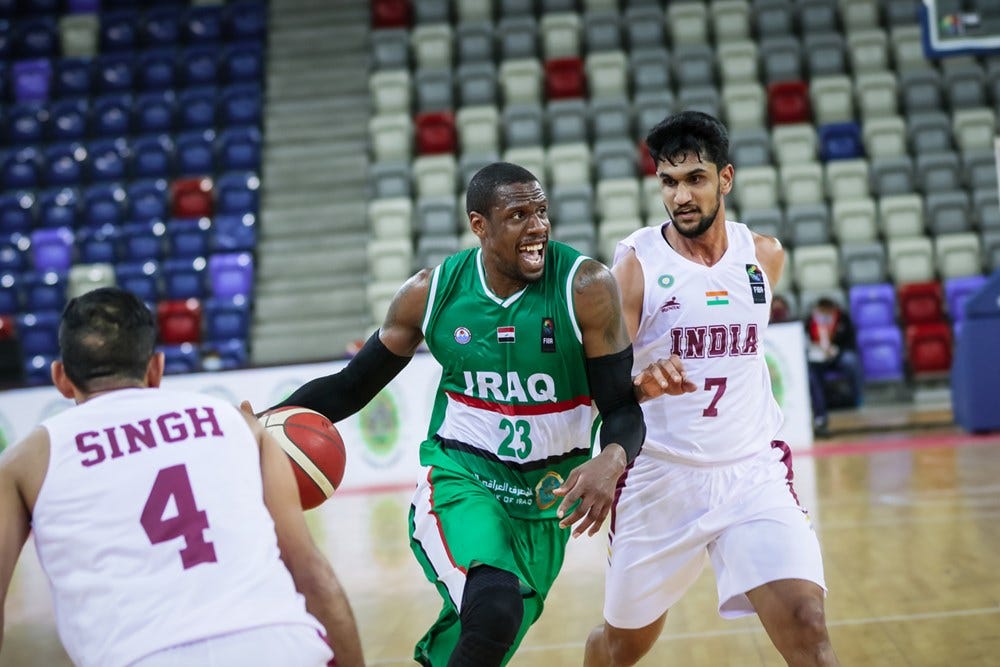 Muin Bek Hafeez guarding Iraq's Kevin Galloway. Image credits: FIBA.com
India was significantly helped in the first half by its 9 made threes (12/23 or 52.2% overall for the game). It also benefited from the return of its seasoned role players Aravind Annadurai & Joginder Singh Saharan, both of whom replicated their performances from India's First Window win over Iraq.
The two NBA G-League Seasons old Amjyot Singh was expectedly solid, with 13 points (including 3/6 from downtown), 3 steals and a block. He joined Bhriguvanshi (11 pts) and Annadurai (12 pts), among the four Indian players in double digits.
But until Bhriguvanshi took over headlines with his Hail Mary game-winner, it was 24-year-old Muin Bek Hafeez who led the way. The calm and composed 6ft 2'' point guard from Tamil Nadu was ultra-efficient (+29) from the field. His team-high 22 points came at a perfect 100% from the three-point line (3/3) and from the charity stripe (3/3). The latter included two clutch free throws with under a minute left, which put India ahead 78-75 before Iraq drew level only to have the 'Bhriguvanshi Buzzer Beater' break their hearts.
***
If you've come this far…
Appeal to our readers: Ekalavyas is India's first and only basketball media company. We are not foreign-funded, nor investor-backed. Your support and encouragement have got us this far. We now need your financial assistance to ensure we can keep providing you timely, accurate and important information. Please contribute via https://www.instamojo.com/@ekalavyas​ 🙏🏾. We are accepting contributions as low as Rs. 9/- (excluding a small processing fee charged by the payment gateway provider). Thank you for playing a part in keeping media independent and objective!