Discover more from Ekalavyas | Basketball
Welcome to Ekalavyas, the pioneering publication dedicated to unearthing the world of international basketball, from an Indian perspective!
Over 3,000 subscribers
BFI issues "warning"; Elite Pro 3x3 League counters
The first edition of the Elite Pro 3x3 League was successfully concluded recently, but not without some avoidable drama in the run-up to the event.
In an unfortunate case of deja vu, a couple of weeks ago, basketball fans in India were greeted to a circular issued by Basketball Federation of India "warning against unauthorized basketball tournaments conducted by vested interests."
BFI's circular
The circular dated September 26, specifically mentioned Elite Pro 3x3 League (EP3L), as an "unauthorized basketball tournament."
It goes on to "strongly advise caution when engaging with such unauthorized events" and "urges" players to "refrain from participating as they would not gain them any fruitful or legitimate purpose".
The circular alleges "vested interests" of those conducting these tournaments "purely for their commercial gains" and says BFI is "committed to taking stringent action" against such organizers.
You can check out the full circular below:
EP3L's response
Elite Pro Basketball League - the organizers of EP3L - came out with an official statement of their own on September 29, countering BFI's allegations.
They clarified that EP3L "is a non-commercial, free to watch….promotional event" for the purposes of their to-be-launched 5x5 men's and women's pro basketball leagues.
The statement goes on to allege BFI of choosing to "abuse its dominant power…by issuing a threatening letter to all state basketball federations."
The letter concludes by citing the National Sports Code of India 2011, the BFI Constitution, and a recent Bombay High Court judgment, to say that no express authorization or permission of BFI is necessary for organizing and conducting a "mere promotional event".
You can check out EPBL's full official statement below: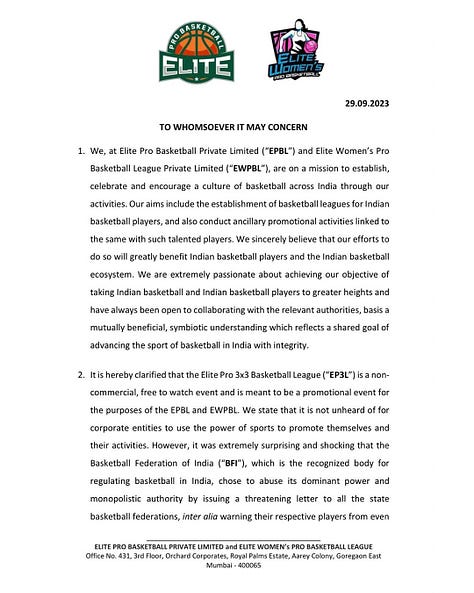 What's next?
From the Indian basketball community's perspective, this is not the first time such BFI circulars have been issued. Similar notices have been issued in the past, against the now-defunct UBA Pro Basketball League, and also the 3x3 Pro Basketball League (3BL) - which was later granted recognition.
Any restriction on Indian basketball players/referees/coaches - from earning a professional livelihood from the game - must be avoided as far as possible.
It remains to be seen how this matter evolves - both from BFI's perspective, and from the point of view of private tournament organizers like EPBL.
For the time being though, EPBL was able to successfully conclude its inaugural EP3L Season. Let's hope that both sides can find common ground and resolve their differences in the coming months - or at the very least learn to live and let live.