Discover more from Ekalavyas | Basketball
Welcome to Ekalavyas, the pioneering publication dedicated to unearthing the world of international basketball, from an Indian perspective!
Over 3,000 subscribers
Beagles BC & Alvas Moodabidri crowned Karnataka State Junior Basketball Champions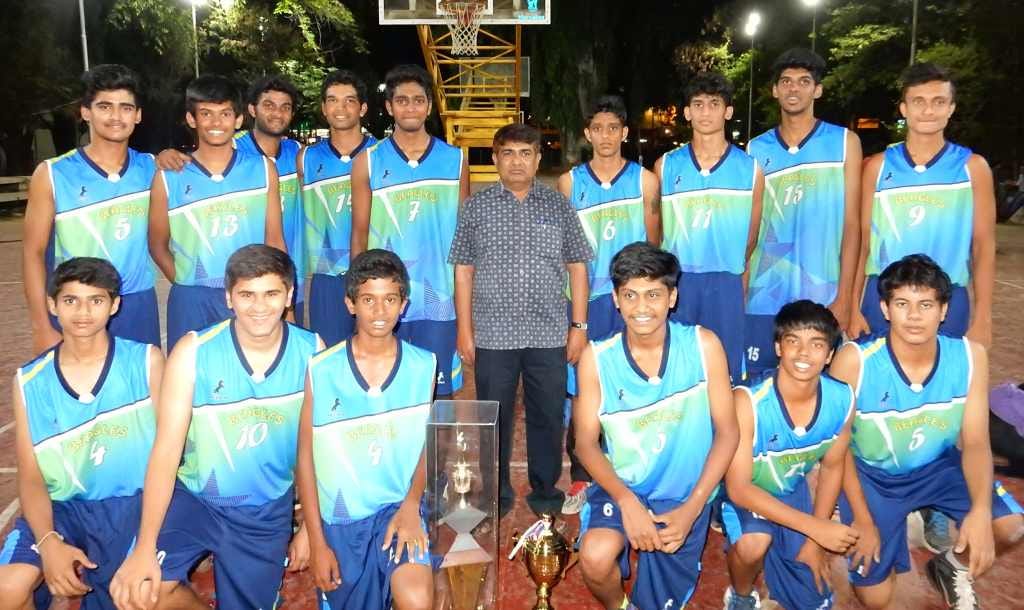 Beagles BC after being crowned Junior State Champs. Players from left to right standing (Manoj , Aditya, Abhay, Prajwal Shetty, Gautam, Mohan Kumar (coach ), Chetan, Naveen, Aneesh, Sarthak) sitting down from left to right(Bhararh, Karthik, Kushaal, Shreyas, Abhinav, Srivatsan.) Bengaluru, 18th April, 2016: Beagles BC in the boy's section and Alvas Moodabidri in the girl's section came up victorious in the Karnataka State Junior Basketball Championship tournament that was played in Kanteerava courts from April 13-18. Under 18 cagers from all over the state competed for a chance to become the Junior State Champs. On the final day we witness a nail biter in the boy's category as the Beagles BC took on YMMA. Beagles were in control throughout the game and were able to take a lead early, to end the first half. In the second half, YMMA came up short, despite their best efforts, as the Beagles completed their championship run. In the girls' finals, Alvas Moodabidri took on Mounts Club, which turned out to be a chippy and well- fought match. Bhandavya, the team's international player rose up to the occasion and scored 38 points to seal the deal and claim her team the victory over the evenly matched Mounts Club.
Final standings of the Karnataka State Basketball Junior Championship
Boys
1 . Beagles BC
2. YMMA
3. VBC Mandya
4. NGVBC.
Girls
1. Alvas Moodabidri
2. Mounts club
3. Beagles BC
4. DYES Mandya.
Results of the Karnataka State Basketball Junior Championship
Boys Finals
Beagles BC 59 (Gautam 19, Abhay 16) bt YMMA 42 (Prashanth 13, Pramod 12) [HT 29 - 23]
Girls Finals
Alvas Moodabidri 56 (Bhandavya 38) bt Mounts club 33 (Lopamudra 12, Thangam 10) [HT 24 - 18]
Third place matches
Boys
VBC MANDYA  67 (Guruprasad 42) bt NGV BC 59 (Pavan 27) [HT 27 - 29]
Girls
Beagles BC 31 (Sanjana 10) bt DYES Mandya 13 [HT 16 - 8]
Semi-Final League Results
Girls
1. Mounts club 43 (Lopamudra 28) bt Beagles BC 37 ( Sanjana 11) [HT 15 - 14] 2. Alvas Moodabidri  58 (Bhandavya 13) bt DYES Mandya 21 [HT 36 -9]
Boys
1. Beagles BC 70 (Gautam 29) bt VBC Mandya 56 (Guruprasad 32) [HT 37 - 31] 2.YMMA 59 (Vishaal 24) bt NGV BC 31 (Pavan 21) [HT 39 -21]
Evening Matches
Girls
1 . Alvas Moodabidri 46 (Bhandavya 32) bt Beagles BC 19 (Chandana 9) [HT 29 -13] 2 . Mounts club  58 (Pavana 15) bt DYES Mandya 22 [HT 21-6]
Boys
1. Beagles BC 60 (Prajwal 20) bt NGV BC 30 (Pavan 14) [HT 31 -24] 2. YMMA 70 (Prabhat 26) bt VBC Mandya 65 (Srujan 22) [HT 27 - 25]
Quarter finals
Boys
1. VBC Mandya 55 (Guruprasad 21) bt Bharath SU 38 (Nakul 15) [HT 33 - 23] 2. Beagles BC 29 (Prajwal 14 ) bt Greens Davangere 11 [HT 19 - 3] 3. NGV BC 40 (Pavan 20) bt Kanaka Kolar 25 (Pavan 7) [HT 21 - 13] 4. YMMA 64 (Prashant 20) bt Devanga Union 53 (Dev 15 ) [HT 33 - 34]
Girls
1. Mounts club 68 (Thangam 15) bt Rajmahal BC 37 (Grishma 15) [HT 37 -25] 2. Alvas Moodabidri  70 (Bhandavya 44) bt Appaiah BC 51 (Snigddha 18) [HT 35 -36]
League Results
Boys
1  Devanga Union 56 (Dev 15) bt JSC 28 (Dheeraj 11) [HT 33 -16] 2 Appaiah BC 50 (Ajit 16) bt Vasanth Nagar BC 38 (Syed Izaan 13) [HT 25-23] 3 VBC Mandya 44 (Guruprasad 18) bt MCHS 19 (Abhishek 8) [HT 27 -8] 4 Kanaka Kolar 28 (Pavan 6) bt Protec Challengers Mys 20 [HT 15 -10] 5 Viveks SC  47 (Gaurav 12) bt Mlore BC 41 (Amrut nayak 18) [HT 21 -14] 6 . Beagles BC 37 (Chetan 15) bt PPC 16 [HT 18 -5]
Girls
1 CJC 34 (Padmapriya 10) bt JSC 29 (Anagha 8) [HT 13 -11] 2 Beagles BC 52 (Chandana 10) bt Mysore BC 09 [HT 25 -3] 3 Rajmahal BC 38 (Grishma 16) bt VNSC 27 (Harshitha 12) [HT 18 - 5] 4 Mounts club 35 (Lopamudra 10) bt Halasur SU 03 [HT 19 -3]