Discover more from Ekalavyas | Basketball
Welcome to Ekalavyas, the pioneering publication dedicated to unearthing the world of international basketball, from an Indian perspective!
Over 3,000 subscribers
Basketball and 'Half Girlfriend': An unnecessarily in-depth analysis
I watched Bollywood hit 'Half Girlfriend' so you won't have to
Warning: Spoilers ahead.
Less than half an hour into the Mohit Suri directed film Half Girlfriend – based on popular novel by Chetan Bhagat – the two lead characters Madhav Jha (Arjun Kapoor) and Riya Somani (Shraddha Kapoor) take on the court in a semi-flirtatious one-on-one basketball game at an elite university in New Delhi. As Madhav dribbles the ball from the top of the key, threatening to create separation for a jump-shot, Riya marvels at his slow, plodding dribbles.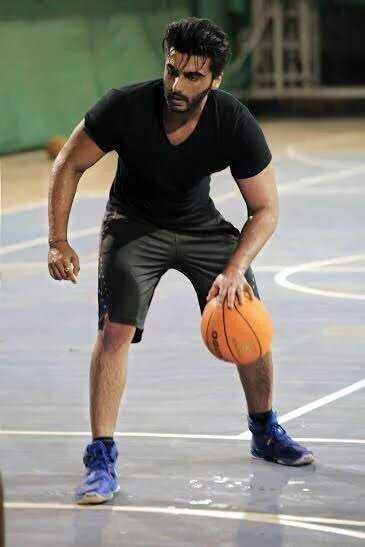 Arjun Kapoor in Half Girlfriend. Image source IMDB. Disclaimer: The screen shot is of the copyrighted work, is intended only for the purpose of criticism & review, and is not intended to conflict with the copyright owner's rights.
"Kevin Durant?" she asks.
"LeBron James," answers Jha.
Riya commentates on the moment just like an NBA commentator would while also attempting to guard him. Swish. Madhav makes his shot. A few seconds later, he dribbles it out to the three-point line. "Steph Curry!" Riya announces. Swish. Madhav scores again, and turns around confidently before the ball goes through the basket, true to Mr Curry's most disrespectfully-brilliant moments on the NBA court.
Half Girlfriend is primarily a story of class and language barriers. Riya comes from a rich Delhi family, is fluent in both English and Hindi, but chooses to ignore the latter even if it makes her sound painfully pretentious. Madhav is from a respected family lineage from the small (fictional) village of Simraon in Bihar, speaks beautiful Hindi, but struggles in English.
He is attracted to her but scared to talk to her at first; on the basketball court, however, all of their barriers dissipate. Madhav and Riya both know the language of hoops. While he half-fawns over Riya and half-plays the game, his inner monologue tells us that the NBA – not the Narmada Bachao Andolan but the National Basketball Association – has been his obsession since childhood. Now, that obsession has helped him start a friendship with the girl of his dreams.
Basketball facilitating Bollywood romance? Stop me if you've heard a similar story before. Nearly twenty years ago, Rahul (Shah Rukh Khan) and Anjali (Kajol) in one of Bollywood's greatest romances – Kuch Kuch Hota Hai – rekindled their former friendship into romance through one of the most iconic/ridiculous scenes ever. It was an unconventional move for a culture that rarely had any mainstream basketball visibility, and yet it worked to create a classic moment.
Basketball and Bollywood have been a rare combination. Several years after Rahul and Anjali's hoops flirtations, Hrithik Roshan played in a basketball game as 'Rohit' in the film Koi Mil Gaya, which turned out to be a weird mix of E.T., Space Jam, and A Beautiful Mind. A few years later, Roshan was balling (awkwardly) again in Dhoom 2, one-on-one against Aishwarya Rai in the rain, talking about basketball thinly-veiled as international espionage thinly-veiled as romance.
With a plot closely-revolving around basketball, assistance from the NBA in India, and deliberate attempts to promote the movie via its hoops connections, Half Girlfriend has joined the rare club of Indian films with basketball mentioned above.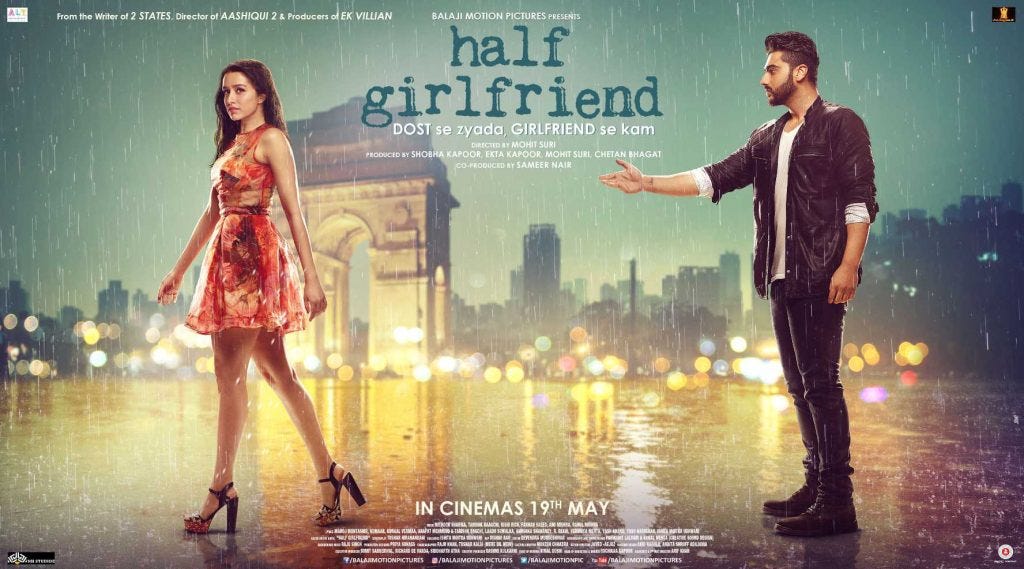 Arjun Kapoor and Shraddha Kapoor in Half Girlfriend. Image source IMDB. Disclaimer: The screen shot is of the copyrighted work, is intended only for the purpose of criticism & review, and is not intended to conflict with the copyright owner's rights.
But first, a disclaimer: I have not read the Chetan Bhagat novel that this film was based on and I don't plan to, because Chetan Bhagat's prose is equal to a double Achilles injury to the brain. The novel's Wikipedia page tells me that the basketball subplot existed in Bhagat's writing too. Otherwise, I treated the film as its own independent entity.
Here's a brief summary of Half Girlfriend, and if you plan to watch this film and hate spoilers, shoo away. Madhav Jha joins "St. Steven's College" (not St. Stephen's) in New Delhi on a sports quota. He falls for Riya Somani based on both her looks and shooting ability and the two begin a friendship of one-on-one, half-court basketball games. But, even though they are both from respected families in different extremes of India, there is a clear class difference between the couple, and Riya can only be Madhav's "Half Girlfriend" (whatever the hell that means). Madhav tries to take the relationship further physically but she resists. A couple of days later, she has a shaadi-invitation for him. Her shaadi. To an English speaking NRI guy in London. She's 19.
Then, the film goes completely off the rails. Their paths cross again in Patna, Bihar, and Riya has by now gotten a divorce. Now, they use learning English as an excuse to flirt instead of basketball. A lot more happens. Riya finds it laughingly easy to sneak into the top of the India Gate and dreams of being a New York based live-music performer. There is a horrible-CGI appearance by Bill Gates in Bihar and drunken pub crawls in New York City. Frequent flashes of rainfall to let viewers know which moments are more dramatic than others.
But our concerns here are not with the film itself; it's with the film's specific basketball moments and references. While Half Girlfriend was being filmed, production information revealed that the two Kapoor leads (unrelated) were honing their basketball skills for the movie in New Delhi. The two appeared to have taken their immersion into becoming star college basketball players seriously, and worked out with NBA coaches in India in preparation for their roles. This level of involvement in the sport and with the NBA in a movie was unprecedented in Indian cinema. The hoops promotion continued up to the movie's release and the Kapoors kept appearing on my Sony SIX TV screens while I peacefully tried to watch the Golden State Warriors sweep the Western Conference. With some serious doubts of my sanity, I decided that it would be irresponsible as an Indian basketball journalist for me not to watch this movie.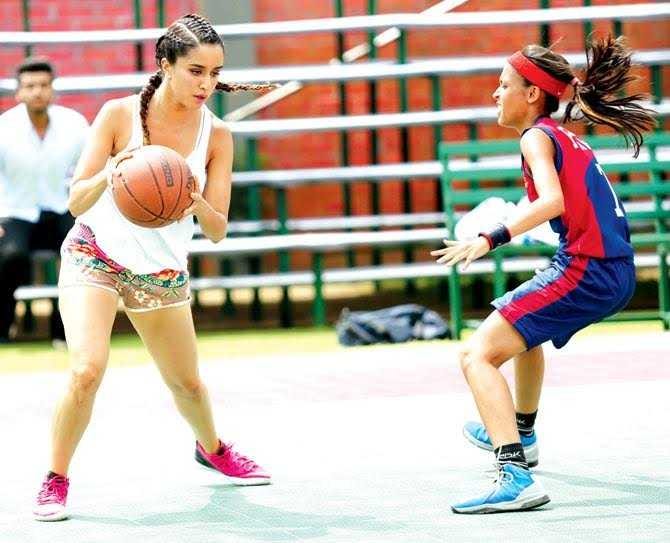 The movie's leads Shraddha Kapoor and Arjun Kapoor worked out with NBA coaches in preparation for their roles as seasoned basketball players. Image source IMDB. Disclaimer: The screen shot is of the copyrighted work, is intended only for the purpose of criticism & review, and is not intended to conflict with the copyright owner's rights.
In the film, Madhav's love-at-first-sight, or at least lust-at-first-sight, moment happens when he sees Riya on the basketball court. She's wearing a white tank-top, hot pants, and tightly-braided hair to look as basketball-y as possible. This seems like a girls' team tryout at Steven's and her side is losing. She is missing shots and not paying attention on defence. When she tries to quit the game, Madhav, on the bench, decides to tell her something inspirational in his broken English about "defeating defeats" ("Har ko haraana" is a running theme). Riya returns to the game, hits an outside jumper, drives in for a behind-the-back assist, and then drives in again for a tough lay-up in three consecutive possessions. Her team wins. She glances a happy look at Madhav and he throws up two dorky thumbs back.
Minutes later, it's his turn to take the court for the boys' team trials. Madhav strips into his jersey (muscle-shot mandatory) and starts off by knocking the ball off the backboard for a Tracy McGrady style pass to himself and then finishing with an unbelievably fake windmill slam. Seconds later, he does it again, but this time the finish is a between-the-legs dunk. We are not shown here if he has other skills (shooting, passing, defence, court-awareness, rebounding, etc.). He can dunk like Vince Carter at the 2000 Slam Dunk Contest, so he must be good at basketball.
Eventually, basketball brings them closer together and bridges cultural gaps. Madhav sees Riya give her teammates fist-bumps in celebration, and the rest of the movie has an unnecessarily large number of awkward, slow-motion fist-bumps between the two lovers/not-lovers. They role-play moves by their favourite NBA players on court. Both of the actors move slowly and dribble carefully, but their skills are mostly passable given the rough history of Bollywood actors playing the game.
To prove how much of a true basketball fan he is, Madhav's dorm-room at Steven's is swagged out with all sorts of NBA memorabilia: posters, small flags, bobbleheads and mugs with logos of the Warriors and Cavaliers mostly (he's not really loyal to a particular team/player), a surprising Patrick Ewing photograph, a Bulls' collage featuring Jimmy Butler, and a large Steph Curry poster.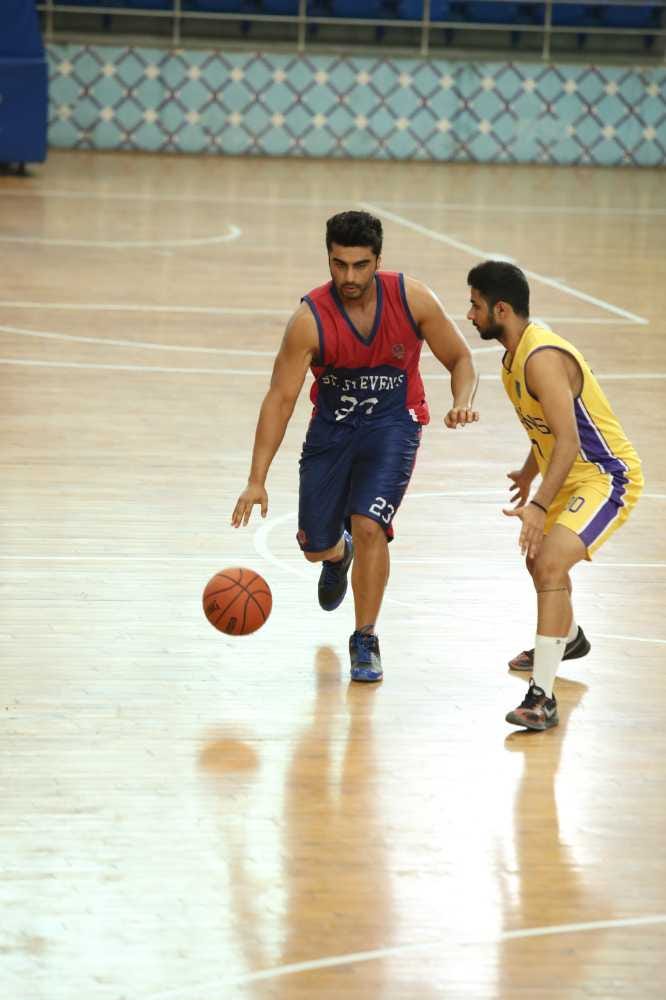 Image source IMDB. Disclaimer: The screen shot is of the copyrighted work, is intended only for the purpose of criticism & review, and is not intended to conflict with the copyright owner's rights.
Curry's specific skills would've specifically helped Madhav's romantic intentions in the next scene. He wants to take Riya out on a movie date – turn friendship into something more – but she will only agree if he can make a half-court shot. Madhav, who happens to be a sniper from the three-point line range, is suddenly helpless. He forgets all form and simply begins to chuck the ball in wild abandon. Somehow, Riya is impressed by his failed efforts and agrees to the date anyways. For future reference, Madhav, here is a compilation of Steph Curry's half-court shots.
Unfortunately, as their romantic problems get more serious, basketball takes a backseat. When Riya and Madhav have a fight, Madhav struggles in an inter-college game against "Rajhans" (and definitely not Ramjas University). This is the only time we actually see him in competitive action and he's terrible. Maybe we shouldn't judge a book by its slam-dunking abilities.
(As an aside, Arjun Kapoor and Shraddha Kapoor – definitely not related – are 31 and 30 years old respectively, playing 18 to 19-year-olds in the beginning of the film. And it shows).
The movie, predictably, takes a more sombre turn after the intermission and both Madhav and Riya move on to different professions – Madhav returns to his village to help facilitate girls' toilets in his mother's school and Riya joins PR for Close-Up toothpaste.
Eventually, the film ends up in New York, with Madhav moping around the city in yet another addition to the never-ending genre of movies about Indians being depressed abroad. In a shocking turn of events, our basketball-loving protagonist has ended up in the 'mecca' of hoops and never plays basketball or acknowledges the existence of the Knicks or the Nets. One time, while he is walking around in depression (there is a lot of this), he crosses a streetball game and the ball bounces out to him. He's too sad to take a shot and gives the ball back. Sigh.
The ending, however, offers a silver lining. Madhav and Riya are reunited and living in Simaon in Bihar. They are training young boys and girls dressed in Warriors, Cavaliers, and Thunder gear how to play basketball. The makeshift backboard in this tiny village court has a small NBA logo. Their daughter takes and makes a jump-shot. The film ends on the emotion of basketball making people in India happy.
But even this end doesn't solve my larger qualm with the film's use of basketball. Earlier in this movie, viewers are led to believe that Madhav and Riya are two of the best basketball players for their college teams, and thus, some of the most exciting prospects in New Delhi. Madhav was six feet tall and still putting NBA dunk contests to shame – and their decision to "mature" away from the game was a massive waste of talent. Did they not wish to play for state or national tournaments? Were they not invited for India camps?
I understand that for both of them, basketball didn't really need to be a priority: Riya's family is rich enough for her to not need a basketball career to make a living, and later, she is able to earn an independent and presumably high-paying job for herself. Madhav's priorities are duty towards his village and his community, and basketball for both of them becomes only a thing of the past.
Even as the young village players are playing the game in the end, there is no real talk of it as a feasible potential career, or of how Indian basketball can change lives. Instead of having a CGI Bill Gates in the movie, the producers should have invested in inviting cameos from Indian basketball stars like the Singh Sisters, all of whom are from a small-town Varanasi (where much of the film was shot, pretending to be Patna) and made it to the national team. Sure, it is great to idolise LeBron and Curry, but what about Amjyot Singh or Amritpal Singh, who made it from small cities or villages to become international professional players?
Of course, the other issue is the viewers' suspension-of-disbelief. Most of the basketball scenes are believable, but Madhav's ridiculous athleticism is simply too far-fetched. The action coordinators for those scenes should've toned down on those McGrady/Carter dunks a little bit. There are no signs of basketball facilities in Simraon except for the court Madhav built himself. It was hard to believe how he became that good: even Satnam Singh – India's first NBA draftee from a small Punjabi village Ballo Ke – had to be recruited and trained at the Ludhiana Basketball Academy at age 10. I'm not saying that the Madhav backstory isn't possible; I just feel that the writers missed an opportunity in telling us that story altogether. Hey, if he's that good, what the hell is he doing playing for Steven's? Why isn't he getting a call-up from India? NCAA? The D-League?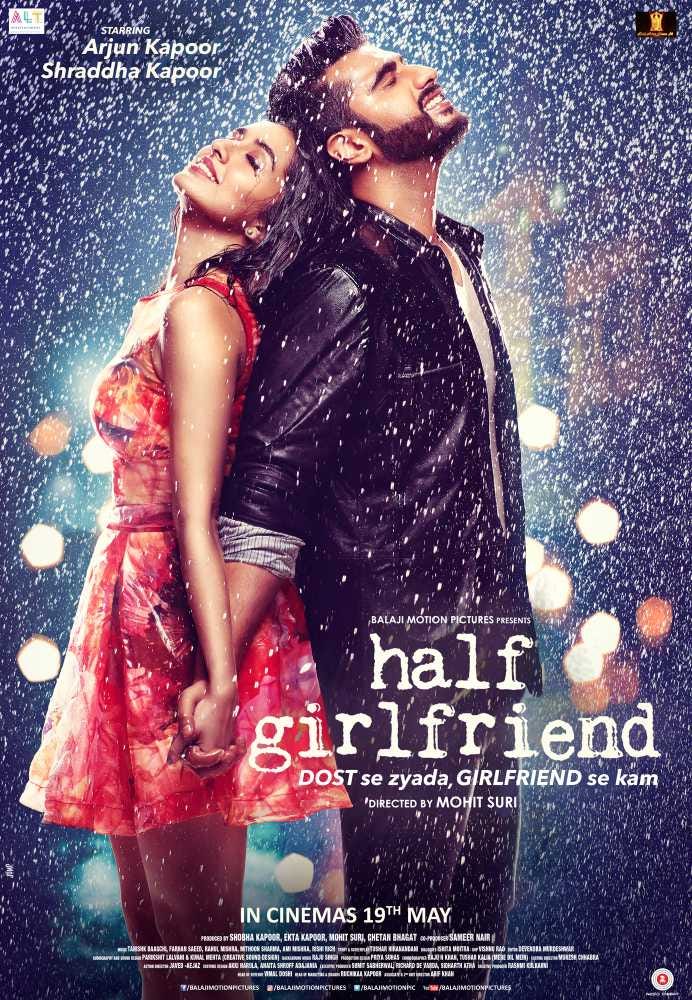 Persisting with the stereotype, Half Girlfriend's lead characters move away from basketball post college. Image source IMDB. Disclaimer: The screen shot is of the copyrighted work, is intended only for the purpose of criticism & review, and is not intended to conflict with the copyright owner's rights.
All minor issues aside, I'm glad that a movie so invested in basketball and NBA got made in India – even if the rest of the film was pretty much an airball. Beyond the basketball-as-a-vehicle-for-romance storyline in Half Girlfriend most fans won't be seeing any more similarities between this film and Kuch Kuch Hota Hai. Arjun Kapoor and Shraddha Kapoor – I have to report – are not captivating stars like Shah Rukh Khan and Kajol, even though their basketball skills are far more advanced.
Basketball is new to Bollywood, but guess what: every Bollywood film to incorporate basketball – Kuch Kuch Hota Hai, Koi Mil Gaya, and Dhoom 2 – has been a superhit. The game is a lucky charm to Indian cinema. Half Girlfriend, despite being the film version of James Harden's defence, has enjoyed positive box office collection since its release. Will basketball help it have an impact like its predecessors?

[KARAN MADHOK]