Discover more from Ekalavyas | Basketball
Welcome to Ekalavyas, the pioneering publication dedicated to unearthing the world of international basketball, from an Indian perspective!
Over 3,000 subscribers
Australia's Sporting Culture and Lessons For India
Australia's sporting culture is well known. With 46 medals including 17 golds, Australia finished 6th in the overall tally at the 2020 Tokyo Olympics. What lessons can India learn from Down Under?
This was the topic of discussion in Clubhouse #3, hosted earlier today by Ekalavyas.
https://twitter.com/EkBballIndia/status/1421374579268669441
The panel members were Tim Mottin (President, Ringwood Hawks Basketball Club & Coach of Lady Hawks) and Kaushik Lakshman (Melbourne based co-host of the Hoopdarshan podcast).
The session was moderated by Gopalakrishnan R (founder of Ekalavyas).
Australia's Sporting Culture
The conversation began with Lakshman explaining his decision to move out of India, and discovering how Australia's sporting culture is embedded in every person's "DNA".
Lakshman spoke of how Australian Rules Football is the number one watched team sport, followed by Rugby and "arguably cricket in the summer".
Mottin added that among women, netball is very popular, while overall basketball is the sport with the "2nd highest participation".
basketball's contribution to Australia's sporting culture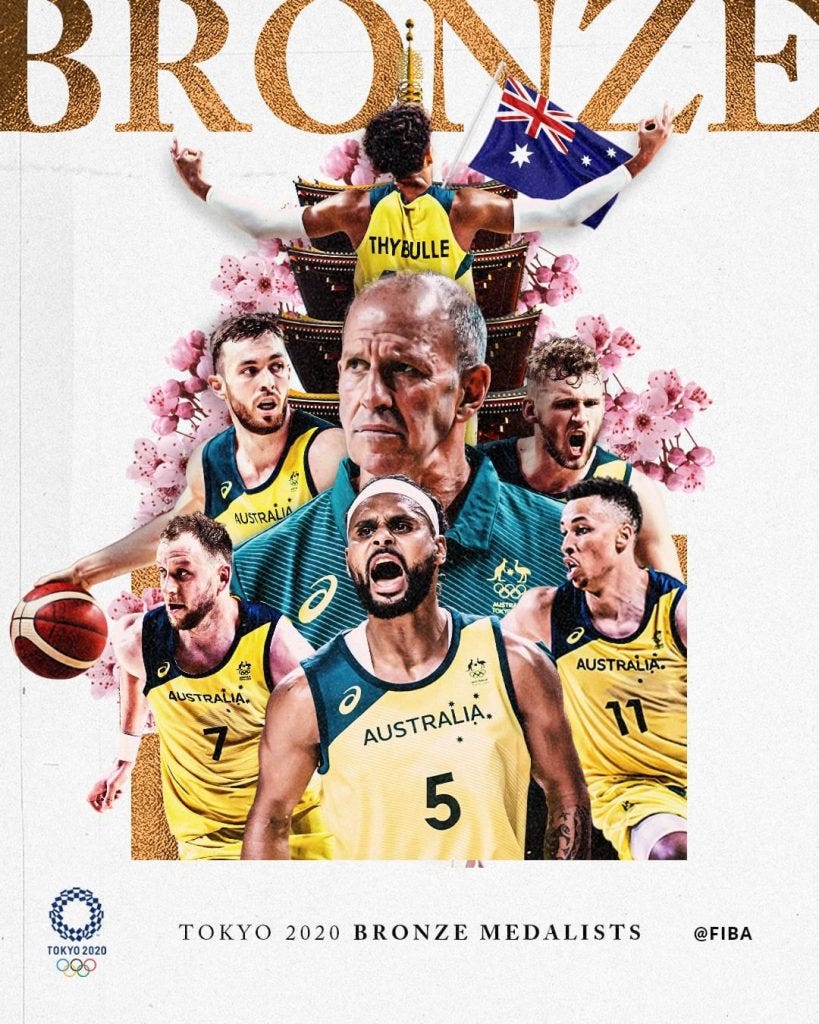 Image credits: FIBA
At the Tokyo Olympics, the Australian men's basketball team ('Boomers') finally won their first-ever medal, after having fallen agonizingly short on earlier occasions.
Elaborating on Australia's sporting culture that begins right from the grassroots, Mottin mentioned how there were 600 teams in Ringwood region (a suburb of Melbourne) alone. (emphasis added)
"Kids here start playing from the age of 5-6 and there is a clear progression from domestic clubs to 'representative basketball' to a 'high-performance pathway', followed by the Junior State teams, to the under-23 level and finally Senior Professional basketball," Mottin said.
Comparing the facilities in India and Australia, Lakshman described how in Melbourne "there was a league running every day of the week", with "10 games being played simultaneously from A to J grades".
"Everyone here knows how to play... and it's a 'European style team-oriented game', which allows someone like me to fit into the team," Lakshman, who plays recreationally, said.
Bringing Geethu to Australia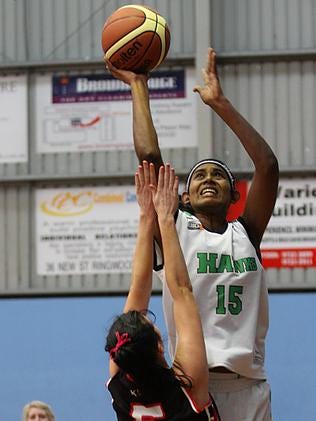 Geethu Anna Rahul. Image: Herald Sun
In a fascinating segment, Mottin spoke about how he scouted future Indian basketball legend Geethu Anna Rahul (then Geethu Anna Jose) during the 2006 Commonwealth Games in Australia. "I wanted to look outside the box. Everyone looks at the US or Europe, but I wanted to see if there was untapped talent elsewhere. I got the rosters of all the developing countries and watched every game. I liked the way Geethu moved. She showed potential," Mottin said.
Mottin then had to work out how to reach Geethu, a process which he called the "hardest part". "I found a few articles and contacted the journalist Anil Kumar, who put me in touch with Geethu," Mottin elaborated.
Mottin describes how Geethu stayed at his home for over two years, between 2006-08, and learnt how to be more independent and confident, looking at the "life of girls in Australia".
After her Australia stint, Geethu would go on to become the first (and till date only) woman to be invited to WNBA tryouts in 2011. In 2014 she became only the second Indian woman basketball player to be conferred the Arjuna Award.
Future bright for Indian Basketball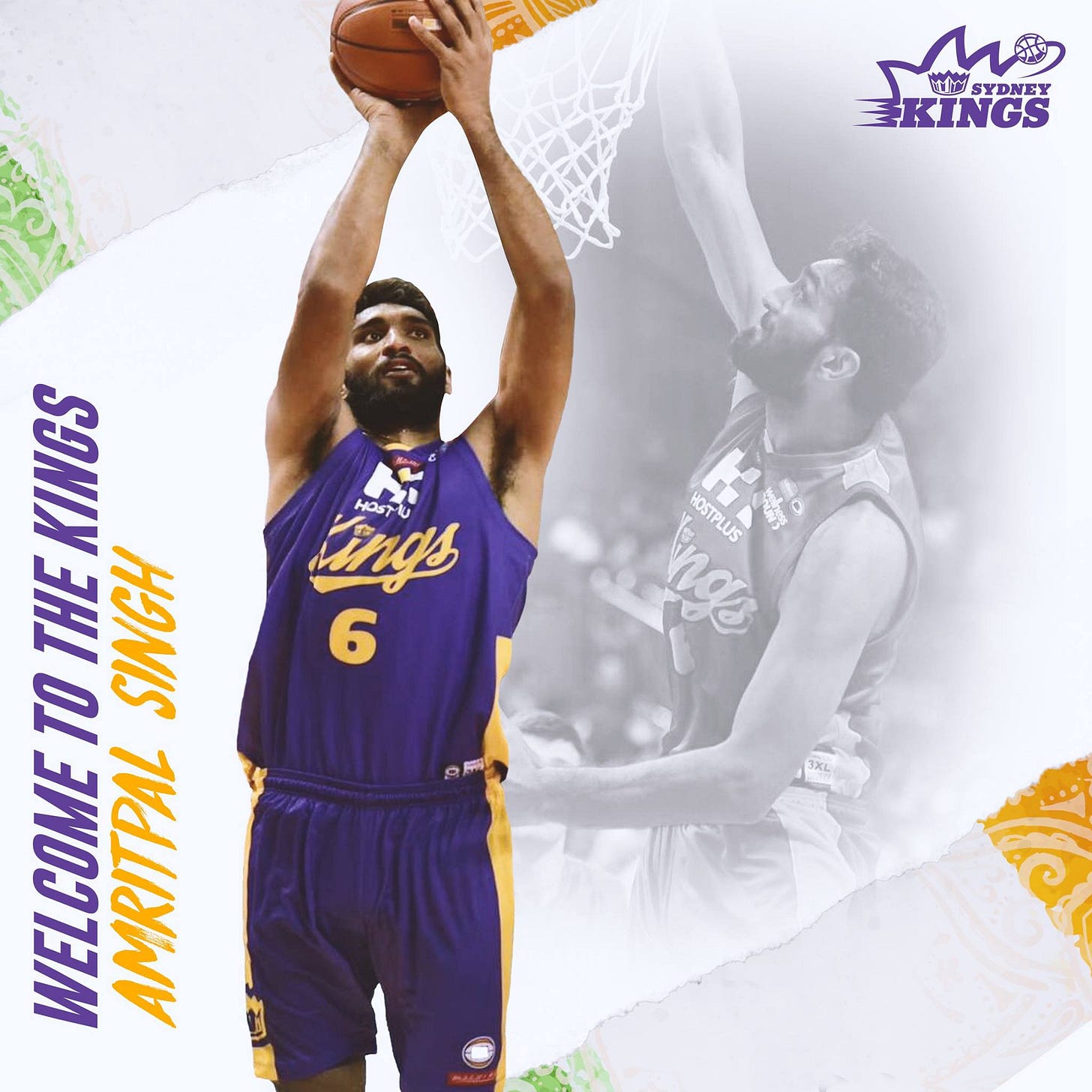 Centre Amritpal Singh remains the only Indian to have played professionally in Australia's top-tier league, the NBL. Graphic credits: Sydney Kings
Mottin expressed confidence that "with its huge English speaking population and raw talent... if India puts in the right structures...in 10-15 years it can be among the best in the world [in basketball]".
That said, Mottin did voice his concern that "women in India get married and give up basketball". Clarifying this, Gopalakrishnan R pointed out how this trend is changing for the better, citing the post-motherhood comebacks of stars like Anitha Pauldurai and boxer MC Mary Kom.
The question arose if there are any Indians who can play in Australia in the coming years. (Besides Geethu, Jeena Skaria and Amritpal Singh are the others to have played professionally in Australia. Meanwhile, Vishesh Bhriguvanshi was offered a training contract which he couldn't take up because of an untimely injury.)
In answer to this question, Lakshman outlined the increased opportunities for Asian players thanks to Australia's entry into the FIBA Asia Competitions Zone. "Each NBL team is allowed two foreign imports, but Asian players don't count for these quotas."
Lakshman also highlighted that future Indian basketball players who do get the chance to play in Australia will definitely be embraced by the growing Indo-Australian diaspora community.
Mottin ended by emphasizing that among all the countries he had recruited players from, he has "the closest of ties with India".
To be part of future 'Sports India Basketball' discussions: FOLLOW EKALAVYAS ON CLUBHOUSE
***
If you've come this far…
Appeal to our readers: Ekalavyas is India's first and only basketball media company. We are not foreign-funded, nor investor-backed. Your support and encouragement have got us this far. We now need your financial assistance to ensure we can keep providing you timely, accurate and important information. Please contribute via https://www.instamojo.com/@ekalavyas​ 🙏🏾. We are accepting contributions as low as Rs. 9/- (excluding a small processing fee charged by the payment gateway provider). Thank you for playing a part in keeping media independent and objective!
Ekalavyas now on Telegram! Stay up-to-date on all the breaking news around Indian Basketball, by subscribing to the EkBallIndia Telegram Channel.