Discover more from Ekalavyas | Basketball
Welcome to Ekalavyas, the pioneering publication dedicated to unearthing the world of international basketball, from an Indian perspective!
Over 3,000 subscribers
Asia Cup Qualifying Tournament: 10 Takeaways from India's Performance
The Asia Cup Qualifying Tournament ended on a satisfactory note for India, with the men's team punching its tickets among the 16 participants in Jakarta next year.
After losing to Saudi Arabia in the opening game, India beat Palestine to ensure its tenth straight appearance at Asia's premier continental championship.
Here are 10 takeaways from India's performance:
#10 Return of Amritpal Singh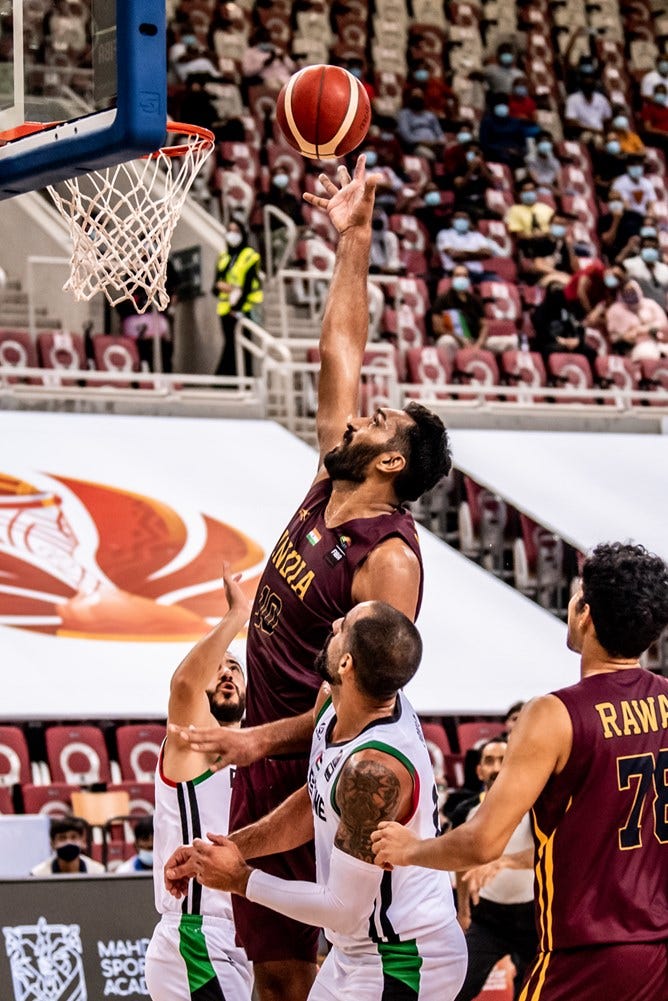 The Big Man's return after a doping ban was much awaited. After a forgettable opening against Saudi Arabia, the former farmer-turned-baller stamped his authority against an undersized Palestine team. At age 30, Singh still has a few years at the elite level. It was particularly great to see him resume his interior chemistry with fellow big Amjyot Singh Gill, two of India's 'Big Three'.
#9 Sahaij Sekhon: A (two-way) star is born?
https://www.instagram.com/p/CS2GIIzLC60/
After Yadwinder Singh's surprising omission from recent Indian teams, we were left wondering who could step up as its defensive lynchpin. The early answer to this question could be Sahaij Sekhon. The 6ft 4'' Sekhon is just 19-years-old but already showing fearlessness for the big moments. His on-ball defense on Palestine's top scorer Kyndall Dykes in the second quarter was spectacular to watch, and effectively kept India from throwing in the towel at halftime.
When you combine Sahaij's willingness to lock down the opposition's top perimeter player, with his quickness in open court, we could be looking at the birth of India's first two-way star.
#8 Vishesh on the Wane?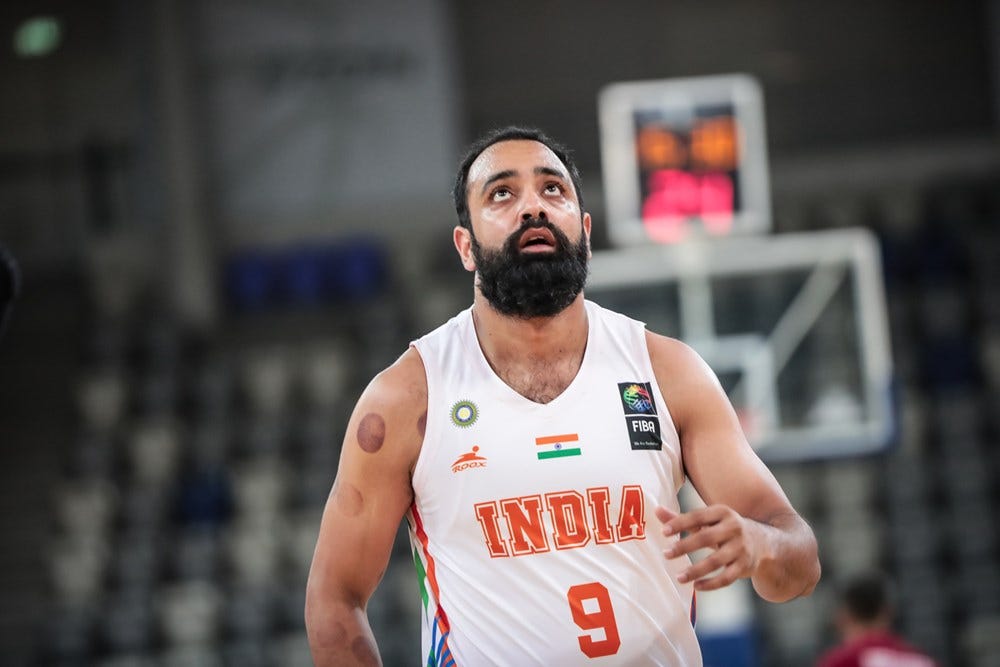 Every time Captain Vishesh Bhriguvanshi has been discounted, he has managed to find a way to silence the naysayers. Who can forget his half-court heave against Iraq in the previous qualification round that prevented premature elimination?
That said, #IndiaBasketball's Captain Cool has his work cut out for him if he is to return to his fittest best. Like Amritpal Singh, Bhriguvanshi too has time on his hands. (Believe it or not, he is still only 29-years-old!). But the Banasari Mamba will be the first to admit that a combined 8 points and 7 assists across two games is far from ideal for the most seasoned member of India's vaunted 'Big Three'.
#7 Joginder shining in 'back-up' role
https://www.instagram.com/p/CS2HSBbg94H/
'Mr Big Shot' continues to score big when it matters. His ability to knock down outside shots in crucial moments, whether it be against Angola way back in the 2014 Lusofonia Games final (hence the nickname), against Iraq in the earlier Asia Cup qualifying rounds, or in the fourth quarter of the latest come-from-behind win over Palestine, Joginder is a gift that keeps on giving.
The switch from starting point guard to playing back-up to Muin Bek only seems to have fuelled his fire to perform for his country. Along with fellow guard Sahaij, their tandem is providing India with a much-needed second unit scoring punch, an aspect that was missing in previous teams.
#6 Jagdeep Singh M.I.A.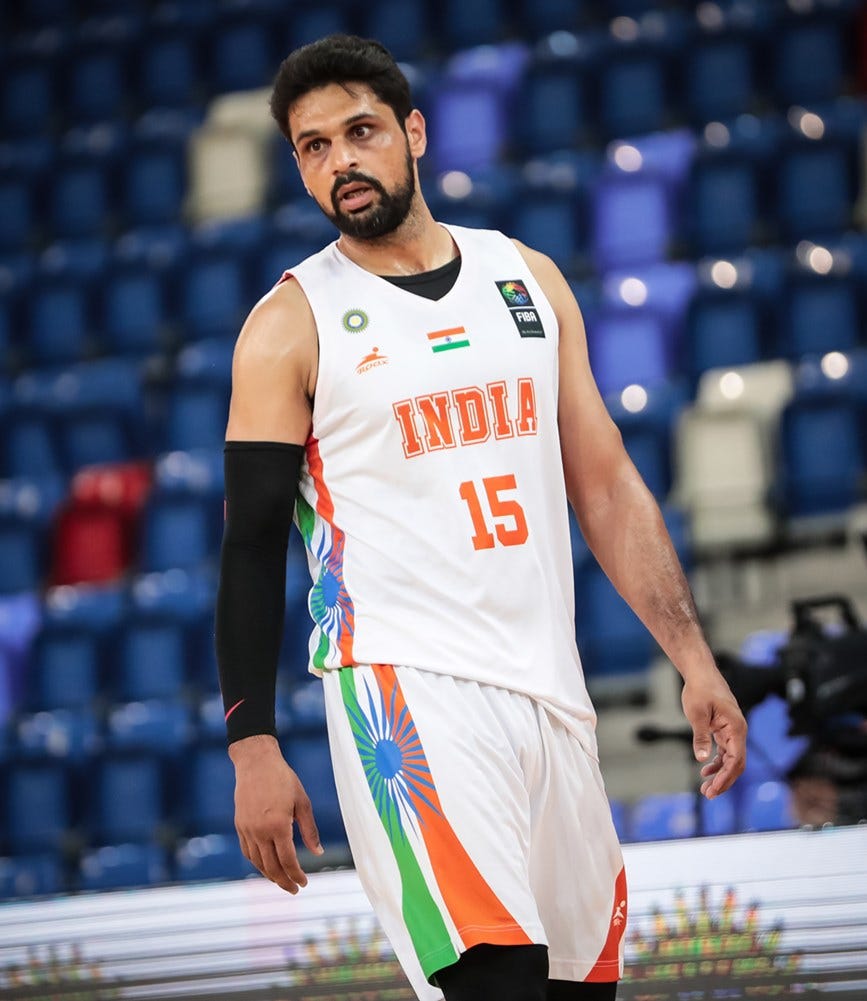 Image credits: FIBA.com
Highly regarded as a pioneer of the 'modern' way of playing the game of basketball, Punjab's Jagdeep Singh Bains was among the earliest 'stretch' forwards of India. At an individual level, the 35-year-old's return to the Indian team after facing personal struggles has been an inspirational story.
The 6ft 6" veteran averaged 5.5 pts & 3 rebs in 23.2 mins per game in Asia Cup Qualifying games. But these numbers can be attributed to previous rounds. In last week's Final Qualifying Tournament 'Jaggi' went scoreless against Saudi Arabia and did not play the entire do-or-die game against Palestine.
#5 Muin Bek couldn't get it going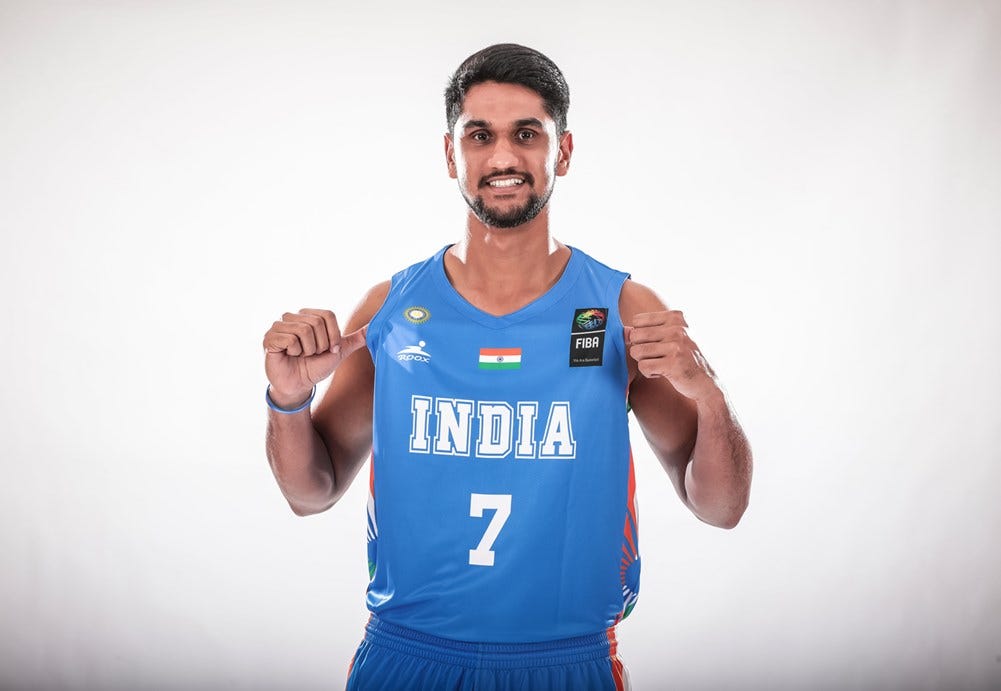 Muin Bek Hafeez at the 2021 FIBA Asia Cup Qualifiers
He made the entire Indian basketball community stand up and take notice of his performances in the previous rounds of qualification. Tamil Nadu's Muin Bek though, was unable to have a similar impact in this final Asia Cup Qualifying Tournament, scoring just 8 points across two games. But such was his showing in earlier rounds that he retained averages of 10.5 pts & 4.9 rebs through all eight qualifier games.
#4 support for India
https://www.instagram.com/p/CS_Ll4DJcyu/
This may seem like a minor takeaway, but for an Indian national team used to playing in empty stadia, it would have come as a shot-in-the-arm to find the King Abdullah Stadium in Jeddah, Saudi Arabia peppered with desi supporters carrying flags and drums.
They say that a supportive crowd is often a 'sixth man'. That certainly seemed to be the case here as the Indian spectators rallied behind the 'Young Cagers' during their come-from-behind fourth-quarter win over Palestine.
#3 No backup centre for Amritpal

Despite showing promise in previous rounds, promising 6ft 11 inch 18-year-old Amaan Sandhu was absent from the roster in the final Asia Cup Qualifying Tournament
A surprising revelation with the Indian roster came at the post-game press conference after the loss to Saudi Arabia. Coach Veselin Matic highlighted the absence of a backup centre for Amritpal Singh, which mightily hurt India on the boards. The question remains: why weren't players like Amaan Sandhu or Vivek Goti, who were present in the previous rounds, picked in the side? (And in case you are wondering, Satnam Singh is currently serving a two-year dope ban. But the good news is that he will be eligible to return in November.)
#2 Predictable offense in asia cup qualifying rounds
[youtube]https://www.youtube.com/watch?v=tSw4tyQTPzk[/youtube]
India may have come through Asia Cup Qualifying, but serious questions remain on both ends of the floor. While defensively our boxing out while playing zone defense was an issue, our half-court offense seems restricted to lobs inside to centre Amritpal Singh, or else 1-5 pick and rolls between Amritpal and the guards.
India continues to lack a perimeter player who can get into the paint against a set defense and create scoring opportunities at all three levels for teammates. This is perhaps where a creative playmaking guard like Mizoram's Lalrina Renthlei can come in. Renthlei though, failed to make the final roster despite being called to India camp in Bengaluru.
#1 Ability to come from behind to win under pressure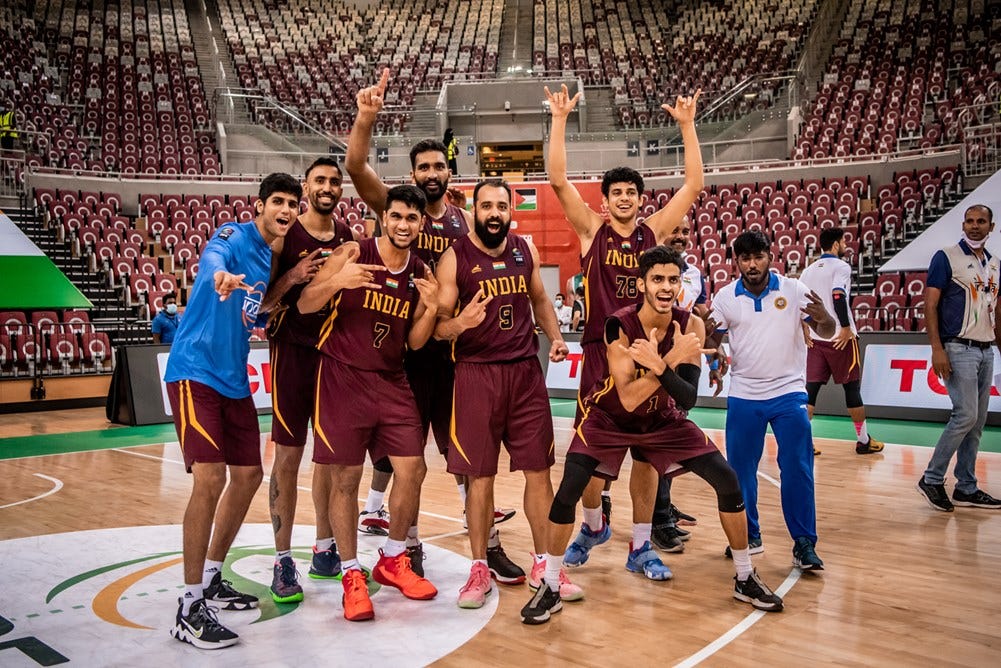 All Images Credit: FIBA.com
The best takeaway perhaps is that for the first time in recent memory, the Indian men's team showed the ability to come back from a double-digit deficit in the fourth quarter to win a do-or-die game. All said and done, there is no better way to build a team's confidence ahead of the important challenges that lie ahead for the 'Young Cagers'.
*bonus* takeaway: Live basketball commentary for the first time on Clubhouse!
https://twitter.com/EkBballIndia/status/1421374579268669441
On a personal note, it was also a pleasure to introduce live basketball commentary for the first time in India on Clubhouse app. Make sure to join the 'Sports India Basketball' Club to participate in future conversations.
***
If you've come this far…
Appeal to our readers: Ekalavyas is India's first and only basketball media company. We are not foreign-funded, nor investor-backed. Your support and encouragement have got us this far. We now need your financial assistance to ensure we can keep providing you timely, accurate and important information. Please contribute via https://www.instamojo.com/@ekalavyas​ 🙏🏾. We are accepting contributions as low as Rs. 9/- (excluding a small processing fee charged by the payment gateway provider). Thank you for playing a part in keeping media independent and objective!
Ekalavyas now on Telegram! Stay up-to-date on all the breaking news around Indian Basketball, by subscribing to the EkBallIndia Telegram Channel.