Discover more from Ekalavyas | Basketball
Welcome to Ekalavyas, the pioneering publication dedicated to unearthing the world of international basketball, from an Indian perspective!
Over 3,000 subscribers
Arise Steel 42nd Sub-Junior National Basketball Championship: Quarterfinal line-up almost set as defending champions advance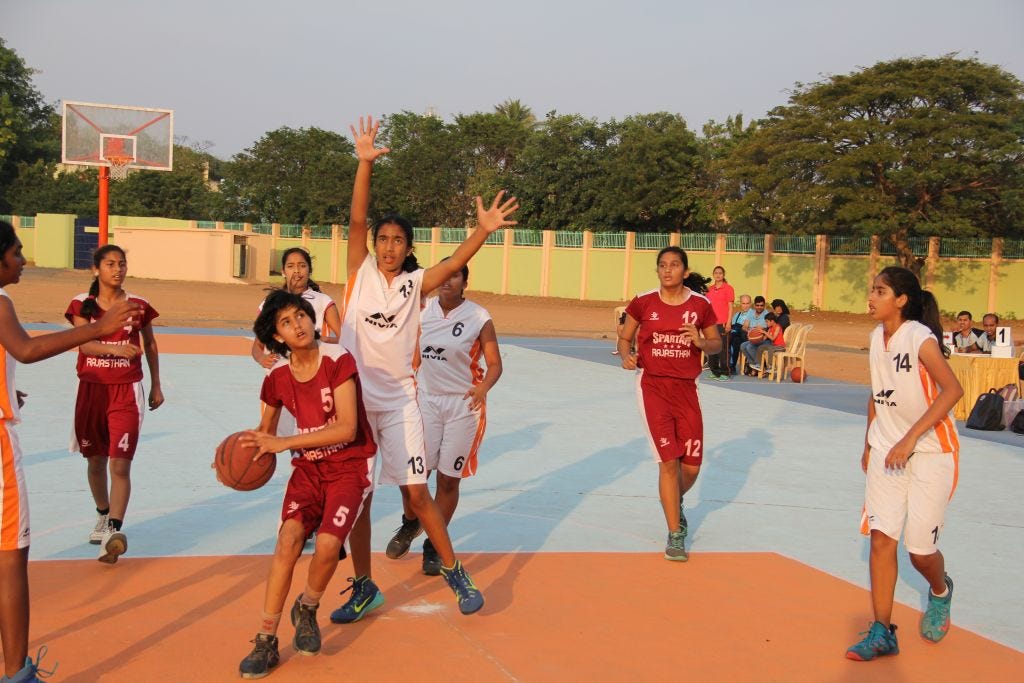 Rajasthan player (in maroon) drives in against Telangana (in white).
Puducherry, 5th February 2016: The last day of the league stages at the Arise Steel 42nd Sub-Junior National Basketball Championship began with crucial knockout matches in the early morning session. The top-placed teams of the level 2 groups took on each other for a spot in the pre-quarterfinal. Kerala boys squared off against neighbours Tamil Nadu in the opening game. Kerala started the game well and outscored their opponent massively in the second quarter (25-3). In the second half, Kerala held on to their lead, despite Tamil Nadu's attempted comeback, and clinched a 78-54 victory to advance to level 1. In the other boys' qualifying game, Karnataka boys edged past the Delhi side by a slim 3-point margin. Led by Akshan Rao's 22 points, Karnataka registered a 64-61 victory. Delhi's Himanshu scored 28 points in a losing effort.
The Telangana and Rajasthan girls teams also moved ahead to level 1, defeating Odisha and Himachal Pradesh respectively in comfortable fashion. In the level 1 girls' games, Maharashtra were led by their best scorer Shruti Bhosale's 17 points to defeat Uttar Pradesh 60 to 41. Madhya Pradesh girls got the better of the Delhi team in their level 1 game defeating them 52-30. The boys' level 1 games, Andhra Pradesh boys set a new tournament team scoring record in the tournament putting up 105 points against Chandigarh. Md. Ghouse Mohiddin's 34 points and Sai Pawan Kumar's 30 points carried the AP team to the century mark. The Rajasthan boys beat Uttar Pradesh in a close game that ended 65-60 in favour of Rajasthan.
The loser knockout tournament also commenced in the second half of the day featuring teams that have been knocked out of contention in the tournament. Andhra Pradesh, Punjab, Chandigarh and Gujarat girls advanced to the semifinal stage of the loser knockout along with the West Bengal, Telangana, Bihar and Punjab boys.
The level 2 teams that have advanced to the pre-quarterfinals faced each other in the evening on the outdoor court to determine their opponent in the pre-quarters. Kerala boys beat Karnataka and they have chosen to face Maharashtra in the pre-quarterfinal, while Karnataka boys will face Andhra Pradesh. In the girls' games, Rajasthan beat Telangana and they will battle it out with Uttar Pradesh girls for a spot in the quarterfinal. Telangana will face the Haryana girls in their pre-quarterfinal match. Haryana girls lost their level 1 game to Karnataka today evening, giving the Karnataka girls a direct entry into the quarterfinal.
Results from Day 4 (5-2-2016) up to 7 pm
Girls:
Level 1:
Group A:
Karnataka (Pavitra 22, Maya 10) bt Haryana (Ritika 26, Neeru 10) 69-47 (17-10, 14-18, 16-11, 22-8)
Group B:
Maharashtra (Shruti Bhosale 17, Abha Lad 9) bt Uttar Pradesh (Tripti Singh 10, Chaitali 8) 60-41 (11-11, 7-19, 20-4, 22-7)

Madhya Pradesh (Asmat Kaur Taunque 14) bt Delhi (Kritika Dhingra 10) 52-30 (20-18, 7-4, 14-4, 11-4)
Winner decides pre-quarterfinal opponent:
Rajasthan (Simran 23, Raksheta 10) bt Telangana (Dhatrinaina 12) 52-24 (8-11, 15-3, 6-6, 23-4)
Qualifying matches (Winner moves to pre-quarterfinal):
Telangana (Dhatrinaina Devi Reddy 17, A. Jayanthi 14) bt Odisha (Abhipsha Pattanayak 9, Lipramayee Satapathy 9) 53-37 (11-6, 5-11, 20-6, 17-14)

Rajasthan (Simran 12, Raksheta 11) bt Himachal Pradesh (Ananya 14, Ramadeep 10) 44-32 (12-10, 8-6, 10-0, 14-16)
Loser Knockout quarterfinals:
Andhra Pradesh (Venkat Lakshmi 9) bt Puducherry (Nila 14) 35-22 (6-9, 10-7, 10-0, 9-6)

Chandigarh (Gurleen Kaur 11) bt Goa (Katherine Barreto 8) 27-19 (8-7, 8-0, 4-9, 7-3)

Gujarat (Rachel 10) bt Bihar (Kavya 11) 36-23 (8-8, 11-0, 10-4, 7-11)
Boys:
Level 1:
Group B:
Andhra Pradesh (Md. Ghouse Mohiddin 34, A. Sai Pawan Kumar 30) bt Chandigarh (Gagandeep Singh 8) 105-32 (34-8, 21-2, 16-10, 34-12)

Rajasthan (Md. Aasif 16, Jaiveer 10) bt Uttar Pradesh (Priyanshu 28) 65-60 (14-13, 16-15, 18-18, 17-14)
Winner decides pre-quarterfinal opponent:
Kerala (Jerom P. George 16, Hari Govind SV 8) bt Karnataka (Sashidhar B. 12) 48-40 (11-9, 7-10, 17-8, 13-13)
Qualifying matches (Winner moves to pre-quarterfinal):
Kerala (Jerom Prince 22, Yajurdas TD 13) bt Tamil Nadu (Prabu Manoj 26, Sharan Kumar 18) 78-54 (18-15, 25-3, 19-24, 16-12)

Karnataka (Akshan Rao 22, Ethan Aryaan Martin 12) bt Delhi (Himanshu 28, Ashish 15) 64-61 (13-12, 11-8, 20-19, 20-22)
Loser Knockout quarterfinals:
West Bengal (Dipoke Bhandari 12) bt Jammu and Kashmir (Devyanshu Pandey 12) 53-23 (10-7, 18-4, 14-8, 11-4)

Telangana (Yaswanth 18, Papa Kannu 17) bt Puducherry (Charanraj 16) 91-41 (26-14, 29-17, 18-6, 18-4)

Bihar (Dharmendar K. 22, Md. Wasit 14) bt Gujarat (Bhavya M. 10) 62-23 (25-6, 19-4, 10-9, 8-4)

Punjab (Rajbeer Singh 16, Eknoor Singh 14) bt Himachal Pradesh (Vishal Verma 21, Jugraj 10) 59-53 (11-17, 17-8, 10-17, 21-11)
About the 42nd Sub-Junior National Basketball Championship
The 42nd Sub-Junior National Basketball Championship is being organised in Puducherry from the 2nd to the 8th of February 2016 at the Indira Gandhi Sports Complex. There are two indoor courts inside the complex, named Rajiv Gandhi Indoor Stadium, along with one outdoor court in the complex dedicated to the tournament. This year's event is being organised by the Puducherry Basketball Association under the aegis of the Basketball Federation of India. The Sub-Junior Nationals is an annual national tournament for U-14 boys' and girls' teams from states across India. This year's tournament is witnessing the participation of 23 boys' teams and 21 girls' teams. Arise Steel is the main sponsor for the tournament.
The 41st Sub-Junior Nationals were conducted in Nashik, Maharashtra, where the Kerala girls and the Madhya Pradesh boys emerged victorious clinching the gold medals. Chhattisgarh girls and boys were the second placed teams. The 2013 version tournament was conducted in Patna, Bihar. The Chhattisgarh teams won both the boys and the girls category last year, while the Madhya Pradesh boys and the Tamil Nadu girls finished runners-up respectively.