Discover more from Ekalavyas | Basketball
Welcome to Ekalavyas, the pioneering publication dedicated to unearthing the world of international basketball, from an Indian perspective!
Over 3,000 subscribers
AP, Haryana & MP boys shock higher rated opponents to enter semis of the 34th Youth National Basketball Championship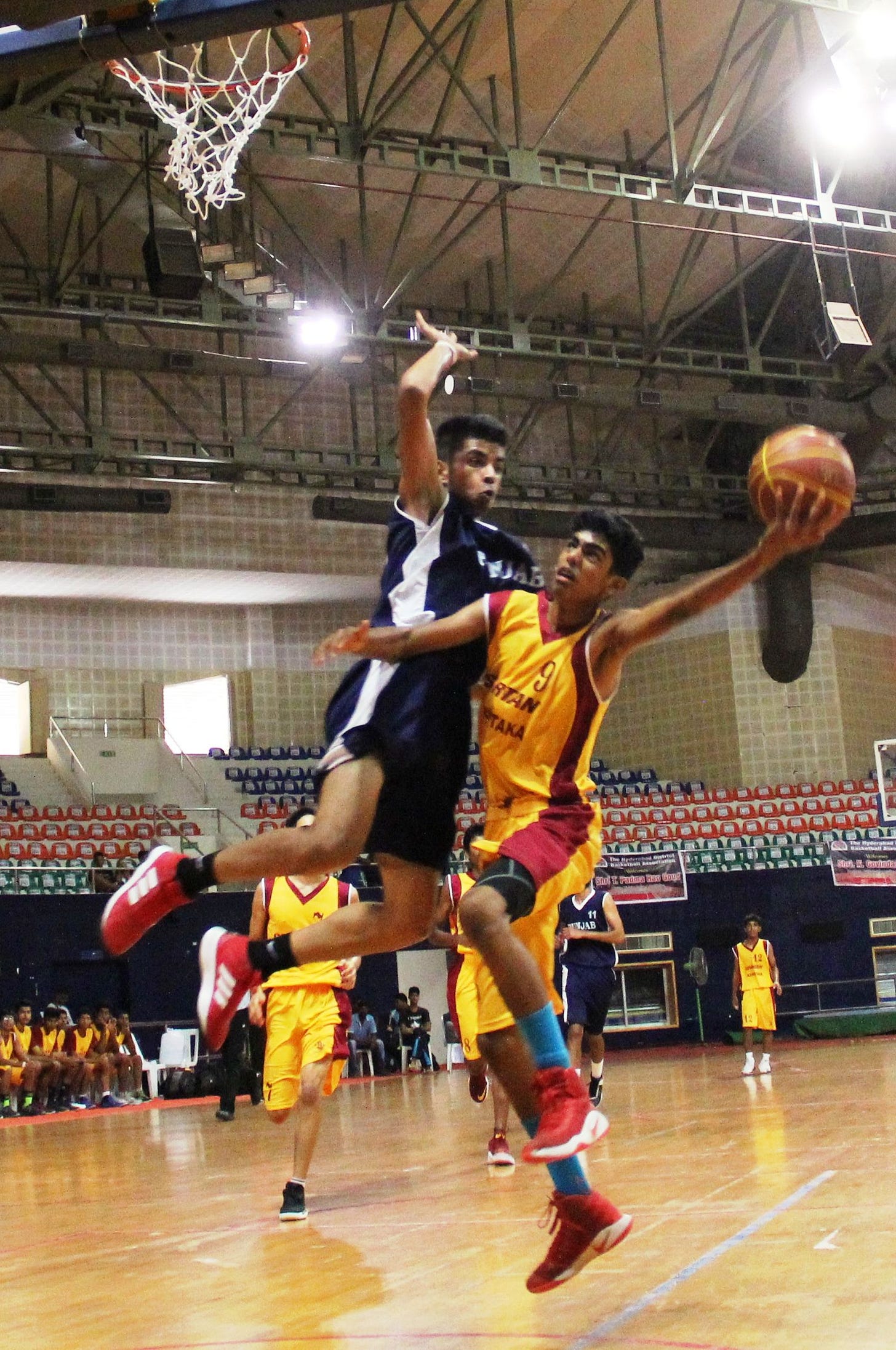 Spot of bother- Karnataka. Image credits: Basketball Federation of India
Hyderabad, 6th July 2017:  The knockout stages of the 34th Youth National Basketball Championship for Boys and Girls got underway at the Indoor Stadium, Gachibowli in Hyderabad.
The Championship is being organized by the Hyderabad District Basketball Association under the aegis of the Telangana Basketball Association and the Basketball Federation of India.
From the girls' side, Kerala, Uttar Pradesh, Karnataka, while in the boys, Punjab and Haryana, are through to the semifinals.
Kerala girls and Punjab boys cruise into the semis
Kerala girls had no trouble against Maharashtra, with their superior size and steady execution on both ends of the floor. Kerala centre Ann Mary Zachariah showed her class, with the offense repeatedly running through her in the post. Displaying sound awareness, Zachariah would either back down her defender to score, or draw the foul and go to the freethrow line or else attract the double team and pass to the cutting Aparna Sadasivan who was able to make tough runners in the lane look easy.
In the first boys' semifinals, Punjab dominated the much shorter Karnataka team, winning 89-66. Punjab centre Princepal Singh, listed at 6ft 10.5 inches, controlled the paint and prevented any inside scoring opportunities for Karnataka. Karnataka point guard Prashant Tomar tried his best to drive and dish but the big bodies of Punjab proved to be a stumbling block for the southern side. Karnataka could only end up scoring from beyond the arc or in transition, which wasn't nearly enough against this well oiled Punjab team that are now heavy favourites to go the distance.
UP girls and Haryana boys win close games
Compared to the first two quarterfinals, the next two proved to be extremely close fought affairs. A resurgent UP team, which seems to have improved across all age groups in recent years, outlasted Punjab girls 60-52 to book their spot in the final four. Punjab led at the end of the first quarter, before UP wrested the lead with a 15-9 second period. At halftime, the score read 24-20 in favour of UP and the second half saw this well coached side continue to gradually build its lead. With as many as four players scoring in double digits, it was a consummate team effort that saw UP prevail. Meanwhile for Punjab, Radha Rani top scored with 18 in the losing effort.
The fourth quarterfinals between Tamil Nadu and Haryana was perhaps the most exciting one of the day so far. There was little to choose from between these two bruising teams even though Tamil Nadu led by double digits at the end of the first and third quarters. Haryana kept mounting comebacks and a massive three point play by Mukesh took the side up by 1, 71-70 with 22 seconds remaining. Tamil Nadu took a time out so as to start the offensive possession on the front court. But the inbounds play couldn't have gone worse for TN as Haryana's Sahil forced the turnover and scored in the ensuing possession, to close out the memorable 73-70 win. The young TN side should hold their heads high for a game well fought, but would perhaps rue the fact that they let a winnable game slip from their grasp.
In the fifth quarterfinals Karnataka girls had it very easy against a Madhya Pradesh side that seemed to lack energy from having played a pre-quarterfinals game earlier this morning. Tamil Nadu girls too outclassed Chhattisgarh 73-49.
AP & MP boys shock Kerala and UP
In the last two quarterfinals, Andhra Pradesh and Madhya Pradesh shocked Kerala and Uttar Pradesh respectively. Three key facts make these victories truly spectacular: 1) Both AP and MP are Level 2 teams that have come up to Level 1; 2) Both AP and MP were playing their second match of the day and the fatigue factor was expected to work against them; and 3) Both their opponents Kerala (3-1) and Uttar Pradesh (4-0) had topped their respective Level 1 Groups in the league stages.
Andhra Pradesh has been impressive with its brand of 'total basketball' where all 5 players on the floor seamlessly rebound, shoot, defend and drive. MP, on the other hand, has been playing hardnosed gritty basketball that may not win the applause of purists but is effective nonetheless.
They continued with their contrasting styles tonight at the expense of Kerala and UP. It remains to be seen how far they can keep going, but it is safe to say that they will be viewed as underdogs no more.
Results from Day 6 (6
th
July 2017) till 7 pm
Girls
Level 1
Quarterfinals
Kerala (Aparna Sadasivan 14, Ann Mary Zachariah 12, An Mariya Johny 9) bt Maharashtra (Abha Lad 12, Siya Deodhar 11) 58-45 [11-7, 15-11, 21-9, 11-18]

Uttar Pradesh (Vrinda Garg 15, Vartika Kushwaha 12, Riya Baliyan 12, Alankrita Singh 11) bt Punjab (Radha Rani 18, Priyanka Behal 12) 60-52 [9-11, 15-9, 16-15, 20-17]

Karnataka (Grishma N 28, Nidhi Chaudhari 12, Reshma Ramesh 10) bt Madhya Pradesh (Rajvi Desai 19, Divya Sam 12) 73-43 [15-8, 22-14, 27-9, 9-12]

Tamil Nadu (Pushpa 24, Lakshmi Priya 18) bt Chhattisgarh (Neha Karva 21) 73-49 [15-13, 25-15, 21-7, 12-14]
Pre-quarterfinals
Chhattisgarh (Neha Karva 27, Urvanshi Baghel 19, Elijabet Ekka 13) bt Haryana (Suman 19, Ritika 13) 78-47 [24-14, 19-15, 16-9, 19-9]

Madhya Pradesh (Asmat Kaur Taunque 16, Ruchi Patel 15, Rajvi Desai 10) bt West Bengal (Liza Deb 15, Jyothi Routh 10) 63-39 [22-11, 19-11, 14-10, 8-7]
Relegation from Level 1 to Level 2
* Both teams have already been relegated. This match is played so as to decide their lower level groupings for next year.
Gujarat (Naiya Patel 24, Tanisha Shah 13, Hethavi Sorathiya 8) bt Rajasthan (Shataksh Rathore 16, Akshita 11, Ankita 9) 62-38 [22-11, 17-4, 16-15, 7-8]
Level 2 Loser's Knockout Finals*
*This is a standalone tournament for Level 2 teams that have already been eliminated from the main draw
Himachal Pradesh (Pallavi Bramla 37, Rakhi 14) bt Chandigarh (Tarini Boprai 32) 71-48 [22-9, 15-9, 16-13, 18-17]
Boys
Level 1
Quarterfinals
Punjab (Princepal Singh 32, Harsimranjit Singh 19, Rajan 18) bt Karnataka (Aniket Sahoo 21, Akshan Rao 14) 89-66 [30-9, 21-20, 16-15, 22-22]

Haryana (Mukesh 23, Kapil Mor 19, Gaurav 16) bt Tamil Nadu (G Dhanosh 25, Gokul V 14) 74-70 [13-23, 17-8, 13-24, 31-15]

Andhra Pradesh (A Sai Pavan Kumar 25, S Sachin 18) bt Kerala (Jerom Prince 23) 82-61 [27-23, 18-13, 23-14, 14-11]

Madhya Pradesh (Divyaraj Singh Rathore 27, Udayveer Yadav 18) bt Uttar Pradesh (Priyhanshu 23, Krishnakant Singh 8, Shubham Karwasara 8) 79-67 [9-20, 26-14, 20-15, 24-18]
Pre-quarterfinals
Andhra Pradesh (A Sai Pavan Kumar 32, S Sachin 19, P Pavan 12) bt Maharashtra (Tanay Thatte 27, Arjun Yadav 14) 91-61 [23-13, 23-26, 20-14, 25-8]

Madhya Pradesh (Udayveer Yadav 29, Mani Thakur 16, Divyaraj Singh Rathore 15, Shunit Singh 12) bt Rajasthan (Kuldeep Singh 17, Rajveer Singh Bhati 14, Deepu 12) 88-60 [25-13, 12-17, 26-17, 25-13]
Relegation from Level 1 to Level 2
* Both teams have already been relegated. This match is played so as to decide their lower level groupings for next year.
Delhi (Nitish Beniwal 23, Aryan 14, Sanksar Nagpal 11) bt Chhattisgarh (Harendra Kumar 22, Saif Ali Khan 16) 73-54 [20-14, 20-12, 11-10, 22-18]
Level 2 Loser's Knockout Finals*
*This is a standalone tournament for Level 2 teams that have already been eliminated from the main draw
Telangana (Vinay Kothari 16, Rithik Pothuganti 16, Aman Topno 13, Vighneshwar Upadhyay 13) bt Assam (Salew Kadete 21, Sanjay Balmiki 19, Shivam Sunar 12) 79-69 [21-11, 20-17, 14-27, 24-14]