Discover more from Ekalavyas | Basketball
Welcome to Ekalavyas, the pioneering publication dedicated to unearthing the world of international basketball, from an Indian perspective!
Over 3,000 subscribers
In anticipation of India's first 3x3 Pro Basketball League, Gurugram to host '3x3 Road to Mexico' this September
FIBA authorized 3x3 Pro Basketball League in India tentatively announced for 2018.

As a lead up to this League, a special showcase event called '3x3 Road to Mexico' will be held this September at the Ambience Mall, Gurugram.

The organizer of these marquee events will be YKBK Enterprise Pvt Ltd, which has the exclusive rights from International Basketball Federation (FIBA) to create and implement a 3x3 Professional Basketball League in the Indian Sub-Continent.

12 international and domestic teams have been invited to participate in '3x3 Road to Mexico', including reigning FIBA 3x3 World Tour Final runners up Hamamatsu (Japan).Prominent Indian teams that have been invited include national powerhouse clubs ONGC, IOB, Railways and Services.

Apart from cash prizes to the finalists, the winning team at the '3x3 Road to Mexico' will receive an all expenses paid trip to the FIBA 3x3 World Tour – Mexico City from 30th September to 1st October 2017.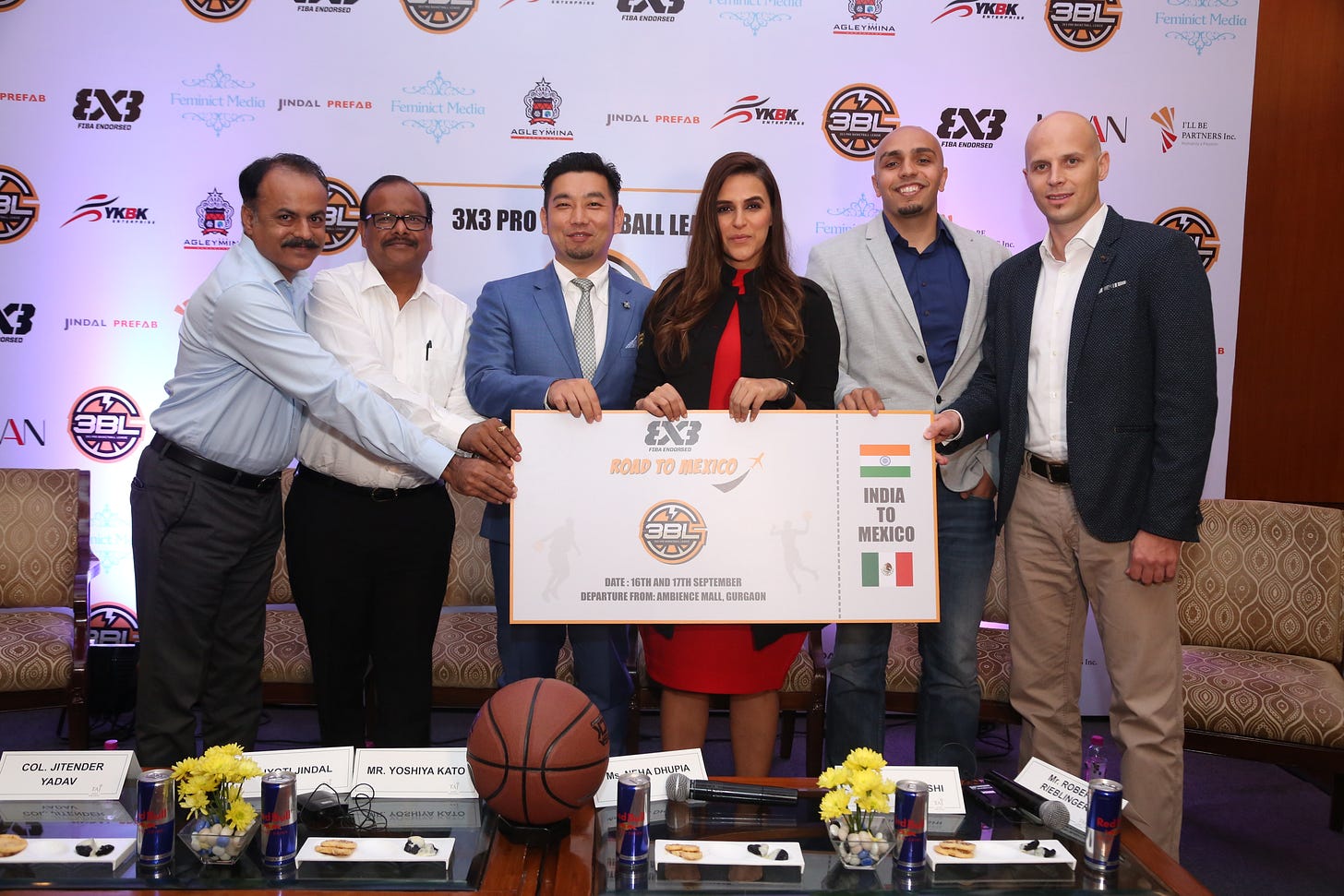 3x3 Pro Basketball league Launch in Delhi_LtoR_ Col.Jitender Yadav, Mr Jyoti Jindal, Mr Yoshiya Kato, Neha Dhupia, Rohit Bakshi & Robert Reiblinger. Image credits; 3x3BL
New Delhi, 19th August 2017: In an exciting and path breaking development, the launch of a 3x3 Pro Basketball League in India was announced at a press conference today at the Taj Mahal Hotel on Mansingh Road in New Delhi.
The dignitaries present at the press conference included Mr. Robert Reiblinger (FIBA 3x3 Development Manager), Mr. Yoshiya Katoh (YKBK Enterprise Pvt. Ltd. – Chairman), Mr. Rohit Bakshi (YKBK Enterprise Pvt. Ltd. – CEO), Ms. Neha Dhupia (Bollywood Film Actress), Mr. Jyoti Jindal (Jindal PreFab – Managing Director), Mr. Jitender Yadav (Pragati Infra Solutions Pvt. Ltd. – CEO & Founding Director).
While the League is tentatively scheduled for next year, a special two-day 3x3 showcase event called the '3x3 Road to Mexico' will be conducted on 16th & 17th September at the Ambience Mall, Gurugram.
Six international and six leading Indian club teams have been invited to participate. The international teams include Hamamatsu, Alborada, Yokohama (all three are city based teams from Japan), the Malaysian National Team, Sri Lanka President's Team and a side from Maldives.
Indian teams invited to participate are the top club sides ONGC, IOB, Railways, Services, Ludhiana Basketball Academy and Vijaya Bank.
"3x3 is not only FIBA's second official discipline and will be played in Tokyo 2020 at the Olympics, it moreover is the number 1 urban team sports in the world. Therefore, India with its plenty of metropolitan areas has a sheer unlimited pool of athletes and talent to offer. Indian teams have had their fair share of success already in 3x3 on continental national team level and Indian players raised some eyebrows on global level when they pushed their team last year to the finals of FIBA's 3x3 World Tour Final. FIBA is very excited to now have with this event as a direct World Tour Qualifier that will take India to the World stage again," said Mr Reiblinger.
"We are excited to bring FIBA 3x3 Basketball to the Indian subcontinent and are committed to keep pushing this fast paced urban sport into many cities in the region. "3x3 Road to Mexico" will be a new opportunity for players, spectators and fans alike to get their first taste of 3x3 Pro Basketball League action. 3BL will create grassroots 3x3 basketball and will be building 3x3 basketball courts across Indian Subcontinent," said Mr Katoh.
More information at: 3x3bl.com
Follow 3X3BL on Facebook, Twitter and Instagram for the latest updates on the event.