Discover more from Ekalavyas | Basketball
Welcome to Ekalavyas, the pioneering publication dedicated to unearthing the world of international basketball, from an Indian perspective!
Over 3,000 subscribers
3x3BL showcase event '3x3 Road to Mexico' tips off at Ambience Mall, Gurugram
Gurugram, 16th September 2017: All the group stage games of the Indian subcontinent's first FIBA authorized 3x3 basketball tournament '3x3 Road to Mexico' concluded today at the Ambience Mall, Gurugram.
The quarterfinals lineup for tomorrow is as follows:
3:00 pm: Hamamatsu vs Sri Lanka President's Team
3:30 pm: Tsukuba vs Delhi All-Stars
4:00 pm: Yokohama vs Malaysia NT
4:30 pm: Ludhiana Basketball Academy vs SPC Club
Pool A – Hamamatsu dominant in opening win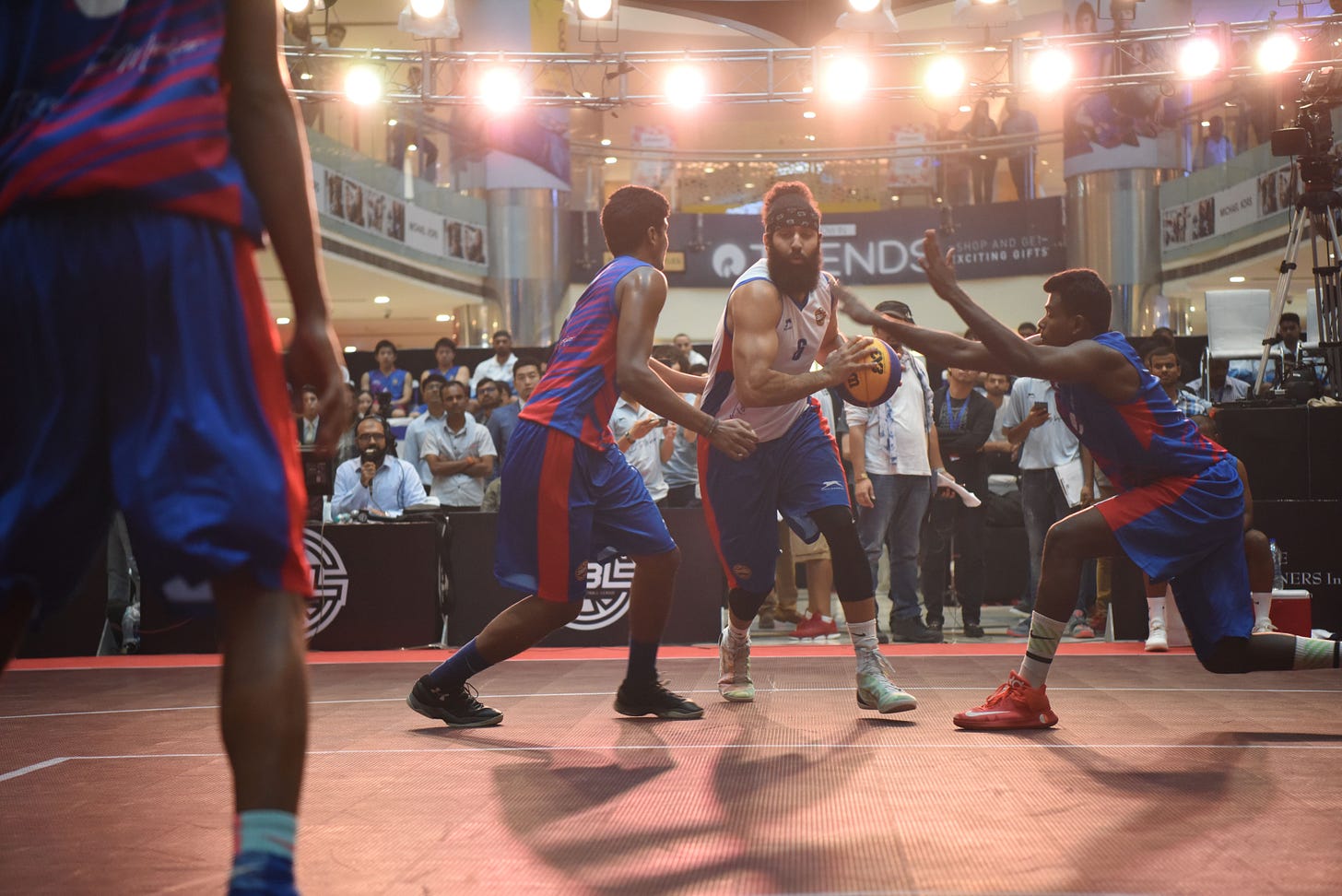 Bikramjit Gill of Hamamatsu tries to beat the Vijaya Bank defense. Image credits: 3x3BL
In the first game of the tournament, favorites Hamamatsu took on Indian club team Vijaya Bank.  Hamamatsu dominated the game, wrapping it up 21 - 10 in just under 6 minutes. "It was a good game. Vijaya Bank are new, but they played hard," said Inderbir Singh Gill of Hamamatsu. Hamamatsu bt. Vijaya Bank 21 - 10
Pool B – Yokohama prevail after Vishesh injury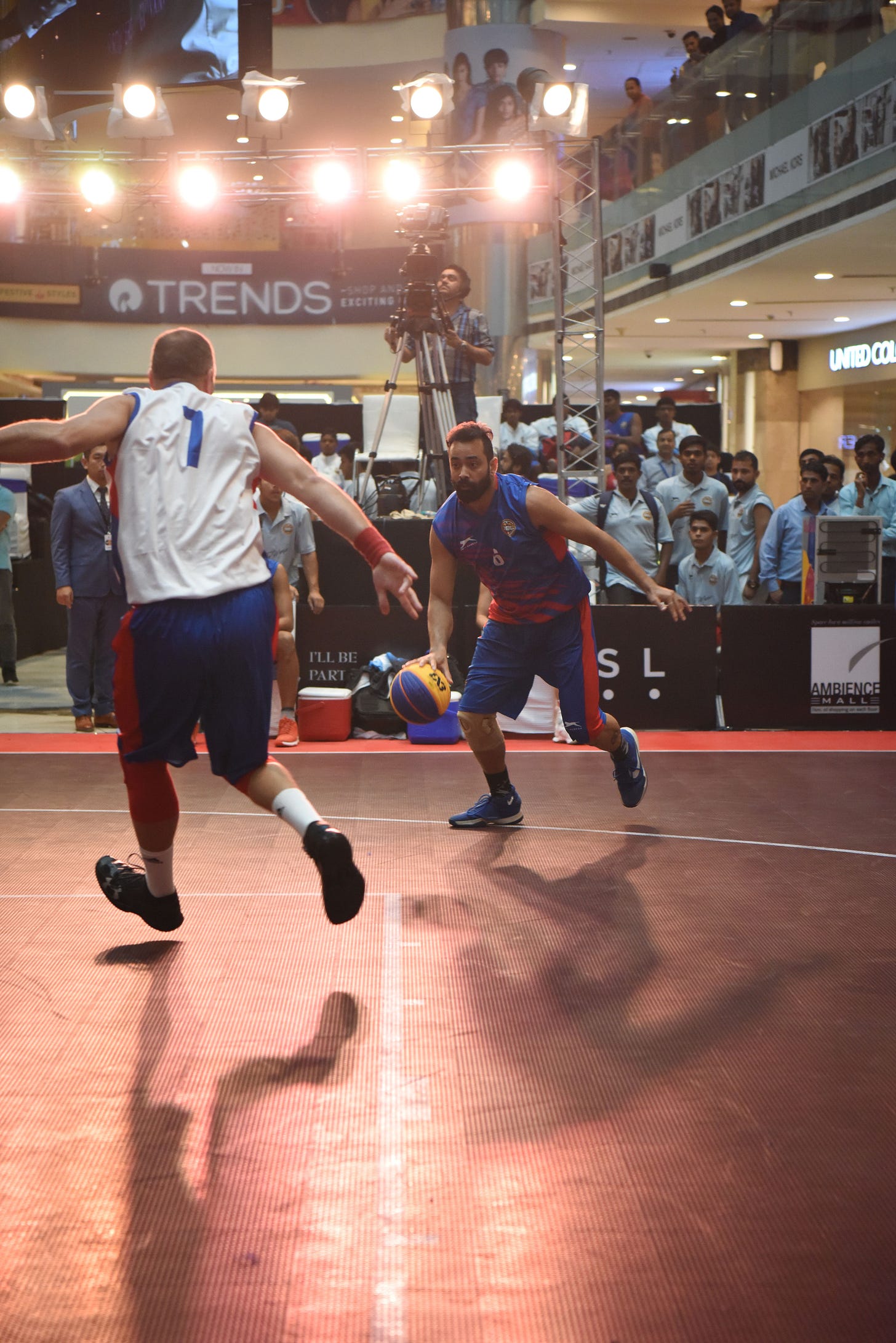 Vishesh Bhriguvanshi of ONGC crosses up Bogoijub Devrnja of Yokohama. Image credits: 3x3BL
The match was followed by the first Pool B fixture between Yokohama and ONGC. ONGC raced to an early 6-1 lead. Despite missing several shots under the basket, Yokohama began to use their physicality and claw back into the game. The turning point of the game was Vishesh Bhriguvanshi's injury that forced him to hobble off the court. ONGC was leading 11-10 at that point, but struggled to keep up thereafter. Yokohama eventually won the game 21 - 13 with 42 seconds left on the clock. "Usually the first game is the more difficult, and it is very important that we have opened the tournament with a win," said Bogoijub Devrnja of Yokohama.
Yokohama bt. ONGC 21 - 13
Pool C - Tsukuba opens with win over YounGuns
Pool C began with the game between Tsukuba and YounGuns. YounGuns are a fresh young team from Gurugram. They competed hard for the first half of the game. Tsukuba was in a spot of bother as they notched up 7 fouls with over 4 minutes of play left on the clock, but some composed play and assured shooting allowed them to prevail 21 - 17. "It was a really tough game, these guys are really good. We played really well, but we had practiced for only 2 days, so it was tough for us," said Amit Sehrawat of YounGuns. Tsukuba bt. YounGuns 21 - 17
Pool D - Ludhiana Basketball Academy starts off with easy victory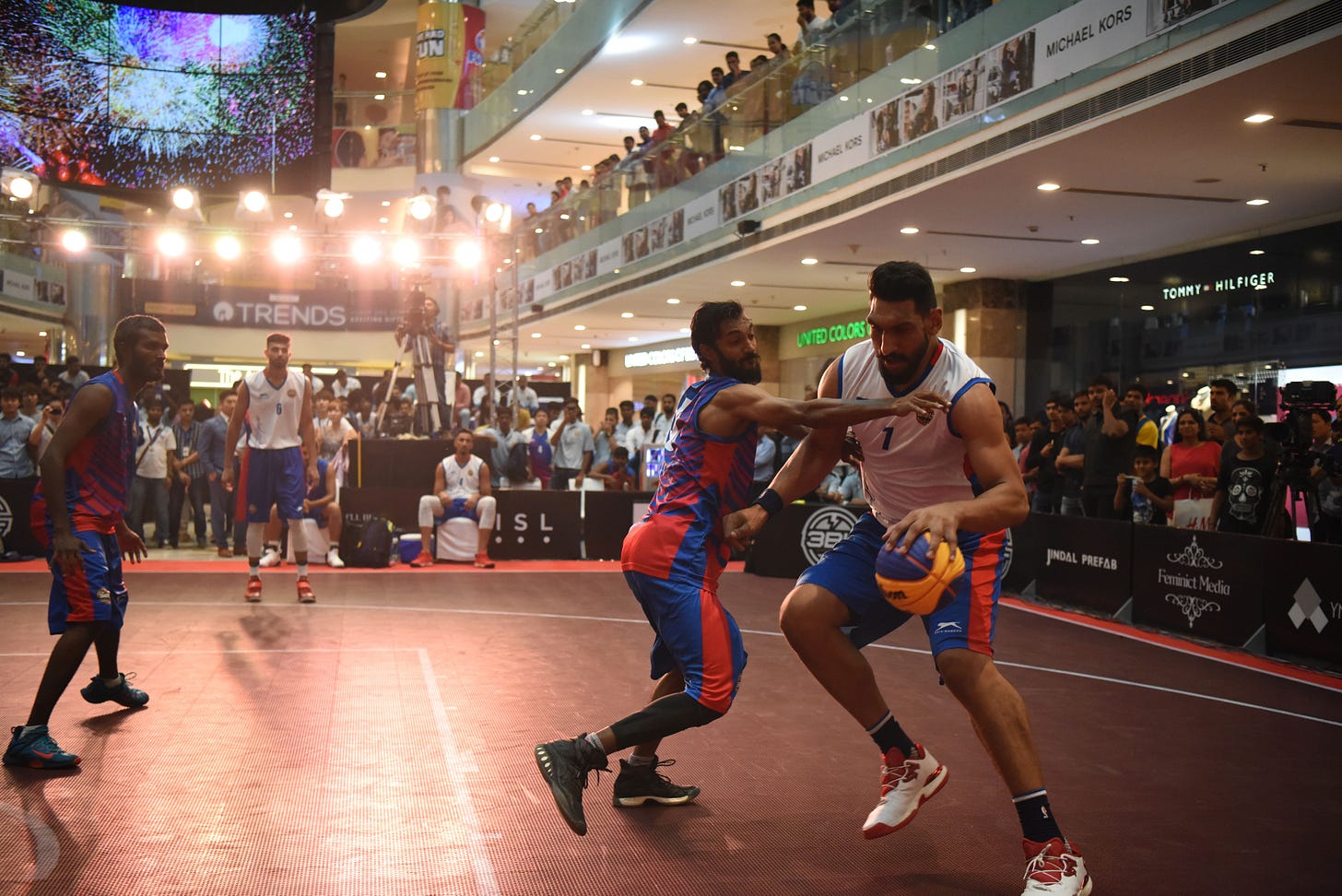 Satnam Singh looks to overpower his defender. Image credits: 3x3BL
Ludhiana BA played the first game of Pool D against Kings BC from Maldives. Ludhiana BA are the tallest team in the tournament, featuring star players Satnam Singh Bhamara and Amjyot Singh Gill. Their combined play helped Ludhiana to win the game at a canter, prevailing 21 - 4 over Kings BC with little less than 4 minutes left on the clock. "We are feeling really great. I hope we win the next game too because we are excited to play tomorrow," said Satnam Singh of Ludhiana BA. Ludhiana BA bt. Kings BC 21 – 4
Pool A - SPC Club blow past Vijaya Bank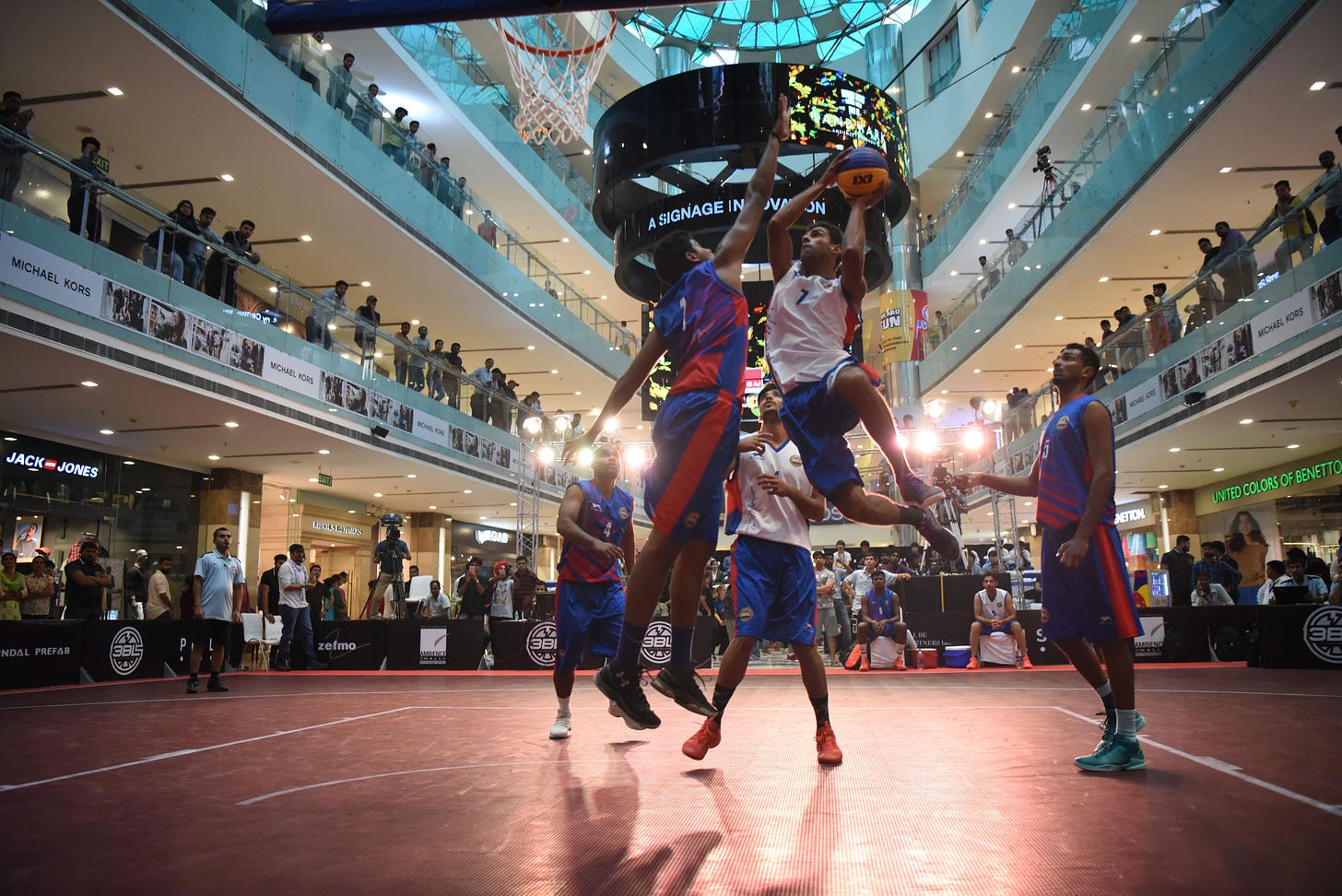 Nikhil Dahiya of SPC Club drives to the hoop against SPC Club. Image credits: 3x3BL
After losing to Hamamatsu in their first game, Vijaya Bank played a must-win game against SPC Club. SPC Club were playing their first game of the day, and the difference in energy levels between the teams was evident. SPC Club were quicker on the ball and off the boards, eventually winning 18 – 10. Notably, this was the first game of the tournament to go the full ten minutes, as every winner before this had reached 21 points before the clock ran out. "We were focused on defending hard and avoiding fouls," said Nikhil Dahiya of SPC Club.
SPC Club bt Vijaya Bank 18 - 10
Pool B - Delhi All-Stars granted easy route to quarterfinals
The Delhi All-Stars were forced to wait for their first action of the tournament, as they were granted a walk over by their opponents ONGC. ONGC opted not to risk further damage in the tournament after Vishesh went down injured in their first game, particularly in light of their participation in the FIBA Champions Cup later this month.
Delhi All-Stars bt ONGC (walkover)
Pool C - Malaysia National Team pip YounGuns to clinch quarter-final spot
After posting a respectable challenge against Tsukuba, the YounGuns put up another spirited performance in their second game against the Malaysia national team. Their outside shooting ensured that the game was close throughout, even taking the lead 16-14 with four and a half minutes to go. Both teams continued to trade buckets as the game was tied at 20 with less than 2 minutes to go. But the Malaysian players used their physicality and drove to the basket relentlessly, making the final bucket to narrowly win the game. "I was only thinking of winning when I made the bucket," said Heng Yes Tong of Malaysia National Team.
Malaysia NT bt YounGuns 21-20
Pool D - Sri Lanka President's Team outmuscle Kings BC
The Sri Lanka President's Team clinched the final quarter-final spot with a victory over the Kings BC from Maldives 16 - 12. The game was hotly contested by both teams, who played with a lot of strength and physicality. "It was a tough game, they are good shooters. But we were determined to draw fouls," said Pawan Gamage of the Sri Lanka President's Team.
Sri Lanka President's Team bt Kings BC 16 - 12
Pool A - Hamamatsu prevail over SPC Club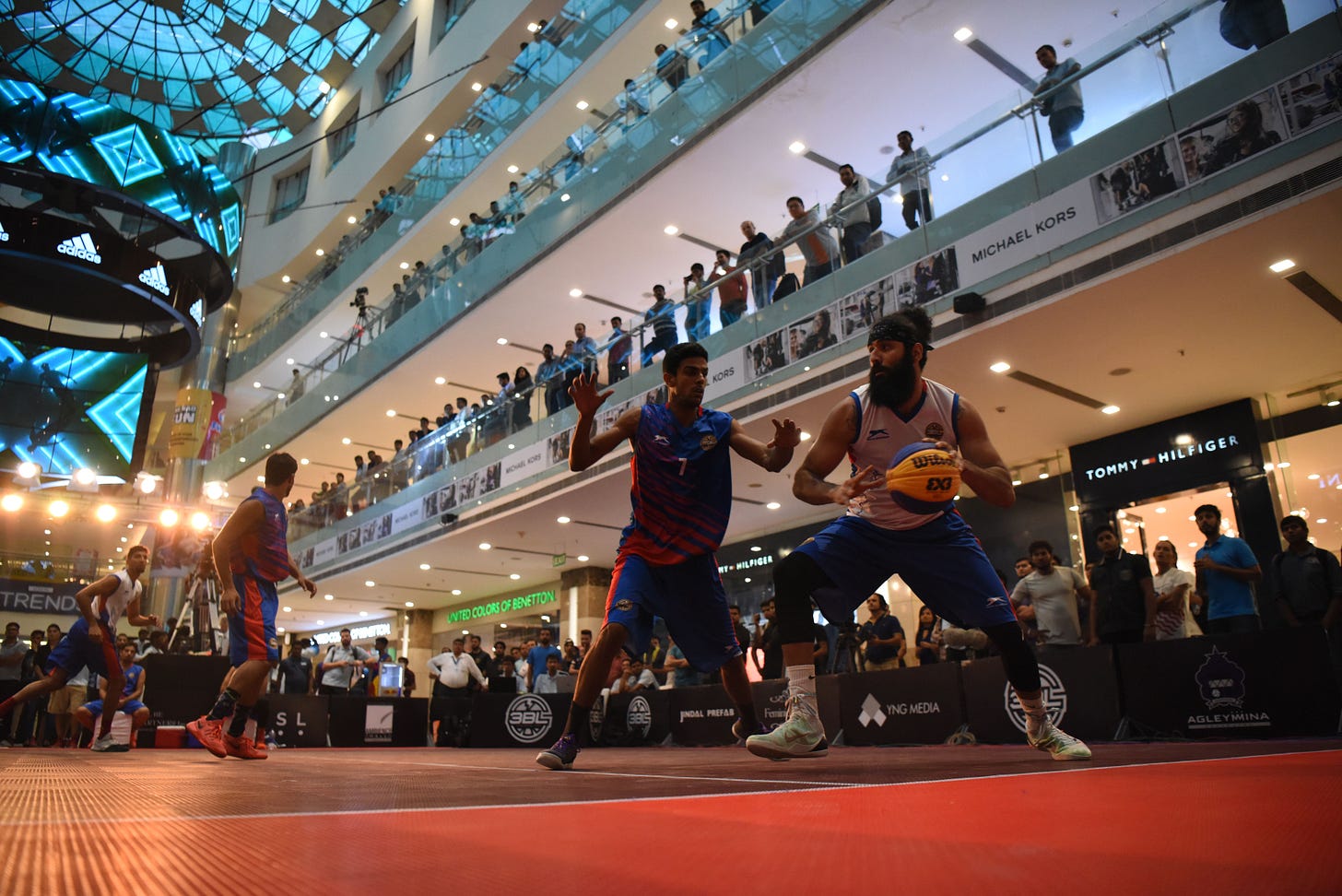 Bikramjit Gill looks to drive past Nikhil Dahiya of SPC Club. Image credits: 3x3BL
Hamamatsu beat SPC Club with a 21-11 win, but the scoreline does not do justice to the manner in which the game panned out. The game was tied at 11 apiece, before Hamamatsu's rapid ball movement and accurate outside shooting allowed them to break away and snatch the top seed with a victory. Hamamatsu bt SPC Club 21 – 11
Pool B – Yokohama beat Delhi All-Stars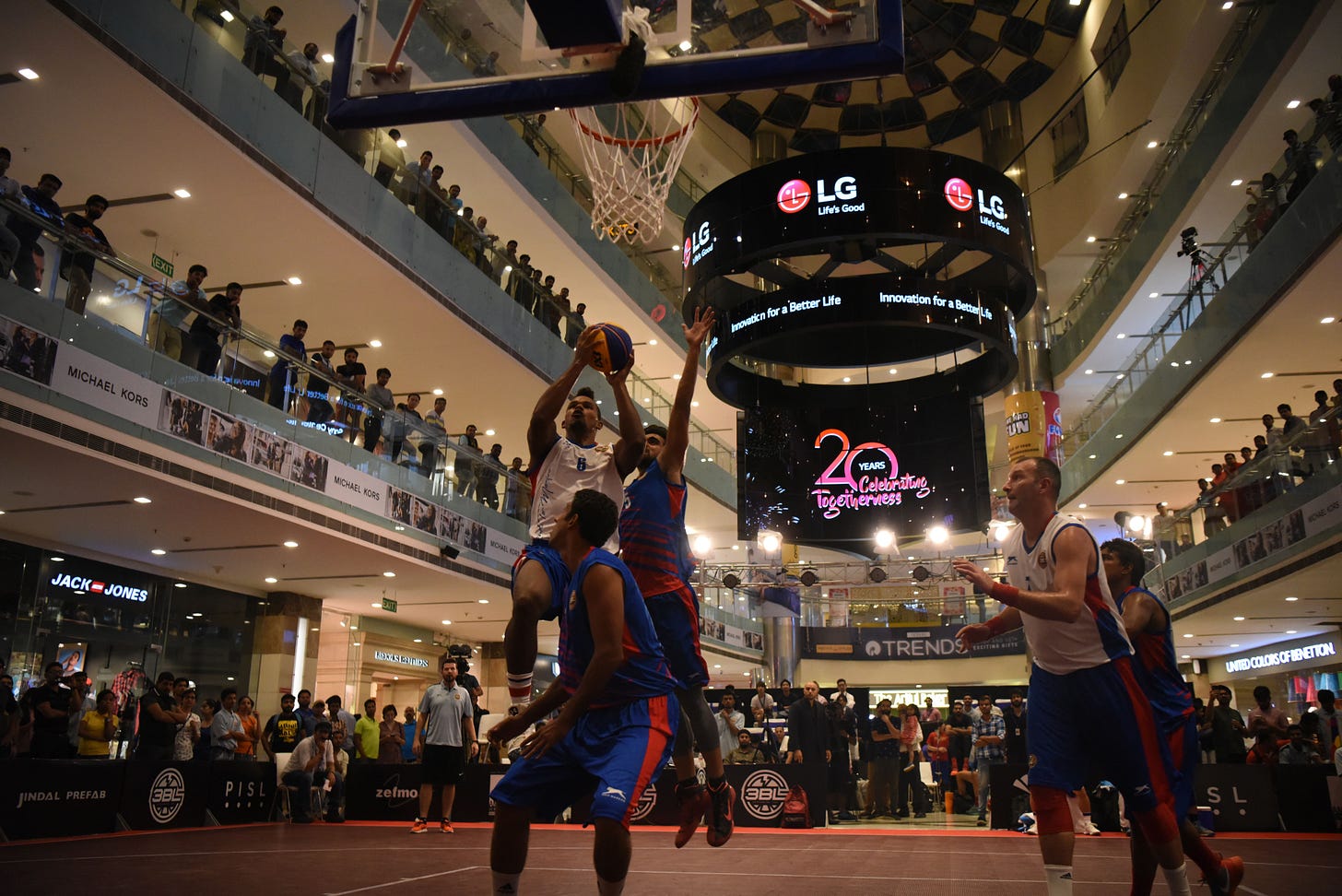 Leandro Souza De Lima of Yokohama drives to the hoop. Image credits: 3x3BL
Yokohama used their size advantage to good effect against a Delhi All-Stars team that was playing together for the first time ever. The Delhi All-Star team was picked based on tryouts at Siri Fort in New Delhi and did not see action in the first round of fixtures because they were granted a walkover. Their individual brilliance kept them ahead early on in the game, but the sheer strength of Yokohoma's big men wore the Delhi All-Stars down as the game went on. Eventually, the team from Japan prevailed 19 - 10.
Yokohama bt Delhi All-Stars 19 – 11
Pool C – Tsukuba survive buzzer beater scare to beat Malaysia NT
Tsukuba beat Malaysia NT 13 - 12 in a game of attrition that went down to the wire.Baskets were at a premium as both teams struggled to make their shots, and focused instead on making life hard for the other team. The game was tied at 10 points apiece with a little more than two minutes left. Tsukuba took the lead 13 – 12 as the game wound to a close. Heng Yee Tong threw up a shot from beyond the arc at the buzzer, but the referees waived the shot after review. "I think we won the game, but it's the ref's call. It was a good game," said Fong Yen Yee of Malaysia NT.
Tsukuba bt Malaysia NT 13 – 12
Pool D – Sri Lanka fall short against Ludhiana BA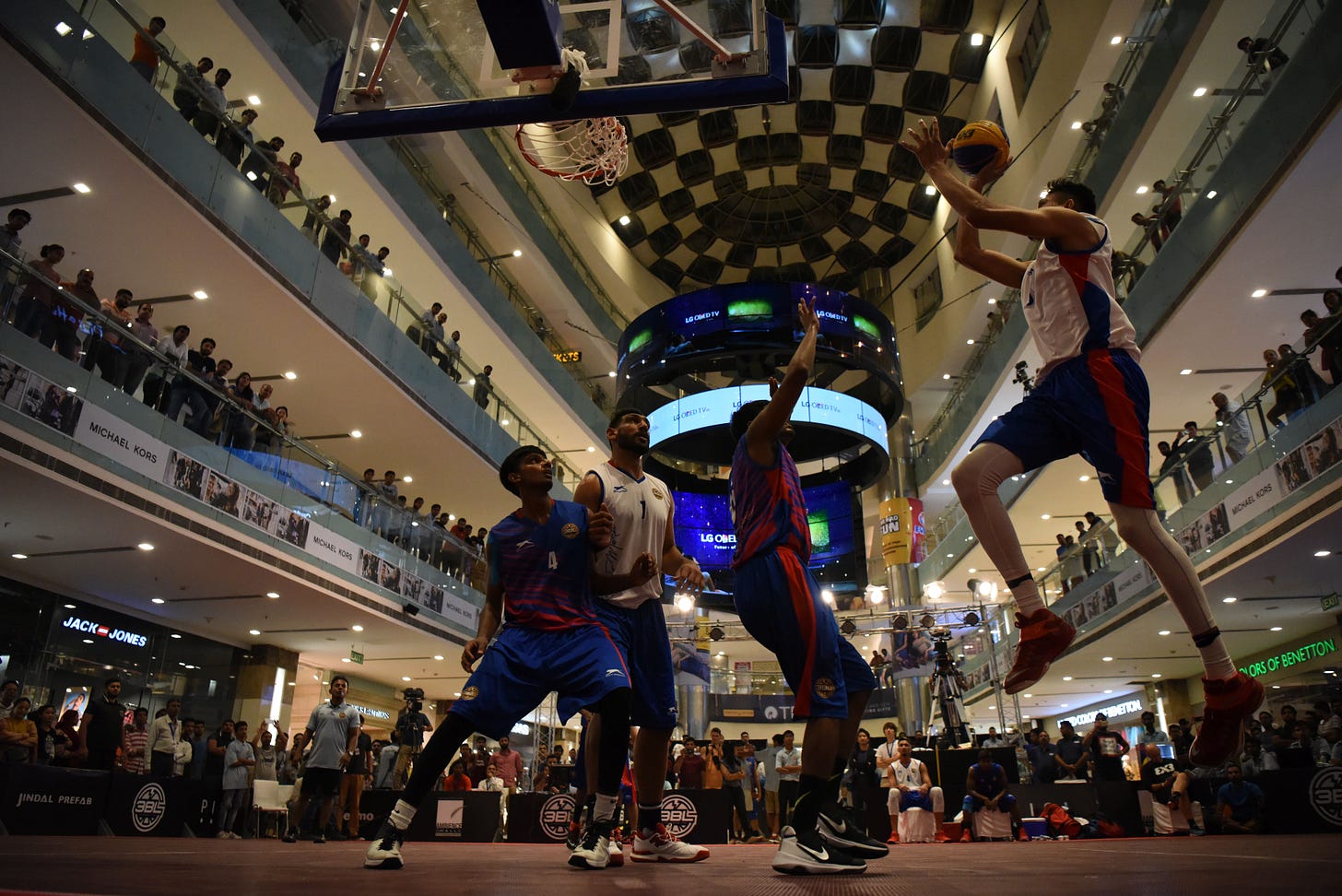 Gurwinder Gill of the LBA looks to score. Image credits: 3x3BL
Sri Lanka put up a valiant performance against the big men of Ludhiana BA, but eventually lost 21 – 15. Sri Lanka shot the ball well, as both teams traded 2- pointers and Sri Lanka was leading 11 – 9 with 6 minutes to go on the clock. From there, Talwinderjit 'TJ' Sahi of Ludhiana BA took control of the game, knocking down multiple three-pointers and leading his team to the top of their group with the win. "These guys are a massive team. But we gave them a good fight, I am proud of our team," said Kisal Cooray of Sri Lanka.
Ludhiana BA bt Sri Lanka 21 – 15
All Results from 16

th

September
Pool A:
Hamamatsu bt Vijaya Bank 21 – 10

SPC Club bt Vijaya Bank 18 – 10

Hamamatsu bt SPC Club 21 - 11
Pool B:
Yokohama bt ONGC 21 – 13

Delhi All-Stars bt ONGC (walkover)

Yokohama bt Delhi All-Stars 19 – 11
Pool C:
Tsukuba bt YounGuns 21 – 17

Malaysia NT bt YounGuns 21-20

Tsukuba bt Malaysia NT 13 – 12
Pool D:
Ludhiana BA bt Kings BC 21 – 4

Sri Lanka President's Team bt Kings BC 16 – 12

Ludhiana BA bt Sri Lanka President's Team 21 – 15