Discover more from Ekalavyas | Basketball
Welcome to Ekalavyas, the pioneering publication dedicated to unearthing the world of international basketball, from an Indian perspective!
Over 3,000 subscribers
Big 3BL Pro Basketball League Season 3 Announcements Made on Patel & Kumar Talkshow
The 3BL Pro Basketball League is the Indian sub-continent's first and only FIBA authorized Pro League in the 3x3 format. Two Seasons (for Men) and one Season (for women) have been conducted so far. There are 18 teams in total, 12 in the men's section and 6 in the women's section.
Appearing last night on the Patel & Kumar NBA Talkshow, 3x3 Pro Basketball League ('3BL') Commissioner Rohit Bakshi made some major announcements regarding upcoming Season 3.
3BL Pro Basketball League Season 3 Announcements
Mr Bakshi made the following announcements on the registration process, tryout venues & dates, Season 3's tentative months, as well as the number of hosting cities, which will also include, for the first time, one leg in Sri Lanka:
1️⃣ Registrations for 3BL Season 3 tryouts are now LIVE. You can register via https://www.3x3bl.com/register/
2️⃣ Tryouts will be held across 4 cities - Chandigarh, Aizawl, Chennai & Goa - in May
3️⃣ 3BL exclusive merch to be launched
4️⃣ Limited quantity official 3BL 🏀 to go up for sale
5️⃣ The above merch can be bought directly from the 3BL website (www.3x3bl.com) from January 15th, 7am onwards via a to-be-created 'Shop' section
6️⃣ 3BL Season 3 Dates Announced - Will be held in Aug-Sept, on weekends.
7️⃣ Season 3 will take place in 6 cities, including one international leg in Sri Lanka 🇱🇰
You can watch the full episode here:
[youtube]https://youtu.be/3JecgqIZ97g[/youtube]
About the Patel & Kumar Talkshow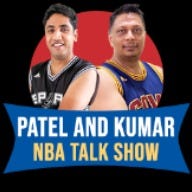 Ekalavyas presents 'The Patel & Kumar NBA Talkshow' powered by Patel Pick & Roll Sports is India's first and only primetime NBA talkshow on Youtube. Currently in its second season, the 'P&K' Show enjoyed a pathbreaking debut season, documenting the 2019-20 NBA Bubble Play-in tournament, Playoffs & Finals.
Co-hosted by Shivam Patel (from San Antonio, USA) and Vinod Muthukumar (from Mumbai, India), #PatelAndKumar is a joint Indo-US production that aims to be a candid and conversational take on all things NBA, with a distinct Indian 'tadka' (touch). Previous guests include Grizzlies Coaches Taylor Jenkins & Sonia Raman, Pro Kabaddi League co-founder Charu Sharma, 'Voice of NBA Top 10' Beau 'GOAT-mentator' Estes and Coach Nick from the viral Youtube channel BballBreakdown, among others. Watch all episodes here.