Discover more from Ekalavyas | Basketball
Welcome to Ekalavyas, the pioneering publication dedicated to unearthing the world of international basketball, from an Indian perspective!
Over 3,000 subscribers
32nd Federation Cup to tip off in Chittoor, Andhra Pradesh from 1st May 2018.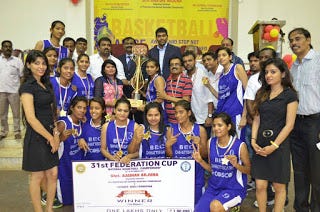 File photo: Chattisgarh Women's team secure victory at the 31st Federation Cup in 2017. Image credits: Basketball Federation of India
Bengaluru, 29th April 2018: The prestigious 32nd Federation Cup will be held at the District Sports Authority in Chittoor, Andhra Pradesh from 1st to 6th May 2018. The best club/state teams in both the Men's and Women's category will participate in this 6-day long tournament. The championship is being organised by the Andhra Pradesh Basketball Association under the aegis of the Basketball Federation of India.
Uttarakhand (ONGC) Men and Chattisgarh Women are the defending champions from the previous season of the championship. Madhya Pradesh withdrew from the women's category, paving the way for the entry of Karnataka's state team which secured the 9th place at the Senior National Basketball Championship in Puducherry last year. All the teams in the women's section comprise of regular state teams with an exception to the Eastern Railways team, the winner of the Inter-Railway Championship. Among the men, the unit/club represents the respective state in the competition.
The winner of the men's championship will represent India in the Asian Champions Cup, the venue and dates of which are yet to be finalised.
Participating Teams:
Men:
ONGC Dehradun (Uttarakhand)

IOB Chennai (Tamil Nadu)

Punjab Police

BSF Jodhpur (Rajasthan)

Custom and Central Excise, Kochi (Kerala)

Hissar Club (Haryana)

MEG Bangalore (Karnataka)

Western Railways (Indian Railways)

Andhra Pradesh
Women :
Eastern Railways (Indian Railways)

Kerala

Chattisgrah

Tamil Nadu

Karnataka

Telangana

Delhi

Maharashtra

Andhra Pradesh