Discover more from Ekalavyas | Basketball
Welcome to Ekalavyas, the pioneering publication dedicated to unearthing the world of international basketball, from an Indian perspective!
Over 3,000 subscribers
2021 FIBA Asia Cup: India's Qualification Chances Explained
Currently third within Group D, India needs to maintain its position to progress to the 2021 FIBA Asia Cup's 'Final Qualifying' Tournament in June-July.
2021 FIBA Asia Cup Qualifiers: Story So Far

2021 FIBA Asia Cup Qualifiers. Group D Standings. Screenshot via FIBA.com
The top two teams in Group D, Lebanon (4-0) & Bahrain (3-1) have already secured their direct qualification to the FIBA Asia Cup. This leaves the third-placed team with the sole remaining opportunity to stay in the hunt for a spot among the 16 team in Asia-Oceania's continental championship.
All the six third-placed teams from the ongoing Asia Cup Qualifiers will advance to play a 'Final Qualifying' Tournament in June-July. From here, the top four teams will join the directly qualified 12 teams at the FIBA Asia Cup.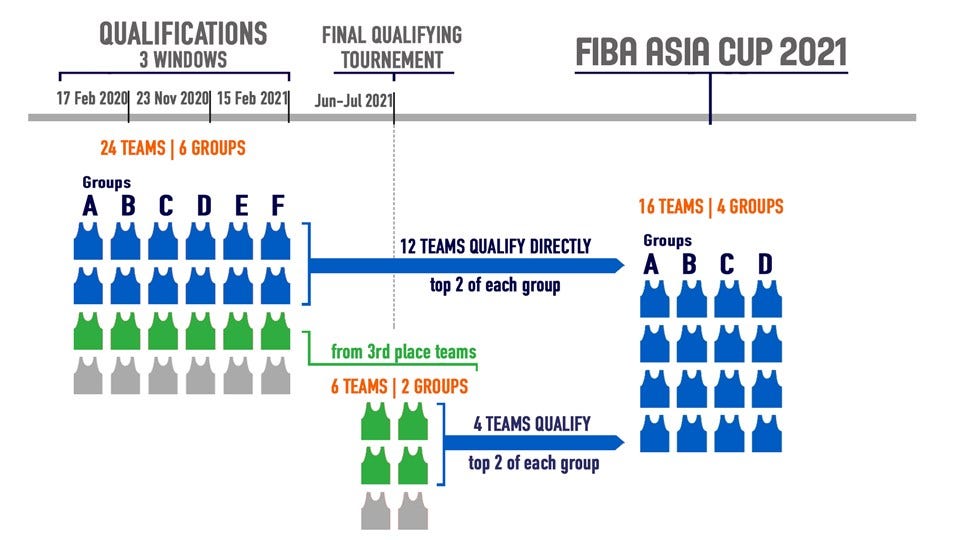 Road to FIBA Asia Cup 2021. Graphics credits FIBA.com.
Explaining India's Qualification Scenarios
In the upcoming third and final window games, India will be facing Iraq on 20th Feb 6:30 pm IST, followed by Lebanon on 22nd Feb 7:30 pm IST. Unlike what is being generally understood, India can still progress to the next stage, even if it loses both its games, subject to certain other results going in its favour, as explained below.
As stated earlier, with Lebanon & Bahrain having directly qualified, the fight for qualification now rests between third-placed India (1-3) and Iraq (0-4).
India will advance to the 'Final Qualifying Tournament', under the following scenarios:
If India wins both its games against Iraq & Lebanon

If India beats only Iraq 

If India beats only Lebanon*

If India loses both games, PROVIDED Iraq loses to Bahrain*
*Note: In the above-mentioned scenarios 3 & 4, it is assumed that India loses to Iraq by <19 points (since that was India's margin of victory over Iraq in their previous head-to-head match-up). 
In simpler terms, out of the 16 possible scenarios comprising these four teams, India is finishing third in 10 of them. In other words, the probability of India finishing third and advancing to the 'Final Qualifying Tournament' is a favourable 62.5%!
That said, India would do well to not rely on results from games between other teams, and instead focus on beating at least Iraq, which would seal its crucial third position standing.
***
If you've come this far…
Appeal to readers from Ekalavyas: Ekalavyas is India's first and only basketball media company. We are not foreign-funded, nor investor backed. Your support and encouragement have got us this far. We now need your financial assistance to ensure we can keep providing you timely, accurate and important information. Please contribute via https://www.instamojo.com/@ekalavyas​ 🙏🏾. We are accepting contributions as low as Rs. 9/- (excluding a small processing fee charged by the payment gateway provider). Thank you for playing a part in keeping media independent and objective!