Discover more from Ekalavyas | Basketball
Welcome to Ekalavyas, the pioneering publication dedicated to unearthing the world of international basketball, from an Indian perspective!
Over 3,000 subscribers
16 for 16: Here are 16 things to look forward to for Indian basketball in 2016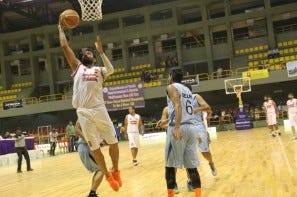 Indian Men's Captain Vishesh Bhriguvanshi playing for Uttarakhand
Thursday turned into Friday, and apart from that, January 1st, 2016, was hardly any different from December 31st, 2015 for some.
But for so many others, the New Year brings new promise. Like the calm after the storm. The beginning of a new chapter, a new twist to an old story. The new season of your favourite TV show. A clean new page in the notebook. Or the refresh button on your stalled mobile browser.
I fall into the category of optimists that believes the future can always be better than the past, and my brand of optimism spreads out to my outlook of Indian basketball, too. 2015 in Indian hoops was memorable for both the right and the wrong reasons: the big Punjabi Singhs - Satnam, Amjyot, Amrit Pal - took big strides to further their careers as professional players. Meanwhile, the NBA continued to expand its presence in India, while the UBA introduced themselves as new players in the puzzle. India's international FIBA performances were a mixed bag, but even the positives abroad were overshadowed by drama at home, where the fighting factions of the BFI placed politics ahead of basketball.
1. 2016 Senior Nationals: The race to be India's best team in Mysore. The Karnataka city hosted close to 50 combined teams in the men and women divisions from all over India at the 66th Senior National Basketball Championship from January 9-16. Chhattisgarh's women team attempted to complete a three-peat of titles after breaking Indian Railways' monopoly over the trophy two years ago. In the men's section, Uttarakhand, Tamil Nadu, Services, and hosts Karnataka featured stacked rosters competing for the title. India's best players were there competing for the nation's most prestigious domestic title. Hope you made sure your attention was over at Mysore, too, where ultimately Services men (surprise!) and Indian Railways women (no surprises here) claimed the title.
2. Satnam's exploits in D-League, and possible NBA debut. So Satnam Singh made history in 2015 by becoming the first Indian to be drafted into the NBA. The moment caught the attention of the Indian basketball family and fans like never before. But being drafted into the NBA is not the same as actually 'making' the NBA. Satnam is currently on a D-League roster, playing for the Dallas Mavericks D-League affiliate Texas Legends. He has so far played bit minutes for the Legends as he slowly becomes accustomed to the pace of the D-League. Hopefully, the 20-year-old can get further comfortable in the professional basketball life both on and off the court in 2016 and can become a major contributor to the Legends over the next few months. If he can develop into his full potential, could 2016 be the year that an Indian citizen finally plays in the NBA?
3. Amjyot Singh and Amrit Pal Singh continue to dominate professional basketball in Japan. One of the bigger headlines in Indian basketball in 2015 was when the starting backcourt of India's national team – Amjyot Singh and Amrit Pal Singh – together headed to Japan to play professionally in the BJ Summer League. Their dominance led them to be signed by Tokyo Excellence of the Japanese D-League, where they have continued their strong performances. The next step is the top BJ League, or perhaps attention from other top division leagues in the world. Amjyot and Amrit Pal certainly have the talent to be top frontcourt options in any team in Asia.
4. Will UBA's basketball league earn more credibility? They called it the first-ever 'professional' basketball league in India, and the Universal Basketball Alliance – UBA India – defiantly continue on, and will return with the second season of the UBA Basketball League. Will they earn more credibility and fans this season? Will more big name players sign up to play?
5. Will we get closer to a BFI-backed, national professional league? The Basketball Federation of India has been mulling over a full-scale national professional league for years. After the success of the ISL (Indian Super League) and other upstart sport leagues around the country, will basketball finally get its big breakthrough? There are now national sports leagues in Cricket, Football, Badminton, Hockey, Wrestling, and Kabaddi... An all-compassing professional basketball league has the potential to truly revolutionize the sport in India.
6. India's next Senior National Team coaches. In 2015, India basketball waved farewell to both the men's and women's Senior National team coaches, Scott Flemming and Francisco Garcia respectively. The two coaches both enjoyed flashes of major success: Flemming led India to a strong showing at the 2014 FIBA Asia Cup, including a victory over China. Garcia helped India to a best-ever fifth place finish at the 2013 FIBA Asia Championship, but the team fell outside of Level 1 in 2015. While Sat Prakash Yadav coached India at the 2015 FIBA Asia Men's Championship, there is still no confirmation if he will be Head Coach long term. Will India get foreign coaches for the senior national teams again? Instead of waiting for the summer of 2017 before the next round of FIBA ABCs, we should get the new coaches early and let them create a desired system with enough time to prepare. Who will these new coaches be?
7. Who will emerge as the chosen one from the ACG-NBA Jump? In 2015, NBA India partnered with ACG Worldwide to launch the ACG-NBA Jump programme. After finishing visits in six Indian cities, the programme will choose 32 Indian youngsters between 18-22 for an elite camp in New Delhi. One player will emerge from this camp in the summer of 2016 to win the first season of the ACG-NBA Jump: he will be trained by NBA-affiliated coaches and prepared for a shot at the NBA D-League tryout in mid-2016.
8. A million young players from around the country to take part in the new NBA Jam. A record 24 cities. A million young basketball players. The NBA Jam returned to the Indian basketball calendar in October 2015 and will continue at college campuses around the country into the spring of 2016. It will be interesting to see which NBA players visit India as special guests to promote the NBA Jam and its Finals over the next few months.
9. India need to bounce back from disappointing FIBA Asia U18 finish. Two years ago, at the last FIBA Asia U18 Championship for Men in Qatar, India were in shambles. The juniors failed to qualify out of the group stage and finished tied for last place – 13th – at the end of the tournament. The tournament will return once again likely in September 2016 and India's new crop of young players will have a chance to atone for their fall. Keep an eye out on Baladhaneshwar Poiyamozhi, the Tamil Nadu forward who starred for India at the 2015 FIBA Asia U16 tournament, to make a jump into the U18 side.
10. Can India's U18 Women get a big win? In the Women's FIBA Asia U18 tournament, India have been steady at 6th place: good enough to be grouped with Level 1 teams, but not good enough to beat any of them. Two years ago, India lost all their Level 1 games but won their qualifier against Malaysia to stay in the tournament's higher stage. It was an overall disappointing performance that didn't bring India any closer to Asia's big four: China, Japan, Korea, Chinese Taipei. Will a new set of young players finally get that big Level 1 victory?
11. Can the FIBA Asia Cup produce wonders again? Asia's best senior Men's nations play in the continent's biggest tournament – the FIBA Asia Championship – in odd years. But in even years, many of those same nations send their (sometimes depleted) squads to the FIBA Asia Cup, formerly known as the Stankovic Cup. In 2014, this tournament became India's crowning glory, when the team coached by Scott Flemming defeated hosts China in Wuhan and gave India their greatest win in basketball history. India will have a new coach for the senior Men's NT this year, and it's unlikely that the same results can be produced again. But hey – the magic of basketball is that anything is possible in those 40 minutes on the hardwood. Is there another wonder up India's sleeves?
12. Can India continue stellar 3x3 record at Asian Beach Games? While India hasn't been able to challenge Asia's best in the full-length version of the game, they are more than adept at the half-court, 3-on-3 edition. India have won gold medals at the Asian 3x3 level in both Men and Women's divisions over the past few years, and will have a real shot at silverware at the 3x3 basketball tournament at the 5th Asian Beach Games, scheduled in Da Nang (Vietnam) in September-October, 2016. India's Men's team will look to get their hands on the gold after a silver medal in 2014, while the Women's side will hope to bounce back from a dip in their performance two years ago.
13. Will Vivek Ranadive finally bring the Kings to India? Two and a half years ago, Mumbai-born Vivek Ranadive became the first Indian majority-owner of an NBA team, the Sacramento Kings. While the Kings have been a model of dysfunction on court, Ranadive has talked a big game about promoting the team and its stars to Indian-origin and Indian-national fans. Back in 2013, Ranadive even talked about bringing the Kings to an exhibition game in India, but India's infrastructure has been far from being ready to host an NBA game. Will this be the year that Ranadive's business and political influence finally push that dream closer and bring India its first-ever NBA (exhibition or otherwise) game? Ranadive has the connections and the free reign as an owner to push for it. His plans to make India the next big basketball market in the world and Kings as India's 'favourite team' will only reach closer to realization if the team itself makes a visit here. I for one will be rooting to see DeMarcus Cousins show his bhangra skills.
14. Time for more mainstream media attention to basketball. In a country where mainstream news means entertainment and entertainment means Bollywood and Cricket, there is little space for coverage of 'alternative' stories, like basketball. But over the last two years, two major events – India's win over China at the FIBA Asia Cup in 2014 and Satnam Singh become the first Indian drafted to the NBA in 2015 – went viral online and captured the imagination of the nation, even among non-fans. Now that the foundation stones have been laid, hopefully the same mainstream media houses that chased the big stories will continue to follow up in the developments in Indian basketball – and not necessarily just the sansani news.
15. A big NBA star to visit India in 2016? Over the last few years, dozens of current and former NBA players have made official or unofficial visits to promote basketball in India, including first Indian-origin player Sim Bhullar, Isaiah Thomas, Chris Bosh, Brandon Jennings, Pau Gasol, Dwight Howard, and more. The NBA in India has created a trend of bringing players as special guests for the NBA Jam or Reliance Foundation Jr. NBA programmes. Who will be the next star to visit Indian shores? Will Vivek Ranadive bring DeMarcus Cousins and/or Rajon Rondo? Will Satnam Singh come with his potential Dallas Mavericks teammate Dirk Nowitzki? Will we get one of the big hitters to drive India wild: Kobe, LeBron, Durant, Westbrook, Anthony Davis, etc.? Or will reigning MVP Steph Curry drop in and live up to his name to try India's finest curries for himself?
16. Team Govindraj vs. Team Mahajan: A new chapter to the saga rotting Indian basketball? Last year, the biggest story in Indian basketball didn't take place on court. It was a backroom battle between two fighting factions, each staking its claim as the rightful executive committee to run the BFI, Indian basketball's governing body. On one side stands K Govindraj, leader of the faction that has FIBA approval and is currently running Indian basketball's events domestically and abroad. On the other side is Poonam Mahajan and Roopam Sharma, the team which is fighting back with the Indian Olympic Committee's (IOA) support and organizing their own domestic parallel domestic events. In the middle of this conflict are the players and all the others who only want to develop with the sport in the country. The saga took many ugly turns last year and a legal battle beckons ahead. Will things get better before they get worse? Will one inarguable leader or committee rise from the fog? For the sake of the development of Indian basketball, we all certainly hope so.
      [KARAN MADHOK]